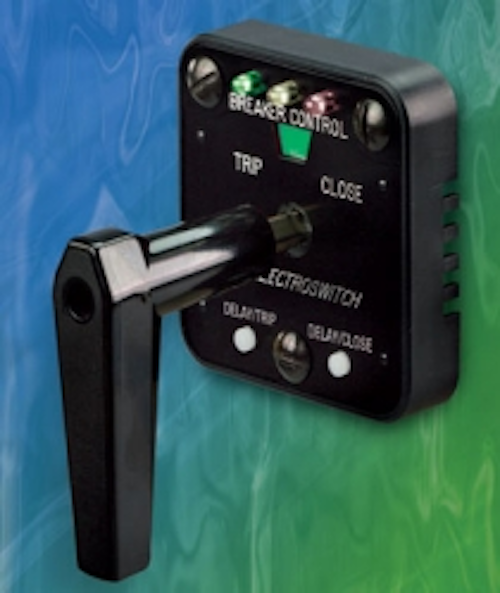 New Control Switch Relay Offers Time Delay Trip/Close, Addressing Arc-Flash Safety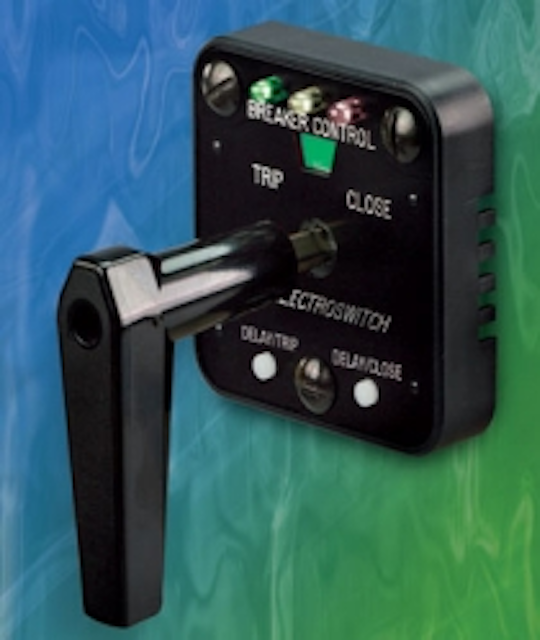 A new Time Delay Control Switch Relay (TD-CSR) has been introduced by Electroswitch. The TD-CSR provides a safe and effective means for local control to mitigate the arc flash danger in circuit breaker operation. It provides for a manually initiated time-delay trip or close operation that incorporates a flashing LED to notify the operator of a pending trip or close operation and to evacuate the "arc flash" area. SCADA operation is not required.
Local trip or close capability is initiated and delayed for 10 seconds, with an option to easily cancel the pending trip or close operation. To avoid any chance of an inadvertent operation, the control pushbuttons provide a time delay feature requirement that they be depressed for 4 continuous seconds to activate the 10-second delay. (Other delay time options are available.) The unit's intuitive pushbutton design simplifies personnel training, and no special wiring is required for installation.
The TD-CSR is available with the same reliable features and options of the Electroswitch Control Switch Relay, which include a standard mechanical target ("flag") to show the last operating position and a lighted nameplate option. The nameplate includes local LED indication, a remote SCADA contact alarm, and a single or dual trip-coil monitoring option.
Reliable, self-cleaning, double-wiping contacts with silver or silver alloy surfaces provide very low contact resistance for low-level control applications. Terminals are rugged, standard screw-type terminals that allow for handling a 30A/600V continuous current rating.
Electroswitch
CIRCLE 127 ON READER SERVICE CARD
Three-ton Hydrostatic Constant-tension Winches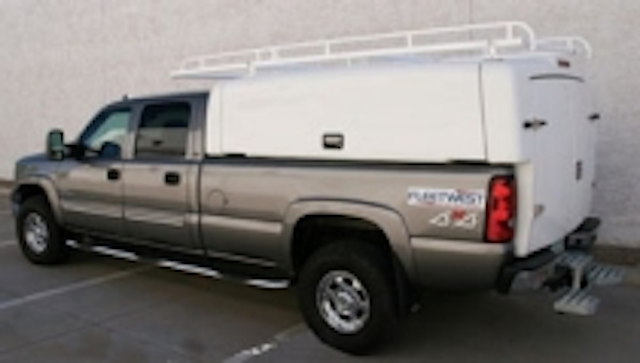 TT Technologies has introduced a three-ton winch to its line of Grundowinch hydrostatic constant-tension winches. Used for pulling CIPP liners, fold and form liners, conventional and specialty sliplining, CCTV and cable through innerduct, the new Grundowinch is a unique winch for the trenchless contractor.
The Grundowinch can pull up to 3,280 feet of 3/8" cable at pulling speeds of up to 160 fpm. In addition to a three-ton pulling capacity, the winch offers infinite speed control throughout the pulling range. The new three-ton winch is compact and highly portable for pulling in easements and backyards. The durable Grundowinch also features a level winding mechanism and a twin capstan cable management system.
TT Technologies
CIRCLE 128 ON READER SERVICE CARD
Belt-Drive Cold Pressure Washers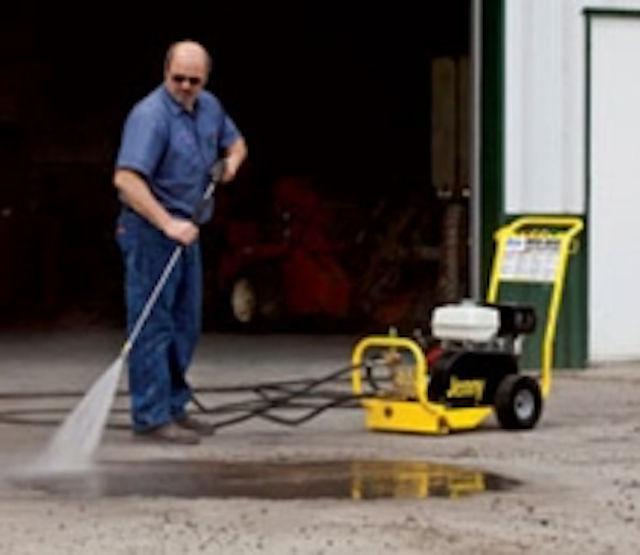 Jenny Products Inc. has introduced four new models of belt-driven cold pressure washers. Designed for heavy use, they provide a longer pump life than direct-drive units. The extended service life is due to the pulley system, which turns the pump significantly slower than if the pump was coupled with the engine crankshaft. In addition, the belt absorbs engine vibration and allows the pump to be located farther away from the engine heat. All models are designed for maximum durability and portability to meet the demands of commercial-duty applications.
The pressure washers are powered by 9- or 13-hp Honda GX Series engines, and all models feature a triplex ceramic plunger pump, which provides years of service while requiring little maintenance. The units offer a very good balance between power and volume. They are available with pressure ratings between 3,000 and 4,000 psi, and flow rates vary between 3 and 4 gpm. Furthermore, a customizable option allows customers to choose a unit with pressure and flow ratings based on their specific needs.
Many standard features are incorporated into the line to ensure long service life: thermal pump protection, an unloader valve and a high-pressure relief valve to prevent damage to the pump. To protect the engine, the unit automatically shuts down if low oil levels are detected. The chassis is made with powder-coated, seven-gauge steel for enhanced durability.
Jenny Products Inc., Steam Jenny Div.
CIRCLE 129 ON READER SERVICE CARD
Hour-meter Transmits Data via Radio Link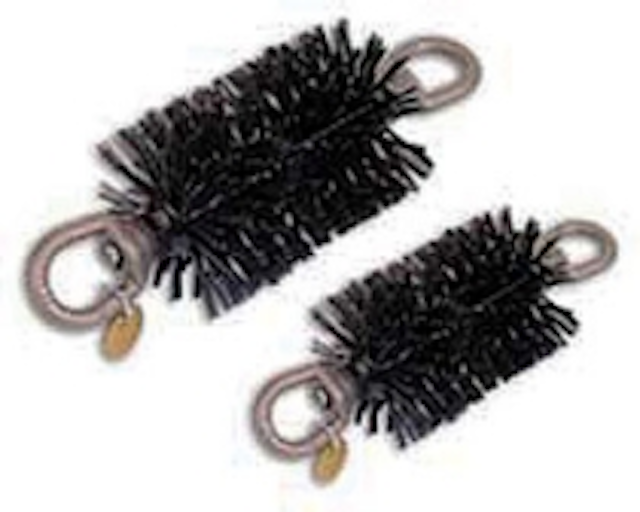 OEM Data Delivery, a manufacturer of data management systems for contractors and operators, has introduced a technology for tracking machinery use and service alerts, continuously, and in real time. This new, radio-based technology empowers utility construction managers to know what's being accomplished at every worksite. As a result, workers, subs, equipment, materials and fuel can all be used to greatest benefit.
The ST-500 Radio Service Tracker transmits the hours that equipment is in use, along with various service alerts, via radio frequency to an on-site radio tower. The tower interfaces with a PDA hand-held data collector, or directly to a computer. The equipment ID, hours, location and service data is downloaded into a web report, or computer program. The system operates continuously and there is no interruption of equipment operation.
Radio Service Tracker is a tool for fast, accurate job costing, and for avoiding over-and- under-servicing of equipment. It can also be used with PDA programs that capture fuel, repair, inspection, project and task data. Managers receive detailed reports.
Radio Service Tracker works with all PDA data collection capabilities, including fuel tracking, inspections, work orders, equipment repair and more.
OEM Data Delivery
CIRCLE 130 ON READER SERVICE CARD
Socket/Ratchet Sets for Cramped Spaces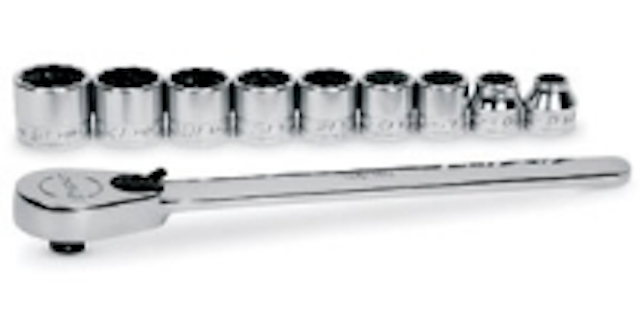 Low-profile socket/ratchet sets from Snap-on Industrial answer the need for sockets and ratchets that fit cramped quarters. Sizes include 1/4" drive metric and fractional and 3/8" drive metric and fractional. Applications run the gamut from wind power turbines in the renewable energy market to aircraft and aerospace segments.
The 1/4" drive metric set features a low-profile ratchet and 10 six-point, low-profile sockets. A mini-ratchet with a 72-tooth gear means maximum torque with minimal movement in tight spaces. A thin handle design and easy-action reverse lever allows greater access in small areas. Socket sizes range from 5mm to 13mm. Also, a 10-piece, 12-point low-profile socket/ratchet set is available in fractional sizes ranging from 3/16" to 9/16".
The 3/8" drive sets feature an 80-tooth, low-profile ratchet and either nine six-point or nine 12-point low-profile sockets; metric socket sizes range from 8mm to 18mm, with fractional sizes ranging from 1/4" to 3/4". The 3/8" square drive also works with standard sockets. Because of the Dual 80 technology and a tighter torque ratio, the 3/8" ratchets require only a 4 ½-degree arc to engage the next gear tooth. The dual pawl ratchet mechanism engages seven teeth to provide strength and durability.
All Snap-on Industrial low-profile sockets and ratchets are manufactured from alloy steel that's forged to exacting tolerances and heat treated for optimum strength and durability. Nickel-chrome plating protects against corrosion and makes each piece easy to wipe clean.
Snap-On Industrial
CIRCLE 131 ON READER SERVICE CARD
Continue to New Products Showcase: Part 2

More Utility Products Current Issue Articles
More Utility Products Archives Issue Articles