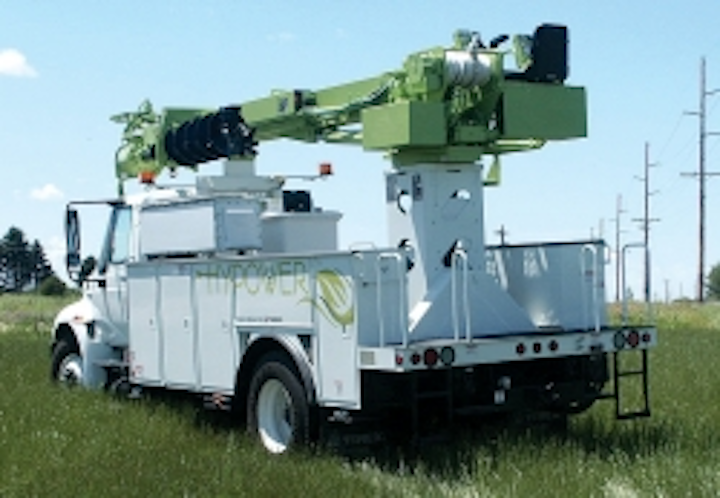 HyPower Digger Derrick System
The Electric Utility Fleet Managers Conference in Williamsburg, Va. provided an appropriate venue for the public launch of the new HyPower hybrid system adapted to a digger derrick. Terex Utilities introduced the latest addition to its extensive green product line in the form of a Commander 4047 derrick.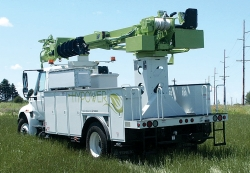 This latest product rounds out Terex Utilities' Plug-in Electric Hybrid line that has been optimized and built for the electric utility, tree care and telecommunications industries. The HyPower hybrid system, a patent-pending technology, allows the customer to save fuel and reduce emissions while allowing operators to function in a relatively quiet work environment.
The HyPower Digger Derrick product is cited to now gives customers the best platform to use when greening their fleet. Not only is the system capable of being retrofit onto existing chassis but, because it's non-intrusive to the OEM drive-line, customers can perform the jobs they've always done with their equipment such as towing pole trailers, reel trailers, and other tools and supplies to the job site.
Terex Utilities
CIRCLE 110 ON READER SERVICE CARD
New BURNDYWeld QIKLITE Exothermic Ignition System
BURNDY announces the BURNDYWeld QIKLITE battery operated ignition system for exothermic connections. This new system uses innovative technology combined with traditional features and benefits.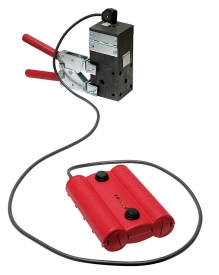 The BURNDY QIKLITE unit is the only remote exothermic system that guarantees ignition 100 percent of the time. The self-contained unit offers a built-in battery life indicator, 6-foot igniter cord, and separate buttons for power and ignition. Also, no starting powder is used with this system–so emissions are greatly reduced.
QIKLITE works with standard molds and weld metal, so contractors and installers can continue to use the same quality BURNDYWeld products and have the option of using a traditional flint igniter or the new QIKLITE system.
BURNDY
CIRCLE 111 ON READER SERVICE CARD
New Surge Arrester Brochure
Hubbell Power Systems has introduced a new Ohio Brass brochure–setting the standard for surge arresters with innovation, service, integrity and commitment to the industry. Read how Ohio Brass leads the industry in surge protection. Hubbell Power Systems has a reputation for delivering reliable products on time, in spec and on budget. Ohio Brass surge arresters are no exception.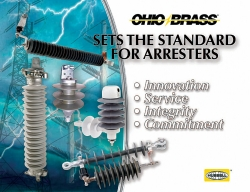 Hubbell Inc.
CIRCLE 112 ON READER SERVICE CARD
Large PVC Junction Boxes
One of the more innovative products now available from Midwest Plastic Fabricators is a line of NEMA 4X large dimension screw cover PVC junction boxes. A combination of modern UL listed materials and patented technology is combined for easy installation and reduced life cycle cost.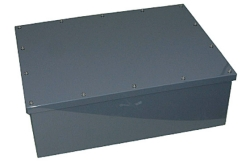 The large junction boxes are offered in sizes up to 48 inches to provide access for wire pulling and connection for conduit system and remote service equipment. The shoebox-style lid has a UL listed gasket and is attached with factory supplied stainless steel fasteners.
PVC offers less resistance than metal in cutting holes for conduit entrances. As non-conductive material, PVC also eliminates potential shock hazards. Its non-corrosive properties offer longer life and environmental integrity.
The manufacturing method uses CAD/CAM and CNC technology to make enclosures, cabinets and boxes for conduit and control systems. Materials are UL94V-0 flame rated, are tested to UL50 and are ETL listed.
Midwest Plastic Fabricators
CIRCLE 113 ON READER SERVICE CARD
Class 1, Division 2 Approved Power Supplies
Automation Systems Interconnect Inc. (ASI) has introduced a new line of UL1604, Class I, Division 2 approved power supplies. The 24 Vdc, single-phase power supplies feature an auto-ranging input, wide operating temperature range, high efficiency and UL508C listing along with a 5-year warranty. The power supplies are available in 1.5, 3.5, 5 and 10 amps.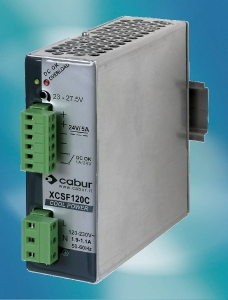 Class 1, Division 2 approved power supplies are especially useful when fire or explosion hazards may exist due to flammable gases or vapors, flammable liquids, combustible dust or ignitable fibers.
ASI offers complete e-commerce capability for high quality interface and interconnect solutions.
Automation Systems Interconnect Inc. (ASI)
CIRCLE 114 ON READER SERVICE CARD
Infrared Thermometer Brings Point and Shoot Simplicity to Temperature Measuring
IDEAL Industries Inc. brings enhanced safety to maintenance professionals with its infrared (IR) non-contact thermometer. Leveraging IR heat-sensing technology, the thermometer allows users to measure surface temperatures of live circuits, difficult-to-reach objects or moving parts from a comfortable distance to create a safer work environment. Regular monitoring of heat emitted from surfaces can prevent potential problems and failures.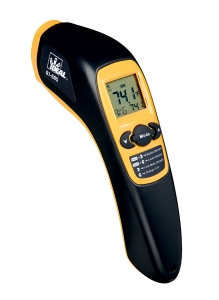 Along with electrical troubleshooting and preventive maintenance applications, the thermometer is a very good solution in the HVAC, health and safety, food preparation and process control fields. To add to its versatility and value, a built-in socket supports Type K thermocouple probes, allowing obstructed areas to be reached.
In addition to its 12:1 distance-to-spot ratio, this point-and-shoot style thermometer features a wide temperature range of -76F to 932F (-60C to 500C) and a built-in laser pointer that identifies the center of the measurement area.
IDEAL Industries Inc.
CIRCLE 115 ON READER SERVICE CARD
Line of Narrow Tongue Connectors Expanded
BURNDY, a manufacturer and provider of connector solutions to the industrial, energy, construction, telecommunication, petrochemical, data center and transportation industries, announces the expanded line of narrow tongue connectors to meet increasing demand for smaller components in today's panels and switch gear.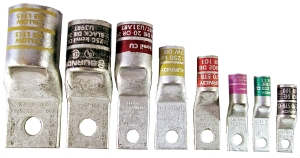 The narrow width tongue is for connections in limited space applications. Made from high-conductivity, seamless copper tubing and electro-tin plated, a long lasting corrosion-resistive connection is ensured. The narrow width tongue is marked with wire size, die index and color-coded bands to show correct number and location of crimps for proper installation. All BURNDY narrow tongue terminals are UL Listed and CSA Certified when crimped with the approved tool and die combination, a part of the BURNDY Engineered System. The connectors are RoHS compliant, per European Union directive, to help ensure a safer environment.
BURNDY
CIRCLE 116 ON READER SERVICE CARD
More Utility Products Current Issue Articles
More Utility Products Archives Issue Articles