New Products Showcase: Part 2
Sep 1st, 2010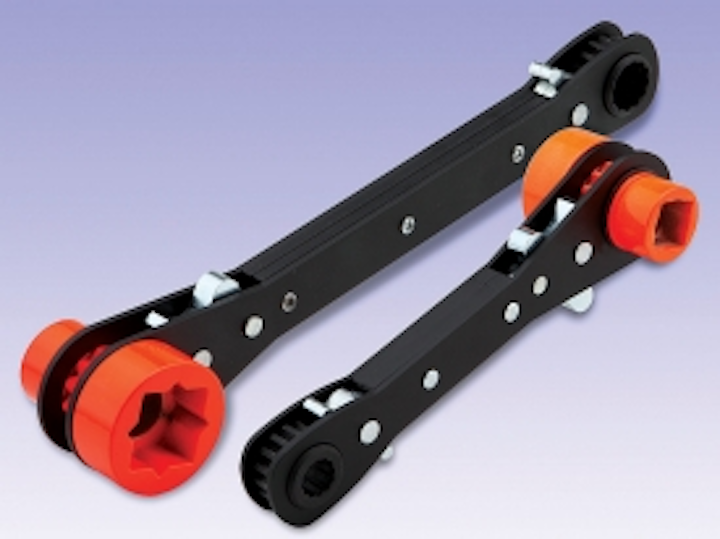 Dual End Wrenches Combine Flexibility and Reliability
Two new dual-end ratchet wrenches from Lowell Corp. give high line utility workers multiple options in a single tool for greater flexibility when tackling a variety of common pole fasteners, lag bolts and C clamps. Each wrench has a ratcheting socket at one end and a ratcheting box at the other.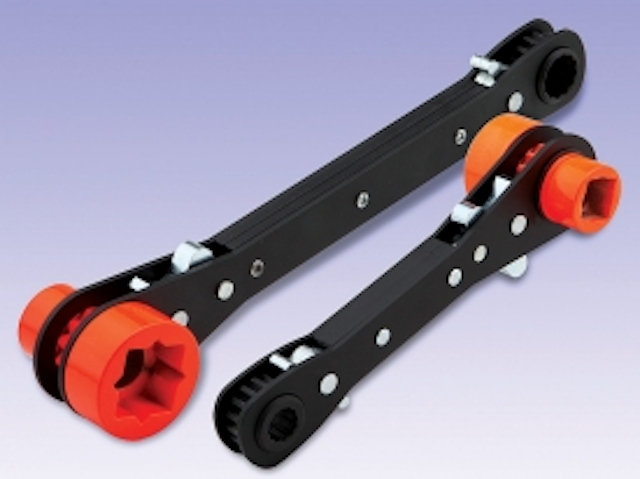 The Models 101TDE and 103TDE are designed with the durability and turning power to meet the specific needs of linemen. To ensure longer tool life, each dual wrench uses the same solid construction as Lowell's proven 151T Lineman's wrench. In addition to being ready for tough duty, the wrenches can also generate the kind of torque necessary for loosening and tightening utility pole hardware.
The ratcheting socket end of each wrench is a triple square, providing three sizes: 3/4 inch, 1 inch, and 1-1/8 inch. The socket is made of cast-iron for durability and painted fluorescent orange for easy visibility and tracking. The other end is a ratcheting box hex with a low profile for use in tight spots. The two hex sizes are 9/16 inch and 3/4 inch. The latter will also turn 5/8-inch square nuts.
Lowell Corp.
CIRCLE 117 ON READER SERVICE CARD
Bright, Remote-controlled Vehicle Mounted Spotlight
New to K&H Industries' line of remote controlled spotlights, the NightRay spotlight now comes with a 50-watt high intensity discharge (HID) lamp. K&H's NR-955-20 combines the advantages of HID lighting with the durability of the NightRay's design. The NightRay HID will provide nighttime lineman and one-man crews with an extremely durable spotlight package with an intensely brighter and whiter light.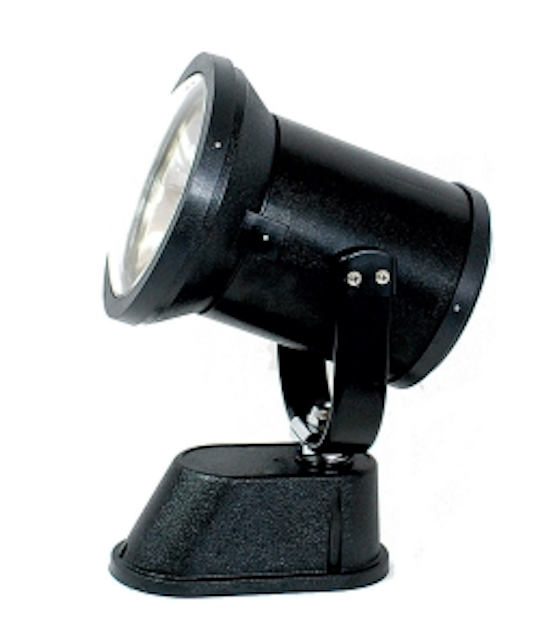 The HID Xenon that K&H's NightRay is outfitted with is based on metal halide arc-discharge technology and operates at less than half the power draw of a standard 100-watt lamp; light intensity is five times brighter. K&H's exclusive 50-watt HID lamp is tested to over 750,000-candle-power output.
Among other product details:
- Full range of motion on lamp head: 370 degrees rotation on horizontal axis and 350 degrees vertical tilt.
- Light housing and base are completely enclosed and weather-tight, while NightRay's motor assemblies, shafts, brackets and other mechanical components are made from marine-quality materials.
- Made in the USA.
K&H Industries
CIRCLE 118 ON READER SERVICE CARD
Welding End Prep Tool Pulls Thick Chip on Stainless Steel
A portable welding end prep tool that performs multi-angle end preps and squares off heavy-wall stainless steel and other hard alloys without work hardening is available from ESCO Tool.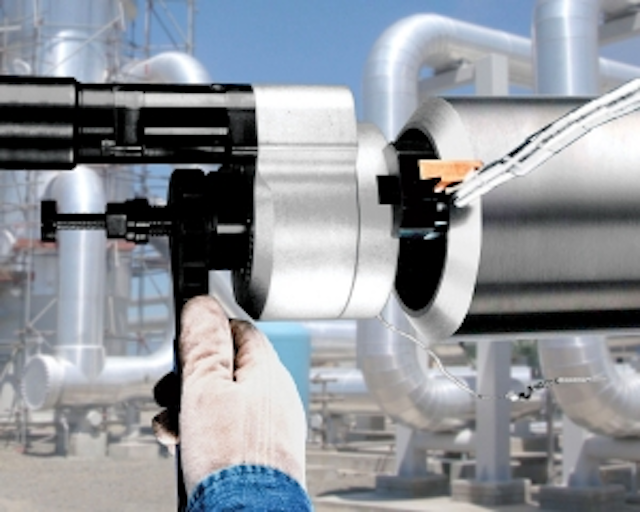 The Esco MILLHOG Mini Series welding end prep tool rigidly mounts to the tube or pipe ID and features the EscoLock wedge-lock blade lock system and a cutter blade that gets under the material surface to pull a 0.020-inch thick chip without cutting fluids. Designed to transfer heat away from the surface and into the chip, the blade has a sharp edge with an aggressive chip breaker, which produces a smooth end prep and prevents work hardening.
Powered by a 1 1/4-hp pneumatic motor, the Esco MILLHOG Mini Series welding end prep tool weighs less than 25 lbs. and is suitable for pipe and tube from 1 1/2-inch ID to 6 5/8-inch OD. It has a self-centering mounting mechanism, uses TiN-coated cutter blades and includes an air filter, air hose with quick-disconnect couplers, lubricator, wrenches and a metal carrying case.
ESCO Tool
CIRCLE 119 ON READER SERVICE CARD
Brightly Colored SnapAround Markers Simplify Cable Identification
Protect workers from the hazards of misidentifying a line or wire with brightly colored SnapAround markers from William Frick & Co. The tightly coiled plastic roll-ups are available in orange, red, yellow, black, green, blue and white, with standard messages or custom graphics, text and sizes. The markers are waterproof and resistant to solvents, sunshine and abrasions.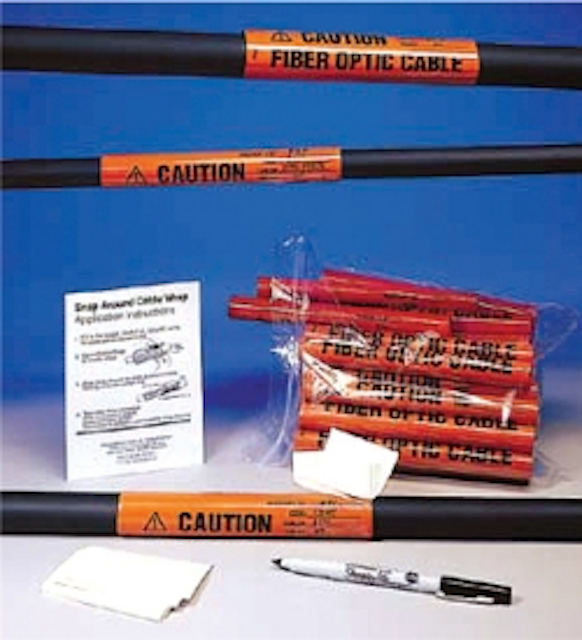 William Frick & Co.
CIRCLE 120 ON READER SERVICE CARD
Track Driven Mini-digger Derrick Goes Many Places
NESCO Sales & Rentals' EZ Hauler 5500 is a track driven mini-digger derrick that will go places you wouldn't think of taking a line truck. Once you get to the work site, the EZ Hauler 5500 has the power to finish the job with its 5,500-lb lift capacity and its ability to set utility poles up to 60 feet tall. It also has the ability to pick up a 2,500-lb padmount transformer.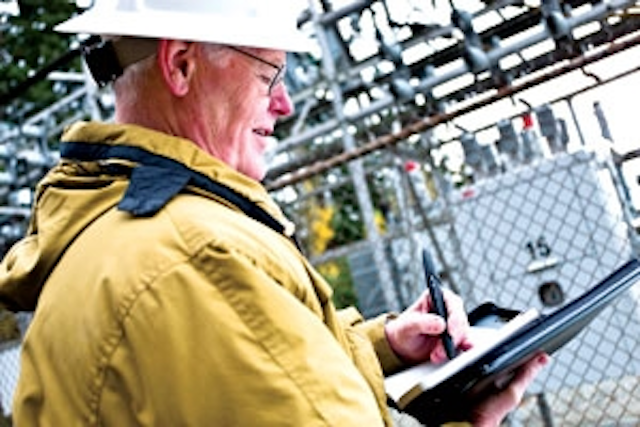 The EZ Hauler 5500 is not only a mini-digger derrick, but has the ability to perform as a material handler and personnel lift.
General Specifications:
Engine: Yanmar Model 3TNV88, 3-cylinder water-cooled, diesel 36 hp at 3000 rpm
Hydraulic pump: fixed displacement gear type, 14 gallons (53 Liters) per minute
Hydraulically extended tracks
43-foot boom tip height
Full 360 degrees continuous rotation
Meets or exceeds ANSI A92.2-2001, A10.31-1995 and SAE requirements
5,500 lbs lifting capacity with overload protection
2,500 lbs deck carrying capacity
Insulated to 46 kV Category C
Auger stored on side of boom
Hydraulic pole claw
Fully proportional remote control
NESCO Sales & Rentals
CIRCLE 121 ON READER SERVICE CARD
Tamper-proof Expansion Fitting Prevents Vandalism
O-Z/Gedney, supplier of fittings for electrical conduit, offers a connecting solution for long conduit runs installed in areas subject to vandalism, theft, harsh weather and wide temperature variations.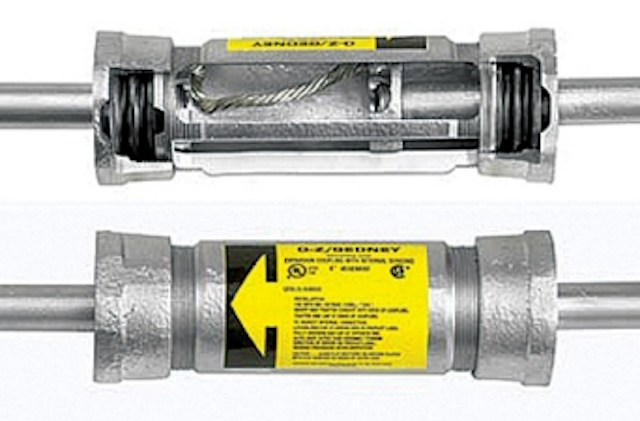 The AXB Expansion Fitting is used to permit linear movement in conduit runs caused by thermal expansion, therefore preventing conduit buckling or disconnection. It incorporates an internal bonding jumper that aids installation and maintenance by eliminating the need for an external jumper that could corrode or be tampered with by vandals. The corrosion-resistant, hot-dipped galvanized outer casing is rated watertight.
No disassembly is required during installation, so there are no parts to lose and far fewer tools are needed. The outer casing slides open to allow fast inspections of the jumper while in the field.
The fittings are available in trade sizes from 1/2 inch through 2 inch, with 4 inch and 8 inch movement.
O-Z/Gedney
CIRCLE 122 ON READER SERVICE CARD
IP-S2 HD Mobile Mapping System
Topcon Positioning Systems (TPS) has announced an addition to its offering of high-accuracy, mobile mapping solutions–the IP-S2 HD Mapping System–a vehicle-mounted surveying and mapping system featuring a high-definition LiDAR scanner from Velodyne Lidar Inc.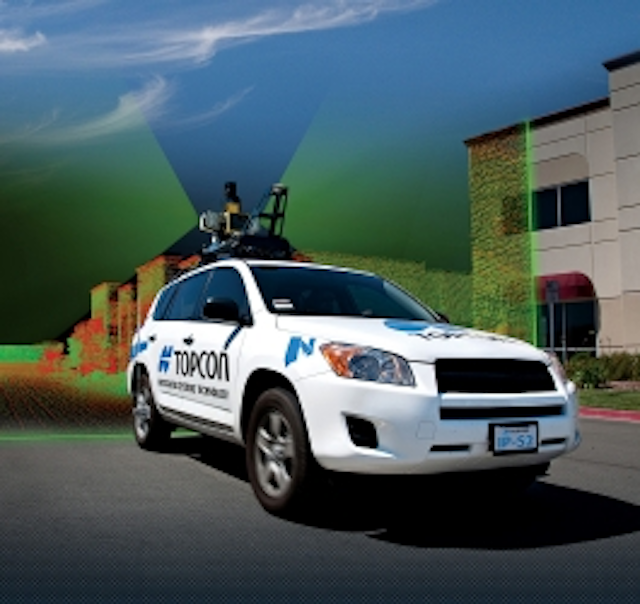 The IP-S2 HD Mapping System incorporates high-precision GNSS receivers, inertial measurement unit (IMU), vehicle wheel encoder, 360-degree digital cameras and Velodyne's HDL-64E S2.2 LiDAR scanner. It is designed so users, while driving the system-mounted vehicle at normal traffic speeds, can collect precise vehicle position and bearing data and spherical imagery of roadside objects such as sidewalks, buildings, tunnels, bridges and overpasses. The addition of Velodyne's LiDAR sensor is designed to allow vehicle operators to acquire very dense point clouds while traveling at posted speed limits even in inclement weather.
With the IP-S2 HD, a single crew with a single user-supplied vehicle can acquire a complete dataset while driving, providing a mobile data collection solution. Geo-referenced spatial data and colorful imagery allows users to easily identify features, assign attributes and export data to various CAD and GIS applications.
Topcon Positioning Systems (TPS)
CIRCLE 123 ON READER SERVICE CARD
Magnetically Actuated Outdoor Breaker Technology Expanded to 38 kV
Rated for 10,000 operations, ABB's 38 kV R-MAG outdoor vacuum circuit breaker provides more than five times the IEEE requirement for endurance capabilities.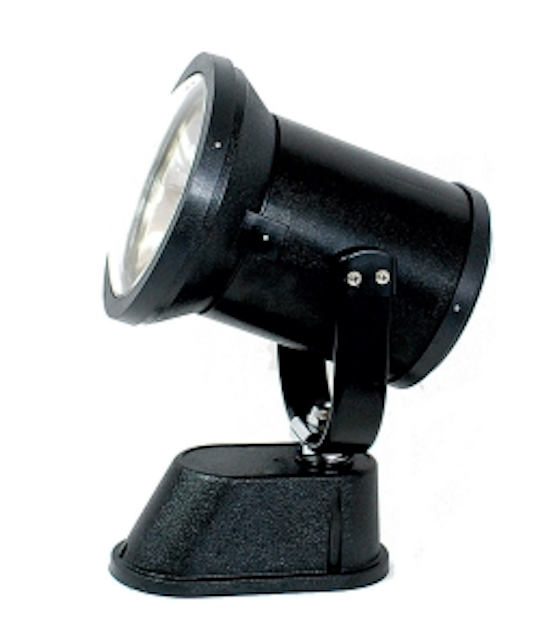 First introduced in 2002 for 15 kV and 27 kV applications, the R-MAG breaker utilizes a magnetic actuator design that has only one moving part, offering an improvement over the traditional spring charging mechanism. Rated for 10,000 operations, the 38 kV R-MAG breaker provides more than five times the IEEE requirement for endurance capabilities. Additionally, the magnetic actuator requires no regular maintenance during the life of the breaker–reducing costly maintenance intervals while increasing reliability and safety.
The 38 kV R-MAG breaker takes advantage of embedded pole technology, providing a compact and modular design that is suitable for a wide range of climatic and environmental conditions. Embedded in a solid insulating material with high dielectric strength, the vacuum interrupters are insulated from external effects of mechanical shock, dust and humidity.
ABB
CIRCLE 124 ON READER SERVICE CARD
More Utility Products Current Issue Articles
More Utility Products Archives Issue Articles