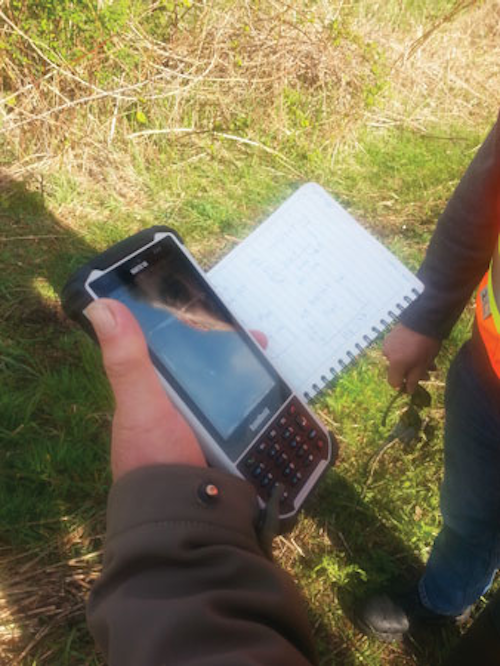 By Brynna King
In most cities, signing up for a new cable TV package is a quick process: instant activation over the phone or an on-site appointment with a technician in a few days. That's not because the technology is simple-it's because the groundwork for a subscription is laid long before signing up.
The utility poles that line neighborhood streets are prime real estate for telecommunications companies. Businesses jockey for space on these poles, which hold the wiring that carries electric power into homes-as well as cellphone equipment, cable television and fiber optic cables and antennas, and other communications equipment such as wiring for fire and police alarms and traffic signals.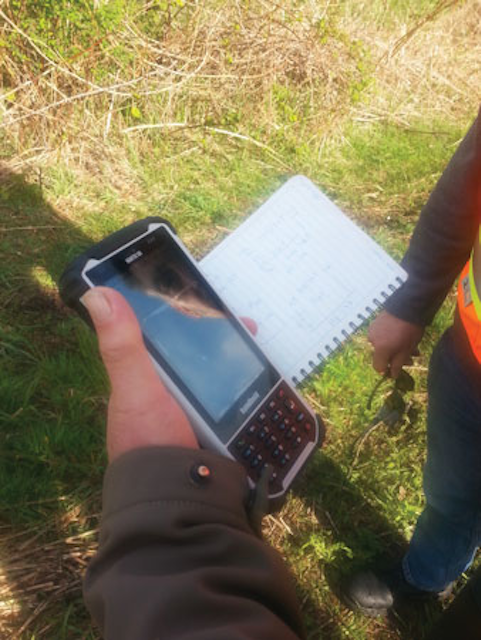 The process of adding a specific company's equipment to a utility pole isn't easy-before placement, companies have to submit applications in compliance with National Electrical Safety Code (NESC) regulations. These applications include more than a dozen measurements and calculations that help determine whether a pole can support the proposed attachments. To streamline the application process, telecom companies often hire geographic information system (GIS) contractors to calculate these measurements for them.
The fieldworkers shown are using Handheld's Nautiz X8 rugged computer to store and manage the large amount of data they collect, and as a result they are improving efficiency, saving time and increasing profits for their own companies and those companies' clients.
Compact, Powerful Field Data Collection
William Stadler is an Oregon-based independent contractor for CelTec Communications Inc. in Orting, Washington. CelTec provides professional consulting, design and drafting services to the broadband and wireless industries.
Stadler uses the Nautiz X8 to record information such as utility pole height, weight-bearing capacity, strand clearance, height and type of conductors, anchoring data and distance between neighboring poles. He operates the unit in conjunction with surveying equipment such as a range pole with a mounted global positioning system (GPS) receiver, a telescoping measuring stick and a laser rangefinder.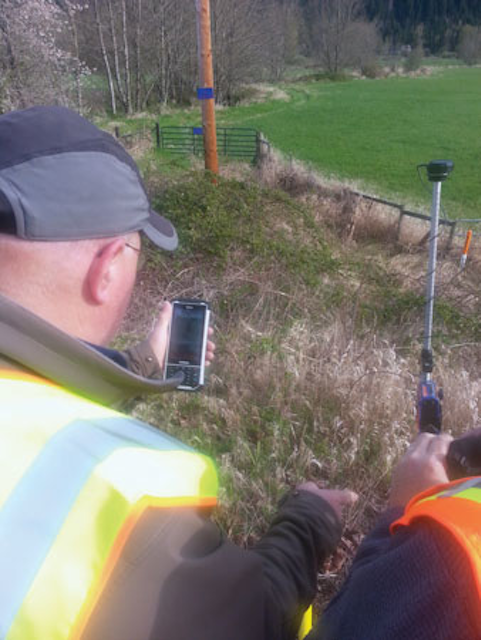 "I stake the GPS-mounted range pole at the site of the utility pole and walk around with the Nautiz X8 making and recording measurements in ArcPad," Stadler said. "For utility pole measurements, I use a telescoping measuring stick or rangefinder to record conductor heights. The Nautiz X8 is small enough to throw in a belt pouch when I'm handling the measuring stick or laser, and easy to grab when it's time to make entries."
ESRI's ArcPad Studio is a mobile field-mapping and data collection software program designed for GIS professionals. It uses GIS and GPS to capture, edit and display geographic information directly on the Nautiz X8's screen.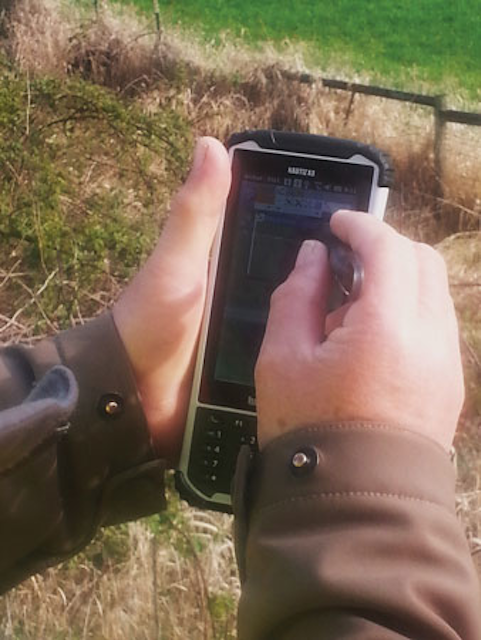 Stadler worked with his GIS equipment provider, Tigard, Oregon-based Resource Supply LLC, to build Quick Forms in ArcPad Studio, with some 20 different fields for recording measurements.
"I usually create these forms on a PC, but the Nautiz X8's screen allows me to make them easily in the field if I need to," said Jon Aschenbach, owner of Resource Supply. "Entering data into a Quick Form on the handheld is very fast and easy. The big, clear screen makes data entry mistakes very rare."
A GIS Solution for Tough Environments
Stadler used a pencil and printed paper forms to take notes in the field until 2012. Then he rented various GPS-equipped data collectors from Resource Supply between 2012 and 2014. When he learned the Nautiz X8 was being developed, he waited to purchase the handheld until it was released in 2015.
"The combination of price, fast processing, excellent battery life and excellent screen made the purchase an easy decision," Stadler said.
The X8's ruggedness was a necessity. Utility pole measurements are calculated in a variety of outdoor locations, from city streets to backcountry power transmission lines, in every weather condition.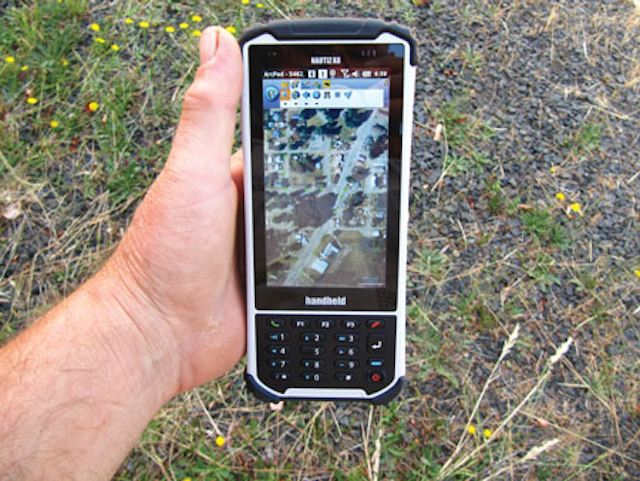 "Our clients want their data now, and weather does not factor into their plans," Stadler said.
The Nautiz X8 is a fully rugged handheld with IP67 and MIL-STD-810G specifications-meaning it is impervious to both dust and water and can survive repeated drops, strong vibrations and operating temperatures ranging from -22 F to 140 F.
"Even though I am very careful with the unit, accidents do happen," Stadler said. "The unit has fallen onto the ground, into a stream and from the roof of a moving vehicle, and has been used in subzero weather. I just pick it up, dust it off and keep working."
As a GIS professional, GPS capability is important to Stadler. He uses the Nautiz X8's built-in u-blox GPS receiver to navigate to pole sites using geographical coordinates and to record strand and underground route information. To do this he captures a starting GPS point in ArcPad and walks the route, and the X8 records path details in real time and saves the route at the final point. The line can even be paused and resumed to enter measurement data at locations such as manhole covers and underground enclosures.
When a client specifies sub-meter accuracy, Stadler uses a separate high-accuracy GPS receiver and external antenna that communicate with the Nautiz X8 through Bluetooth 2.0.
"The Nautiz X8's Bluetooth receiver is quite sensitive," Stadler said. "I've walked away from the GPS receiver up to 150 feet and still had a connection. This is very handy when taking strand sag measurements halfway between the poles."
Speed and Endurance for a Full Workday
Processing power makes a big difference to Stadler.
"For William, time is money," Aschenbach said. "The Nautiz X8 has saved him a huge amount of time while entering data and navigating through his work area."
"The processor handles large ortho-rectified MRSID files with ease," Stadler said. "There's virtually no waiting for a map to refresh after panning and zooming. And there's still battery power remaining after the advertised 12 hours of use. This combination makes for a very productive day."
---
About the Author: Brynna King is a freelance writer and editor based in Portland, Oregon. She writes about technology's ability to assist fieldworkers in the world's most challenging environments. She can be reached at Word Jones, www.wordjones.com.
More Utility Products Current Issue Articles
More Utility Products Archives Issue Articles