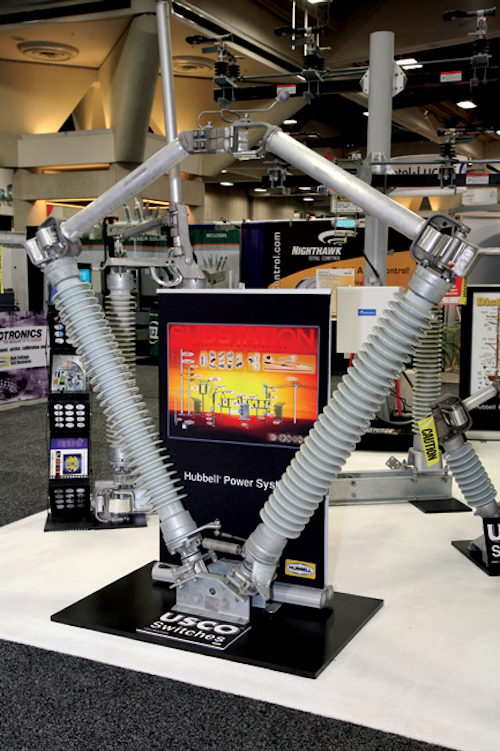 By John Tabor
Utility Products Conference & Expo (UPCE), held this year in sunny San Diego, Feb. 1-3, 2011, brought attendees the latest products, demonstrations, training and more. The third annual UPCE, co-located with DistribuTECH, allowed buyers and sellers in the electrical, cable, telecom and other segments of the utility industry to network and learn. With UPCE offering conference sessions, breakfast roundtables and solutions for everyday problems, there was something for everyone.
Opening Keynote
Introducing the keynote speakers and announcing the Projects of the Year award winners was Teresa Hansen, DistribuTECH Conference Program Chair and Editor in Chief of POWERGRID International, Electric Light & Power and Utility Products magazines. The event's keynote speakers discussed the importance of innovation and how the country can win if we all work together.
Philip Mezey of Itron North America, the diamond sponsor for the event, commented on President Obamas' State of the Union Address and how we can win the future through innovation.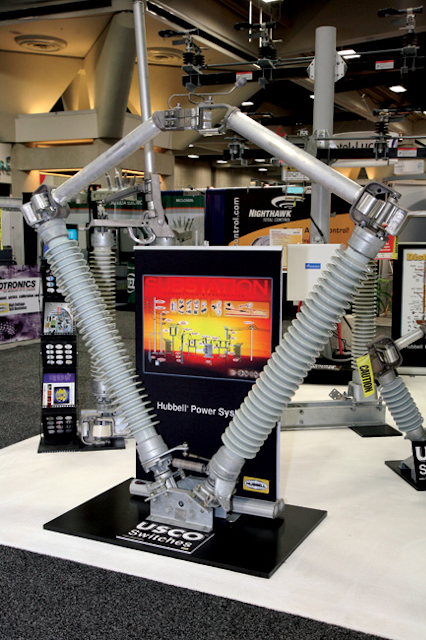 David Geier, Vice President of Electric Operations at San Diego Gas & Electric (SDG&E), a Sempra Energy utility, spoke on using smart grid technology today and preparing for tomorrow.
"We will soon be finishing up our smart meter installation with less than 1 percent customer complaints. Most here would agree that tech has changed our entire lives, from the way we communicate to the way we bank and how we use electricity. Life used to be pretty simple. Electricity went only one way, and we had limited interactions with our customers. The state of California is strongly encouraging energy efficiency, greenhouse gas reduction and renewable energy through the state's Renewables Portfolio Standard. At SDG&E, we've taken the position that this is a must-do. We must change. Putting together partnerships is how we will achieve this," Geier said.
Linda L. Ziegler, executive vice president of power delivery service at Southern California Edison (SCE), an Edison Internationalcompany, said, "At SCE, our vision of the smart grid is to develop and deploy a reliable and secure, efficient and safe electric system that governs all levels of electricity production, delivery and use. It's very important for our industry to embrace the smart grid. I've heard it said that if Edison returned today he would still recognize our grid, and that's not necessarily a good thing."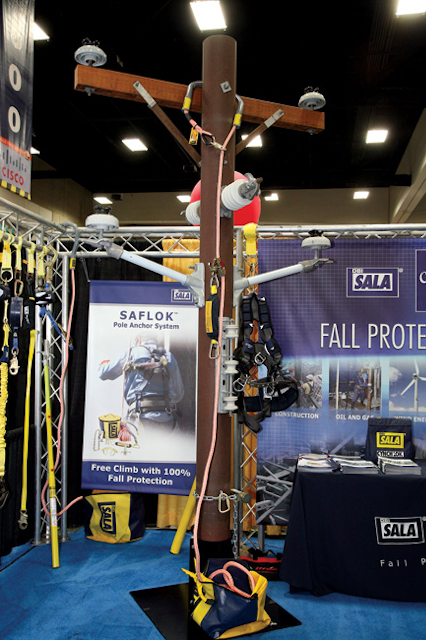 Susan Eisenhower (granddaughter of Ike), strategic consultant and president of the Eisenhower Group, spoke on the importance of recognizing what we need to do in the area of energy-and working together to do it.
"Today we have a bright new horizon and it's exciting to be a part of, but we need a new national focus on thinking about these opportunities in different ways. Call for the development of standards and an emphasis on energy efficiency. How do we get this done in an environment of scarce financial resources? Americans cannot conceive that there could be shortages of electricity. Rationing electricity, as was once done in the UK, is not a pretty way to live a modern life. I don't need to be reminded, but many Americans need to be convinced of what a valuable resource electricity is. We have been made to believe that what is in front of us is not going to be that hard, which has lead many politicians to make promises that we cannot keep. I'm sorry, but I'm going to have to single out Al Gore on this, who called for 100 percent of our power to come from renewable energy in 10 years. We can't get loan guarantees for nuclear power plants to provide that kind of base-load reliability, so I don't know where those goals could be achieved," said Eisenhower.
"Under President Eisenhower, the interstate highway was the carrot of economic promise. We made it a national security issue. Today we need something like this in our grid system-and we need to do it now," she said.
The final keynote speaker was Daniel Burrus, author, futurist, entrepreneur and technological change guru.
"There's a lot of uncertainty in the world today. Are we going to get the smart grid, or are we going to get gridlocked?" Burrus asked. "There are cycles, however, that let you tell the future. Warren Buffet is a master of cycles. He just does the opposite of us. There are also permanent linear changes. If you get a smart phone, you aren't going back. Let me predict the future again: Next year, you'll be busier-and you're laughing because you know I'm right. We don't need to be busier, or more reactionary. We need to be more adaptable."
The Conference Sessions
This year's conference sessions started Tuesday, after the keynote, with two tracks and seven great sessions. One session, "Inspection and Care of Rubber Insulated Products," presented by Richard Rivkin, focused on the importance of safety and what can happen when worn or damaged rubber insulated products are used. Rivkin discussed the seriousness of electrical burns, which can cause sever damage and death, and emphasized the fact that technicians can't be too careful when working with electricity. Rivkin outlined the various insulating products-gloves, sleeves, blankets, lines, hose and hoods-and how to inspect, test and care for each product.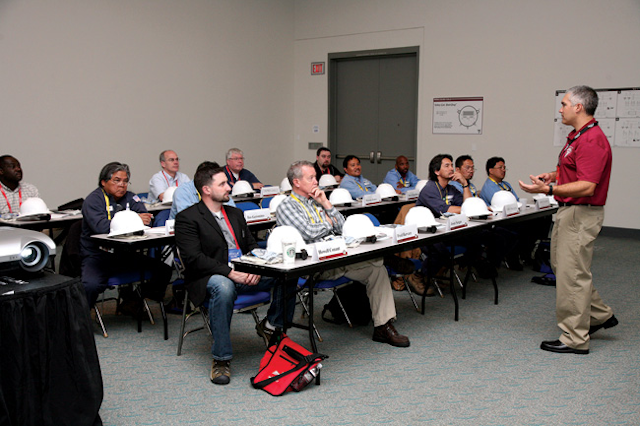 "Line and Truck Grounding for Today's Lineman," by Matt Dell, outlined how individuals can guarantee safety with the proper use and care of grounding equipment. Lineman have one of the most dangerous jobs, according to the U.S. Bureau of Labor Statistics, but, with the proper grounding, electrical force can be diverted away from the technician and back into the ground. Other topics covered in Dell's presentation included: single-point grounding, equipotential grounding, truck and equipment grounding, substation grounding, care and maintenance suggestions for grounding equipment, outsourcing the handling of care and testing grounds vs. in-house care.
Other sessions included: "Hardening T&D Infrastructure Through New, Innovative, Alternative Utility Pole Solutions;" "Transformer Certification (Parts I and II);" "Temporary Grounding Practices;" and "Increasing Driver Awareness to Reduce Accidents."
The Floor
A wide variety of products and services were on display at this year's UPCE: vehicles and accessories, tools and supplies, transmission and distribution, test and measurement, line construction and maintenance, and overhead/underground. Whatever the focus, attendees saw UPCE exhibitors showcasing their specialties. Following are brief highlights from a few of the companies at this year's UPCE.
For mobilizing a work force, Trimble Utilities Field Solutions offers a plan to manage utility assets, conduct field inspections, respond to outages and deliver customer field services. The company helps plan, design, and implement technology and work processes to streamline operations, boost field worker productivity, enhance customer service and speed emergency response times.
Composite Technologies, a utility pole restoration and preservation company, demonstrated how its Kevlar pole guards can stop damage caused by grass cutting equipment and how the Kevlar pole wrap repairs rotted poles or poles damaged by impact. Also featured was the Trigger Fill System for permanently repairing woodpecker holes on the spot.
Utility Inc., a provider of mobile resource management technology and services that allow utilities and first responder organizations to effectively command, control and support mobile field operations, demonstrated their products and how people, in real time, can access virtually any mobile asset for a unified operating picture to safely locate, track and manage all aspects of mobile field operations.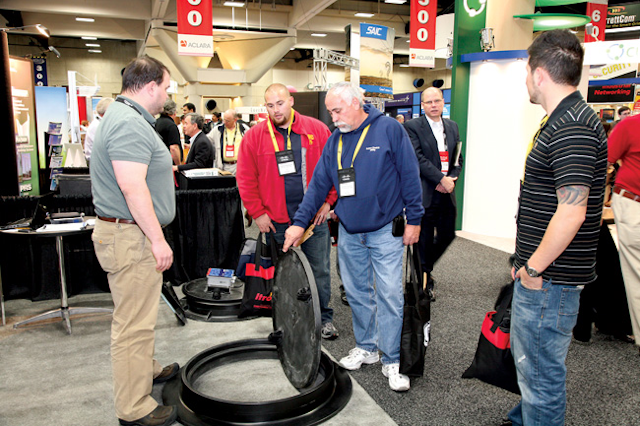 Data loggers, data acquisition systems, and measurement and control products were available from Campbell Scientific. The company designs and manufactures a range of data loggers-from the most basic system with just a few channels, to expandable systems that measure hundreds of channels.
Capital Safety's Cynch-Lok, for more safely and quickly climbing wood poles, was also featured. Cited to offer almost effortless adjustment, the Cynch-Lok allows technicians to hitch-hike poles-reposition, move or jump the strap upwards-with a hand position that is comfortable. It also moves past obstacles without difficulty. In addition, the exterior straps can be changed, depending on the type and size of pole being climbed.
Networking Opportunities
UPCE offered several opportunities to network-and play. The reception on opening day offered hors d'oeuvres and drinks. The next day, attendees could join sponsors at their booths on the exhibit floor for It's 5 O'Clock Somewhere happy hour; immediately afterwards, the Setting Sail Networking Event provided an enjoyable evening for attendees and guests with live music, entertainment, food and drinks.
Prize Giveaway Winner
This year's UPCE attendees visited the exhibiting companies' booths to have their passports stamped and entered in a drawing to win an Artcic Cat Prowler. The winner was Laura Cumbridge!
Next year's Utility Products Conference and Exposition will take place in San Antonio, Jan. 24-26, 2012, at the Henry B. Gonzalez Convention Center. Make sure you save the dates and make plans to attend!
More Utility Products Current Issue Articles
More Utility Products Archives Issue Articles