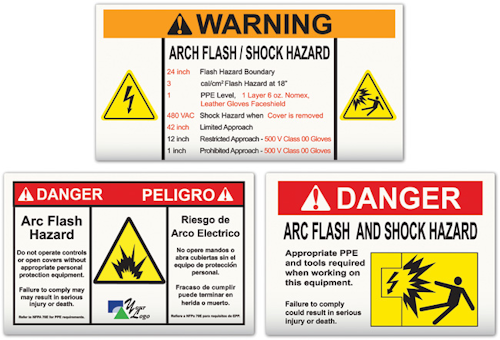 Fully Customizable Arc Flash Hazard Signs and Labels
Almetek is launching its new line of fully customizable arc flash hazard signs and pressure sensitive labels. The new product line can be customized to feature specific personal protective equipment (PPE) levels, company logos, graphics, text, photos and more.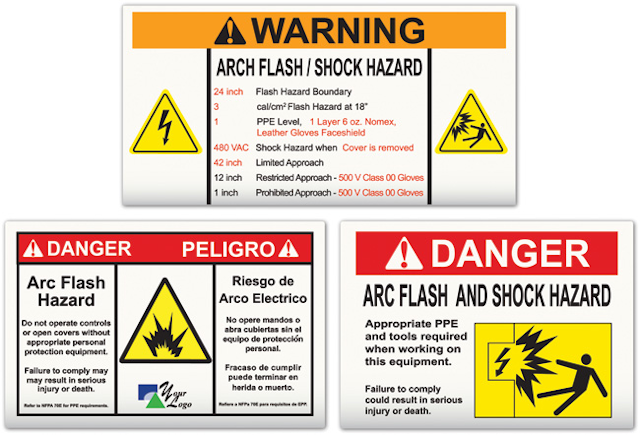 Over 10 Occupational Safety and Health Administration (OSHA) reportable arc flash related incidents occur every day, several involving fatalities. Section 110.16 of the National Electric Code (NEC) 2002 code requires switchboards, panel boards, industrial control panels and motor control centers to be clearly marked to warn personnel of potential electric arc flash hazards. Almetek offers signs and labels in a variety of styles including aluminum, polyethylene, fiberglass, Lexan and pressure sensitive vinyl, which clearly will get the message of safety across. Failure to properly alert and educate staff on arc flash safety can result in hundreds of thousands of dollars in fines to a company and serious injury or death to an individual. Make sure all equipment with risks is properly marked.
Almetek Industries
CIRCLE 109 ON READER SERVICE CARD
---
TightSight Clamp Meter Upgraded with New Features
IDEAL Industries Inc. has added new features to its TightSight clamp meter to better meet the needs of electricians working in industrial and commercial applications. Among the many new features: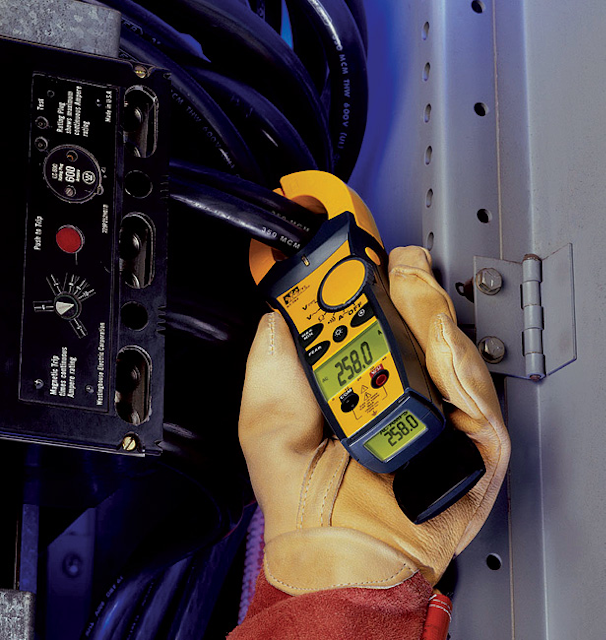 Backlight on bottom display for all functions-the backlight for the bottom TightSight display now lights on all functions instead of just amps;
Zeroing display on amps and volts-the display now stabilizes close to zero before taking a measurement as the meter defaults to the 0.0-volt resolution;
Selectable audible on hi-voltage warning feature-a small switch resides in the redesigned battery compartment to select audible on or off;
Data hold button guard-a shroud was added around the data hold button on the side of the clamp to minimize accidental depressing of the button while clamping onto a conductor; and
Inrush current-to measure starting current on a motor with an Inrush feature, new true RMS models have replaced the peak hold button with Inrush.
Pricing for the newly upgraded design will remain the same.
IDEAL Industries Inc.
CIRCLE 110 ON READER SERVICE CARD
---
Stronger Pole Gives Utilities More Options
Duratel, a manufacturer of composite utility pole products for utility transmission and distribution, has installed its latest 14-inch composite pole product. The pultruded pole, with a 0.75-inch wall thickness, provides utilities more options when designing projects for composites due to its durability and strength.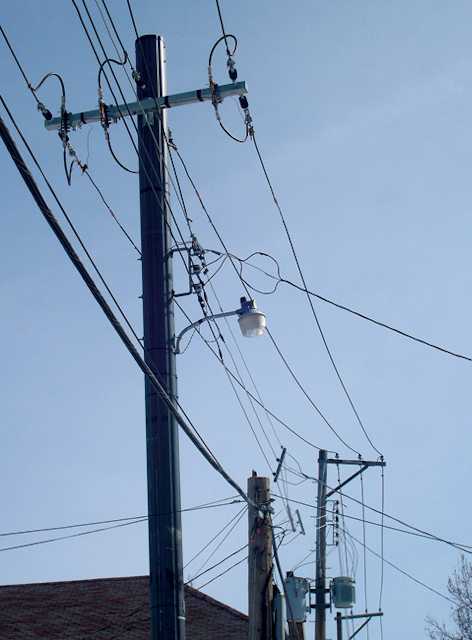 Duratel's 14-inch profile covers a wide range of classifications up to Class H6 poles. Duratel poles are produced with uniform diameter and strength, eliminating the need for multiple class poles to be kept in inventory. One Duratel pole can be used for a variety of applications, saving time and reducing the need to stock and search through inventory for a particular pole class.
Duratel poles are significantly lighter, stronger, more durable and cost-effective than traditional poles. Duratel products require no maintenance, do not leach toxic chemicals and can be safely recycled at the end of their lifespan. Duratel composites reduce waste, prevent deforestation and pose a safe, clean, sustainable solution for the utility industry.
Duratel
CIRCLE 111 ON READER SERVICE CARD
---
GloWear 8356FRHL Class 3 Flame-resistant Vest
Ergodyne announces the addition of the GloWear 8356FRHL Class 3 flame-resistant (FR) modacrylic vest. This Class 3 vest employs 3M Scotchlite 8935 FR reflective material for on-the-job visibility and American Society for Testing and Materials (ASTM) F1506-certified modacrylic mesh fabric for the highest degree of FR protection.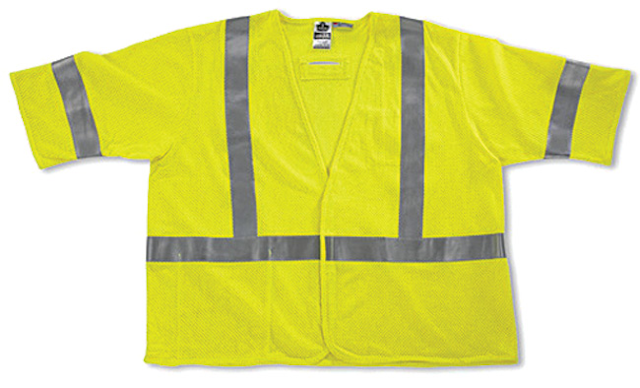 Traditional hi-vis modacrylic fabrics tend to be solid and heavy. Ergodyne's GloWear 8356FRHL vest delivers American National Standards Institute (ANSI) compliance and FR protection using a patented modacrylic mesh fabric that is both lightweight and breathable. The vest uses this same fabric for the binding, resulting in F1506 compliance.
Ergodyne
CIRCLE 112 ON READER SERVICE CARD
---
Rugged, Convertible Notebook Computer
GammaTech Computer Corp., a manufacturer and supplier of notebook and tablet computers, has introduced the newest member to its line of cost-effective, high-performance, convertible notebook computers-the D12C. Lightweight for easy mobility, the unit is designed so it can be easily used anywhere.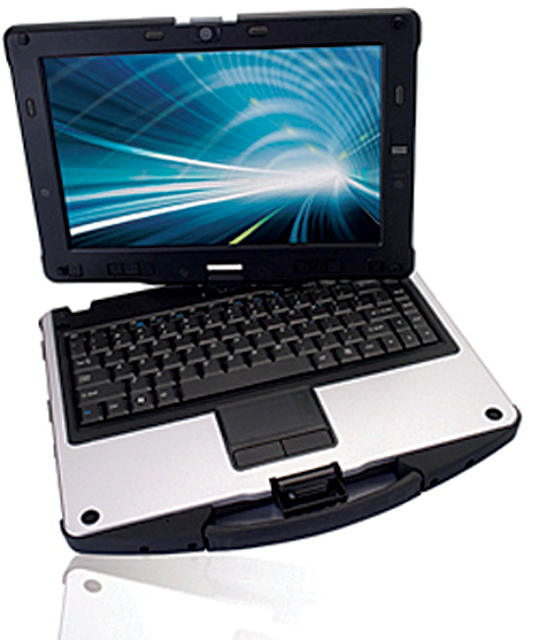 For flexibility and functionality, the GammaTech D12C is a rugged notebook computer that quickly transforms to a tablet personal computer. It is drop and shock resistant and tested to stringent MIL-STD-810G requirements. Its spill resistant design protects it from accidental spills. All input and output ports are fully dust resistant.
GammaTech Computer Corp.
CIRCLE 113 ON READER SERVICE CARD
---
Robotic Work Zone Flaggers
According to the Federal Highway Administration, there were 40,000 accidents and 845 fatalities in highway work zones in 2007. Human flaggers often are the victims and/or causes of these accidents.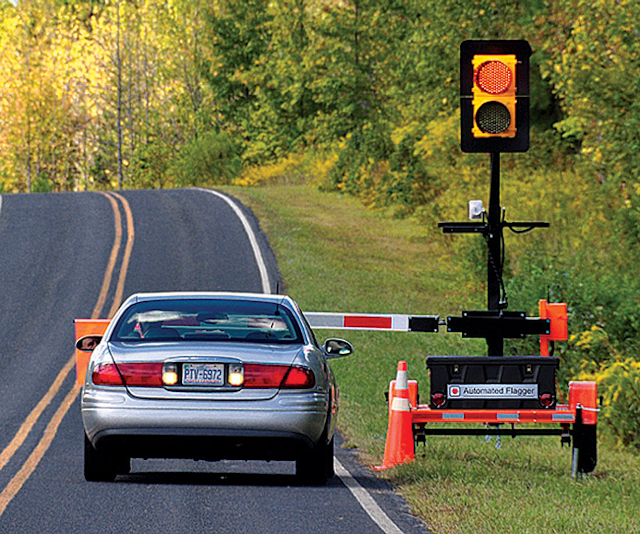 Synergy Technology LLC introduces the Automated Flagger System AF-100 as an alternative to human highway work zone flaggers.
The Automated Flagger AF-100 is a trailer-mounted signal light with a gate arm that raises and lowers to direct traffic around a single-lane work zone. Two radio controlled signal trailers allow crews to provide traffic signals with the highest visibility and remove humans from the roadway.
In addition to the obvious safety improvements, the system offers a short payback period with labor reduction savings. The Automated Flagger AF-100 has a perfect safety record and is Federal Highway Administration 2009 Manual on Uniform Traffic Control Devices (MUTCD) compliant.
Synergy Technology LLC
CIRCLE 114 ON READER SERVICE CARD
---
Diamond Blades Offer Fast, Clean Cuts
Dtec, a product division of Affinity Tool Works, presents the new line of Turbo Diamond blades from its Contractor Series. The Contractor Turbo blades are a very good complement to the entire Dtec line, offering users an economically-priced option without sacrificing the performance of a diamond blade. The blades cut a variety of materials including concrete, tile, stone and brick pavers.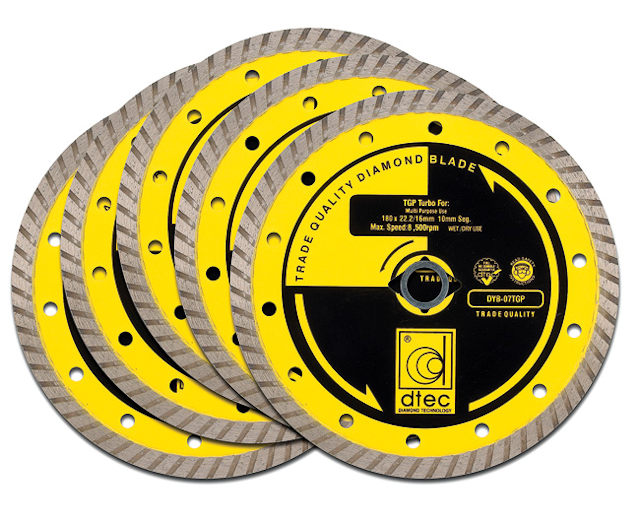 The Contractor Turbo blades feature a modern design that combines the speed of segmented blades with the smooth cutting ability of a continuous rim style. The turbo rim style has been specially designed to enhance cutting performance and extend blade life when compared to similar diamond blades. The Contractor Turbo blades are cited to last up to 43 percent longer over time.
Unlike typical blades that offer a standard 7-milimeter segment height, the Contractor Turbo blades feature an increased, 10-millimeter segment height. The enhanced height exposes more cutting surface to allow faster cutting and improved cut quality, while preventing premature dulling.
Dtec Div., Affinity Tool Works
CIRCLE 115 ON READER SERVICE CARD
---
New Aluminum Dump Body
DuraClass recently introduced an aluminum dump body to its line of Class 5-8 truck bodies. The corrosion-resistant aluminum design eliminates paint expense and increases body value at trade-in. Aluminum dump bodies can weigh over 30 percent less than traditional steel, increasing payload capacity, minimizing fuel consumption and improving truck life.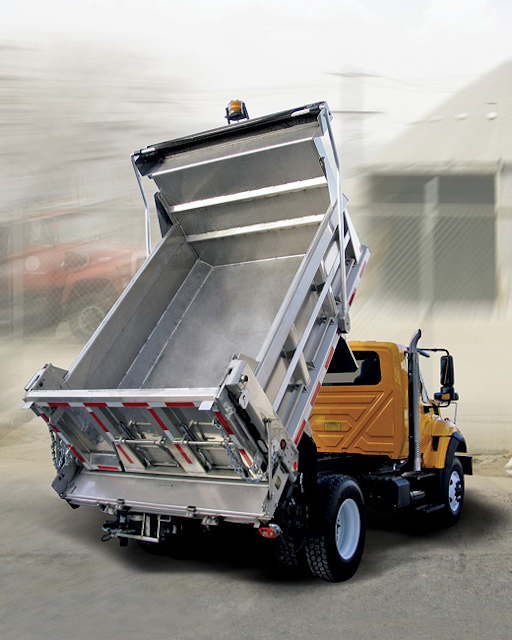 The DuraClass aluminum body is available with additional features including upper and lower tarp rails, integrated cab shields, ladders and patch gates. A double arm hoist offers stability and durability.
DuraClass
CIRCLE 116 ON READER SERVICE CARD
---
Excavators Deliver Improved Fuel Economy, Faster Cycle Times
Case Construction Equipment has launched its C Series full-sized excavator line with three new models, and each features increased fuel efficiency, productivity, and improved serviceability and operator comfort.
The new Case CX250C, CX300C and CX350C excavators replace models in the company's B Series product line. They feature Tier 4 Interim-certified cooled exhaust gas recirculation (CEGR) technology that burns cleaner while delivering superior horsepower. These three new models deliver 177, 207 and 266 net horsepower (132, 154 and 198 kW), respectively.
The new Case intelligent hydraulic system technology reduces total fuel consumption and improves performance. Boom economy control lowers engine revolutions per minute (RPM) during the boom down and swing operation, while the auto economy control lowers RPMs when the joysticks are inactive.
Swing relief control technology manages the hydraulic power allotted at the start of the swing operation, and spool stroke control creates an automatic pressure adjustment during digging operations.
Case Construction Equipment
CIRCLE 117 ON READER SERVICE CARD
---
Vine Removal Utility Tool is Quick and Efficient
MADI LLC has introduced the DEVINER, a vine removal utility tool that offers a quick and efficient way to safely remove vines and other vegetation from power lines. Vines and other vegetation can cause serious power outages and service interruptions.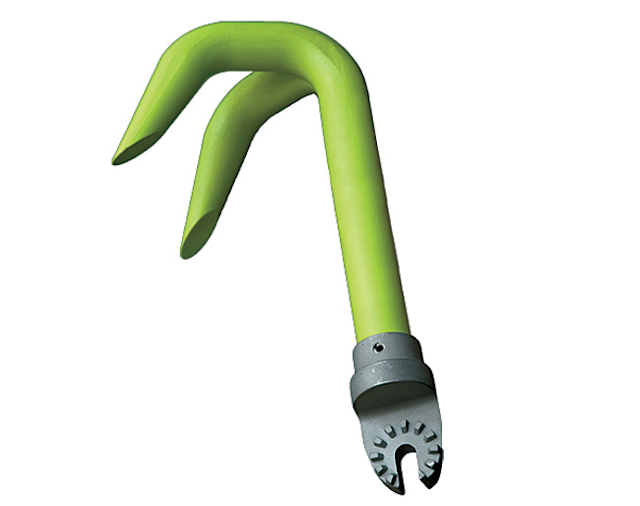 The DEVINER is constructed of fiberglass-reinforced nylon for maximum strength and safety. It has an aluminum base for a strong, secure fit. This tool is lightweight, non-conductive, corrosion-resistant and works with all universal tool fittings found on hot sticks.
MADI LLC
CIRCLE 118 ON READER SERVICE CARD
---
Bifocal Safety Eyewear Available with 3.0 Diopter Magnification
Gateway Safety now offers a stronger magnification lens option for workers needing bifocal vision correction and eye protection on the job. To meet the needs of a growing aging workforce, Gateway Safety has added a clear 3.0 diopter lens option to its two bifocal eye protection styles-Scorpion MAG and StarLite MAG. Both are now available in five diopter strengths: 1.0, 1.5, 2.0, 2.5 and 3.0.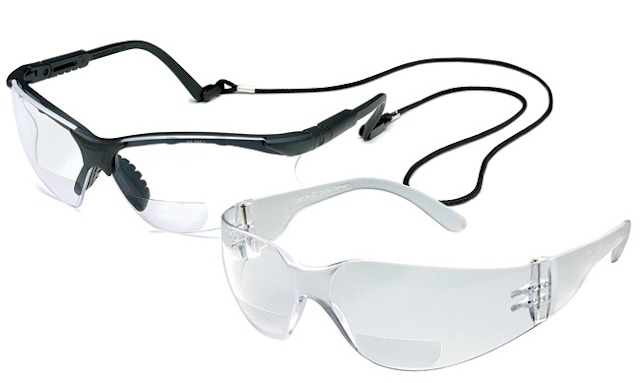 Scorpion MAG bifocal safety eyewear comes with many features that provide a personalized fit and all-day comfort. Adjustable-length ratcheting temples and a soft fingertip nosepiece make Scorpion MAG fit comfortably without slipping. The dual lens design has a venting system that helps minimize fogging. It meets or exceeds the American National Standards Institute (ANSI) Z87.2+ standard.
StarLite MAG is a bifocal version of the original StarLite safety glasses. Offering styling, comfort and all-around impact protection, StarLite MAG is Gateway Safety's most cost-effective bifocal eye protection. It meets or exceeds the ANSI Z87.2+ standard.
Gateway Safety
CIRCLE 119 ON READER SERVICE CARD
---
New Vertical Screw-lock Pluggable Terminal Blocks
Automation Systems Interconnect Inc. (ASI) has recently expanded its broad line of pluggable printed circuit board terminal blocks to include vertical terminal blocks with a screw-locking feature similar to that found in many other types of connectors.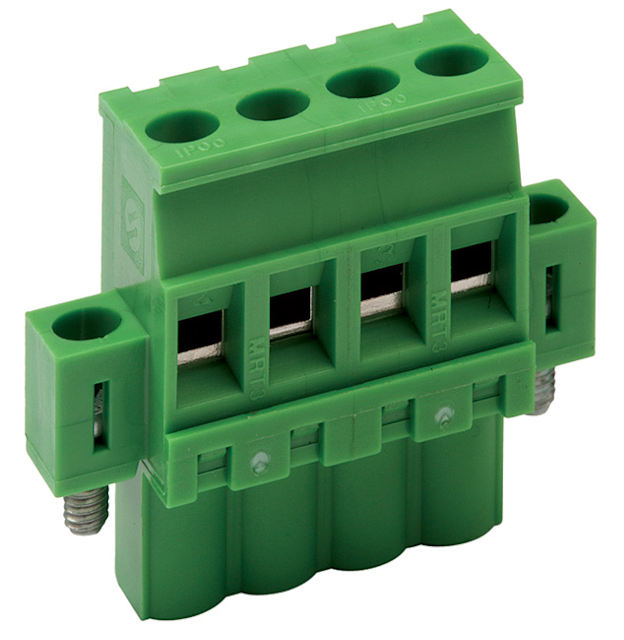 The plug, which is available in a wide range of pin spacing from 5mm to 5.08mm and in sizes from two to 20 positions, comes equipped with a flange on each end that has a locking screw. The corresponding pin header, which is mounted onto a printed circuit board, is equipped with a threaded insert to which the screw from the plug is engaged. The screw-lock plug and header are for those applications where vibration is a concern or where an extra level of security in the wiring connection is desired.
The vertical terminal block can be used to help resolve the wire entry and screw access issues. The ASI blocks are available in wire entry from the left or the right of the terminal block
Automation Systems Interconnect Inc. (ASI)
CIRCLE 121 ON READER SERVICE CARD
---
Solid State Purge Controller
Applied Analytics Inc. (AAI) unveils the ePurge X, a new solution for air purging electronic enclosures. Unlike conventional purge controllers, this new offering is entirely solid state and much more in line with the design of AAI's automated process analyzers.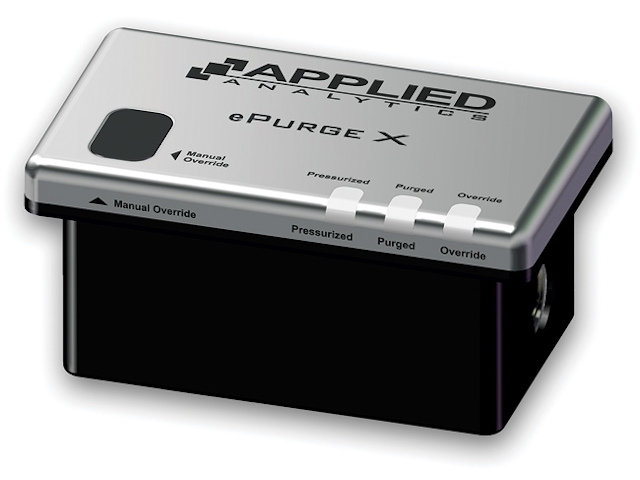 The ePurge X has an ultra-slim profile that barely protrudes from the surface of the enclosure. It also has half as many components to install as the purges that are currently available, it's reported.
AAI is also introducing a new concept with the utility-saving feedback feature. The ePurge X uses a digital mass flow sensor to monitor the flow rate of purge gas through the enclosure. Along with the differential pressure, this flow value allows the ePurge X to provide data on instrument air consumption by specifying the exact demand that will keep the enclosure safely pressurized without wasting extra utilities.
Applied Analytics Inc. (AAI)
CIRCLE 120 ON READER SERVICE CARD
---
Man Baskets for Service Cranes
Diversified Products introduces the Quick Attach Man Basket specially designed for use on service cranes. The yoke-style basket features a universal mounting bracket for installation on a wide variety of service crane styles, and it provides a much safer option for utility and construction work than using ladders or climbing on equipment. It also extends the versatility of service cranes used in mines, petrochemical plants and a wide variety of other large equipment applications.
Diversified's man basket is made from heavy-duty steel for withstanding tough jobsite conditions. The basket also provides improved access to equipment, and its design allows the unit to be stored on the service body. The full-sized floor is 30 inches wide by 30 inches deep, and the inward-opening doors are designed to save space, promote easy entry and provide additional worker safety.
Diversified Products
CIRCLE 122 ON READER SERVICE CARD
---
Cable Pullers for Variety of Electric Cable Pulling Applications
Condux International offers a complete line of versatile cable pullers for a variety of electric cable pulling applications. Condux CableGlider cable pullers offer portability and easy setup. The units are completely self-contained and adapt to a variety of pulling situations.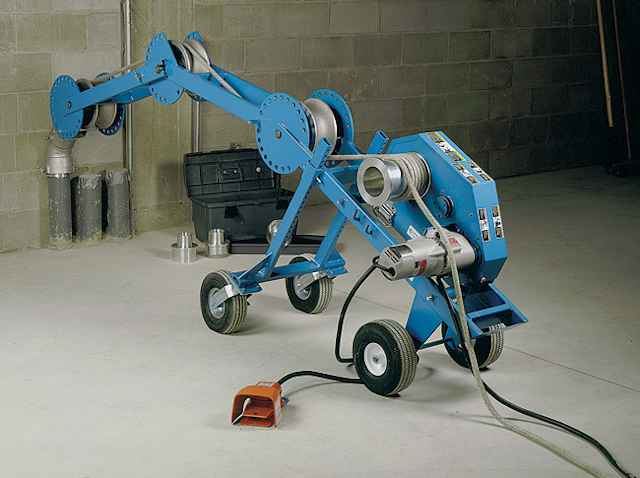 The Condux CableGlider STD cable puller provides 6,500 lbs. of pulling force and two-speed operation. The CableGlider Plus offers the same pulling force and two-speed operation as the STD model but comes equipped with a heavy-duty frame and extra pivot arms for challenging pulling situations. The CableGlider HD provides maximum pulling power for longer runs, offering 12,000 lbs. of pulling force.
A lightweight CableGlider LW accommodates both vertical and horizontal pulling applications. A pivoting arm also allows the CableGlider LW to work with a range of jobsite conditions. The one-speed motor and gearbox provide up to 3,000 pounds of pulling force and a maximum pulling speed of 30 fpm.
Condux International
CIRCLE 123 ON READER SERVICE CARD
---
Polywater FST-250 Foam Duct Sealant
Polywater FST-250 sealant is a two-part, high-expansion, closed-cell foam that is cited to be superior to duct putty and aerosol canned foam. Unlike putties and canned foams, high-performance FST foam seals out gases, holds up to 15 feet of water head pressure and will not dry out or sag over time.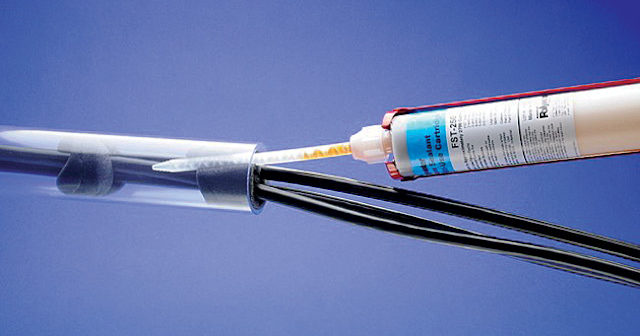 Aerosol canned foams are typically open-cell foams that take up volume designed for insulation but can't hold back water head pressure. Polywater FST-250 keeps water, sewer gases and critters out of vaults, manholes, converter boxes, light boxes and switchgear by effectively sealing conduit entrances.
FST is also effective for sealing the tops of riser poles to keep out squirrels. The FST-250 kit contains enough material to seal up to five 2-inch ducts.
American Polywater Corp.
CIRCLE 124 ON READER SERVICE CARD
More Utility Products Current Issue Articles
More Utility Products Archives Issue Articles