Utility Products Conference & Expo 2011
Bringing You the Latest Products, Demonstrations, Training and More!
Jan 1st, 2011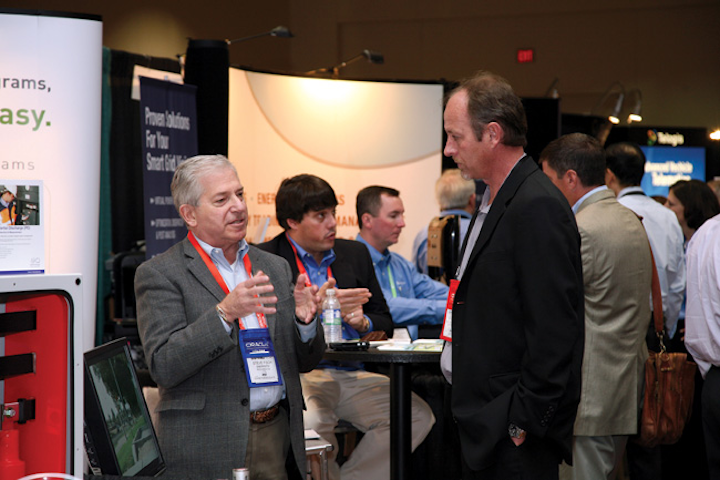 Bringing You the Latest Products, Demonstrations, Training and More!
The third annual Utility Products Conference & Exposition (UPCE), sponsored by PennWell's Utility Products magazine, will be held February 1-3, 2011 at the San Diego Convention Center. Bringing the pages of Utility Products magazine to life, this year's UPCE offers you an opportunity to increase your product knowledge and network by bringing together buyers and sellers of CATV, telecom, water and power equipment in one place. UPCE will allow you to learn firsthand about your industry's latest products and services.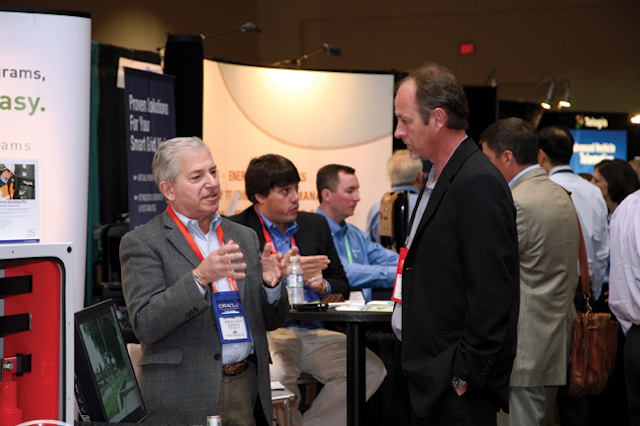 UPCE will be co-located with DistribuTECH and allow the hands-on worker to discuss and learn about practical solutions to everyday problems. This intimate event will also allow attendees to be a part of product demonstrations, training and conference sessions, and breakfast roundtables. With indoor and outdoor exhibits from companies offering solutions and products for the workplace, UPCE will provide everything you need in a show-new technologies/products, educational opportunities, networking opportunities and hand-on training.
In addition, UPCE attendees will have access to the DistribuTECH exhibit hall and can freely explore the two events. To attend conference sessions at both shows, you can easily upgrade your registration.
Who Should Attend this Event?
Electric Utilities
Electric Maintenance and Line Supervision
Public Power Companies
Rural Electric Cooperatives
Fleet Management
Municipalities
Telephone Companies
Cable/CATV Companies
Utility Contractors
Overhead/Underground Contractors
Telecom Contractors
CATV Contractors
Dealers/Distributors
Service/Repair/Maintenance
General/Corporate Management
Engineers: Design, Specifying, Safety
Purchasing
Types of Products and Services Represented:
Safety Products
Tools & Supplies
Repair/Maintenance/Testing
Wire, Cable & Fiber Optics
Wire & Cable Handling Equipment
Lineman Tools
Test & Measurement Equipment
Transmission & Distribution
Utility Vehicles & Accessories
Overhead Distribution Equipment
Metering Devices
Power Monitoring
Network Design/Installation Services
Cabinets/Enclosures/Pedestals
Fiber Cleavers & Splicers
Connectors
Data Communications Equipment
Telecommunications Equipment
Computers & Software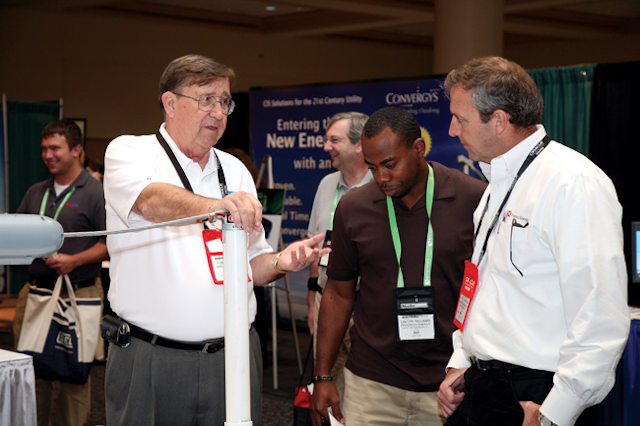 UPCE Conference Sessions
Beginning Tuesday, February 1, 2011, the UPCE Conference will offer two tracks with seven sessions.
Track 1:
Hardening T&D Infrastructure Through New Innovative, Alternative Utility Pole Solutions
Transformer Certification (Part I)
Transformer Certification (Part II)
Track 2:
Line and Truck Grounding for Today's Lineman
Inspection and Care of Rubber Insulating Products
Temporary Grounding Practices
Increasing Driver Awareness to Reduce Accidents
For full conference session descriptions, please visit www.utilityproductsexpo.com. Conference information is accurate at press time and subject to change.
Networking Opportunities
Plan to attend the free Opening Reception on Tuesday, February 1, 2011, 5:00 p.m. to 6:00 p.m. on the exhibit floor. Enjoy hors d'oeuvres and drinks while visiting with friends, industry colleagues and exhibitors. On Wednesday, February 2, 2011, 4:00 p.m. to 5:00 p.m., join sponsors at their booths on the exhibit floor for It's 5 O'Clock Somewhere happy hour! Free to DistribuTECH and UPCE exhibitors and attendees, the Networking Reception, February 2, 2011, 5:00 p.m. to 7:00 p.m., will feature live entertainment, food and drinks; visitors, guests and spouses need to register for the Networking Reception for a fee.
Plan to Attend UPCE
You will want to join other utility workers and exhibitors at this year's UPCE for a rewarding networking and learning experience. And, while you're at the show, enter the drawing to win an Arctic Cat Prowler. We hope to see you there!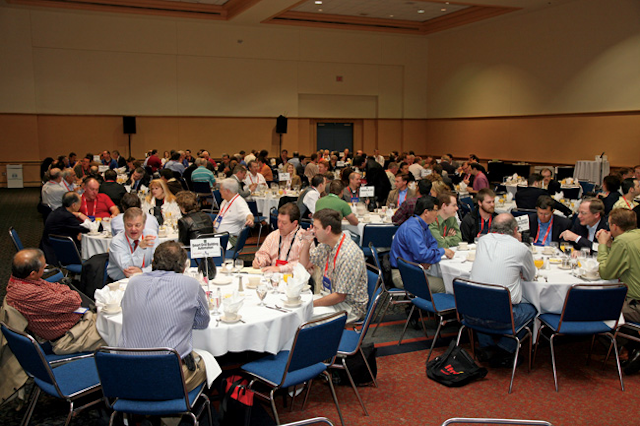 A.R.E.
Booth #241
Manufacturer of fiberglass truck caps and tonneau covers and aluminum truck caps for commercial, independent contractor and fleet use. Distributor of related truck accessories. Exclusive distributor of SpaceKap fiberglass commercial utility body.
Alamon Contract Services
Booth #543
Alamon has been providing professional, skilled contract services to the telecommunications and electric industries since 1975. We serve customers throughout the United States from our headquarters in Kalispell, Mont. and satellite offices in California, Texas, Oregon, Colorado and New Hampshire.
Alcatel-Lucent
Booth #451
Alcatel-Lucent: building smart networks to support the smart grid. A leading network partner in smart grid projects around the world, Alcatel-Lucent offers end-to-end network solutions that combine power utility industry specific knowledge and experience with carrier-grade communications technology and expertise. Alcatel-Lucent offers a comprehensive portfolio of smart grid solutions, enabling utilities to transform their communications networks with reliable, secure and flexible network technologies, supporting mission-critical operations and intelligent energy management applications.
All Terrain Aerial Lifts
Booth #150
The most awesome insulated, compact, versatile, self-propelled, indoor/outdoor, all-terrain, tracked, aerial lift available today! Climbs hills. 80 ft. W.H. Fits thru 36-in. gates. 109 ft. thru 42 in. gate. Towable with a pickup truck. Quality built in the U.S.A!
Almetek Industries Inc.
Booth #642
Brother Mobile Solutions Inc.
Booth #449
Brother Mobile Solutions Inc. (BMS) is a wholly owned subsidiary of Brother International Corp. BMS manufactures and sells mobility printer and scanner products for mobile workforces with a specific focus on field workforce/service, public safety and route accounting.
Cabling Installation & Maintenance (PennWell publication)
Booth # 249
For more than 15 years, Cabling Installation & Maintenance has delivered in-depth technical and business insights focused exclusively on the information needs of structured cabling professionals. Our approach combines the journalism expertise of our editorial staff with the knowledge of the industry's foremost experts to deliver information that is trusted and respected throughout the industry.
Capital Safety
Booth #447
Capital Safety, home of the DBI-SALA & Protecta brands, provides fall protection and rescue solutions to personnel who work in hazardous environments including systems for utility, wind energy and telecom companies combining comfort, mobility and complete safety. Innovation and quality plus compliance are the demands our products meet or exceed.
CHANCE (Hubbell Power Systems)
Booth #237
Offers hot line tools, grounding equipment, rubber gloves, crimping tools, cover up, meters and instruments as well as field training. Many training DVDs available at no charge.
Cisco
DistribuTECH, Booth #519
Experience the True Power of the Grid. Cisco delivers an end-to-end, IP-based secure communications infrastructure for the smart grid from generation to businesses and homes. Traditional energy networks contain disparate systems that lack efficiency, introduce risk, and increase costs.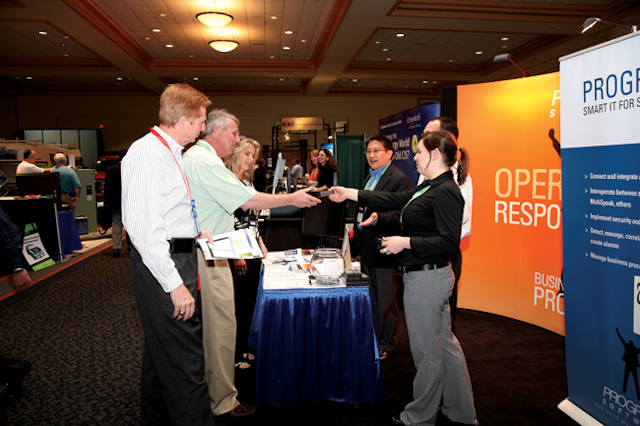 East Jordan Iron Works
Booth #240
East Jordan Iron Works is the global leader in the manufacturing and distribution of infrastructure access solutions. Made in the USA.
Electric Light & Power Magazine
Booth #249
Electric Light & Power is the authoritative source of electric utility news for utility executives and management. Each issue of Electric Light & Power provides insight into industry news, risk management, financial and regulatory issues and reviews T&D, generation, renewable energy, energy efficiency, CIS/CRM and information systems trends and much more.
Elektroinstitut Milan Vidmar
Booth #544
EverLast Induction Lighting
Booth #246
EverLast Induction Lighting is a subsidiary of Full Spectrum Solutions Inc. and has quickly grown into the leading manufacturer of energy-efficient lighting solutions for roadway, parking structure, facility and area lighting applications.
Global Power Products / Generlink
Booth #141
HD Supply Utilities
Booth #242
As North America's largest electric utilities distributor, HD Supply Utilities provides the industry's most comprehensive products, solutions, technologies and expertise for the distribution, transmission and generation of electric power, serving electric utilities of all sizes.
HeaterMeals Inc.
Booth #444
HeaterMeals Self-Heating Entrees & Meal Kits come with everything needed for "A Hot Meal Anytime, Anyplace"-excellent for storm restoration feeding. HeaterMeals tasty, 3/4 pound entrees keep for up to five years without refrigeration.
IML Inc.
Booth #541
IML is the leading manufacturer and distributor of scientific measuring instruments that are used in the timber industry.
Lightwave Magazine (PennWell publication)
Booth #249
Through its integrated media portfolio, Lightwave delivers content focused on fiber optics and optoelectronics, the technologies that enable the growth, integration and improved performance of voice, data and video communications networks and services. Our experienced editorial team provides trusted technology, application and market trend insights to corporate executives, department heads, project managers, network engineers and technical managers at equipment suppliers, service providers and major end-user organizations.
Madi LLC
Booth #343
MJ Sales Inc.
Booth #347
MJ Sales Inc. is a manufacturer of satellite telephone accessories and an authorized dealer for LightSquared, Hughes and Iridium hardware and airtime services.
MobileDuz
Booth #143
TRUCK OFFICE invents, manufactures, distributes and installs the world's only products that fit in full-size pickup trucks and provide safety, security and organization for papers, tools and other essentials needed by working men and women.
NASCO Industries Inc.
Booth #341
NASCO manufactures electric arc protective outerwear complying with ASTM F1891. From ArcLite, the industry standard, to MP3, the only breathable, multi-season, arc and flash fire protective product, NASCO has the right solution for your needs.
PennEnergy
Booth #249
PennEnergy serves global energy professionals with the broadest, most complete coverage of industry-related information with resources to help effectively perform critical job functions.
PennEnergy Jobs
Booth #249
The PennEnergy Jobs mission is simply stated: Connect the leading industry employers with the best talent the industry has to offer. For energy industry employers, PennEnergy Jobs offers an extensive suite of products and services to reach the industry's best and brightest career-minded professionals. Our process puts your recruitment message in front of the industry's best talent whether it is online, in print, or at an event along with the flexibility to create a plan best suited to your objectives and budget.
PennEnergy Research
Booth #249
PennEnergy Research - Found at PennEnergy.com, PennEnergy Research features over 1,800 research and data tools focused on the energy industry. It is the most comprehensive listing of industry research, analysis, data, and forecasts. This unparalleled collection is available through special partnerships with leading energy consulting firms.
PennWell Corp.
Booth #249
For professionals in every segment of the global power market, PennWell delivers targeted magazines that consistently feature the news, information and analysis industry leaders need to be more successful, profitable and competitive. With an 85-year history as publisher of these top trade magazines-and as producer of the world's largest and most visible conferences and exhibitions-PennWell is the leading facilitator of information exchange among industry decision makers and product manufacturers. Dynamic industry magazines include Power Engineering, Power Engineering International, Electric Light & Power, Potencia, Middle East Energy, Water & Wastewater International, Waterworld and POWER GRID International. Conferences and exhibitions produced by PennWell include POWER-GEN International, Renewable Energy World, POWER-GEN Europe, POWER-GEN Asia, POWER-GEN India and Central Asia, POWER-GEN Middle East, DistribuTECH, COAL-GEN and Russia Power.
Petra Solar
DistribuTECH, Booth #2515
Power-Gen International
Booth #249
POWER-GEN International is the world's largest power generation event focusing on the industry's latest innovations, technical trends and business strategies. If you're looking for a broad range of qualified power professionals with the power to purchase, look no further than POWER-GEN International. Rated the industry's #1 event and named one of the Top 50 fastest growing events in the U.S. by Tradeshow Week magazine, POWER-GEN International is the only event you'll need to attend to meet with the world's leading power generation decision-makers.
POWERGRID International
Booth #249
POWERGRID International is the power industry's leading source of information on electric power transmission and distribution automation, engineering and information technology. POWERGRID International reaches 40,000 electric utility professionals, managers, engineers and other qualified subscribers who count on POWERGRID International to present the information they need to make on-the-mark business and technical decisions every day.
Powerseal Pipeline Products
Booth #345
Predictive Technology Inc.
Booth #640
PTI is a leader in Web-based monitoring solutions with over 20 years of experience in battery and infrastructure monitoring, offering solutions for utilities, telecom, data centers, government, hospitals and other mission critical facilities.
Protective Industrial Products
Booth #146
PIP supplies work gloves and personal protection. Our products have been designed and rigorously tested with the utmost safety in mind, and we are highly confident in the ability of our products to perform well at work and beyond.
RAD Data Communications Inc.
Booth #440
Established nearly 30 years ago, RAD Data Communications is an award-winning manufacturer of access and backhaul solutions for public utilities, transportation systems, educational institutions, service providers, enterprises and government agencies around the world.
Renewable Energy World
Booth #249
The presenting magazine for Renewable Energy Europe, Renewable Energy World covers all aspects of renewables: wind, power, solar thermal, photovoltaics and biomass are covered in every issue, and other technology sectors such as geothermal, energy in buildings, energy storage, small hydro, wave and tidal, transportation, fuel cells and hybrid systems are also covered regularly.
Renewable Energy World Europe
Booth #249
Renewable Energy Europe is part of Europe's largest gathering of energy professionals under one roof. The multi-session conference addresses challenges facing the renewable energy sector, both strategic and technical. It is an information platform that provides the latest technologies and best industry practices to support the decision-making processes of power industry professionals.
Renewable Energy World-North America Conference & Expo
Booth #249
North America's premier renewable energy conference and expo is now in its 7th year. TRenewable Energy World Conference & Expo North America has a proven track record as renewable energy's leading conference. Featuring insightful discussions and presentations during technical sessions related to technology, markets, business strategies and policy covering the wind, solar, biomass, hydro, geothermal, ocean/tidal/wave, bio-power, bio-fuels hydrogen and energy sectors.
Scorpion Protective Coatings Inc.
Booth #446
Southern States LLC
Booth #442
TOA Technologies
Booth #546
Truck Covers USA
Booth #140
Utility Products Conference & Exposition
Booth #249
The Utility Products Conference & Exposition brings the pages of Utility Products magazine to life and brings together buyers and sellers of power, telecom, CATV and water equipment, providing them an opportunity to learn firsthand about their industries' latest products.
Utility Products Magazine
Booth #249
Utility Products, published since 1997 and published 10 times a year, provides influential product information to the decision-makers and specifiers in the power, telephone and CATV markets. The magazine reaches more than 32,000 qualified subscribers and is BPA audited. Magazine subscribers include investor-owned utilities, cooperatives, municipalities and contractors. Utility Products provides subscribers with an interesting and reliable source of information that aids them in their purchasing decisions.
WaterWorld Magazine
Booth #249
WaterWorld serves 58,957 engineers, managers, consultants, contractors and operations professionals in the municipal water/wastewater industry. Each month, WaterWorld delivers information about products and services, technology, applications, legislation and regulations to help these industry pros successfully plan, design, operate and maintain their systems.
More Utility Products Current Issue Articles
More Utility Products Archives Issue Articles