2010 PRODUCTS of the year
Jan 1st, 2011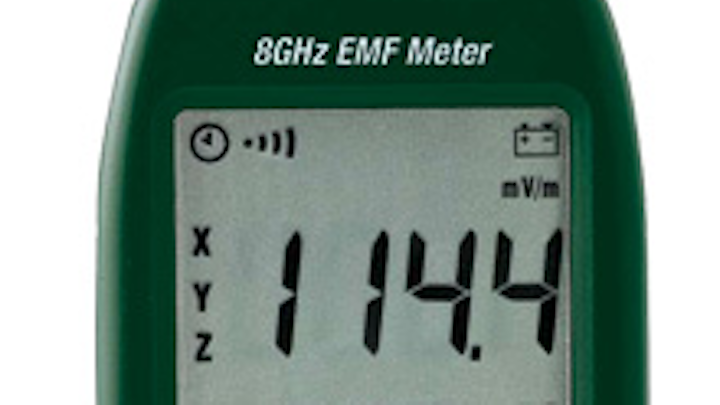 This issue of Utility Products magazine brings you products that received the highest reader response in 2010. While all the products featured in each issue are useful and relevant to your industry, some attract more attention than others. See which products featured in the magazine caught reader's eyes.
New 8 GHz RF/EMF Meter Monitors High-Frequency Radiation
Extech Instruments, a supplier of handheld test and measurement equipment, announces the new 480846 8 GHz RF Electromagnetic Field Strength Meter.
The 480846 is designed for digital and analog radio frequencies and electromagnetic field strength measurement including: mobile phone base station antenna radiation, RF power measurement for transmitters, wireless communication applications (CW, TDMA, GSM, DECT), wireless LAN (Wi-Fi) detection/installation and microwave leakage. It monitors high frequency radiation in the 10 MHz to 8 GHz frequency range. Measurement is optimized for 900 MHz, 1800 MHz, 2.7 GHz, 3.5 GHz and 8 GHz.
The isotropic design provides point-and-shoot, non-directional measurement with a three-channel (triaxial) measurement probe. The easy-to-read four-digit LCD displays results as electric field strength (V/m), magnetic field strength (A/m), or power density (W/m2 or W/cm2).
Results can be measured in four modes: live/instantaneous readings, maximum value, average value (with four-second to 15-minute adjustable intervals) and maximum average. Plus, an audible alarm can be set with user-defined threshold and onboard memory stores up to 99 data points.
Extech Instruments
CIRCLE 109 ON READER SERVICE CARD
---
LED Vehicle Scene Light
Superior Signals' new Illuminator Series of LED lights includes the SYLED-SL10 Vehicle Scene Light. Utilizing 10 high intensity LEDs, the SL10 Scene Light produces 80.6 lumens of light with a 90 degree viewing angle while drawing only 1.2A at 12.8 Vdc and 0.6A at 24 Vdc. LEDs create a brighter white light that lasts longer and draws less power than traditional halogen lights.
The SYLED-SL10 is designed for professional use and is weatherproof, vibration resistant, features an aluminum housing and mount, and operates at temperatures from -40 F to 130 F. The SYLED-SL10 also has reverse polarity protection and carries a five-year warranty.
Superior Signals Inc.
CIRCLE 110 ON READER SERVICE CARD
---
Nikon Forestry 550 Laser Rangefinder/Hypsometer
Obtain reliable range and height measurements with the Nikon Forestry 550 laser rangefinder/hypsometer. Affordable and rugged, it provides accurate range, height and angle measurements. First target priority mode allows the user to range small objects and obtain an instant reading. Distant Target Priority Mode displays the range to the farthest target among the targets measured.
This precision rangefinder/hypsometer is waterproof, features 6x magnification, and provides several measurement readout options including actual distance, angle compensated distance (horizontal distance), angle (degrees) and height. Results are displayed in yards, meters or feet. An internal display and an external LCD display make reading the measurement data easy.
Forestry Suppliers Inc. is a worldwide supplier and distributor of general-use and specialty products and equipment for the forestry, arboricultural, landscaping, environmental, aquacultural, wildlife management, education and engineering markets.
Forestry Suppliers Inc.
CIRCLE 111 ON READER SERVICE CARD
---
Personal Cooling Products Reduce Fatigue and Heat Exhaustion
Introducing Pelsue's new line of personal cooling products to reduce fatigue and heat exhaustion. The ANSI Class 2 cooling vests, cooling caps, helmet liner, arm coolers and neck coolers can lower the skin temperature by up to 20 degrees by simply soaking them in water for no more than 30 seconds. The cooling benefits last up to eight hours. You can always simply re-dip the product in water to replenish the inner core. Products are available in both a standard and flame retardant fabrics.
Pelsue
CIRCLE 112 ON READER SERVICE CARD
---
K&H Industries Partners with PG&E on LED StarBeam Remote Control Spotlight
In June 2009, K&H Industries Inc. was approached by PG&E to design a dual-lamphead remote control spotlight with high light output and low amperage draw. This design project was partially funded by the U.S. Recovery Act with the purpose of creating a prototype "green" utility maintenance vehicle. The dual-lamphead spotlight was one of many new green technologies to be incorporated into the vehicle.
The new LED Luxeon K2 LEDs offer many benefits to customers compared to incandescent bulbs-including lamphead durability that results in increased bulb life expectancy and longevity of over 50,000 run-time hours, it's reported. The LED StarBeam is available for order through K&H Industries, Altec Industries and Terex Corp.
Model SB-101T-LT432 LED Luxeon K2 lampheads, used for the new StarBeam remote control spotlight, feature durable aluminum housing with protective polycarbonate lens. It contains 10 three-watt Luxeon K2 LEDs and is available in either 12V or 24V. Bright lumen output tops 3,000 lumens with an under six-amperage draw.
StarBeam remote control spotlight is cited to be the only dual-head remote control spotlight on the market. Its rugged design features twin rotating lampheads with 330 degree control in both the horizontal and vertical axes. The lampheads and motor housing are weatherproof, coupled with brushless connections and lubrication free drive system-providing years of dependable service in the most extreme weather conditions, including snow, ice and rain.
K&H Industries Inc.
CIRCLE 113 ON READER SERVICE CARD
---
Reel Handling Machinery
Reel-O-Matic, a manufacturer of reel handling machinery, exhibited it's model Mini-Penthouse machinery during the 2010 DistribuTECH/Utility Products Expo. Shown is the company's model Mini-Penthouse 5 measuring and coiling machine used by electric utilities to distribute cable in their storeroom operations and job sites.
Reel-O-Matic
CIRCLE 114 ON READER SERVICE CARD
---
Line of Narrow Tongue Connectors Expanded
BURNDY, a manufacturer and provider of connector solutions to the industrial, energy, construction, telecommunication, petrochemical, data center and transportation industries, announces the expanded line of narrow tongue connectors to meet increasing demand for smaller components in today's panels and switch gear.
The narrow width tongue is for connections in limited space applications. Made from high-conductivity, seamless copper tubing and electro-tin plated, a long lasting corrosion-resistive connection is ensured. The narrow width tongue is marked with wire size, die index and color-coded bands to show correct number and location of crimps for proper installation. All BURNDY narrow tongue terminals are UL Listed and CSA Certified when crimped with the approved tool and die combination, a part of the BURNDY Engineered System. The connectors are RoHS compliant, per European Union directive, to help ensure a safer environment.
BURNDY
CIRCLE 115 ON READER SERVICE CARD
---
New Connectors and Fittings Distribution Catalog
This recently updated Anderson and Fargo (Hubbell Power Systems) catalog is a complete source for connectors, fittings and general hardware products used in distribution applications. Connector Catalog DIST-1 is a complete reference source that's essential for anyone involved in distribution work.
Hubbell Power Systems
CIRCLE 116 ON READER SERVICE CARD
---
Track Driven Mini-digger Derrick Goes Many Places
NESCO Sales & Rentals' EZ Hauler 5500 is a track driven mini-digger derrick that will go places you wouldn't think of taking a line truck. Once you get to the work site, the EZ Hauler 5500 has the power to finish the job with its 5,500-pound lift capacity and its ability to set utility poles up to 60 feet tall. It also has the ability to pick up a 2,500-pound padmount transformer.
The EZ Hauler 5500 is not only a mini-digger derrick, but can perform as a material handler and personnel lift.
General Specifications:
Engine: Yanmar Model 3TNV88, 3-cylinder water-cooled, diesel 36 hp at 3000 rpm
Hydraulic pump: fixed displacement gear type, 14 gallons (53 Liters) per minute
Hydraulically extended tracks
43-foot boom tip height
Full 360 degrees continuous rotation
Meets or exceeds ANSI A92.2-2001, A10.31- 1995 and SAE requirements
5,500 pound lifting capacity with overload protection
2,500 pound deck carrying capacity
Insulated to 46 kV Category C
Auger stored on side of boom
Hydraulic pole claw
Fully proportional remote control
NESCO Sales & Rentals
CIRCLE 117 ON READER SERVICE CARD
---
Omega FR Outerwear System
The Omega FR is an all season, waterproof, breathable, windproof and insulated outerwear system. The Omega FR offers protection from multiple hazards including electric arcs (ASTM F1891), flash fire (ASTM F2733), traffic hazards (ASNI 107) as well as cold weather (ASTM F1868).
For winter wear, the Omega has two removable liner options. A 150g FR Thinsulate insulated liner provides maximum warmth in sub-zero temperatures. For added versatility, an FR Nomex fleece provides winter warmth and is a convenient FR jacket for cool temperatures.
NASCO
CIRCLE 118 ON READER SERVICE CARD
---
New Carrying Case Lanyard for V-Watch Personal Voltage Detectors
HD Electric Co.'s new Carrying Case Lanyard for the V-Watch Personal Voltage Detector combines the carrying case and lanyard into a single case. The Carrying Case Lanyard is designed to leave the V-Watch permanently mounted inside and offers the dual feature of protecting the V-Watch when not in use and acting as a lanyard for the V-Watch when in use. The V-Watch will not work inside the closed, zippered Carrying Case Lanyard.
Three steps are required to use the V-Watch:
1. Remove the V-Watch Carrying Case Lanyard from the belt.
2. Completely open the zippered case and test the V-Watch for proper operation.
3. Extend the lanyard from the top of the case and place it around the neck, adjusting the lanyard so the V-Watch is worn at mid-chest level.
The V-Watch is now ready to provide that extra level of safety by detecting and alerting you to the presence of electrical fields or energized equipment.
HD Electric Co.
CIRCLE 119 ON READER SERVICE CARD
---
Dual End Wrenches Combine Flexibility and Reliability
Two new dual-end ratchet wrenches from Lowell Corp. give high line utility workers multiple options in a single tool for greater flexibility when tackling a variety of common pole fasteners, lag bolts and C clamps. Each wrench has a ratcheting socket at one end and a ratcheting box at the other.
The Models 101TDE and 103TDE are designed with the durability and turning power to meet the specific needs of linemen. To ensure longer tool life, each dual wrench uses the same solid construction as Lowell's proven 151T Lineman's wrench. In addition to being ready for tough duty, the wrenches can also generate the kind of torque necessary for loosening and tightening utility pole hardware.
The ratcheting socket end of each wrench is a triple square, providing three sizes: 3/4 inch, 1 inch, and 1-1/8 inch. The socket is made of cast-iron for durability and painted fluorescent orange for easy visibility and tracking. The other end is a ratcheting box hex with a low profile for use in tight spots. The two hex sizes are 9/16 inch and 3/4 inch. The latter will also turn 5/8-inch square nuts.
Lowell Corp.
CIRCLE 120 ON READER SERVICE CARD
More Utility Products Current Issue Articles
More Utility Products Archives Issue Articles