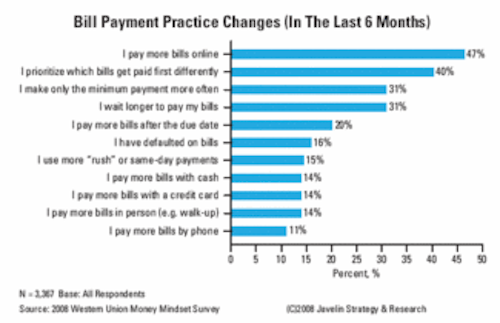 By Randy Vyskocil
Utility providers across the country are feeling the impact of today's financial crunch on consumers. Nationwide, an estimated 15.6 million households owed almost $5 billion in utilities payments in March, according to the National Energy Assistance Directors' Association's 2008 energy survey. That is an increase of almost $640 million, or 9.5 percent, over 2007. Of the households that owe, about 14.8 percent, up from 13.5 percent last year, are at least 30 days behind in their utility bill payments.
Given their strained financial circumstances, utility customers are managing their budgets more closely than ever and prioritizing their expenses and bills accordingly. A recent survey conducted for Western Union Payment Services reveals that utilities are most at risk of late payments and/or defaults among consumers who expect to have trouble paying bills.
–16 percent of consumers believe they will pay bills late or default on payments in the next six months. Likely bills to pay late or default on are cable TV or satellite, internet, mobile, landlines, gas, water, or electric bills.
– The lowest income households report being significantly worse off over the last six months.
These consumers are more likely to have defaulted on payments, are more likely to make only the minimum payments, and more often paying bills late.
These consumers are more often turning to cash or walk-up payments rather than increasing their online bill payments.
– Many consumers are looking for new opportunities to make money, 28 percent report looking for a new job, 22 percent report looking for a secondary job.
– 12 percent report that someone in their household has taken a second job. These consumers are motivated mainly by meeting their current bill payments, while 28 percent took a second job to avoid defaulting on their debt.
Alternative Billing Channels as Valuable Revenue Collection Tools
Many consumers, faced with steadily increasing costs and ever-greater financial challenges, must prioritize bills–which ones get paid first, and which fall to the bottom of the pile. Furthermore, the strain of living paycheck to paycheck is exacerbated by the often rigid bill payment process itself. Utilities providers must seize this opportunity to respond to customer needs by expanding their consumer payment options. They must look to offer a full array of trusted channels to best meet the varied needs of customers who demand reliability, speed and convenience. Enhancing payment options not only increases the likelihood of getting paid on time, but also builds customer loyalty and engagement.
Today's customers expect diverse payment options–cash, check, debit card, credit card, walk-in sites, eBills, etc. These alternative payment channels are valuable, cost-effective revenue collection tools. If a consumer can only pay bills via credit card or debit card, providers had best offer these payment options or they will most assuredly lose out to other billers who do. In this volatile business environment, one late payment is one too many.
According to a 2007 study conducted by Forrester and Western Union Payment Services, 56 percent of responding households indicated that they mail a check to pay their bills. More than half of consumers utilize this traditional bill payment method despite the fact it does not allow for expedited payments. These study findings indicate that there is a wide-spread consumer audience who could potentially benefit from a full-spectrum of payment service options.
An Ever-Expanding Menu of Options
Utilities have a unique opportunity to integrate consumer bill payment alternatives into their customer care program. Offering multiple payment options strengthens end-user relationships by improving the customer experience and streamlining processing. The following provides an overview of specific payment solutions that utilities can implement for their customers to more effectively meet customer needs and build trusted relationships, all the while helping to ensure timely payments critical to a healthy bottom line.
Electronic Bill Payment
Electronic bill payment is becoming the preferred method customers choose for paying their monthly bills. Some estimate that by 2011, over 59 million households will pay their bills online, a 63 percent increase from 2007, according to a recent Forrester study on customer technology adoption. The option of electronic bill payment allows customers to set up a recurring payment schedule, to make sure bills are paid on time. In addition, the various electronic payment platforms enable each customer to tailor their monthly bill payments to their needs, while the simplicity of the service provides convenience.
Offering electronic bill payment has benefits for the utility as well. First, it makes collecting payments more cost efficient. Second, payments can be received immediately instead of waiting for a check by mail and bank processing times. Third, customers are more likely to pay their bill earlier when using the electronic payment option. Fourth, an electronic payment option improves customer relationships by increased customer access and engagement.
Finally, by offering electronic bill payment options you are doing your part to be environmentally responsible by enabling your customers to go paperless when paying their monthly bills. According to a recent study by the PayItGreen Alliance, if one in five households switched to electronic bills, statements and payments, the collective impact would save 151 million pounds of paper, avoid filling 8.6 household garbage bags with waste and avoid producing two million tons of greenhouse gas emissions.
Walk-In Payments
Walk-in payments are convenient for those customers who prefer to make payments by cash, specifically the 50 million Americans who don't own credit cards. The walk-in payment option offers customers the convenience of paying their bills as part of their everyday errands, such as at supermarkets or malls. Typically, customers who pay their bills using the walk-in payment method are looking for reliability and convenience–primarily near their neighborhoods.
For utilities, you can maintain your walk-in bill payment facilities on-premise, or outsource the walk-in payments using third-party, off-premise processors. The walk-in payment option accelerates payments to the utility provider, improves cash-flow and significantly reduces past due accounts.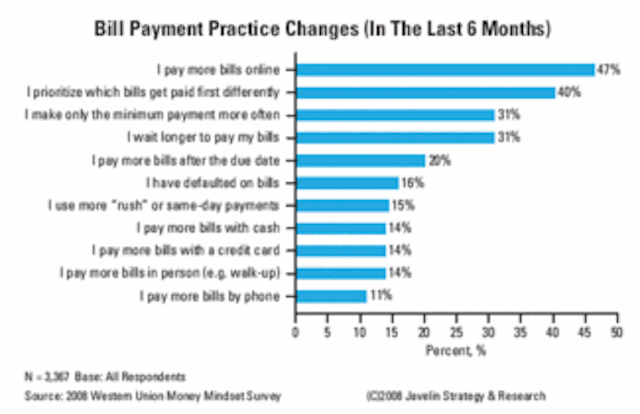 Click here to enlarge image
null
Credit Card Payments
Credit card payments are nothing new to the utility industry. About 80 percent of all utility companies offer customers the option of paying their energy bills with a credit or debit card. However, traditionally many large utility companies have not offered the option of recurring payment programs. Instead, they tend to outsource one-time credit card payments by phone to third parties that charge customers fees to cover the cost of the call and the applicable credit card fees. These fees can average more than $4 per transaction. In response, several of the large electric and gas utilities are leading the charge to reduce payment processing costs by offering recurring online payments.
Online Banking
Online banking will be the payment method of the future, already well underway. It is estimated that by 2010, 46 percent of online bill payments will be made through "consolidator" Web sites. Additionally, it is estimated that within this timeframe the percentage of customers paying via consolidated online banking will increase by as much as 59 percent.
Online banking is transforming the way people pay bills. This option substantially improves the overall customer experience, by scheduling payments that post the same day, receiving real-time customer validation and reducing the number of misapplied payments.
Overall, online banking is arguably the most convenient and flexible payment option for customers as it helps them manage their money more effectively by scheduling transactions in advance and controlling when the payments are actually made with a high degree of precision and certainty.
Integrating Payments Technology to Improve Customer Care
Utility providers who wish to leverage innovative payment technologies must look "under the hood" if they are to successfully integrate alternative payment channels into their overall customer care program. Technology must work efficiently and effectively to avoid timely errors that tarnish customer satisfaction. Providers must thoroughly evaluate their payment technology to determine how successful it is in:
reducing the amount of time and effort to research and correctly post payments;
eliminating manual posting of payments;
increasing cost effectiveness of the bill payment service for all stakeholders–in person, online, by phone; and
increasing end-user's satisfaction of the bill payment service–payments are posted reliably and timely.
Robust Range of Payment Channels Offers a Distinct Competitive Advantage
A robust range of alternative payment channels has proven to significantly reduce past due accounts, improve and maximize cash flow and reduce business costs associated with mail and payments processing. Moreover, innovative technologies that reliably post and settle payments help strengthen a provider's relationship with its customers and in turn, offer a distinct competitive advantage during these challenging economic times.
---
About the Author:
Randy Vyskocil has been in the information technology and payments business for more than 12 years. He is responsible for all business development for Western Union Payment Services' Utility Vertical Market focused on providing biller direct and online banking, billing and payment solutions to utility providers.