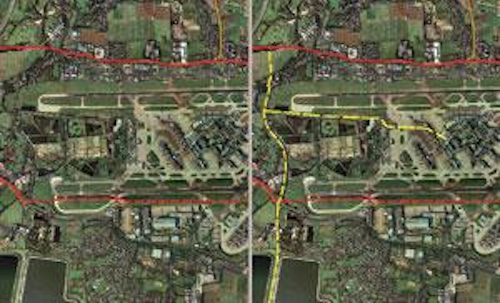 In an extremely dynamic industry today, where convergence, consolidation and competition meet service providers, decisions must be made not by chance, feel or competitive pressure, but based on substantive answers to a key set of where questions:
Where are our network assets?
Where are our current customers?
Where are our potential consumer and commercial customers—and how do I reach them?
Where do our competitors do business?
Where are shared network boundaries, operating centers, regulatory boundaries, and franchise areas (and how can we leverage them)?
Where am I vulnerable to competition?
Where is the competition vulnerable?
Where are my assets in relation to tax jurisdictions?
Location intelligence solutions combines software, data and services to help organizations measure, compare, visualize, analyze and model data in unique and powerful new ways. By adding location as a critical dimension in the decision-making process, communications providers can identify relationships between and among network infrastructure, existing customers, regulatory boundaries and potential customer demographics in both business and consumer areas. In the end, communications providers must rely on location analysis to help plan, predict and make decisions with greater accuracy.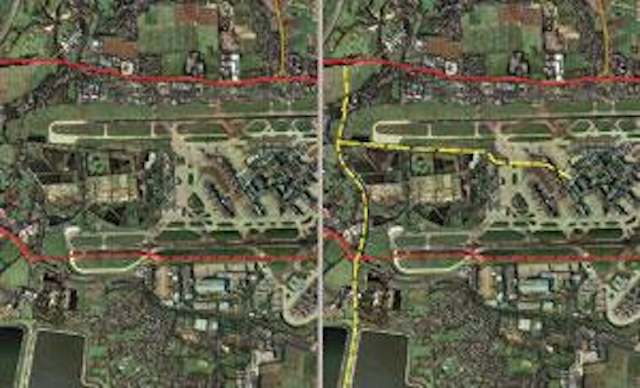 Aerial imagery helps cable providers detail network deployments for substantial savings
Click here to enlarge image
One way to capitalize on this opportunity, yet mitigate the risk, is to develop a strategic approach that incorporates location intelligence. This enables carriers to make decisions about new markets or services to offer by taking a close look at all the location factors that come into play prior to a costly commitment. A comprehensive location intelligence approach can help in the following areas:
Network Expansion
The added functionality offered by location analysis brings a new dimension to key areas such as market-driven build-out as well as product and service strategies. It enables a wireless broadband provider to intelligently design all aspects of their broadband network. Providers can perform propagation modeling within an urban environment that will indicate where coverage is available from numerous potential site locations. Topographic, building, street and demographic data is combined with propagation characteristics to allow a provider to maximize the placement of costly assets. Broadband providers can then design the most efficient backhaul connectivity to ensure that the network is as cost-effective as possible.
Competitive Analysis
As wireless broadband providers look to enter into the broadband market, location intelligence can help them identify areas that are underserved by other broadband providers or where competitive saturation exists. By analyzing the coverage areas of cable, DSL, FTTx and other wireless broadband competitors, providers can determine areas where the competitive situation is most favorable.
Sales and Marketing
When considering the deployment of a wireless broadband network, providers must not only consider where their potential customers are located, but who they are. By incorporating the analysis of consumer and business demographics, the provider can identify the areas that represent the highest potential for growth.
Many may be familiar with some of the basic geographies that demographic data is often analyzed within such as: Census Tracts, ZIP codes and MSA's. However, providers can also analyze the demographics within industry or technology specific boundaries. Areas such as RF propagation polygons, node boundaries or even buffer zones around a fiber route can be evaluated and ranked based upon the characteristics of the potential customers that would be served within this boundary.
For example, location intelligence analysis allows a broadband provider to identify not only all of the businesses within a market area (or propagation polygon), but the high bandwidth businesses located in a market area based upon business type, business size and industry modeling, which identifies an estimated level of broadband utilization. Sales, marketing and even network growth plans can be based upon this analysis.
As providers define target customers for their range of voice, video, and data services, perhaps they discover that the ideal high-speed data consumer is a business person over the age of 40, while the ideal voice-over-IP consumer is a 20-something fresh out of college, working his or her first job. With these types of considerations in mind, wireless broadband providers can set about asking the question, "Where are these groups located?" To get the answer, they can turn to analyzing detailed demographic information when planning and deploying new services.
U.S. Census-based estimates and projections offer the service provider a basic overview of a given market area. Characteristics such as population density, income, education, household size and the identification of high growth areas are all available for analysis. Service providers can utilize a multi-layered approach and analyze markets by pinpointing the areas of high growth along with the highest median income or identify the most densely populated neighborhoods that have the highest financial asset profile.
With age by income and age by sex analysis, service providers can tailor their triple play offering to the demographic strengths of a given area. For example, a service provider deploying IPTV services recently utilized this data to help determine the video programming they would offer in a particular area. This resulted in the provider achieving initial video service sales beyond their original predictions.
Occupation and employment data are also available for analysis. Data derived from the U.S. Census typically offers information on total employment, employment by occupation as well as commuting patterns. Often service providers will look to identify areas in which there are concentrations of employees from high-tech industries who are more likely to be high bandwidth broadband users.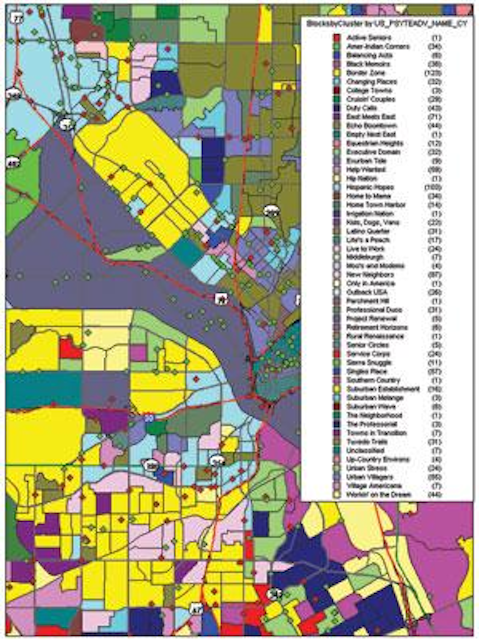 Mapping, visualization, and spatial analytics help uncover the needs of both existing customers and potential new ones.
Click here to enlarge image
Neighborhood segmentation combines geo-demographic inputs such as: census demographics, street layers, land-use information, retail business locations, mall locations and size, measures of commercial activity, settlement context measures, survey response data, lifestyle data, healthcare data, consumer spending information and highly influential auto ownership data with neutral net and hierarchical clustering algorithms that group the over 208,000 U.S. neighborhoods into clusters.
Neighborhood geo-demographic segmentation or clustering involves a disciplined look at a mix of geography and demography. Service providers can utilize neighborhood segmentation analysis to identify areas where consumers are most likely to purchase triple play services, determine the characteristics of a carrier's most productive customers, identify geographic concentrations of those customers, determine where existing customers could take advantage of more profitable new services and where high usage customers are located.
Providers who incorporate a launch strategy that includes residential and business demographics, customer profiling, propensity modeling and cluster analysis have the clearest vision of their potential customer base and typically also have the quickest ROI on their network investment. Wireless broadband providers must manage RF propagation, network capacity and backhaul all while analyzing the underlying consumer potential within each area.
Address Standardization, Cleansing and Validation
Address Standardization is a process in which input addresses are matched against a database of valid street names and postal attributions. With address standardization, cleansing and validation, wireless broadband providers are able to ensure the most precise customer data is available for network planning, maintenance and optimization is achieved. In addition, the customer service team can accurately identify service availability and respond to customer inquiries quickly and effectively. The sales team can use address standardization to identify opportunities for up-selling and cross-selling.
Voice over IP (VoIP) & 911
Wireless broadband providers who offer Voice over Internet Protocol (VoIP) have the ability to use location analysis to offer accurate handling of 9-1-1 traffic. By geocoding an address—attaching a latitude and longitude coordinate—a carrier is able to determine the correct Public Safety Answering Point (PSAP) and all of the necessary routing information. This ensures that when the VoIP customer dials 9-1-1, the call will reach the correct PSAP.
Customer Service
Adding spatial analysis to CRM applications enables operators to view the location of all callers and correlate trouble tickets with real-time network events. Location enhanced trouble tickets can also be analyzed and correlated with historical trouble data, allowing engineers to view where recurring network failures might pose serious threats and decide the best means to resolve network difficulties. In addition, location-based ticketing allows dispatch crews to use logistical algorithms to speed repair times which then shortens the customer response windows.
Location Intelligence
Location Intelligence is now a "must have" for carriers of every kind. The notion of "where" has become a critical factor in a provider's decision-making. By adding location as a critical dimension in the decision-making process, wireless providers can compete, save, serve and grow in today's increasingly competitive marketplace.
About the Author: Christopher Cherry is the director of Communications Industry Strategy at Pitney Bowes MapInfo, a leading provider of location-based solutions, intelligence and expertise to businesses and governments worldwide. Christopher has been analyzing and advising in the communications sector for more than 15 years, and has worked to develop strategies for many of the largest providers.