CASE STUDY: Pennsylvania One Call System, Inc.
Pennsylvania One Call System, Inc. turned to MapInfo for a solution to help identify utility companies which would be affected by locate request and ultimately reduce the excess notifications.
Apr 1st, 2008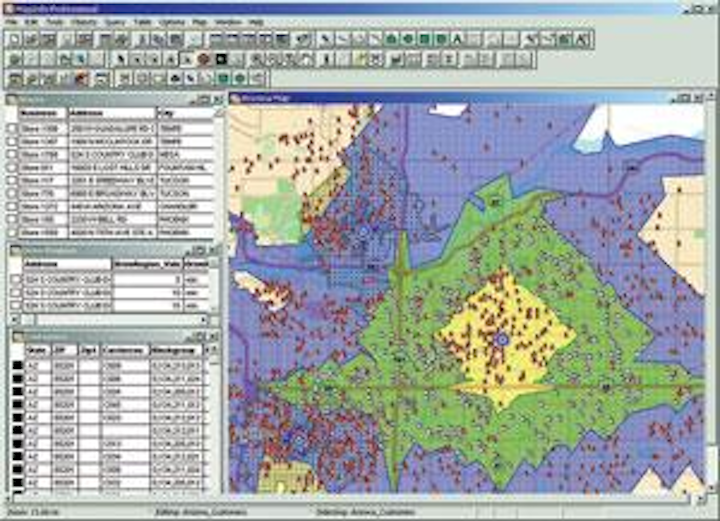 Pennsylvania One Call System, Inc. turned to MapInfo for a solution to help identify utility companies which would be affected by locate request and ultimately reduce the excess notifications.
---
CHALLENGE
Pennsylvania One Call System, Inc. needed a streamlined means of identifying which utility companies would be affected by requests from the public to dig or excavate within the state. In the past, the organization sent notifications to every member company in a given municipality and it was then up to the member to determine if their facilities were at risk.
---
SOLUTION
MapInfo location intelligence solutions enabled Pennsylvania One Call to quickly determine what utility companies needed to be notified and reduced the number of notifications that were being sent to member companies.
---
Throughout the United States, every state has a "call before you dig" system which allows any individual or group planning to dig to notify local utility companies of its intentions prior to excavation. This way, any underground facilities in the area can be marked by the facility owners. These groups receive a substantial amount of notifications, for example in 2005, Pennsylvania One Call System, Inc. (POCS) took in nearly 650,000 of these notifications which resulted in nearly 5.5 million outbound notifications to their membership.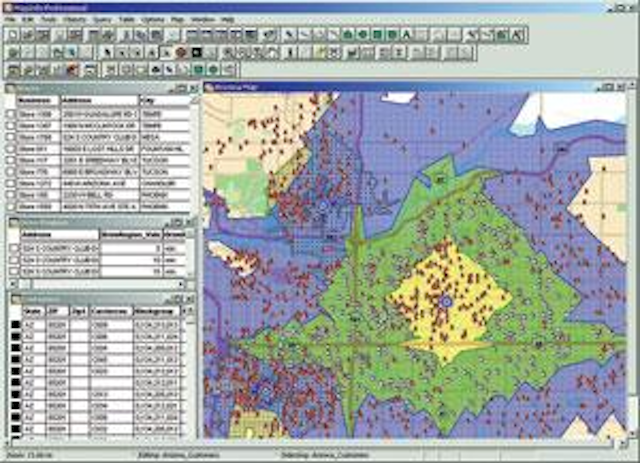 Visualize the relationships between data and geography and perform detailed analysis to drive insightful decisions. This map enables the viewer to analyze the drive time trade areas from a given location.
Click here to enlarge image
POCS is a not-for-profit organization that prevents damage to underground facilities by communicating to utility companies every request to dig coming from contractors, excavators, builders or the general public. With more than 3,000 members of underground facility owner/operators, POCS provides an efficient, cost-effective communications network among designers, excavators and facility owners.
Challenge
With every notification of the locate request that POCS received, they sent their members outbound notifications, requiring a response back to POCS within a specified number of hours. Using a database to identify all utility companies that operate within a municipality, POCS was sending notifications to member companies regardless of the proximity of their facilities to the dig site within the municipality, which meant a significant percent of notifications were being sent unnecessarily.
"Our organization needed a solution to cut down the number of unnecessary notifications that were being sent and to increase the relevance of tickets our members received," said Neil D'Anna, director of technology at POCS. "It was extremely time consuming and costly for the utility companies to manage these unnecessary notifications. And these kinds of costs are ultimately passed on to the utility consumer."
Result
In 2003, POCS turned to MapInfo for a solution to help identify utility companies which would be affected by locate requests and ultimately reduce the excess notifications. POCS created a system called "Member Mapping" a web-enabled, .NET, browser based location system which allows members to refine their municipal level notifications with the use of maps and infrastructure data.
This data is then used by POCS' system to determine whether a ticket within a municipality should be sent to the member—or not. POCS built this program with MapInfo MapXtreme, a product that enables users to create custom mapping applications to visualize and analyze data.
The only technical requirement for using the Member Mapping application is having Internet access, which provides members the ability to use the solution no matter where they are in the state. "It was important for us to come up with a solution that did not involve the extensive downloading of software. Many of our members needed access to Member Mapping from remote offices and multiple locations, and MapInfo's MapXtreme coupled with the internet provides us that flexibility," said D'Anna.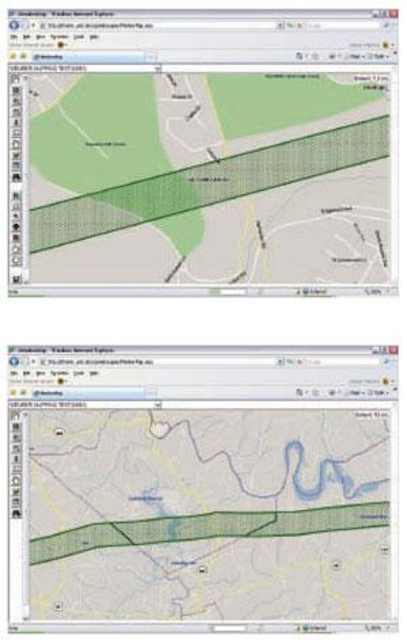 llustrations (at two different zoom levels) of the POCS web application and how a member utility company's facilities might appear on the map. The green polygons represent the member's facility notification area.
Click here to enlarge image
Using MapInfo technology, POCS was able to create the Member Mapping application with the use of their internal staff. A customer of MapInfo since 1988, POCS was familiar with the ease of use their products provided. "Since we have used MapInfo products before we knew that we would be able to save money by creating the program in house."
Benefits
Member Mapping is accessible and used by large and small companies throughout Pennsylvania and has led to an estimated savings by members of nearly $60 million dollars since 2003. In addition, POCS has seen a reduction in outbound notifications to the members taking advantage of Member Mapping by an average of nearly 60 percent.
"Having used MapInfo products in the past we knew that we would see great results, but we never expected to see the tremendous reductions in outbound notifications," said D'Anna. "The solution has proven to be an incredibly useful tool to help our members save valuable time and money."
About the Author: Christopher Cherry is the Director of Communications Industry Strategy at Pitney Bowes MapInfo, a leading provider of location-based solutions, intelligence and expertise to businesses and governments worldwide. Christopher has been analyzing and advising in the communications sector for more than 15 years, and has worked to develop strategies for many of the largest providers.