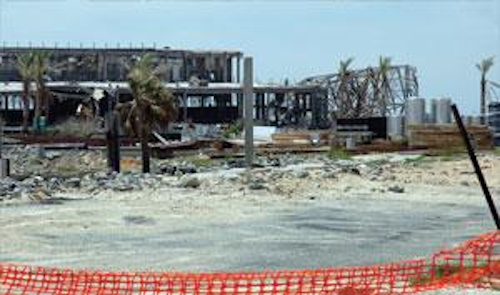 Telecom Providers Search for Solutions to FCC's Post-Katrina Mandate
More than two years after Hurricane Katrina, memories of the nation's worst national disaster still haunt many Americans. The stories of people and families stranded for days are chilling. With phone service knocked out, most of them were incapable of calling for help.
Katrina knocked out tens of thousands of phone lines, destroyed more than 1,000 cell sites and 35 Public Safety Answering Points (PSAPs), crippled dozens of central offices for weeks, and left thousands of people without 911 or E911 service. The storm and subsequent flooding crippled the region's telecommunications network, handcuffing emergency rescue and relief efforts and reducing the rest of the country to helpless bystanders.
That feeling of helplessness pushed the Federal Communications Commission (FCC) to action. Katrina exposed what some considered fatal flaws in the telecommunications infrastructure, and the FCC moved swiftly to form an independent panel to address the vulnerabilities. The panel's goal was to make specific recommendations to the FCC and the Public Safety and Homeland Security Bureau. To that end, panel members conducted a thorough review of the storm and its aftermath, including interviews with service providers as well as public agencies impacted by the Katrina disaster. Their review focused on:
Preparation for disaster
Recovery coordination
First responder communication
Emergency communication to the public
One of the key outcomes was a mandate, issued in early 2007, directing telecommunications providers to ensure their sites maintain a minimum of 24 hours emergency backup power for assets inside central offices/switch sites and eight hours for outside plant (OSP) facilities such as cell sites, remote switches and digital loop carrier system remote terminals. In addition, each provider must submit a one-time report detailing the 911 or E911 service capabilities and their ability to provide such service to all subscribers. The requirements applied to all providers with at least 500,000 lines or subscribers. The FCC stipulated that all providers must complete the overall rollout of the beefed-up power backup by the end of 2008.
With about 200,000 cell sites in the U.S., the FCC mandate initially generated serious concerns in the ranks of telecommunications insiders. Some cost estimates for such backup power upgrades were in the hundreds of millions of dollars.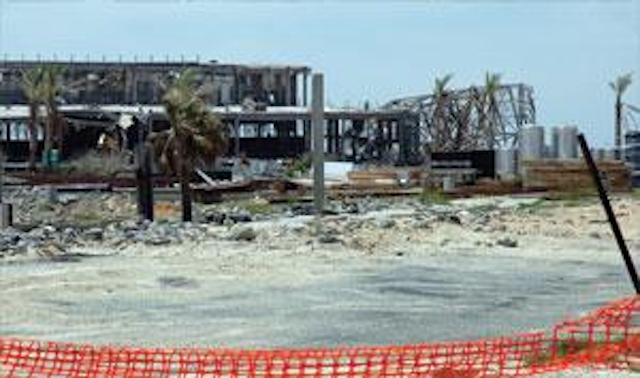 Click here to enlarge image
The service provider industry's concerns covered an array of issues. In many cases, making the necessary upgrades isn't as easy as adding traditional backup power sources. Some structures simply cannot accommodate the added size and weight of new generators or batteries. Compliance with the FCC mandate would require telecom engineers to be creative in finding ways to meet the new requirements—changing industry thinking on everything from alternative power sources like fuel cells to innovative enclosure solutions.
The potential of prohibitive costs as well as the technological and logistical challenges led the CTIA Wireless Association to file a "petition for reconsideration" with the FCC, challenging the mandate on several key issues, including:
Safety: CTIA argued that requiring additional battery backup at cell sites would introduce lead, acid and flammable materials into residential environments. It also argued that large battery units weighing as much as 1,500 pounds were too heavy to be safe in many places they would be needed—specifically rooftops not designed to support the weight.
Local Regulations, State and Federal Laws, Zoning: CTIA cited noise ordinances and restrictions on pollution that limited placement of diesel generators, regulations governing fuel storage, and the difficulty of securing necessary permits for residential deployment as significant barriers to meeting the FCC requirements.
Leases, Legal Obligations and Timing: CTIA made the claim that some leases prohibit the placement of diesel generators and fuel tanks. It also claimed many existing leases would not provide enough square footage for additional backup units or for the access needed to refuel or service those units, and lease renegotiation could be a difficult, lengthy process. These concerns, along with required site assessments, supply chain issues, installation and the permits needed for installation all made completion by the end of 2008 impossible, CTIA claimed.
Constrained Space on Some Sites: CTIA argued that rooftops, church steeples and other sites with limited space can't accommodate large battery units or diesel generators.
Unnecessary Investment in "Non-Critical" Sites: New Orleans and other high-risk zones or areas with high population densities are "critical" sites, CTIA argued, and warranted the additional backup power measures. Other "non-critical" sites did not.
FCC Authority to Make the Rule: CTIA claimed the FCC lacked the authority to make the rule in the first place.
Arbitrary Nature of 8-Hour and 24-Hour Requirements: According to CTIA, there was no reason to use the eight-hour and 24-hour power requirements. CTIA argued the numbers were arbitrarily chosen and carried no special relevance in the telecommunications community.
Economic Burden: CTIA said with more than 200,000 sites falling under the purview of the FCC mandate and with estimates on upgrades running from $5,000 to $40,000 per site, the costs of meeting the requirements could be prohibitive. Some providers, CTIA claimed, could be looking at a worst-case scenario of spending some $40 million on 1,000 site upgrades.
The FCC considered the arguments and issued a response in October 2008. In general, the original ruling was left intact, but with several updates. Some details of the response:
The FCC rejected any and all challenges to its authority to issue the rule by citing prior legal challenges and rulings, and dismissed the argument that the required backup times were arbitrary. It cited accepted eight-hour backup standards—and sometimes longer—dating back to the days when providers were fined for losing a dial tone for any amount of time.
The FCC declined to accept the concept of "critical" sites claiming a lack of a widely accepted definition that could be used.
The FCC reiterated that the Katrina Panel repeatedly stated that "lack of adequate backup power for communications facilities was a critical problem that caused communications network interruptions and hampered recovery efforts," and added that "access to communications technologies during times of emergency is critical to the public, public safety personnel, hospitals, and schools, among others. … Communications networks cannot operate without a power source." The point was that this problem was serious enough to require extreme measures, even if those measures are difficult for telecom providers.
The FCC did allow for the following mitigating conditions;
Risk to safety, health, or life
Private legal restrictions
Federal, state, local, or tribal law
However, the FCC added a requirement demanding a detailed inventory and a complete explanation for each site included in the three categories of mitigating conditions—and it stipulated that those items be submitted within six months of the order's effective date.
The FCC rejected concerns of available physical space and structure, saying it was not convinced providers should be excused from having emergency backup power "solely because they have chosen to place their assets at locations with limited weight or space capabilities."
The FCC further mandated that operators must provide an inventory of all assets designed to comply with the rule as well as an inventory of all assets designed with less than the mandated backup capability.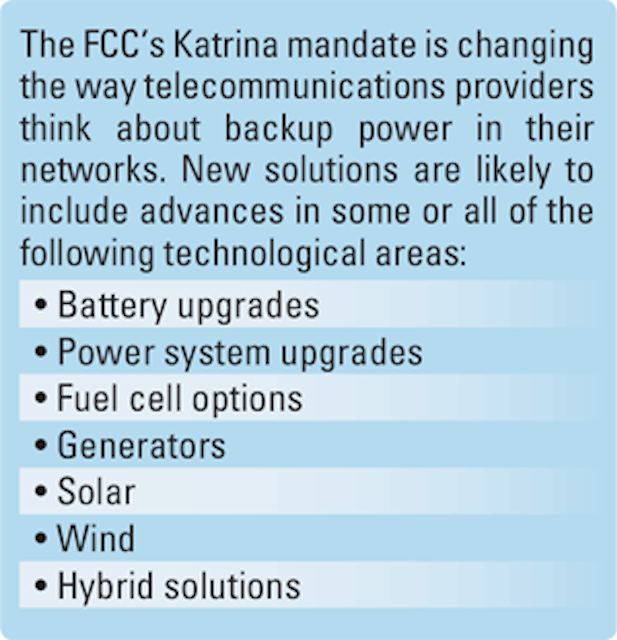 Click here to enlarge image
Finally, the FCC said providers identifying assets designed with less than the required backup power and not covered by one of the three mitigating conditions, must comply within 12 months or file a certified emergency backup power compliance plan that is subject to FCC review. That plan must describe how the provider, in the event of a commercial power failure, intends to provide emergency backup power to 100 percent of the area covered by any non-compliant asset, relying on on-site and/or portable backup power sources or other sources as appropriate.
Not surprisingly, the FCC response wasn't satisfactory in the eyes of the CTIA or several telecommunications providers. The FCC and several carriers took their case to the U.S. Court of Appeals, where it resides now (CTIA, PCIA, T -Mobile, MetroPCS, NextG Networks, and Qwest vs. Association of Public-Safety Communications Officials [APCO], FCC, and National Emergency Number Association [NENA]). In the interim, Sprint Nextel requested a stay, citing irreparable harm to its business. The court granted the stay to implementation of the FCC mandate while it hears the case.
In many ways, the wireless industry is simply catching up to changing customer demands. In the early days of wireless phones and networks, they were considered a luxury. Now many people use their wireless phones in lieu of a wireline phone. But backup power architectures failed to keep up with the evolution of the wireless network as an essential communications tool.
So what's next? The industry will step up to meet this challenge. Wireless communications are critical to public safety and national security and they simply will not work without power. For that reason alone, telecom providers will find a way to keep the network up and running. The FCC mandate provides structure and incentive for developing new solutions that will change the way the networks think about backup power.
About the Author: Dusty Becker is vice president of global engineering, Emerson Network Power's Energy Systems business.