By Mike Petty
New Tracking Technologies Help Protect Utility Facilities and Valuable Assets
Recently, a security guard at Three Mile Island power plant was reported as being "inattentive"–the buzzword for sleeping on the job.
Last September, 10 security guards were caught napping at the Peach Bottom facility in York, Penn., ultimately leading to the CEO of Wackenhut Corp. to "step down."
Both of these situations could have been avoided using new technologies involving GPS tracking, wireless communications and devices that incorporate both technologies.
Whether it's a nuclear power or other energy facility, or even a telecom company, each requires both electronic and human security solutions. Although the threat of a terrorist act is an utmost concern, other security issues such as intrusions, equipment or property theft, or even vandalism are always a top protection priority for security firms. Using new technologies to ensure incident response time is increased and security personnel are at their posts deters these incidents. It can also provide evidence and reporting to insurance companies and government regulatory bodies that the proper security precautions are being taken–or aren't.
The most basic form of communication for security personnel has always been via cell phone or a two-way radio; however, the effectiveness and efficiency of the security officer's performance while on duty is not something that a cell phone or radio can determine. Guard tour solutions have been around since the 70's in one form or another, attempting to account for the whereabouts and activities of security personnel while on duty. Although these guard tour systems provided some limited "after the fact" information on the location of the security officer and their activities, "real-time" actionable intelligence was never available.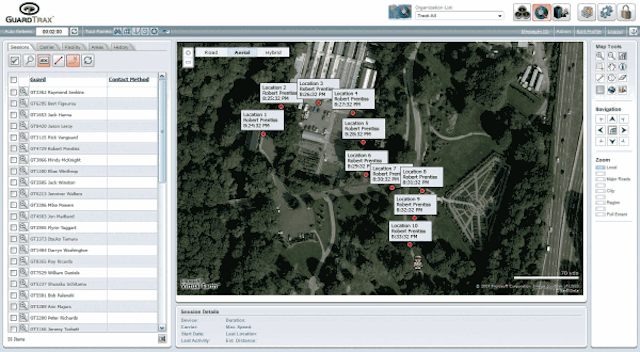 An example of a history report that would be used by a security manager to see the past movements of guards. This picture shows one guard's movements from 8:24 – 8:33 pm one night.
With gasoline costs hitting $4.00 per gallon, security firms are limited to the amount of supervision and oversight of field security personnel they can provide, because every mile driven is a financial strain on the companies; however, oversight and management of field personnel cannot be neglected, or the quality of services rendered through "inattentive" security officers will cause severe business challenges and loss of valuable contracts to security firms.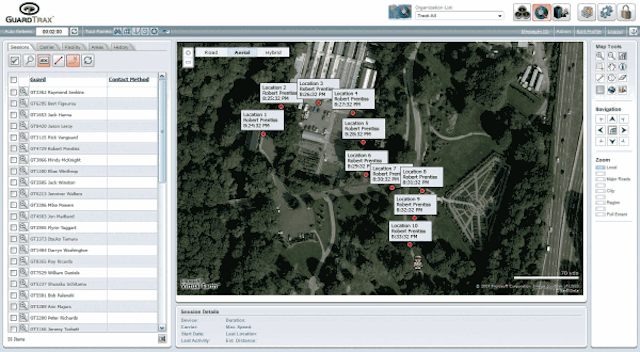 An example of a live shot showing exactly where a security manager's guards are in real-time over the Internet.
One of the most interesting new devices on the market today that was designed specifically for security force tracking and monitoring is GuardTrax, which, for the first time, combines multiple technologies that are increasing security officer performance and allowing security firms to monitor and manage more field personnel with less supervisor resources. GuardTrax has incorporated a highly sensitive GPS and GSM solution, with cell phone capabilities, and a motion sensor which enables supervisors to ascertain the location of an individual foot patrol security officer and whether that officer is in motion or if they are "inattentive." With satellite imagery integrated into the GuardTrax web portal and mapping solution, supervisors and managers of security personnel can see that their security officer is currently walking 2.43 miles per hour in front of the shipping and receiving docks at a location that might be 2,000 miles away in "real-time."
In addition, the GuardTrax device can send "real-time" incident reports communicating out of the ordinary events to their supervisors and managers–providing actionable intelligence from which they can now solve problems immediately, rather than tomorrow. GuardTrax is fully programmable according to the needs of the security management team or contract guard service.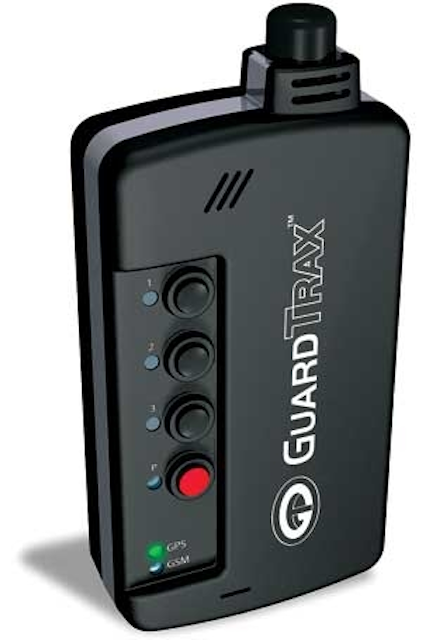 GuardTrax is just one device in a multitude of new devices that firms can choose from to help manage their security personnel. With increasingly valuable assets being stored in parking lots, thousands of dollars worth of tools and transportation vehicles susceptible to theft, and the vulnerability, however remote, of intrusions into a power plant, substation, or utility property, supervisors can more efficiently monitor and manage their security forces by using these technologies. Major benefits include faster incident response times, increased accountability, and in rare cases, a halt on "inattentive" guards.
---
About the Author
Mike Petty was formerly the president of Ronin Risk International, a global security & protection firm that had 600 guards in 20 states.
More Utility Products Current Issue Articles
More Utility Products Archives Issue Articles