New Products Showcase: Part 1
Nov 1st, 2009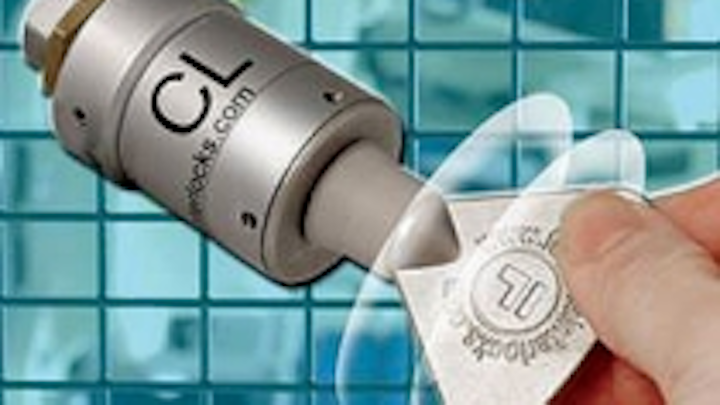 Motorized Reeler/Dereeler Easily Reels Wire or Cable Without Operator Fatigue
The DE600M motorized reeler/dereeler easily reels wire or cable without operator fatigue, or quickly dereels large amounts of wires or cables with no pulling.
The 1/6 hp motor turns the shaft at a constant speed of 57-1/2 rpm (47 rpm for 220V units) and can handle reels of material up to 75 lbs (34 Kg). Adjustable cones and dog allow use of reels with arbor holes from 3/4" to 2-1/8" (19mm to 54mm) O.D.
Also included is a handle to enable manual reeling and dereeling if desired.
Eraser
CIRCLE 110 ON READER SERVICE CARD
---
New Frequency Herbicide Combats Resistance Issues
Vegetation professionals looking for a new way to manage difficult bareground areas can now add Frequency herbicide from BASF Professional Vegetation Management (ProVM) to their management tools.
Frequency has received full label approval from the U.S. Environmental Protection Agency and offers a new mode of action and a broad spectrum of control in bareground areas. This is increasingly important for managers facing weeds that have grown resistant to herbicides in the standard tank mix, resulting in the need for repeat treatments to maintain acceptable levels of bareground over the course of a season.
Frequency is especially effective when paired with residual products such as BASF's Journey herbicide, Sahara herbicide, Payload, Portfolio or diuron. By modifying the traditional tank mix to include Frequency, users can improve control of glyphosate, triazine and ALS tolerant/resistant species and decrease the need for multiple treatments in traditional bareground sites such as railroad, utility, highway and pipeline rights-of-way; highway guardrails and signposts; and utility substations.
BASF Professional Vegetation Management (ProVM)
CIRCLE 109 ON READER SERVICE CARD
---
Amcorder UG - Underground Recording Ammeter
SensorLink Corporation introduces a new underground recording ammeter, the Amcorder UG. Electric utility personnel can leave it deployed beneath an elbow to sample the current every few seconds and record the average of the samples every few minutes. Multiple Amcorders can be synchronized to collect data from different phases at the same time for 30+ days. It easily attaches with a standard clamp style hot-stick. Once on the line, it immediately begins to collect and record the load.
Among Amcorder UG features: collect and analyze load profiles, use on underground circuits, open CT sensor with ±1% accuracy, easily clamps beneath an elbow in seconds, submersible, recorded data quickly downloads into the user's PC, and Softlink interface makes data analysis easy.
The Amcorder UG uses the same sensor technology as the SensorLink Ampstik. The inductive sensor does not use magnetic materials and has no moving parts. In addition, the opening of the sensor is electronically closed and external currents are electronically rejected. The accuracy, external current reject, and range of currents measured by the patented amp sensor are cited to substantially exceed the performance of the best clamp-on sensors.
The Amcorder UG is equipped with an infrared port for communicating the recorded data into the user's PC. The data is downloaded through SensorLink's Softlink software. Softlink is a user-friendly software interface that allows the user to setup, download, view, graph and export data from the Amcorder UG. The data directly transfers from the Amcorder UG into Softlink through an Infrared to USB device.
SensorLink Corporation
CIRCLE 111 ON READER SERVICE CARD
---
New EH Series Cranes Offer High Durability and Reliability
Designed to perform to a high standard of durability and reliability, EH Series cranes are cited to provide the maximum duty cycle possible in today's electric crane industry.
Among EH Series' many features and options: planetary winch–hoist drum and wire rope located outside boom for improved operator visibility; 100% solid-state control system with arch-suppression and a 25' cable; anti-two block is standard on all models; system overrides–anti-two block, pump, and crane functions; self-contained hydraulic system with a 12 volt DC motor that delivers 2.2 gal/min; all steel worm gear drive system provides 360° continuous rotation; standard power boom extension with optional 4' to 6' of manual boom reach; wireless remote control–no more cables to deal with; 20" crane pedestal for flat bed applications; and battery isolator dedicates crane function draw from the auxiliary battery only, thus protecting your truck battery.
Maintainer Corporation of Iowa, Inc.
CIRCLE 113 ON READER SERVICE CARD
---
New RTX550 Utility Tractor Fills Important Niche in Secondary Utility Service Installations
Vermeer Corporation has expanded its line of utility tractors with the addition of the Vermeer RTX550 model. This new, mid-compact unit fills an important niche for contractors who complete secondary, short-run installations.
It is cited to be the only 65-horsepower (48.4 kW) utility tractor to offer either rubber tires or the rubber quad-track system as an option. This traction offering helps provide increased maneuverability, greater stability and reduced ground pressure on sensitive jobsites and established turf.
The RTX550 features the patent-pending Vermeer TrenchSense electronic control system. The TrenchSense system actively monitors engine rpm, and upon sensing a sudden drop in engine rpm or if the trencher chain operation stops, the tractor automatically pauses forward creep and backs up slightly. The trencher chain also slightly reverses to dislodge material. All occurring within seconds, the TrenchSense system can react faster than the operator to prevent engine stall when difficult digging conditions are encountered.
The RTX550 is also equipped with a standard front and rear hydraulic valve bank, allowing attachment changeout to be completed without difficult hydraulic changes through the tractor and provides for greater attachment compatibility options across model platforms. Several Vermeer ride-on utility tractor attachments are compatible with the RTX550.
Vermeer Corporation
CIRCLE 112 ON READER SERVICE CARD
Continue to New Products Showcase: Part 2

More Utility Products Current Issue Articles
More Utility Products Archives Issue Articles