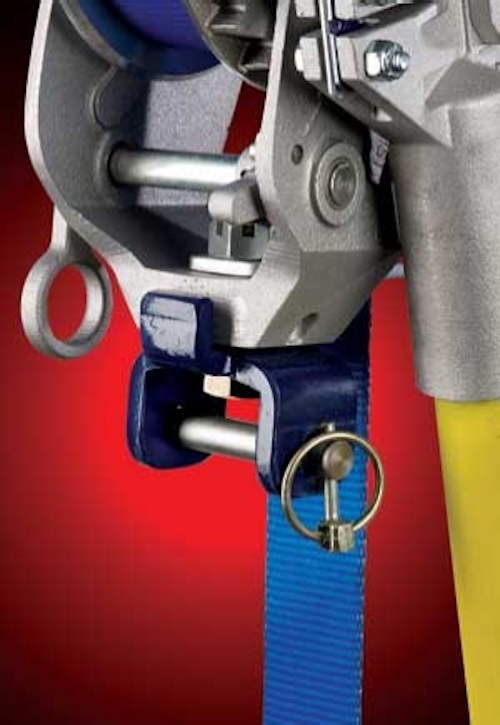 By Michael Evanko
For a company that offers a product to be successful, it is critical that it understand their customer's needs and wants. These needs and wants are realized through the company's willingness to listen to customer requests and feedback about their products. These are characteristics of business that the LUG-ALL Corporation understands well. During their first decade in operation, LUG-ALL manufactured and sold only cable ratchet winch hoists. Many of these cable hoists were being purchased by electrical utility companies who were using them for non-energized line construction and maintenance. In the 1960s, linemen started approaching LUG-ALL sales representatives and asking them if they would consider manufacturing a hoist that could be used for work on energized lines. The result of those requests was a new style lever ratchet winch hoist, one that incorporated a nylon web strap on the drum instead of a steel cable. Since the inception of that product more than 40 years ago, LUG-ALL has been manufacturing and supplying electrical utility linemen with web strap pullers for use on energized lines.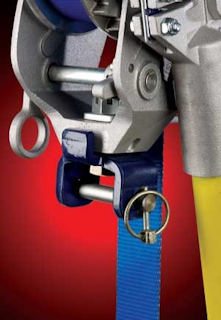 Through the years, LUG-ALL has developed a dialog with utility linemen. In particular, utility tradeshows and rodeos have provided a unique opportunity to meet with linemen and exchange information. Linemen of all ages come through the booth, look at the hoist on display and relay their experiences in the field. It provides a glimpse into their working world, and gives LUG-ALL a chance to understand what it is like to go up and work inside the bucket. During these times, LUG-ALL makes it a priority to ask linemen about how they like the hoist, how is it performing, and how could it perform better.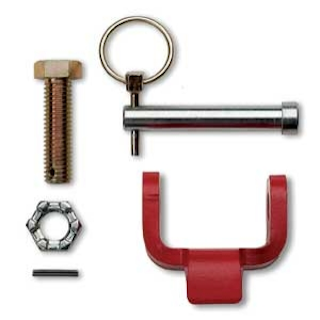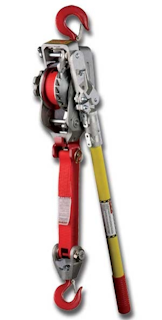 A few years ago, a LUG-ALL representative had a conversation with a lineman at a tradeshow. The lineman was describing how he relied on a LUG-ALL web strap puller to perform construction and maintenance on energized lines. While he liked the hoist, he described how when he changed from a double line rig to a single line rig, he didn't like having the unused pulley block dangling on the line. In the process of ratcheting the load, the pulley block would move back and forth on the strap and become a nuisance. He inquired if there was a way to modify the hoist so that it could be used in a single or double line rig, but utilize a design with only one pulley block. The LUG-ALL representative understood the issue the lineman was conveying and took this information back to engineering. They looked at the old design and developed a way to make the hoist convertible by designing a removable formed bracket that was secured to the frame of the hoist with a lynch pin and shaft. With the new design, a lineman could be in the bucket, and in a very short amount time, easily switch from a double rigged line to a single rigged line, with no concern of a second pulley block. Taking the time to listen allowed for the introduction of a new lineman's tool that has helped them get the job done more efficiently and safely. In fact, one lineman's feedback led to the research and development of an entirely new line of LUG-ALL convertible web strap pullers.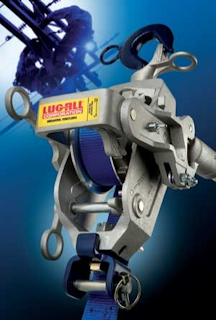 Other recent examples of web strap puller modifications that were developed through feedback from lineman include the introduction of standard operating levers on the frame, allowing a worker to operate while wearing thick insulated gloves. Also the addition of standard quick release pulley blocks across the entire LUG-ALL web strap line. All of these modifications were made for linemen to make their work in the worst working conditions, as easy as possible.
Next time you see a LUG-ALL Web Strap Puller, remember this tool was created for linemen and has evolved based on their needs. There is no better working tool than one that has been developed through this process of innovation based on customer feedback.
---
About the Author:
Michael Evanko is the Marketing Manager for the LUG-ALL Corporation and Spanco, Inc. He is a graduate of Penn State University and is proud to be a part of providing utility linemen around the world with tools that help them get the job done quickly and safely.
More Utility Products Current Issue Articles
More Utility Products Archives Issue Articles