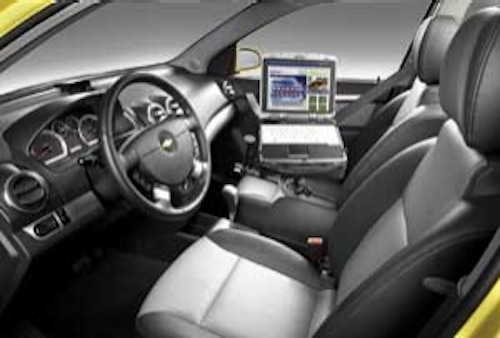 By David Wilkinson
For many, the day consists of spending time in three offices. There is the traditional office, the mobile office, and the field. In the past everything revolved around the traditional office and all the information gathered outside those walls ultimately had to be brought back for evaluation and processing. While that solution worked in years past, most companies and professionals today demand a far more efficient use of time and energy. Compact and lightweight computers do a hefty amount of the work and are certainly portable. Laptops are as commonly used in the field as cell phones. While technology does bolster one's efficiency, supporting these devices throughout daily activities in order to get the most out of them can be tough. In the past few months, RAM Mounting Systems has released some truly unique and innovative products geared toward the mobile work force. No matter where you find yourself throughout the day, RAM is there to offer solutions to make your job easier.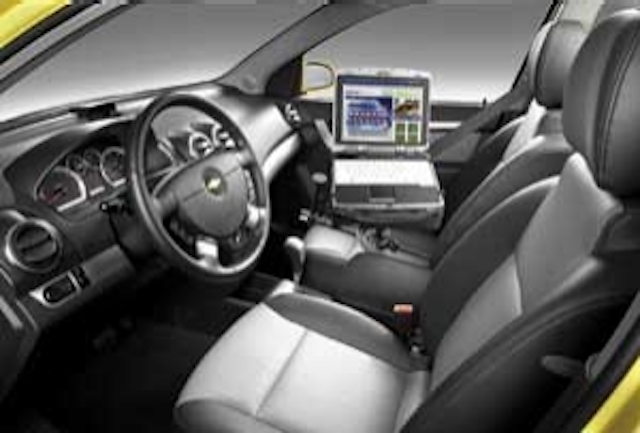 Notebooks and Netbooks are becoming increasingly popular and are being used by many people in the mobile workspace. Used for everything from finding the closest coffee shop to the best place for a new set of linesman's gloves, they are integral in getting the job done. Now that the cost of a portable PC has come down so dramatically, it is sometimes hard to spend the money on a vehicle mount that could cost just as much as the laptop. RAM has the solution to that dilemma with the new Seat-Mate. Simply unzip the bag, fold out the legs, easily fasten to the passenger seat, and secure the laptop in the universal tray. Designed with the mobile professional in mind, this mount is ideal for fleet vehicles, personal vehicles, rental cars, or air planes. Without the budget-busting cost of some vehicle mounts, this product brings affordable quality and performance to the masses. Able to actively hold onto the seat and stabilize itself, the Seat-Mate is perfect for anyone who needs a temporary mobile workstation. When you are ready to move on, the kit fits into its travel bag, and can be easily stowed in a suit case, trunk, or under the seat of a vehicle. RAM makes it possible to create a comfortable workspace in minutes where ever the job happens to be.
And while technology does bolster one's efficiency, there are times when all a person really needs is paper, pen, and a good writing surface. The RAM Handi-Case is capable of doing so many tasks it's astounding. When a brief case it too much but a note pad is not enough, the Handi-Case is the perfect tool. Beyond just a writing surface, it is document storage, a mouse pad, and a tool holder, as well as pen and pencil storage. The Handi-Case is also weather-resistant. All this and a comfortable built- in handle might just spell the end for that bulky overly cluttered brief case. A quick look at the Handi-Case and it is easy to tell it is truly a RAM product. With several knock out hole patterns available, attaching the Handi-Case to any one of hundreds of RAM mounting solutions is a breeze. Freedom to choose how best to get the job done is what RAM is all about. One of the coolest applications of the RAM Handi-Case is to use it in conjunction with a RAM Tripod.
Way beyond just photography, the RAM Tripod is truly a go anywhere workstation. Whether it's used as a temporary podium to give a presentation or to support survey equipment on a jobsite, the RAM Tripod is ideally suited for these applications and much more. Quickly and easily secure the Handi-Case to the RAM Tripod and have a workstation ready to go where ever two legs can travel. As dynamic as the RAM Tripod is, it still offers 3/8"-16 female, 3/8"-16 male, and ¼"-20 male thread for cameras, optics, and other devices. With the built–in bubble level and comfortable grips, set up and handling is a breeze. When the world is your office and the jobsite knows no boundaries, the RAM Handi-Case and Tripod together make an unbeatable pair. Check it out at the RAM website for additional specs and storage ideas.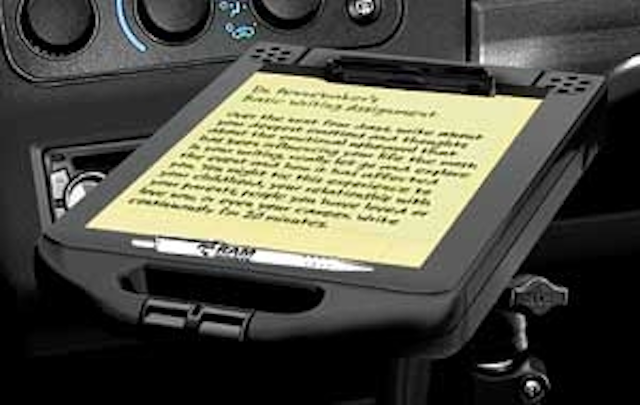 Sometimes, it is the little things that make the biggest difference. When a compact work surface is all that is required, the RAM Multi-Pad is the perfect product to keep things organized. Easily mounted in a variety of locations and ideal for cars, trucks, or even a plane, the RAM Multi-Pad has many features people expect and others that will surprise them. With RAM in the name, it is understood that the RAM Multi-Pad can be easily attached to a wide variety of RAM mounting solutions. Suction cups for windscreens, adhesive pads for dash mounting, yoke or glare shield mounting options, and the slide out feature when used with the RAM arm rest... just to name a few. With several mounting points and integrated magnets for holding your ferrous metal pen securely without the need for clips, the RAM Multi-Pad is unlike anything else and is ready to get to work. One of many unique applications beyond just a writing surface is to use the Multi-Pad on the side of the famous RAM Tough-Tray for laptops. Compact and adjustable when used with a RAM rubber ball and socket mount, you'll create a mouse pad worthy of any desktop. Touch pads and track balls are okay but few things match the comfort and speed of a mouse.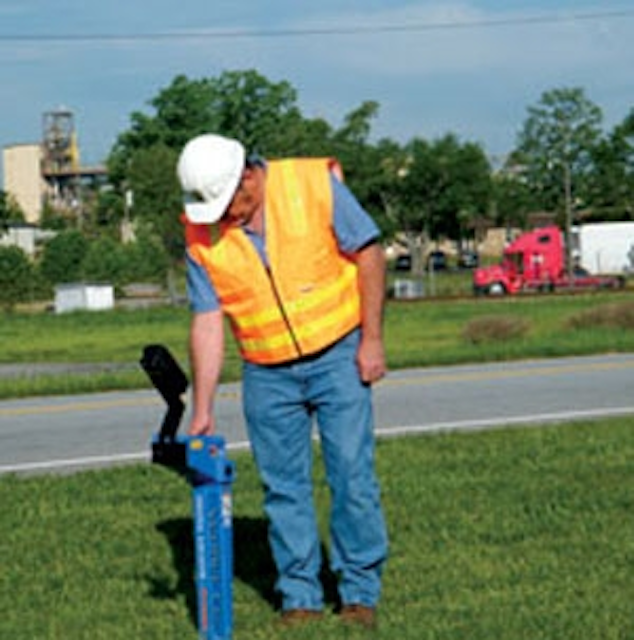 Thinking along those same lines, another compact and well thought out design is the latest universal tablet and Netbook holder. Spring-loaded like its big brother the RAM Tough-Tray, the RAM Tough-Tray II provides just the right amount of holding force to secure most tablets, UMPC's and Netbooks, as well as portable keyboards. Simple to install and adjust, retaining arms ensure a perfect fit without interfering with ports or functions. These arms also ensure a safe and secure fit while on the go. Ideally suited to a multitude of applications, it easily attaches to hundreds of mounting systems. Need a compact and totally portable mounting solution? Pair the RAM Tough-Tray II with the RAM Seat-Mate and achieve a complete mobile workstation in minutes. Solutions like these are far superior to simply tossing the tablet or laptop on the seat or resting them on the console. Utilizing a RAM ball and socket mount, with the turn of a knob the device can be positioned for use from the driver's seat (while at a complete stop and in a safe location mind you) or turned to be viewed from outside the passenger side door. Designed with productivity in mind, the RAM Seat-Mate is truly the mobile professional's best friend.
RAM Mounting Systems is well known for offering a wide range of products dedicated to making mobile computing easy, comfortable, and efficient. All of the products featured in this article are geared toward a specific need: the need for comfortable, affordable, durable, and easy to use products that will add efficiency to any workday. No matter whether tomorrow's office will have a dirt floor or carpet, RAM has exactly what a person needs to make everyday a success.
---
About the Author:
David Wilkinson is part of the marketing and design team of RAM Mounting Systems in Seattle Washington. With a background in science and technical writing, his job is to assist in product design and advertising. Finding new markets and attracting new customers has become David's focus for 2009.
More Utility Products Current Issue Articles
More Utility Products Archives Issue Articles