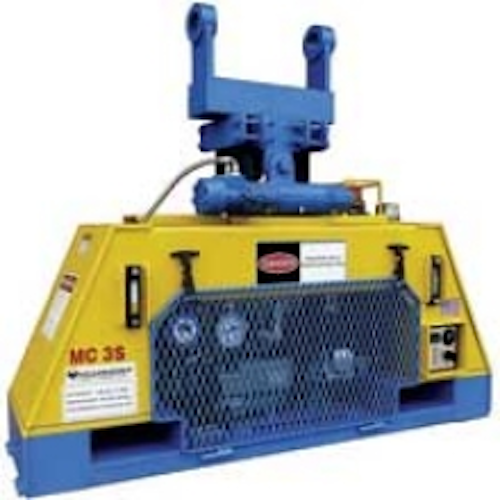 The New MC3 "Mini" Lifter
The only thing "mini" about this lifting powerhouse is its compact size. With a 6,600 lb lifting capacity, it can handle your material handling needs with ease. The MC3 is a groundbreaking new fully self contained lifter designed with the underground utility contractor in mind. Since the lifter is self contained, your options for the host machine are endless. The lifter attaches to normal size host machines, as well as mini excavators, skid steer loaders, and others, thanks to its light dry weight of 900 lbs.
The MC–3 is rated up to 3 ton capacity, enabling you to lift and move steel plate, concrete slab, landscape rock, steel and poly pipe, and many other types of material.

Vacuworx
Booth #1601
www.vacuworx.com
CIRCLE 111 ON READER SERVICE CARD
---
New Clear Top-Housing
Golight, Inc. introduces a Clear Top-Housing for its remote controlled spotlights. The Clear Top was developed for the needs of utility and telecom linemen who require vertical lighting. The polished polysulfone material implemented into the top-housing allows the light beam to pass through undistorted. Now, with full vertical beam usage, areas directly above the light can be illuminated with no interference. The clear top-housing is easily added to any Radio Ray model.
Features and advantages include: Full vertical beam usage 90° up; Polished polysulfone material; No beam distortion; and Easy installation on all Radio Ray model.
Accessory Part numbers:
10251-Black clear top-housing
10200-White clear top- housing


Golight, Inc.
Booth #1426
www.golight.com
CIRCLE 112 ON READER SERVICE CARD
---
The NEW Schonstedt FaultMaster
This new instrument quickly and easily detects ground faults in direct buried cables when insulation damage causes a "leak" to ground, deteriorating their service. A transmitter forces a signal into the cable, and the "A-frame" is walked along the cable path until the fault is detected and displayed on the instrument screen. The A-frame is lightweight and very easy to use. The transmitter uses rechargeable batteries, and the A-frame uses 4 AA batteries.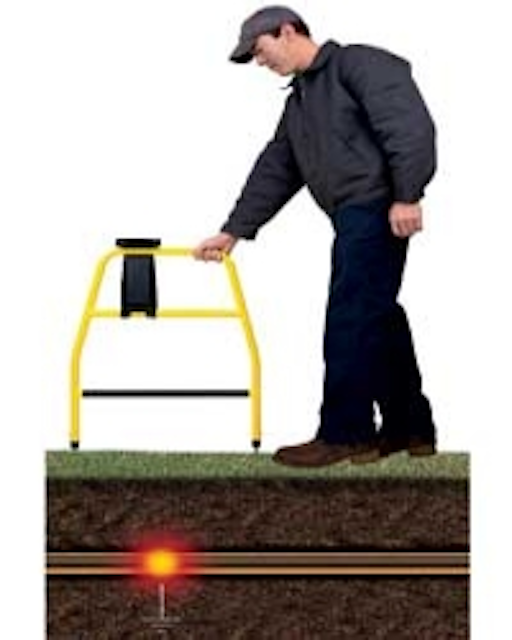 While no receiver is required for ground fault locating, the FaultMaster transmitter, when paired with the Schonstedt XTpc, Tracemaster, or other receiver, doubles as a great pipe and cable locator.

Schonstedt Instrument Company
Booth #104
www.schonstedt.com
CIRCLE 113 ON READER SERVICE CARD
---
Fischer Crane Company is Promoting the Comprehensive Crane Line from Amco Veba
Fischer Crane has been serving the truck crane industry since 1976. Wholesale sales and support are available nationally. Fischer Crane provides truck mounted cranes, hydraulic truck equipment, service cranes, truck cranes and auxiliary stabilizers, as well as stationary and marine application cranes. Amco Veba cranes are available in a full range of capacities to serve varying applications.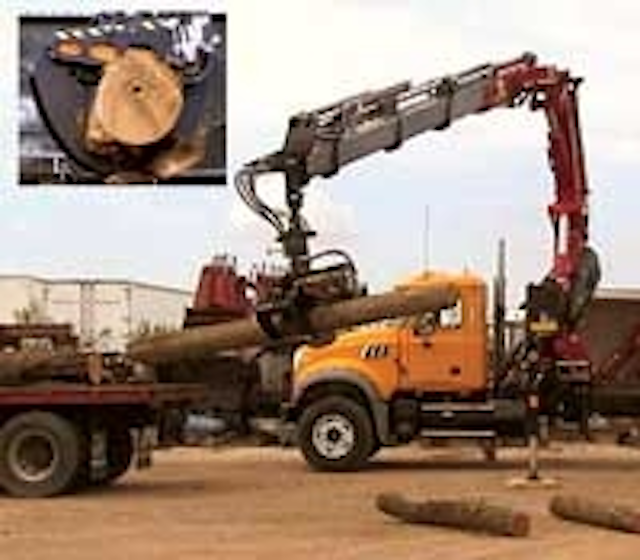 Demonstrating the versatility of knuckleboom cranes, the picture shows an Amco Veba 946/4S 46TM crane equipped with a specialized bucksaw attachment. This combination of a grapple and a chainsaw is expected to dramatically improve storm cleanup for municipalities. Instead of one man with a chainsaw, one man running a loader and a third dump truck driver, this completed package will allow one person to cut, pick and place tree debris in his own truck from the safety of a remote control at his waist.

Fischer Crane Co.
Booth #N3120
www.fischercrane.com
CIRCLE 114 ON READER SERVICE CARD
---
New Fuse Tool from HD Electric Company
HD Electric Company's NEW FT-1 Fuse Tool assists in the removal and installation of most cutout type overhead fuse links. The Fuse Tool has a 7" fuse receiver that provides increased safety and greater control by keeping the fuse link securely in place during removal and installation. The built-in switch hook is then used to close in the fuse link.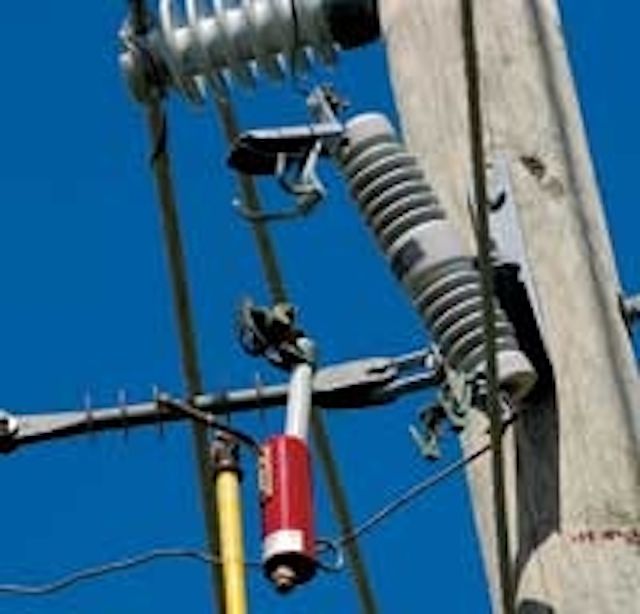 By using the Fuse Tool, line crews are able to quickly and safely remove and install most cutout type overhead fuse links found in overhead distribution systems.

HD Electric Company
Booth #640
www.HDElectricCompany.com
CIRCLE 115 ON READER SERVICE CARD
---
Freedom SW Inverter/Charger
Designed for commercial, construction and utility vehicle applications, the Xantrex Freedom SW Inverter/Charger features true sine wave output and power factor corrected, temperature controlled, multi-stage charging to meet power needs of today's sensitive and sophisticated electronics. Available in two power levels, 2000 watts and 3000 watts, the Freedom SW Inverter/Charger provides utility-grade AC power to operate commonly used electronics such as power tools, computers and much more. Built-in transfer switch automatically transfers between inverter power and incoming AC utility power. With wide operating temperature range and conformal coated circuit boards, the Freedom SW is perfectly suitable for all climate conditions
The Freedom SW 2000 watt model provides great features at a very competitive price. The Freedom SW 3000 watt model is a premium, feature-packed, high performance product that meets power needs of demanding electrical loads.

Xantrex
Booth #1640
www.xantrex.com
CIRCLE 116 ON READER SERVICE CARD
---
Altec Hybrids Reduce Fuel Consumption and Greenhouse Gas Emissions
Altec partnered with Eaton and Navistar International to develop its diesel/electric hybrid bucket truck for the utility industry. The Altec Hybrid significantly reduces fuel consumption and greenhouse gas emissions and meets current Environmental Protection Agency standards. Specifically, hybrids use 50% less fuel and reduce smog-forming emissions by almost half; however, the result may vary based on the type of duty cycle and operator habits.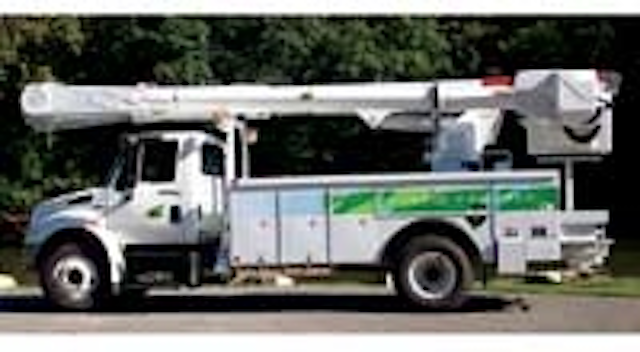 hehe
The Altec Hybrid units offer additional driving power, battery charging for conventional 12 V systems and ePTO for worksite engine off operation. Operators will notice a seamless transition between conventional and hybrid models and the Eaton system is redundant, so that in case of failure the unit will automatically function as a conventional unit. Both Altec and Eaton provide training at the time of in-service and it is the goal of both organizations to ensure a high level of confidence in all individuals who operate hybrids throughout the course of normal operations.

Altec
Booth #L165, L365, L366
www.altec.com
CIRCLE 117 ON READER SERVICE CARD
---
New Docking Station for the General Dynamics Itronix GD8000 Computer
Gamber-Johnson released a new mobile docking station designed for use with the General Dynamics Itronix (GD-Itronix) GD8000 computer. The new docking station is easy to use, provides full port replication with internal power supply management and comes with an attractive price.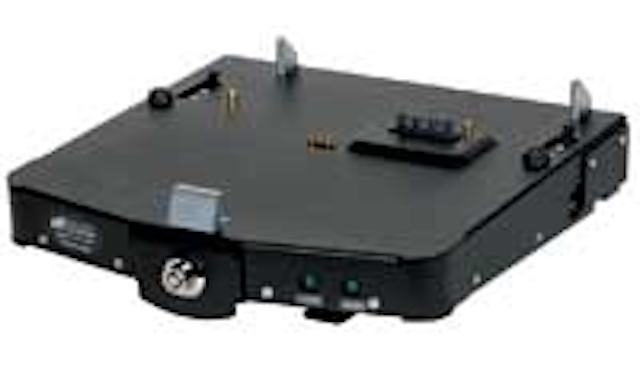 Designed with the user in mind, the GD8000 docking station's engagement system has been redesigned to be a one handed docking mechanism that easily engages the computer into the docking station by simply pulling the handle located in the front center of the dock. The new mobile docking station provides full port replication keeping your GD8000 computer mobile and free from connections. It has an internal power supply that is factory set to provide the proper voltage to the computer and is conveniently installed inside the GD8000 docking station.
Certified by GD-Itronix for performance and durability, the docking station has been tested according to "extreme environment" MIL-STD-810F test procedures and passed the GD-Itronix test criteria including vibration, temperature, shock/crash and FCC using an operating computer.

Gamber-Johnson
Booth #L146
www.gamberjohnson.com
CIRCLE 118 ON READER SERVICE CARD
---
A Cut Above the Rest... PLT7513
ProLine Tools' PLT7513 Pole Chain Saw is used for trimming and pruning large tree branches and is ideal for use by right-of-way crews and utilities.
All of ProLine's line clearing tools are custom built and engineered for each customer's particular needs.
Features include: Insulated fiberglass extension tubes tested to meet OSHA Regulation 1910.269; Two-Step trigger, trigger guard and fully covered sprocket guard; Anti-Kickback chain; Automatic chain oiler; Rugged high-torque gear motor; and Hose whips optional.
Specifications:
Capacity: 13", 15" or 20" bar as required
Weight: 9 lbs.
Width: 6"
Length: Custom tailored from 48" to 90" as required
Hydraulic Flow: 3-6 or 7-9 gpm
Connection: 3/8 NPTF

ProLine Tools
Booth #1840
www.prolinetools.com
CIRCLE 119 ON READER SERVICE CARD
---
New Line of Convertible Web Strap Pullers
The LUG-ALL Corporation is pleased to introduce a new line of convertible web strap pullers. All the parts needed to switch are on the hoist. This reduces the possibility of misplacing or losing parts while in the bucket, and eliminates the need to have a pulley block hanging on the line, making the hoist heavier. The new hoists incorporate a convertible bracket and shaft that is secured by a lynch pin. When setting up for single line operation, the pulley block is placed through the web strap loop. For double line operation, the web strap is threaded through the pulley and the strap loop is attached to the convertible bracket via the lynch pin.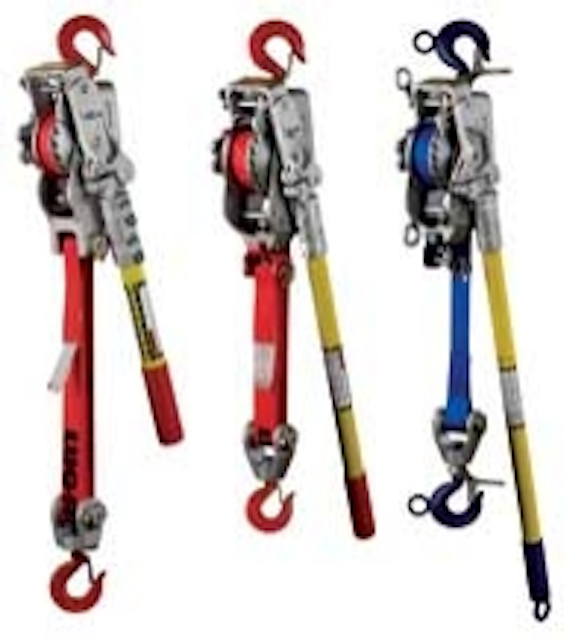 For LUG-ALL customers who already own pullers and would like the convertible option of the new pullers, LUG-ALL introduces a new convertible web strap puller conversion kit. This kit is available for all LUG-ALL medium frame web strap models manufactured prior to 2009 (please note that all pulley blocks supplied since September, 2008 are convertible). Included in the conversion kit is a lynch pin and shaft, convertible formed steel bracket, and hex bolt assembly. Some hoists made prior to 2009 may require a new web strap or pulley block.

LUG-ALL Corporation
Booth #549
www.lug-all.com
CIRCLE 120 ON READER SERVICE CARD
---
60 Ton Titanium Compression Head Keeps the Weight Down, but Has the Strength of Steel
The EP-60WT is a single acting, 60 ton press that is designed to compress sleeves and lugs on ACSR and ACAR transmission and distribution cables. It is operable from any 10,000 psi pumping source with proper oil capacity.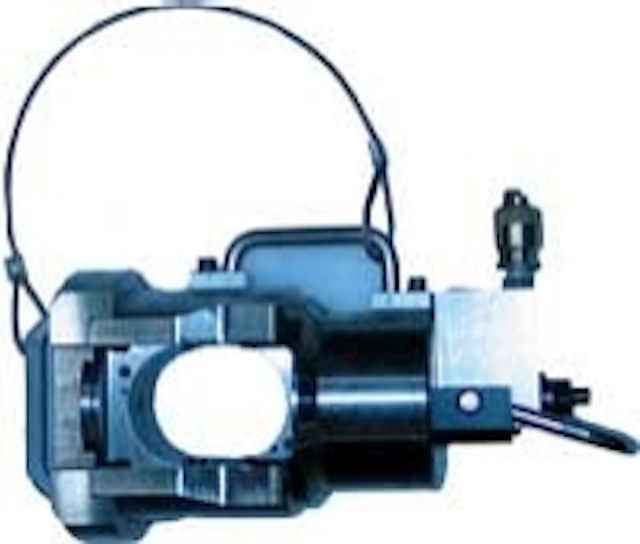 At only 33 lbs, the EP-60WT is ideal for helicopter line installations. Due to its lighter weight and the tool's portable design, the chance of back and muscle strain is greatly reduced.
The EP-60WT comes with a holding stand.
Specifications:
Size/Weight: 6"Wx17"H/33 lbs.
Cable Capacity: 2.4" O.D.
Die Style: HA60-Series
Ram Stroke: 1.5" Travel
Oil Volume: 312 cc
Connector Range:
Lugs: Up to 2000 MCM Cu/Al
Splices: Up to 2500 MCM Cu/Al

Huskie Tools
Booth #603
www.huskietools.com
CIRCLE 121 ON READER SERVICE CARD
More Utility Products Current Issue Articles
More Utility Products Archives Issue Articles