Protection on the Job
There are many articles of clothing that are helpful in the protection of workers, whether they are on the aerial lifts or on the ground.
Sep 1st, 2009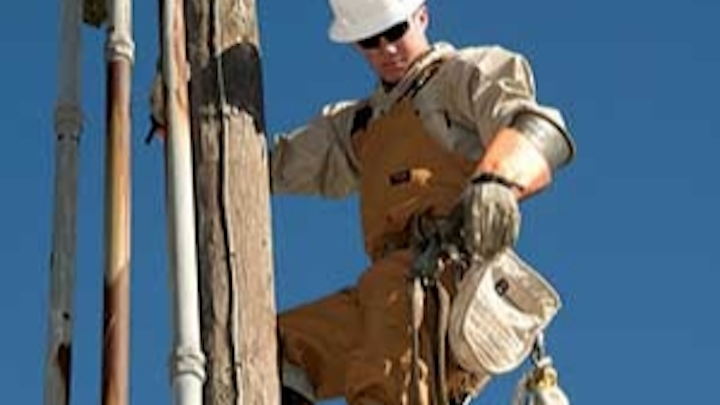 By Paul Hull
People at work need the right protective clothing to keep them active.
There are many articles of clothing that are helpful in the protection of workers, whether they are on the aerial lifts or on the ground. The first rule of safety apparel (and it's the first rule for all safety measures) is that you have to have the proper rules and procedures... and follow them on every job, every day.
You don't need reminding about the dangers of an electric arc flash; every lineman is constantly aware of the risks taken when dealing with electric power. I was surprised how many workers imagined that the flame resistant clothes available for protection against arc flashes were still the bulky, rather awkward garments of yesterday. DRIFIRE, for example, has developed a range of protective clothes that can keep you both safe and comfortable. The safety of the clothing is woven into the fabric, says the manufacturer, rather than merely a coating brushed on after the garment is made.
The electric arc flash can burn clothes and your skin. There are basic standards for the clothing that claims to protect you, and you should be aware of the relevant regulations before you equip workers. Whoever advises your crews on what to wear should be familiar with the existence of specs like ASTM F1506 (Standard Performance Specifications for Textile Materials for Wearing Apparel for Use by Electrical Workers Exposed to Momentary Arc and Related Thermal Hazards), developed to give us some basic standards for clothing that protects against arc flash. Your supplier, of course, should be well versed in such standards and should offer nothing that does not meet them. Insist on that. To comply with ASTM F1506, the protecting garments of flame-resistant fabric must pass a standard vertical flame test to prove they are flame resistant. In addition to the vertical flame test, the clothing is also rated, with an arc rating or ATPV, to show its level of flame resistance. Clothes that meet ASTM 1506 are also compliant with NFPA 70E and OSHA 1910.269 (the former being the U.S. standard for employee electrical safety requirements, established by the National Fire Protection Association). Employers nationwide are now ensuring that uniform requirements for their workers comply with such safety standards; DRIFIRE is one company that encourages this wise practice. Again, check with your usual suppliers. If they don't have what you need, go somewhere else or contact manufacturers via the Internet.
For next-to-skin flame resistant clothing, comfort is essential. The garment has to resist flames, but it must also manage moisture and be comfortable to wear for those dangerous, continuous working hours. The performance characteristics of DRIFIRE garments, for example, are engineered into the fabric itself, with no harmful chemical additives or topical finishes. To give you an idea of the garments available like this, I researched the catalogs and found, among many items available, arc-rated woven shirts and arc-rated lightweight, long sleeve shirts, short sleeves tees, tubular short sleeve tees, women's briefs, and sports bras. For the utility worker up there near the tops of poles, staying high and dry has more-than-usual significance and clothing that manages moisture so that it is wicked or drained away from the skin (actually drying four times faster than a cotton T-shirt) is of utmost importance.
Keeping a Good Hand on the Job
There is not room here to discuss every type of protection. Hardhats are now so natural that they seem to be in constant use when needed. There are many devices for protection of your head and its parts: eye protection, ear protection, skin protection. Many of those are for specific projects and I'd like to think that they are ordered and used when necessary, for work in confined spaces, for work where there could be harmful air, dangerous gases. This article tends to address the more everyday issues of protective clothing, for general work in the field.
Arc flash rated shirts, overalls and gloves from Walls Industries. Walls FR 2009
One of the best pieces of advice given to me (when I was a young amateur handyman, gardener, father, and householder) came from a neighbor. He was not a scientist, not a safety expert by profession. He was a building contractor. "Always wear gloves for those jobs," he said. "It takes only seconds to put them on and they can save you some awful cuts and splinters." He made the comment just after a length of bargain 2" x 4" wood had told my ignorant, bare hands who was boss. For so many utility jobs, gloves are essential, aren't they? When you are working with hand tools that are sharp and have powerful teeth and jaws, gloves will save you serious injury and protect you from those nips, pinches, and squeezes that occur when you are a little inaccurate in your hand movements. Crimping and splicing are for wire and cable, not for fingers. The gloves, of course, must be strong enough to take the attacks, and there are many available from different manufacturers that are excellent.
Among those I researched was Kunz Glove Company Inc. Among their many styles of gloves are some designed specifically for linemen and workers with similar responsibilities. Six styles within the lineman range are mentioned. The Slip-on style is described as a durable glove for almost any application. The 2-inch safety cuff (of split leather) has a reinforcing wrist pad, so it will offer some arm protection. The Foreman's style is made for light duties. It is 10 inches long, with an open cuff, and works well when your job needs the most dexterity. For lineworkers, the most popular Kunz style is the gauntlet. Its reinforced thumb strap makes it the most durable glove and you can choose either the 4.5-inch or 6.5-inch lined split leather cuff, depending on how much arm protection is required. The cuff is fabric and the glove split leather. The elastic back gives good comfort for the user and prevents slipping when you are handling anything. You can also obtain heavier, buckskin leather for heavy duty applications. Also in the lineman range are wide cuff gloves, usually chosen for work in cold weather or for more room in the gauntlet. What's the difference? The palms are made the same as the gauntlet style but the 5-inch long split leather reinforced cuff is 9 inches wide to accommodate winter clothing. Also for cold weather use are the one-finger work mittens. Again, the 9-inch wide split leather lined cuff easily accepts winter clothing and, for extra warmth, you can use a liner.
An interesting aspect of the Kunz line of gloves for utility workers is the "free-thumb" design. A lineworker's hand mobility can be inhibited when he or she wears insulating gloves and rubber protectors. Hand fatigue and discomfort have resulted from the thickness of some glove materials and worsened by the increasing use of thicker, higher-voltage rubber gloves. To ease the problems caused by awkward gloves, the Kunz Glove Company developed what is known as the "free-thumb" protector. This is cut to allow more stretch in the palm and thumb of the glove so that less effort is required to open the hand fully.
The Material Itself
The material of the protective clothing is important; it may be worth asking for by name. Have you seen those gloves for gardening and household chores that would rip and tear if a thorn caught them, if a small branch snagged them? They would not be suitable for most utility work, either. If the danger is from flames, materials that are not inherently flame resistant can increase the risk and severity of burn injuries because they melt on the skin. NOMEX brand fibre (from DuPont) does not melt or drip when exposed to a flash fire. Its history of success can be seen from the fact that more than 3 million firefighters use it, as well those who work in the more glamorous areas of flash fires and electricity: car racing drivers and their pit crews, military pilots and vehicle crews. It has become popular for military personnel active where roadside bombs are a significant threat.
For 200 utility workers for the City of Karlsruhe in Germany a local garment manufacturer has made protective clothing that contains 93% Nomex. "It was 20 years ago that we replaced electricians' regular cotton workwear with garments made of Nomex," advises Heinz Feuchter at the Work Safety Department in Karlsruhe. "We want to protect our staff from burns by using flame- and heat-resistant aramid fibre materials. Since garments made of Nomex have been worn, the number of physical accidents has been reduced. Our experience shows us that the initial higher outlay is soon recouped because the garments are so long-lasting. From the outset, we had eliminated chemically treated fabrics, because at some point their protective capacity diminishes, and it's difficult to tell how long it lasts. Our employees appreciate top-level protection."
More Utility Products Current Issue Articles
Utility Products Archives Issue Articles