New Products Showcase: Part 1
Sep 1st, 2009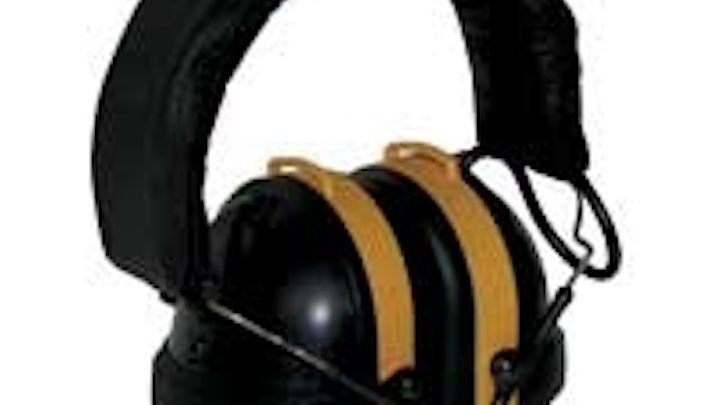 NoiseBuster Active Noise Reduction Safety Earmuffs Protect Against Power Generation Equipment Noise
The NoiseBuster Active Noise Reduction Safety Earmuffs are specifically designed to reduce the low-frequency noise generated by power turbines, diesel generators, blowers, vacuums, fans, pumps, etc. – noise that passive earmuffs can't handle.
The NoiseBuster combines an ANSI-rated 26NRR passive earmuff with active noise reduction (ANR) electronics that deliver 20dB of low-frequency noise attenuation.
Powered by a single AA battery, the NoiseBuster ANR Safety Earmuff features soft, pliable ear cushions and an adjustable comfort headband. The earmuff has an audio input jack and can be used with a portable audio player for listening at a safer, less-amplified level; an audio cable is provided. Over-the-head, behind-the-head and hard hat cap-mounted configurations are available.
A 10% purchase discount is offered for web-based orders using Coupon Code PGP010PR.
Pro Tech Technologies, Inc.
CIRCLE 122 ON READER SERVICE CARD
---
Hi-Tech Trans-Guard Full-Range Current-Limiting Capacitor Fuse
The Trans-Guard EX full-range current-limiting capacitor fuses provide both low and high current fault protection in a single, compact fuse body. As a full-range fuse, it is capable of interrupting any current that causes melting up to its rated maximum interrupting current of 50kA. Its ability to significantly limit energy let-through during a fault greatly reduces the likelihood of disruptive equipment failures. The blown fuse indicator makes it easy to see when a fuse has operated, helping to locate failed capacitor banks.
Available with indoor versions: metal enclosed closed capacitor banks, harmonic filter banks and padmounted capacitor banks; and outdoor versions: coated with an oven-baked UV acrylic paint and are used in open rack-mounted systems. All Trans-Guard EX fuses provide protection against disruptive equipment failures such as case rupture, when a dielectric or non-dielectric fault occurs within the capacitor. Fuses are sized to withstand inrush currents associated with back-to-back capacitor bank switching.
The Trans-Guard EX fuse is hermetically sealed so no external expulsion gases are produced during interruption and has no moving parts. Additionally, the fuse features its patented damage sensor which significantly reduces the potential for fuse failure in the event of element damaging current surges.
Thomas & Betts Corporation
CIRCLE 123 ON READER SERVICE CARD
---
The Vision Series
The Vision Series combines PMI's power quality recorder technology with a handheld, graphical meter.
With a full color LCD display and keypad, you can instantly view live waveforms, voltage and current, harmonics, vector diagrams, and access recorded data. Then, take it back to the office or leave it in place for full power quality logging. Weighing only 1 lb and fitting in the palm of your hand, the Vision lets one person do the work of many, thus reducing labor costs.
Featuring three models, VisionLite, Vision, and VisionPro, the Vision series is capable of megahertz voltage sampling and transient capture to see even the quickest events. With 1GB of storage and wireless, web-enabled communication options such as Bluetooth 2.0 and Ethernet, you can view real-time power quality data remotely from practically anywhere.
Power Monitors Inc.
CIRCLE 125 ON READER SERVICE CARD
---
Strap Wrenches Grip Odd Shapes Firmly, but Gently
Lowell Corporation introduces the Simplex and Warnock strap wrenches. Uses include loosening and tightening oddly-shaped and/or frozen fittings, machine and vehicle oil filters, small handwheels, PVC pipe, knurled fasteners and knobs, and turned shafts.
In addition to a cast metal handle, the Simplex has a durable polyester fiber strap that is treated with latex for extra grip. The Simplex also features a unique nose configuration. The combination gives the user a lot of gripping power but minimizes the risk of marring or damaging highly polished or painted surfaces.
Four handle lengths are available: 6" (4" standard diameter capacity) 12", (2" capacity), 18" (5" capacity), and 24" (12" capacity). Strap widths range from 1/2" to 2-1/4" and lengths from 17" to 54". Custom strap lengths are available on request.
The Simplex conforms to U.S. Federal Spec. GGG-W-651, Type V.
The Warnock differs from the Simplex in that the latex-treated strap feeds through a drop-forged shackle. The shackle swings away from the handle for quick strap adjustment and securely holds the strap in closed position and provides extra turning force, again without damaging the surface of the work.
Warnock handle lengths and capacities are 12" (2" capacity), 18" (5" capacity), and 24" (12" capacity). Strap widths range from 1-1/4" to 2-1/4". Strap lengths range from 17" to 54" and custom lengths are available on request.
Lowell Corporation
CIRCLE 124 ON READER SERVICE CARD
Continue to New Products Showcase: Part 2

More Utility Products Current Issue Articles
More Utility Products Archives Issue Articles