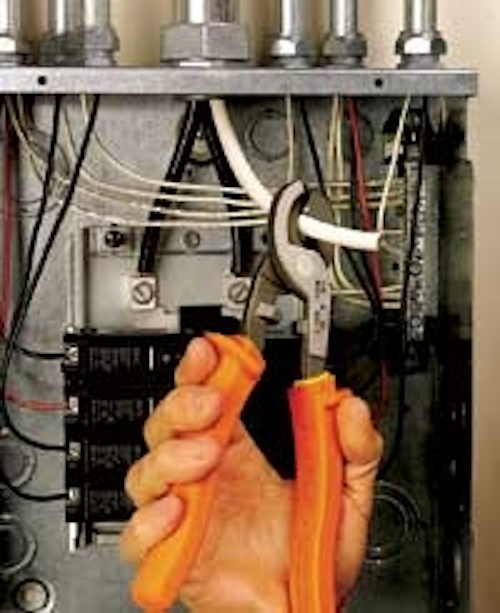 Insulated Tool Line Certified to 1000V
IDEAL INDUSTRIES, INC. introduces an extensive new line of insulated screwdrivers, nutdrivers, pliers, and cutters.
Offered individually or in convenient multi-piece sets, new IDEAL insulated tools meet ASTM F1505-01 and IEC 60 900 standards, as well as comply with OSHA 1910.335 regulations and NFPA 70E standards. Each tool is UL and VDE listed and certified to 1000V AC.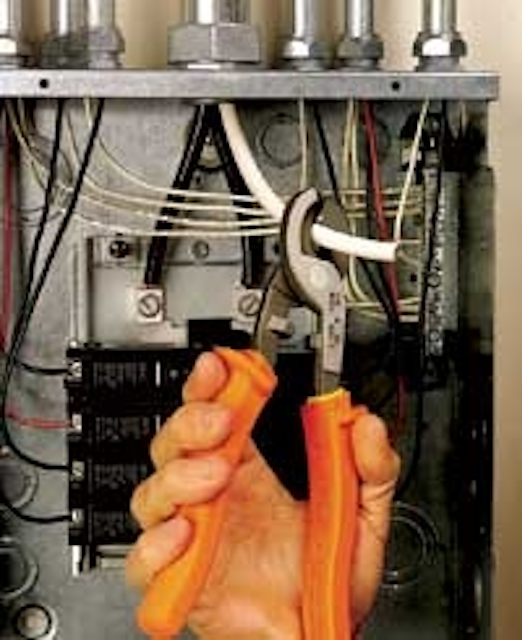 The new cutters and pliers feature double insulated Santoprene handles. The high-visibility orange outer-surface handle resists oil, perspiration, water and chemicals for precise functionality, while the permanently bonded, inner-surface handle is bright yellow so it acts as an "at-a-glance" safety monitoring system. Another sought-after safety feature of the cutters and pliers is their large finger stops that guard against accidental contact with exposed metal tool parts.
The IDEAL line of insulated Screwdrivers and Nutdrivers offer an ergonomic cushioned grip. The rounded handle naturally fits the electrician's hand, and the non-slip Santoprene surface assures maximum gripping strength.
Key to the success of the new screwdrivers is a tempered blade that is finished with black oxide and hardened for longer life and maximum quality. The nutdrivers are precision formed and hardened for heavy-duty workloads.
IDEAL INDUSTRIES, INC.
CIRCLE 131 ON READER SERVICE CARD
---
Flamesafe Workwear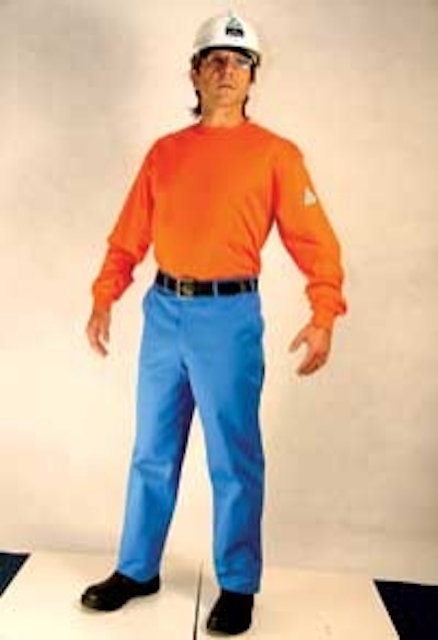 Flamesafe provides solutions for the health, safety and environmental challenges of today's world. Flamesafe is a leading manufacturer of knitted flame resistant cotton fabrics for next to the skin apparel. Flamesafe Maxisoft FR Cotton apparel range includes: Undergarments, Polo shirts, T-shirts, Henley shirts, Sweatshirts, Hoods, Gloves, Jackets and more. The company's first priority is to advance the FR protective apparel sector with innovative textile and apparel solutions, in delivering optimum safety with superior comfort, for much greater value. Products meet and exceed all local and international safety performance standards. FR cotton 6.5 oz, EBT 16.3 calories/cm2 with guaranteed 50-100 washes. If you or your team are in danger of flash fire, heat or electric arc exposure, Flamesafe Workwear has an inner garment solution that can help save your skin.
Flamesafe Workwear
CIRCLE 132 ON READER SERVICE CARD
---
VARIOFACE Professional: The Next Generation in Passive, Discrete Wiring
Phoenix Contact's new VARIOFACE Professional field termination assemblies (FTAs) and rugged cables offer fast, fault-free wire management from field wiring to process or motion controllers.
Featuring a contemporary industrial design, the VARIOFACE Professional FTAs are available in ribbon, D-sub, OEM controller-specific and power distribution versions. The assemblies' compact size meets the trend of smaller controllers and reduces space requirements in the control cabinet.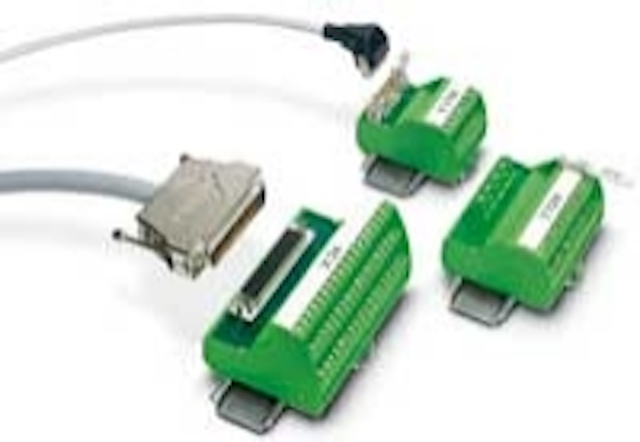 The patented module design integrates a channel with the full range of ZB marker holders, resulting in flexible module marking options. The module's single, rugged metal mounting foot moves along the length of the product, making it easy to mount and disconnect. This added flexibility enables wiring that is more efficient.
Overmolded VARIOFACE Professional cables offer rugged, error-free connection for controller cabling and are available in 90- and 180-degree variants for all ribbon sizes. The cables provide optimal strain relief and flexible inkjet labeling on both ends of the connector.
Phoenix Contact
CIRCLE 133 ON READER SERVICE CARD
---
The New 100AAC/DC Low Current Clamp-on Meter Model CM605
The Multifunction Clamp-on Meter Model CM605 is the perfect instrument for measuring 4 to 20mA process signals, as well as the higher currents (up to 100A) associated with general industrial monitoring and troubleshooting.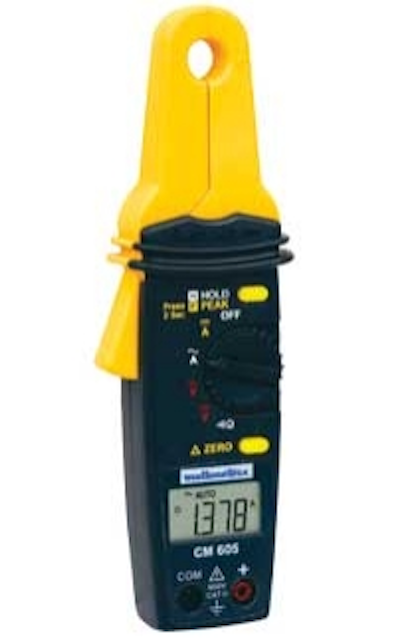 The Model CM605 is a versatile device that is capable of measuring both AC/DC voltage, up to 600V, and AC/DC current. It can also measure resistance up to 10kΩ and includes a continuity buzzer to assist in circuit verification.
For operator convenience, the Model CM605 can also hold the last reading in the display and capture the peak value at the time of the measurement.
FEATURES:
10,000-count LCD Display - Excellent Resolution
100AAC/DC Ammeter with low 10A Range (1mA Resolution)
Tapered Jaws for crowded wiring or areas (0.45" – 12mm Jaw Opening)
600VAC/DC Voltmeter
Analog Output in AAC/DC
Auto-Ranging & ADC Zero Push-button
Data HOLD & PEAK functions
Relative Function to compare two measurements
Ohm Range & Continuity Test with Beeper, 600V Protection
Batteries: AUTO-OFF and Low Battery Indicator
IEC/EN 61010 Safety Rated & CE Mark

AEMC Instruments
CIRCLE 134 ON READER SERVICE CARD
---
Get Big Mulching Performance with Mid Size and Smaller Excavators
Fecon now offers their durable mulcher, the Bull Hog for mid size and smaller excavators. You can mow larger material and get big mulching performance with Fecon's Compact Equipment Mulcher.
The Compact Equipment Mulcher features Fecon's proven, durable Fixed Rotor System that allows you to grind material up to 4" in diameter. The Compact Equipment Mulcher also features Fecon's HDT Tooling System that offers four tooling options to tailor cutting tools to the job application. Tooling options include: Double Carbide, Stone Tools, Single Carbide and Chipper Tools.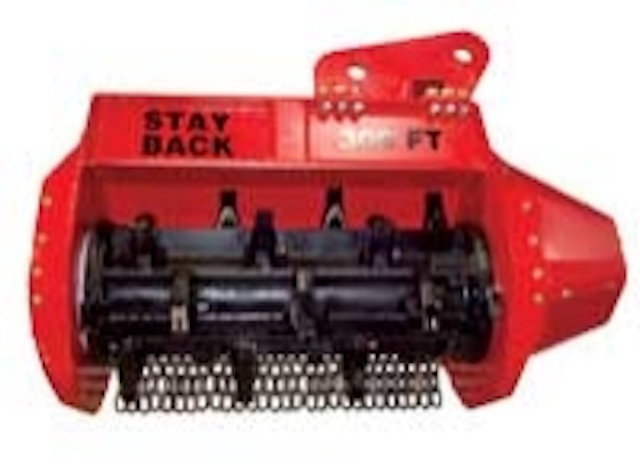 The Compact Equipment Mulcher offers a 36" cutting width and a maximum weight between 1000-1200 lbs. Targeted for excavators in the 7-12 metric ton range with 17-30 gpm of auxiliary flow, the Compact Equipment Mulcher also works well on other applicable machinery such as larger back hoes.
The Compact Equipment Mulcher is perfect for ditch and stream vegetation management and roadside vegetation management. Other applications include: Pipeline and Right-Of-Way Clearing, Invasive Species Removal, Fire Breaks, Land Clearing and Site Prep.
Fecon
CIRCLE 135 ON READER SERVICE CARD
More Utility Products Current Issue Articles
More Utility Products Archives Issue Articles