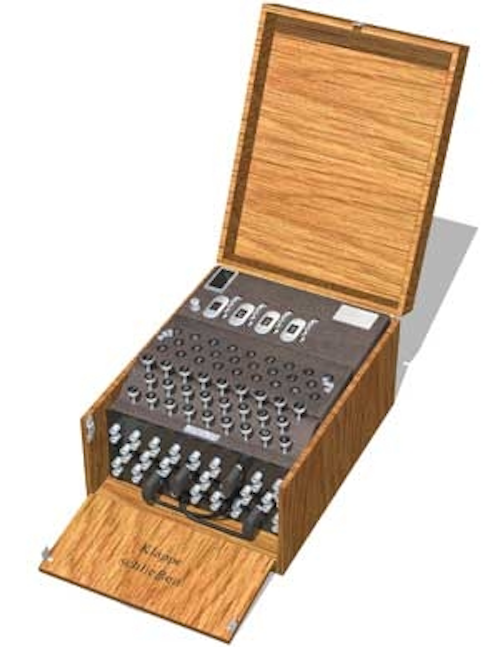 By Paul Hull
Discovering what is buried below is not difficult today.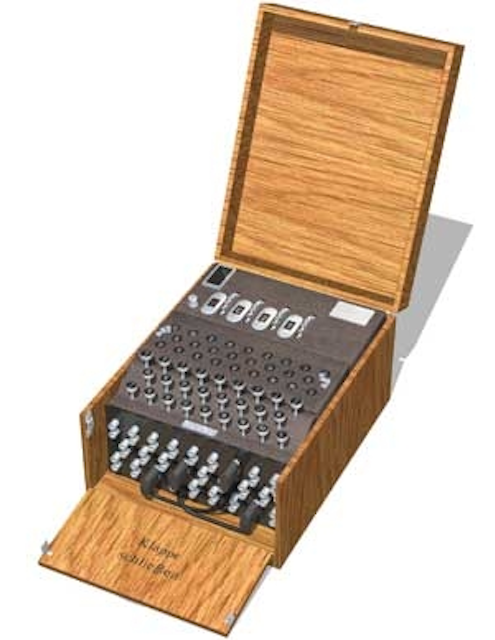 There are still accidents, some ruinous and fatal, when machines plunge their blades or buckets into buried power and communication lines. The number of accidents is going down steadily, according to national reports. That is excellent news and a good reason to praise those who are digging, especially those who make sensible preparations before digging. The number of accidents is still in the thousands every year, and each one could mean costly repairs or serious injuries. Some of those underground strikes on electric, gas or telecommunication lines are made by homeowners with their garden spades, because the lines are sometime only a few inches below the surface–but many are made under streets and roads where professional repairs or expansions are under way.
Before addressing several methods for detecting potential underground hazards, let me jump ahead a few stages and mention something most practical, but sometimes neglected by owners, supervisors and foremen. When a utility below ground is detected and its path traced, you will see brightly-colored spray marks (or sometimes flags) on the ground. They will tell the next person at the site, often the machine operator, what is there...... IF...... if that person knows what each color stands for. Orange? Yellow? Blue? They don't tell us the name of the supervisor's favorite color or sports team. They tell us what the color codes indicate is underground and everybody working at the site should know what they are. The codes are, basically, standard nationwide, though I have seen and heard of communities that use different colors or have added a few to be more specific.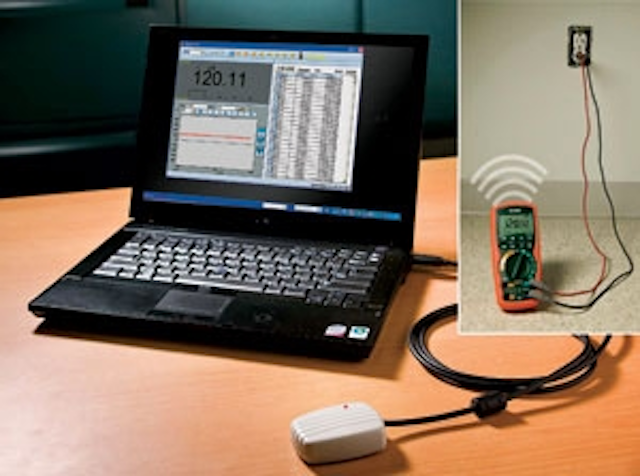 Instruments must be easy to carry and easy to read and understand.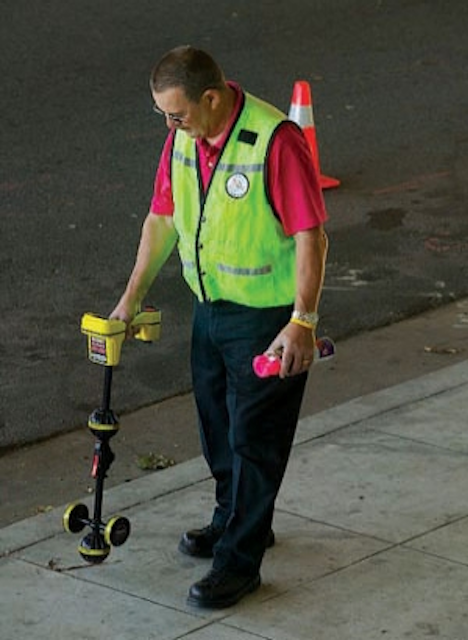 The SeekTech SR20 has been praised for its simplicity and accuracy.
RED shows us there are electric lines below; YELLOW indicates gas and oil; ORANGE is the color for telecommunications, telephone, cable TV, fire and police communications; BLUE is for water lines; in some states you'll find PURPLE for non-potable water and slurry lines; and GREEN usually denotes sewer lines, but there have been instances of BROWN for sewer and GREEN for storm drains–these two are seen less frequently. PINK would tell us that surveying is in progress and WHITE indicates where the excavation is proposed. You may find minor differences in your communities, but the hidden utilities with the worst potential for danger and unnecessary costs are the same everywhere: red, orange, yellow and blue. Learn them and make sure your equipment operators know them. Flags are used less frequently now, and for good reason. Bright little flags fluttering in the alley or street are temptations for little fingers (and some tidy-minded adults walking their dogs). They can see them, pull them out, and keep them. Or they may replace them..... but it's unlikely they will be replaced in exactly the right place. The danger of a flag put back in the wrong place is obvious.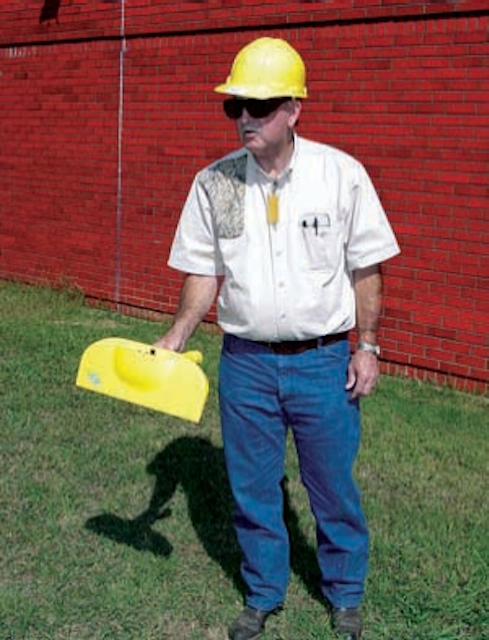 Ease of operation and light weight are important features of all instruments.
The reason for marking the location of underground hazards is to avoid accidents, but it also reminds us that we should record all the information we detect. Perhaps the most common reason for underground accidents in the past has been that the existing records were inaccurate, or did not even exist. In these days of technological advances in information recording and retrieval, we should be able to ensure that future diggers do not have the same problems. Record what you find, not just with bright paint but with permanent records in publicly accessible places. The situation improves every month. Start by calling One Call (or its local equivalent) to see what records do exist and proceed practically from there. Several field workers and contractors have told me not to rely on old records completely, because they may have been recorded incorrectly, filed incorrectly or never checked for accuracy. If the owner of the facility where you are working does not have accurate records, the crew should look for signs of obstacles or other utilities–signs such as enclosures, pedestals, dips, poles, valve, meters, risers and manholes.
Is it Really Worth it?
Is all this bother to detect what is underground really worthwhile? What are the chances of your machine blade striking an underground danger? The chances were not that great 50, 30 or 20 years ago. Today, however, there are so many utilities driven underground because nobody likes to see them above ground. Not all the paths of underground utilities have been mapped and recorded. So what could happen if you struck an obstacle with the blade? The least damage would be that the utility would be stopped. The worst is as bad as you can imagine: death of workers, death of bystanders, property damage, lawsuits that will be lost.
So what do we look for in the instruments that can help us? Accuracy must be the first consideration. If you are using an instrument to show you what is hidden below the surface, it must show everything you need to know. The instrument should be lightweight enough for a person to carry all day. Its power should be available when you need it. It should be easy to operate with a minimum of set-up procedures required. Once you have it, you should be able to go to work at once. You can investigate the offerings of several excellent manufacturers in this area of expertise. Some that come to mind are Goldak, Radiodetection, Ditch Witch, Schonstedt, Ridgid, Megger, SubSurface Instruments, Sensors & Software, MALA Geoscience, Rycom and Metrotech. Some of them responded to us with news of their latest products and techniques, and they are included below.
Generally speaking, pipe and cable locator systems locate the electromagnetic (EM) field produced by the ac current flowing on the line, not the pipe or cable itself. Many non-metallic pipes and cables have tracer wires (that can conduct electricity) buried next to them. After identifying the best access point to the target line, the operator can place a signal on the line, either by direct connection, clamp induction or broadcast induction. The most accurate method is direct induction, when the signal travels from the transmitter through the target line and returns to the ground stake.
"The 'Innspector 07' is a lightweight, hand-held locator that detects buried pipes, cables and objects made of virtually anything–from clay to metal to plastic to concrete," advises Ron Davenport for SubSurface Instruments (SSI). "The Innspector 07 can detect all those things that you currently can't find underground with other instruments, to a depth of 10 to 12 ft, even while standing in shallow water. Designed for easy portability, the one-piece, self-contained instrument weighs 2.5 lbs including four alkaline 'C' batteries. With the Innspector 07, there's no set-up or calibration before locating." The Innspector indicates the location of buried items with a red laser-beam pointer. "When it locks onto a target, it shines a laser-beam on the exact in-line location, which can then be marked," notes Davenport. "The operator can confirm it by stepping to the right or left and repeating the process. All the operator has to do is be careful and use common sense, because it detects everything that's buried there."
This popular Schonstedt XT is easy to operate and can be carried around all day, if necessary.
Included in the phrase "ease of operation" is the visibility of the data provided by the instrument. Ridgid emphasizes that its SeekTech Receivers offer large displays so you can see the information clearly. The mapping display will confirm a good locate signal, and it also identifies distortion in congested areas with the help of a tracing line that guides the operator down the line and shows any changes in direction. There are also helpful left-right guidance arrows, while the proximity signal and signal strength will help you get closer to your target to produce more confident locates. All these SeekTech instrument features enhance their accuracy. The SR-20 is a lightweight yet rugged receiver, already well proven in the field, while the newer SR-60 is said by Ridgid to be the easiest, fastest, most versatile receiver available. It can trace any frequency from 10 Hz to 490,000 Hz. It can trace energized lines and sondes (beacons) simultaneously. The SR-60 is especially recommended when your site conditions are poor, such as when you have inferior conductors, bad soil conditions or poor grounding.
Jobsite Conditions and Working all Day
Ease of operation is also an important facet of locating equipment from Ditch Witch, a company with years of success in all aspects of underground work–from locating to boring. "The Ditch Witch 950 R/T system is designed to locate, quickly and accurately, buried telephone, power, CATV, gas, sewer and water lines in most jobsite conditions," advises Jeri Lamerton for Ditch Witch. "Featuring a variety of design features that help simplify operations and enhance performance, this easy-to-operate system is built to be rugged, reliable and durable." The 950R receiver weighs only 4.5 lbs and is designed ergonomically to make it easy to use through the day's work. The controls are positioned to enable convenient one-hand operation, and the instrument offers simplified left/right arrow configurations to help improve productivity. The locating modes include Active, Passive and Beacon. They give greater versatility from application to application. Here's a feature that seems to become more important week by week as underground patterns become increasingly complex in our growing communities. A unique target identification feature on the DitchWitch 950R helps the operator locate lines in congested areas.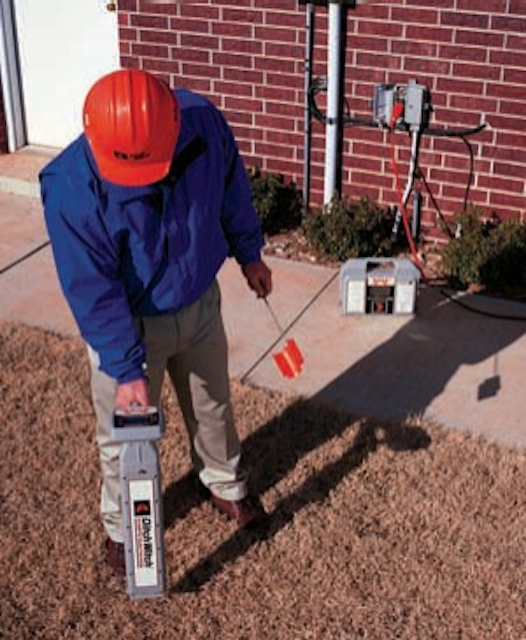 Detecting hidden dangers at residential sites is essential to safety and efficiency.
"This is a new method," says Ed Maneval, "We've eliminated the receiver and made faults a lot easier to find." Maneval is a vice-president at Schonstedt Instruments, maker of magnetic and utility locators. The company insists on useful innovations that make life easier for end users. The Schonstedt TraceMaster was the first utility locator to allow transmitter frequency switching from the receiver end, and the XTpc line of locators were the first to retract so that they can be carried in a belt holster. The innovative FaultMaster is a low-frequency (12.5 Hz) transmitter that works in conjunction with an A-frame with stainless steel tipped legs. Building on Schonstedt's experience with radio, the transmitter sends a reference signal to the A-frame via a radio link; this eliminates the need to induce a separate reference frequency in the faulted conductor. The end result is an A-frame that makes more accurate and noise-free measurements.
In addition, line location isn't usually needed (i.e., no need for a receiver): "Most faults are in secondary cables that are less than 300 feet in length," says Maneval, "and repair crews can stay on the line well enough to use the FaultMaster without having to take the time to locate the path." This makes fault locating fast and easy, because the repairman doesn't have to mark out the path first. The FaultMaster includes a clear LCD display with an arrow that points to the fault. The A-frame is lightweight and ergonomic, packs easily, and has a battery life of 30 hours. The attaching transmitter comes with rechargeable batteries that work for eight hours on a charge. This is a brand new product and has been subjected to rigorous field trials by major utilities in Florida, Texas and the Carolinas. Schonstedt is offering a three-year warranty.
While the topic of this article is underground detection, there is an aboveground locator that deserves our attention. Offered by Radio Detection (an SPX company and one that has three decades of experience in locating equipment), the Cable Avoidance Tool addresses the challenges of locating hidden conduit with live power, inactive power, low voltage dc, CATV and telecom that is under the roof where you are working. One of many instruments in Radio Detection's popular range, the Cable Avoidance Tool locates signals you need to know about and rejects signals that are unwanted. The C.A.T.3+ is an effective locator for commercial re-roofing firms, enabling workers to avoid striking wires, conduit and steel beams as they drive in fasteners for a new roof. It's a tool that seems to have particular usefulness after powerful storms that damage roofs.
Radiodetection also offers the RD1000, with ground penetrating radar (GPR). It displays an image map of underground features so the technician can see a pipe or cable in its topographical context. That makes it useful for locating and excavating utilities. The advantage of GPR over traditional electromagnetic locators is that it can see non-conducive materials such as plastic pipes. The more of those used in underground infrastructure projects, the more GPR seems to attract supporters. The whole RD1000 unit weighs less than 50 lbs and can be assembled on site in less than two minutes (and +dismantled just as quickly after the locate for easy storage). It has been designed and proven to be "easy to operate."
There are many well-tested instruments available for underground detection. Choose the ones that will fit your needs exactly. Describe your specific problems and you can sure there are locating systems that will solve them for you.
More Utility Products Current Issue Articles
More Utility Products Archives Issue Articles