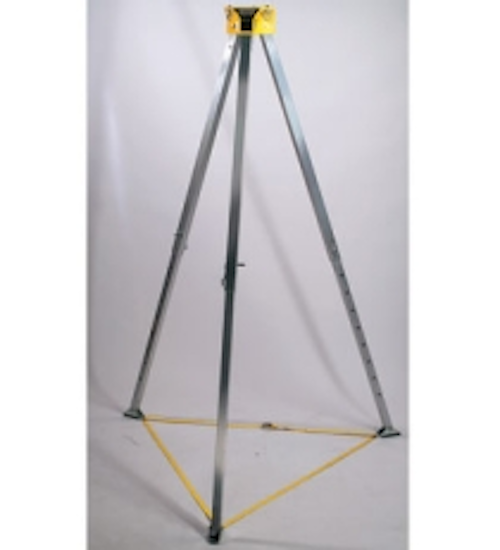 Improve Electrical Cable Cutting with New BigFoot Ratcheting Cutter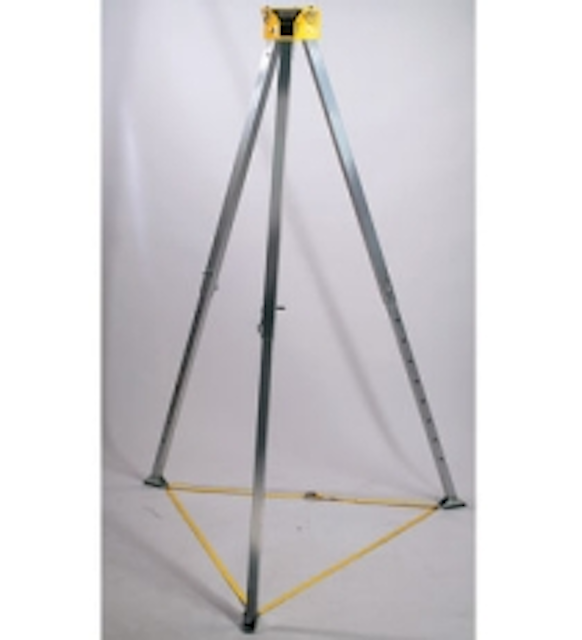 Ideal Industries' new BigFoot ratcheting cable cutter is cited to be the industry's first to feature an over molded high-leverage boot that provides improved power and stability to users while they cut copper or aluminum hard-drawn cables up to 750-KCMIL.
The BigFoot design lets electricians firmly plant the BigFoot on the ground along with the cable they are cutting, and push down on the other handle, reducing the stress in cutting large cables.
Heavy-duty features of the BigFoot include: hardened steel blades achieve precision cuts and long-term durability; rounded blade with five-tooth ratchet action holds cable tight and minimizes distortion; compact dimensions for use in confined spaces such as utility splice boxes, manholes and trenches; quick release action simplifies blade back-out; locking mechanism keeps handles closed for safer storage; and SmartGrip ergonomic, slip resistant handles for sure grip, even when wet.
Ideal Industries Inc.
CIRCLE 110 ON READER SERVICE CARD
Nordic's MPP-141480-MG, the "Smart" Meter Pedestal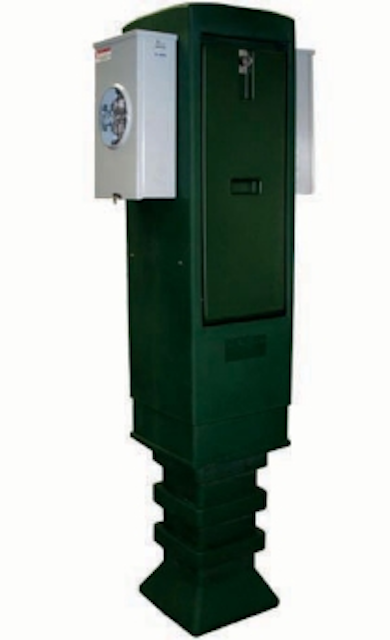 Nordic Fiberglass' MPP-141480-MG meter pedestal is cited to be as "smart" as you can make it. The plastic pedestal is designed to accommodate up to three meters or other equipment to be installed on its outside walls. This arrangement can be used for trailer parks, RV campgrounds or townhouses. It will also accommodate a disconnect and GFI receptacles on the outside for campers, vendors or for special events.
To avoid unlawful tampering, a meter can be installed inside the MPP for measuring receptacle power usage. Use it as a secondary pedestal by ordering 3 lay-in 6 port 350 MCM connectors.
Nordic Fiberglass Inc.
CIRCLE 112 ON READER SERVICE CARD
New Pulling Eyes Provide Faster, Safer Method of Pulling Innerduct Conduit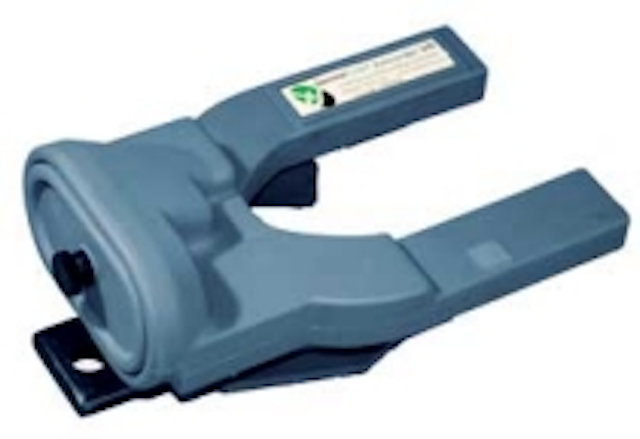 General Machine Products Co. Inc. (GMP) introduces a new line of Innerduct Pulling Eyes to its extensive line of underground tools and equipment. GMP's Innerduct Pulling Eyes make pulling innerduct conduit safer and faster. The Innerduct Pulling Eyes provide a secure attachment to the innerduct conduit due to its threaded body feature. A hole in the threaded end of the pulling eye body provides a convenient tie-off of the innerduct pulling line or tape, ensuring that the unit is not lost during the pulling operation.
GMP's Model 61510 Innerduct Pulling Eyes are also available with a swiveling head-end and a hex feature. These swivels allow the pulling eyes to rotate as necessary during the pulling process and eliminate the need for a separate swivel between the pulling line and innerduct. The hex head feature allows use of a wrench to make the final turns when inserting into innerduct.
The Innerduct Pulling Eyes are made from durable chrome-plated steel. GMP's Innerduct Pulling Eyes come in a variety of sizes, ranging from 1" to 2.5" in length. The pulling eyes can accommodate conduit inter-diameter dimensions ranging from 1" to 2.18".
General Machine Products Co. Inc.
CIRCLE 111 ON READER SERVICE CARD
Earth Ground Resistance Tester Kit Introduced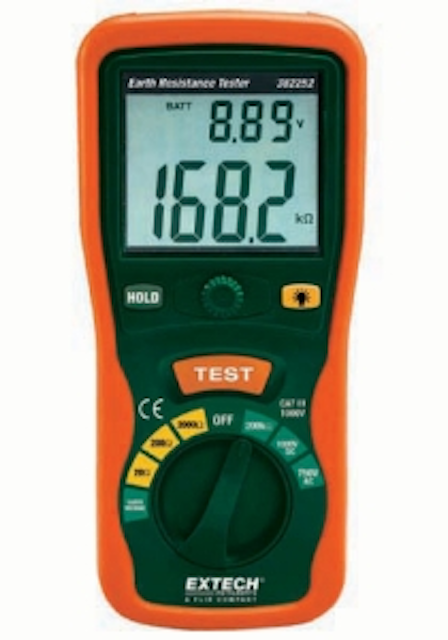 Extech Instruments announces the new 382252 Earth Ground Resistance Tester Kit. For new installations and predictive maintenance inspections in industrial and commercial settings, the 382252 measures earth ground resistance in three ranges of 20Ω, 200Ω and 2000Ω, earth voltage up to 200 Vac and resistance up to 200kΩ, as well as ac and dc voltage, up to 750V and 1000V, respectively.
Enclosed in an ergonomic rubber holster, the rugged new tester offers one-button testing, easy-to-read dual display, HOLD function, automatic zeroing, a Category III-1000V overvoltage rating and a measuring frequency of 2.5 times samples per second.
The new earth ground tester kit is designed for quick and accurate testing with an existing ground and two ground-stake earth bars (included). Earth ground resistance tests are essential for installation of new grounding systems and electrical equipment; antenna tower construction and maintenance (PCS, cellular, microwave, short-wave, meteorological, broadcast radio or television), earth ground system design; routine testing of ground and lightning protection equipment; and the installation of transformers, switchgears, machines and other electrical equipment.
The tester kit comes equipped with test leads, two auxiliary ground-stake earth bars, carrying case and batteries.
Extech Instruments
CIRCLE 113 ON READER SERVICE CARD
Continue to New Products Showcase: Part 2

More Utility Products Current Issue Articles
More Utility Products Archives Issue Articles