Exide Technologies' newest heavy-duty battery, the Exide Extreme Cycler 200, provides an affordable power solution to meet the ever increasing demands of the heavy-duty aftermarket.
The Exide Extreme Cycler 200 battery is engineered to handle not just the high-energy needs of a modern commercial vehicle, but the greater power demands driven by the no-idle legislation. The product is capable of deeper discharge, superior vibration resistance and higher cycling than conventional flooded product.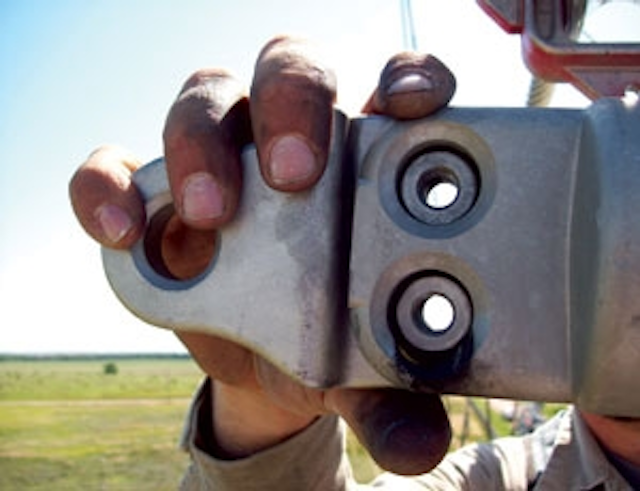 Exide Extreme Cycler 200: power match for the demanding heavy-duty market
The operating environment of the 21st century places high energy requirements on a truck battery. Higher load demands during key-on and key-off periods, anti-idling legislation, an increased number of driver comfort accessories, and the need to reduce emissions and fuel consumption all mean that batteries must do more than just start the vehicle.
Electronic controls and accessories, GPS systems and increasing cab comforts all add to the energy demands during key-on periods. Maintaining cab comforts during key-off periods creates an additional and somewhat different energy requirement. Finally, the need to minimize idle time, whether driven by regulation or fuel costs, results in more frequent starts and thus shorter re-charge time between starts. Because batteries are cycled more deeply and frequently than in the past, they must be closely suited to the particular commercial application.
Exide's design, development and introduction of the Group 31 Exide Extreme Cycler 200 battery is an affordable power solution for these types of conditions. Available with a robust power level of 700 cold-cranking amps and 200 minutes reserve capacity, the flooded product is a bridge between the pre-existing Group 31 product lines that the company already offers and the Exide RoadForce AGM-200 battery–a premium, valve-regulated absorbed glass mat product introduced in 2007. Furthermore, the new maintenance-free battery offers a 50 percent longer cycle life and three times better vibration protection than conventional flooded product.
The Exide Extreme Cycler 200 specifically targets a number of aftermarket audiences and applications, including:
Operators of over-the road vehicles–those equipped with sleeper cabs (not powered by auxiliary power units); fleets with high-energy equipment (GPS systems, entertainment systems, etc.); and reefer units–controlled temperature shipping containers, usually refrigerated with a self-contained refrigeration unit–that typically operate in high heat and in extreme conditions where vibration is prevalent.
Drivers of delivery vehicles where frequent stopping and starting–and short recharge time–are part of a daily route (city deliveries, package deliveries).
Emergency vehicles where lights, communication devices and life support systems require power during long idling periods.
Power equipment such as lift gates, hydraulic pumps and wrecker trucks.
Frequently parked equipment with constant draw items (GPS units, security systems).
"The Exide Extreme Cycler 200 battery is a durable, high performing product–an economical power solution engineered to withstand extreme environments and endure the most rugged of applications, all while providing distinct, advanced power requirements," said Bruce Cole, President, Transportation - Americas for Exide Technologies. "Our new Group 31 offering is yet another example of how our engineering, sales and marketing teams at Exide have successfully collaborated to launch a technologically-advanced, competitively priced offering–meeting the needs of our customers."
Performance snapshot: features and benefits of the Exide High Cycler 200
The Exide Extreme Cycler 200 features a number of design elements that result in longer battery life (due to superior cycling and vibration resistance) versus standard flooded product. These include:
Flooded epoxy anchor bonding for increased durability and service life in high-vibration environments.
Reinforced ribbed case reduces case distortion, unifies component stability.
Combination of a robust container, cover and construction, and inter-cell connectors large enough to provide high vibration resistance–three times that of conventional product–for longer life.
Heavier terminal connections provide additional physical strength and durability.
Screw-in-caps with rubber gaskets help assure no leaks, which can cause corrosion while providing accessibility.
Manifold venting includes acid and liquid retention rings for reduced corrosion.
Oversized cast-on straps increase electrical efficiency to assure the maximum cranking amps are available for engine start.
Molded lifting slots allow for easy installation.
In addition, the Exide Extreme Cycler 200 battery is designed with cast silver alloy positive plates, a critical feature not specified in other Exide Group 31 batteries. This plate construction has a number of important benefits that contribute to the battery's high performance, including: radial design grid to provide cranking power more efficiently to assure the maximum cranking amps are available for engine start, full perimeter frame rails, large lug width and height for increased durability and life, cast construction for longer high heat life, small-grid window design for improved material retention, and high density and high acid absorption paste that provide increased cycle life. In addition, the battery is designed with polyethylene separators with glass mat (providing double insulation), allowing for reinforced positive plate adhesion and high material retention. The micro-porous, micro-ribbed separators also result in efficient discharge and recharge, and reduce the chance for short circuiting. This particular combination of alloy, grid type, paste and separator design results in a 50 percent improvement in cycle life versus conventional flooded product.
Like other Exide Technologies products, Exide Extreme Cycler 200 products can be charged by most standard battery chargers and alternators, are made with recycled lead and plastic, and can be recycled at the end of their service lives. Exide is one of the few battery manufacturers in the world with facilities to manufacture and recycle its own products.
More Utility Products Current Issue Articles
More Utility Products Archives Issue Articles