Driving Behavior Impacts Employee Safety – and the Bottom Line
Driving may be a part of a utility professional's job description, but more likely than not, it is not his or her core competency.
Jun 1st, 2009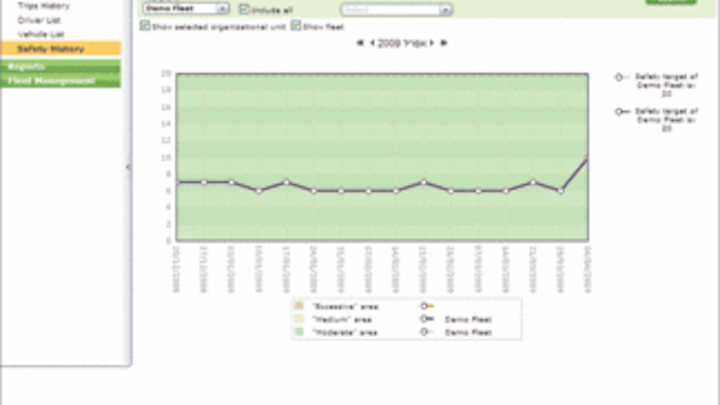 By Dan Steere
Driving may be a part of a utility professional's job description, but more likely than not, it is not his or her core competency. Are your utility professionals safe drivers? Utility providers have good reason to worry about the safety of their mobile workers. There are 60 million mobile workers on the road in the U.S., a place where 75 percent of work-related deaths take place. With these staggering numbers, it is literally a matter of life and death–not to mention financially and environmentally responsible–to focus on improving driver behavior and operating safer fleets.
Traditional approaches to driver training include classroom instruction, ride alongs and video event capture, but these are not complete solutions as instructors cannot always be in the vehicle with the driver and video can be expensive to manage and perceived as intrusive by drivers. Billions of dollars have been invested in technology to make vehicles smarter and safer, but these solutions fail to address the driver. None of these approaches focus specifically on driving behavior which plays a role in up to 95 percent of all crashes and contributes up to 33 percent to fuel consumption. Driving behavior is therefore a key contributor to the $230 billion per year spent on vehicle crashes in the U.S. , as well as the $400 billion per year in fuel. By improving driving behavior, utility fleets can directly and positively affect the overall safety of their fleets, reduce crashes and related costs, lower fuel costs and emissions and prevent unnecessary wear and tear on their vehicles.
Click here to enlarge image
An entirely new and soon multibillion category of in-vehicle technology based services has emerged to measure, improve and sustain safe driving behavior. Comprehensive services that integrate immediate, in-vehicle driver feedback with reporting enable drivers to instantly recognize risky behavior and adjust their driving in the moment. Feedback is provided in the form of a small red, yellow, green LED display on the vehicle's dashboard that changes color to alert drivers when they have performed any one of 120 risky driving maneuvers. It is comparable to a driving coach riding along with the driver and offering critique and advice, but non-intrusive, more consistent and significantly less costly. Fully automated driver behavior improvement solutions scale easily across any size fleet.
Click here to enlarge image
With this type of service, data from each trip is automatically analyzed and reports are generated and available via an online portal. Drivers and fleet managers can view these reports and measure performance on a particular route or identify trends in overall performance. Objective feedback, coaching and rewards empower drivers to proactively improve their driving behavior and sustain improvements. Fleets that employ driving behavior improvement services typically reduce total crashes by 54 percent and at-fault crashes by 38 percent.
Improving driving behavior increases a utility fleet's overall safety record and helps protect its drivers. That alone is reason to consider this approach to driver training, but there are additional benefits to a utility provider. Providers are often dealing with natural resources such as gas and water and need to be especially sensitive to sustainability and lowering their carbon levels. They also need to better manage their assets and must remain competitive in an increasingly competitive market. Improving driving behavior will directly benefit the bottom line by enabling utility providers to better manage their assets, lower their carbon footprint and drive down claims, repairs and fuel costs.
Vehicle maintenance is an expensive line item for many fleets. Safe drivers tend to avoid risky driving behaviors, including hard braking, sudden acceleration and sharp cornering. Removing these actions reduces wear and tear on vehicles and directly impacts the bottom line.
An additional benefit of safer driving is reduced fuel usage and lower emissions–by as much as seven to 11 percent. With fuel and safety routinely listed as two of the top three costs for fleets, implementing a driving behavior improvement service will provide important savings to every fleet.
Going green, while also conserving green, is a great way to differentiate your fleet among competitors. Improving driving behavior will make for a more efficient fleet as up to 33 percent of fuel usage is determined by driving behavior. With fuel cost and emission reductions, your company becomes more environmentally friendly without raising costs to the public, as competitors may be doing. Utility organizations approaching new budget cycles and looking for ways to pare expenses and shore up their bottom line in an environmentally friendly way stand to benefit from driving behavior improvement services. Utility commissions and regulators will also look favorably on green fleets.
Mobile services provider T-Mobile UK implemented a driving behavior improvement service in its fleet. In the first year of implementation, the company saw a £417,000 savings in bent metal costs and an approximate three percent fuel savings across the first 250 vehicles deployed. The company also saw a large reduction in staff sickness rates and administration costs relating to road crashes. Implementing the service has helped T-Mobile achieve a 49 percent reduction in vehicle repair costs over a year long period, as its crash rate fell by 20 percent during that time. Vehicle wear and tear-related costs have also been reduced.
Unsafe driving behaviors are captured on each route and in a year over year period T-Mobile recorded 41 incidents for every 10 hours of driving, an improvement from 81 incidents for the same time period just one year before. This demonstrates that employees are changing the way they behave on the roads and practicing safer driving habits. A safety program implemented by the driving behavior improvement company and T-Mobile rewards safe drivers, prompting drivers to continue their positive driving behavior.
Click here to enlarge image
What should utility fleets consider when implementing a driving behavior improvement service?
First and foremost, it is important that fleet managers and safety and risk professionals consider the needs of their particular fleet to determine what is best for their organization. They should consider their current driving behavior program–is it proactive, holistic and driver centric? It is important to secure buy-in from all levels of the company–from the CEO to the driver–to ensure the success of a driving behavior improvement service.
When looking at the big picture of the organization, consider these questions: Are fleet maintenance, insurance and fuel expensive line items, despite current efforts? Has the fleet had a serious safety event in the last 30 days? Do drivers take pride in their work and wish to become safer drivers? If so, implementing a driving behavior improvement service with a safety reward program is an effective way to continue to motivate drivers to become safer and smarter behind the wheel.
When it comes to safety on the job, organizations can never be too safe. Driving behavior is often overlooked and too many organizations do not recognize the additional benefits of improved driving. Reduced crashes, lower vehicle maintenance costs, fewer insurance payouts and reductions in carbon emissions are several reasons why the time is right to implement a driving behavior improvement service today.
---
About the Author:
Dan Steere is the president and CEO of GreenRoad, a global pioneer in improving driving behavior. GreenRoad helps commercial fleets, insurers and consumers measure, improve and sustain safe and fuel-efficient driving behavior.