Products Showcase
Iowa Mold Tooling Co. Inc. (IMT), an Oshkosh Corporation company, introduces the new DSC12 mechanics truck, a compact, fuel-efficient addition to the Dominator family of mechanics trucks.
Jun 1st, 2009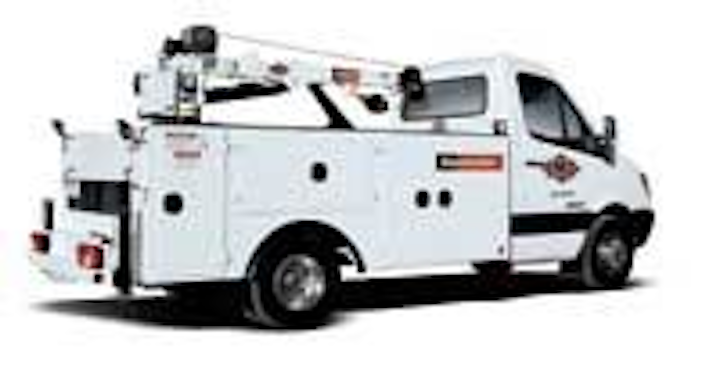 New IMT DSC12 on Sprinter Chassis Can Double Fuel Savings
Iowa Mold Tooling Co. Inc. (IMT), an Oshkosh Corporation company, introduces the new DSC12 mechanics truck, a compact, fuel-efficient addition to the Dominator family of mechanics trucks. Built on a Dodge or Freightliner Sprinter chassis, the DSC12 is the perfect option for customers looking to get maximum fuel economy out of a vehicle that can easily maneuver in tight, urban environments.
At only 2,150 lbs., the DSC12 unit is the most compact of all the trucks in the Dominator series. The DSC12 body can be mounted on a Dodge or Freightliner Sprinter chassis and burns about half as much fuel as a full-sized mechanics body mounted on a traditional Class 4 chassis.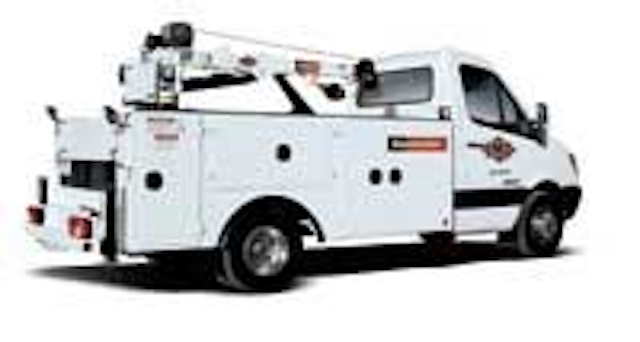 Click here to enlarge image
The DSC12 is equipped with an IMT 3203i electric telescopic crane, which has 3,200 lbs. of maximum lift capacity and a maximum 15' of horizontal reach. This new body incorporates all the key features of the Dominator lineup that give the operator more comfort and mobility around the vehicle and make the truck easier to use. Some of these
features include:
Improved tools and parts access;
Patented floor structure that reduces body weight;
Patent-pending, three-point door latches that require less force to operate;
Single-hand operation on the tailgate;
Patent-pending shelf hanger bracket system;
Side packs designed for greater storage; and
Improved visibility of rear LED taillights.
Iowa Mold Tooling Co., Inc.
www.imt.com
---

Mobile Column Lifts – Made in the USA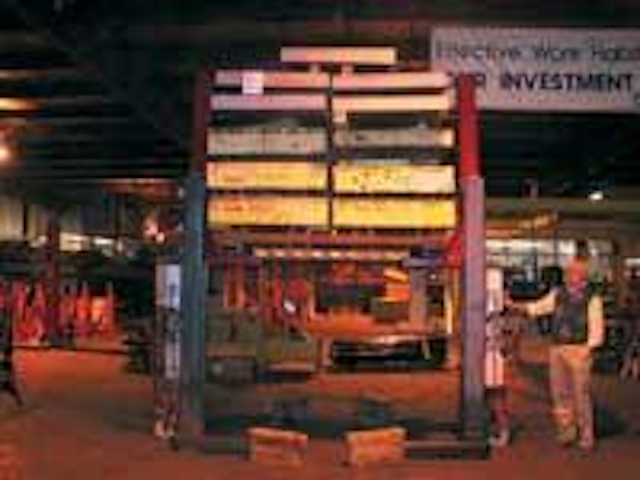 Click here to enlarge image
You know the quality of Stertil-Koni mobile lifts. Now, you can have the same quality with Stertil-Koni lifts made in the USA.
Yes, Stertil-Koni mobile lifts are now being manufactured and are available for immediate sale from the Streator, Illinois facility.
Stertil-ALM passed the certification requirements with flying colors and you can go to www.autolift.org and see the Stertil-ALM MADE IN THE USA lifts where they carry a designation of U.S.–next to the model number.
Please consult your Stertil-Koni authorized dealer/distributor for pricing information on lifts now made in the USA. The first series will be the ST 1082-FSF rated at 18,000 lbs. per column or 72,000 lbs. per set of four

Stertil-Koni
www.autolift.org
---

Two New Compact Trenchers
Click here to enlarge image
The Ditch Witch organization announces the release of two new walk-behind trenchers: the RT10 and the RT12. Both trenchers feature fully hydrostatic steering and offer a choice of high-flotation tires or heavy-duty, oscillating tracks. Designed primarily for short runs and operated by easy-to-use controls, the 11-hp (net) RT10 is expected to become a popular rental item among homeowners and small contractors. The RT12 features more horsepower (16 gross hp) and an oil cooler that keeps its Vanguard engine running strong even in the hottest conditions.

Ditch Witch
www.ditchwitch.com
---

2010 MaxxForce 13-liter Advanced EGR Engine
One step closer to meeting the stringent emissions standards required for 2010, Navistar has unveiled its 2010 MaxxForce 13-liter Advanced EGR engine.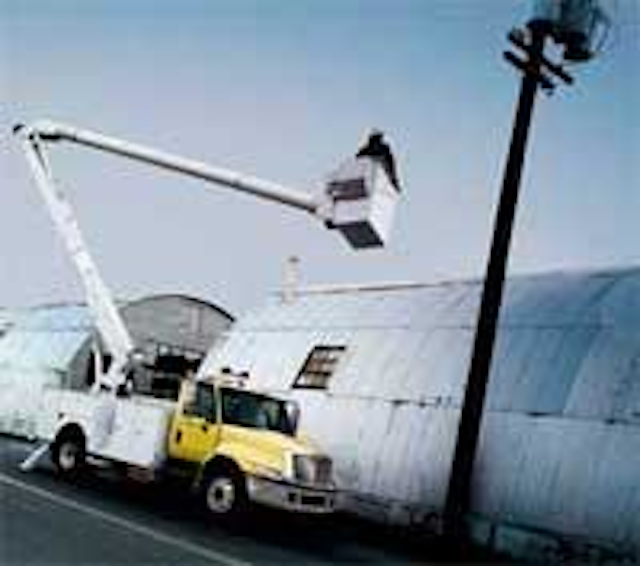 Click here to enlarge image
To meet the U.S. Environmental Protection Agency (EPA) 2010 emissions standards for on-highway diesel engines, MaxxForce Advanced EGR engines will use proven technologies such as advanced fuel injection, air management, electronic controls and proprietary combustion technology.
Navistar's EGR approach will not require the use of urea or the addition of heavy on-vehicle urea storage tanks, converters, heaters, and the additional electronics required by SCR systems. MaxxForce Advanced EGR engines are no-hassle, business-as-usual solutions that will deliver lower operating costs for customers.
For SCR systems in the U.S., the EPA will require a series of driver compliance controls, including a complex array of warning lights as well as a disabling system which will automatically power down the engine when urea levels run low

Navistar International Corporation
www.navistar.com
---

RAM Mounts for the Motorola VC6096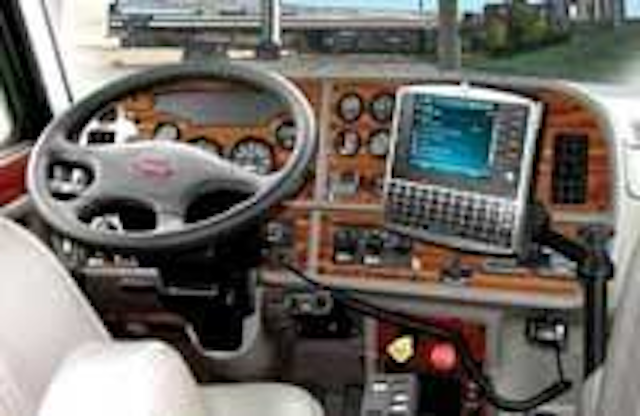 Click here to enlarge image
The Motorola VC6096 is designed to optimize LT, LTL, and OTR fleets. RAM Mounting Systems are recognized globally for their rugged durability and adjustment features allowing for perfect viewing angles and ergonomics, maximizing the versatility of the VC6096. With truck cab layouts as diverse as the loads they carry, rest assured that RAM will have a solution for your fleet's unique application

RAM Mounting Systems
www.ram-mount.com
---

Plug-In Hybrid Underground Utility Vehicle
DUECO Inc., in conjunction with Odyne and Vanair Manufacturing, is the first to offer a Plug-In Hybrid Underground Utility Vehicle (HUUV). With enough power for plastic pipe fusing, the truck's hybrid drive system powers an air compressor, exportable power, and an auxiliary climate control system.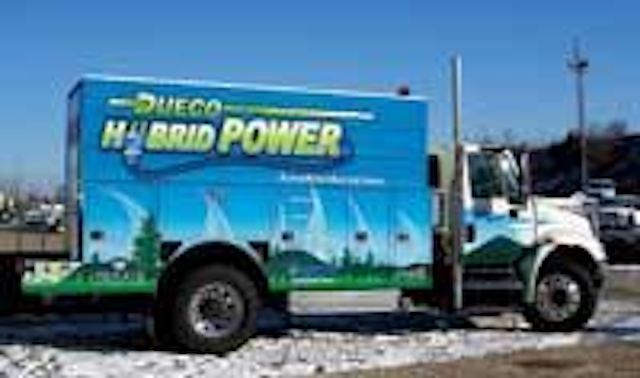 Click here to enlarge image
The Vanair 125 / 185 CFM underdeck air compressor is a common piece of equipment used by utility companies to operate pneumatic tools, such as pavement breakers, tampers and mole tools. The HUUV is equipped with a compressor automatic shut down device that automatically starts and stops the compressor based on demand. This element substantially increases battery life and decreases needless compressor operation.
At the end of a workday, the HUUV plugs into a charging station where the batteries recharge during off-peak hours. The truck can also recharge at any point, while idling or driving, with the conventional diesel engine. The unit is complete with regenerative braking and launch assist to provide additional fuel efficiency, emission enhancements, extended brake life. These additional PHEV features offer greater benefits than just an idle reduction system.
DUECO Inc. and Odyne have previously unveiled the industry's first Plug-in Hybrid medium-duty aerial lift, heavy-duty tandem axle aerial lift and digger derrick.

DUECO
www.dueco.com
---

Saving Seats and Saving Money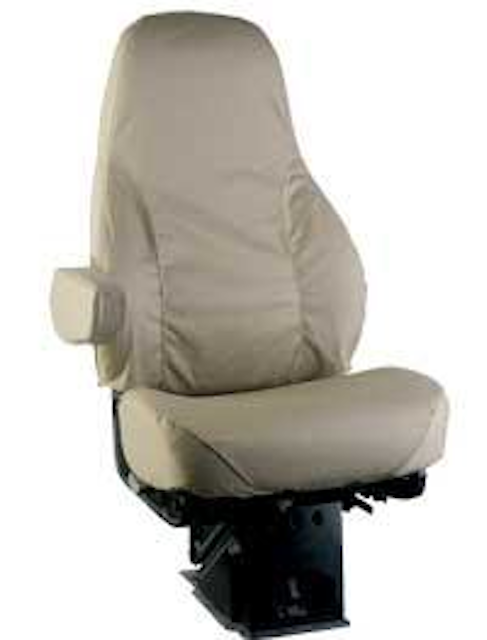 Click here to enlarge image
Reupholstering or replacing your truck seat is an expensive maintenance item. Today's increasingly tighter budgets make SeatSaverWT an even more practical decision when protecting the interior of your work truck. The heavy duty polycotton fabric makes SeatSaverWT the sensible choice for protecting seats against the dirt, dust, and grime associated with today's work truck.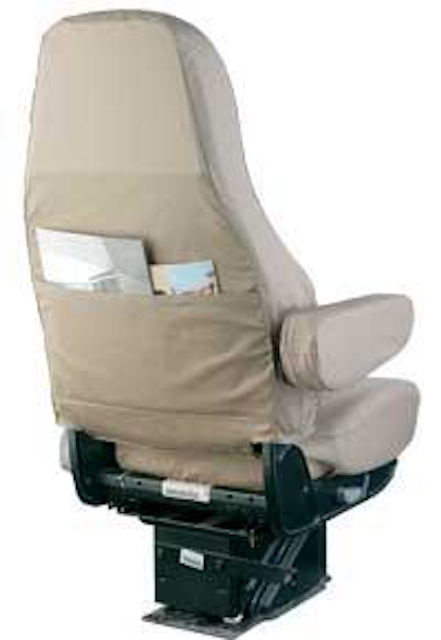 Click here to enlarge image
Custom-patterned and machine washable, these seat protectors are perfect for covering used seats or protecting new ones. Available for light duty to class-8 trucks and fleet vehicles, SeatSaverWT can reduce your interior maintenance costs and keep your truck looking good

Covercraft Industries, Inc.
www.worktruckseatsavers.com