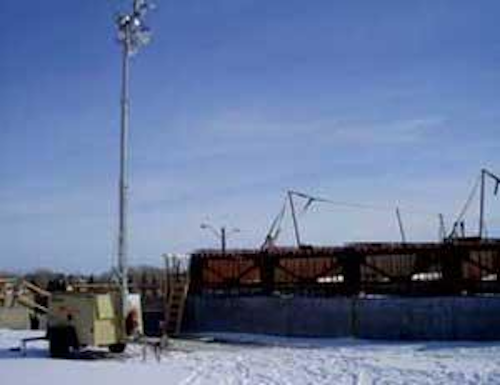 By Dawn Buzynski
Summer is here and with it come signs that the construction downturn is easing here in the U.S. The latest figures from the U.S. Department of Commerce show that spending on construction projects rose in March in the U.S. This is encouraging for general contractors and construction firms of all sizes. Canada has fared better, especially with institutional construction, which saw a large rebound in March with an increase in building permits, according to Bloomberg News.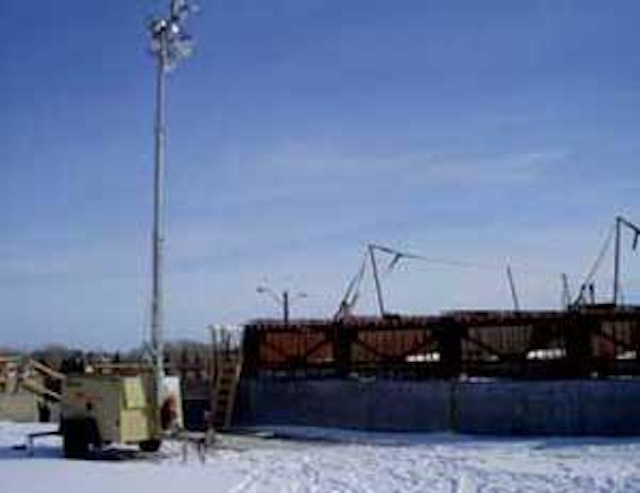 Click here to enlarge image
That's not to say that construction businesses in Canada have gone through this global recession unaffected. Contractors have needed to work harder and smarter. They have needed to run equipment fleets lean and mean. This means getting the most out of your equipment and making it as versatile as possible. One construction firm that has done just that is Marshall-Lee Construction Corporation of Spruce Grove, Alberta, in Canada.
Marshall-Lee Construction has constructed more than 160 commercial and industrial buildings in its nearly 40 years of existence. According to Construction Manager Dave Somerville, Marshall-Lee's portfolio is mainly blue-chip institutional construction.
"Our clients are municipalities, city governments and local school boards, along with Canada's federal government," Somerville said.
One project currently underway is construction of a new junior high school building in Drayton Valley, in central Alberta. As Somerville explains it, because of the bid process and how construction projects are awarded by governing bodies, Marshall-Lee needs to be flexible and build through the winter months when typically construction is light or suspended.
"There is a lot of coordination before we appear on-site," said Somerville. "The bureaucracy involved can extend the process well into the construction phase. On this project it affected our schedule by 10 percent, but the hand-over date is cast in stone."
Construction began fall 2008 and is scheduled to be completed in March 2010. Hand-over is set for April 2010.
With a year-round construction schedule, Marshall-Lee needs to have solid equipment that can stand up to the cold temperatures during a Canadian winter. As Somerville explains, it's important to maintain structural integrity during the winter, so equipment is brought in to protect the jobsite. Generators, ground thaw heaters, propane heaters and light towers were brought in to the school jobsite for the winter.
"We deal with adverse conditions at least 60 percent of the time in this region," said Somerville. "Predominantly our equipment has to be cutting edge to deal with the daily conditions."
Alberta has what is called a continental climate, which is characterized by four distinct seasons with varying temperature change. However, as close as central Alberta is to the Arctic Circle, it experiences cold arctic weather systems. Winter can last six to seven months.
"We pretty much skip fall up here and go from an Indian summer to snow," he explains. "The frost stays in the ground through spring."
Construction of the junior high school began last fall. Knowing he had only a few good weeks before winter began, Somerville contacted 4-Way Equipment Rentals in Edmonton to rent additional equipment. He was introduced to a new product that is actually a combination of a 20-kilowatt generator and 4-kilowatt light source, the Ingersoll Rand L20. This unit provided a dual purpose for Somerville: temporary power and light during the winter months.
Generator power was necessary to run all the heaters and also the other equipment. Somerville said he relied on generator power because permanent power and natural gas installation at the school's site was delayed. Lighting was also necessary because some days there would be only six hours of daylight.
"We'd start work in the dark and end the day in the dark," he said.
Somerville used two Ingersoll Rand light towers, the second an L8, but Somerville was pleased that the L20 provided an additional generator for power.
"It was a versatile piece of equipment, providing a good source of temporary power, as well as a light tower. You got the best of both worlds," Somerville said.
The Ingersoll Rand L20, manufactured by Doosan Infracore Portable Power, was designed to combine two proven products into one unit. When the lights are on, the generator still has enough power to run the heaters, tools and more for 12 hours at 100 percent load.
"The L20 was designed for oil and gas, mining, construction and industrial applications," said Rachel Luken, product marketing manager for lighting systems with Doosan Infracore Portable Power. "The reason behind the L20 is versatility. The light tower serves that purpose by providing the light and additional power, so you don't need to rent an additional generator unit."
Construction and utility equipment is designed to withstand tough conditions, but not always very cold climates. Luken said cold weather applications were considered during the design of the L20 because oil and gas exploration and mining can typically occur in colder climates. She explains that an optional cold-weather start feature was designed to allow the L20 to start up efficiently in very cold temperatures.
The cold-weather start feature consists of two components, an engine block heater that heats the engine coolant and a battery heater. The L20 rented to Marshall-Lee did not have the cold-start option, and the unit still performed well during the bitter cold months when temperatures sometimes went down below 0 F according to Somerville.
Both Somerville and Luken agree that maintenance is the single most important factor when operating machinery in cold weather. Luken says the main consideration is the engine coolant.
"For typical applications, the equipment will have a 50/50 mix of water and antifreeze," said Luken. "In colder temperatures, you may need to change the mix to 40 percent water and 60 percent antifreeze. We recommend monitoring the mix regularly and making sure you have enough antifreeze to keep the engine protected."
Luken also recommends using a winter-grade fuel that has a different octane level.
"Winter-grade fuels are designed not to gel or freeze, which can happen with diesel fuel in colder temperatures," she said.
Somerville's crew makes equipment maintenance during the winter months a top priority.
"Equipment like this really needs to be well-maintained," said Somerville. "There's nothing worse than pulling something out of the yard and it lets you down."
---
About the Author:
Dawn Buzynski is a technical writer with Two Rivers Marketing is Des Moines, Iowa.