Compact Excavators and Loaders Perfectly Sized for Utility Jobsites
If there's one thing that defines utility jobsites, it's their size.
Jun 1st, 2009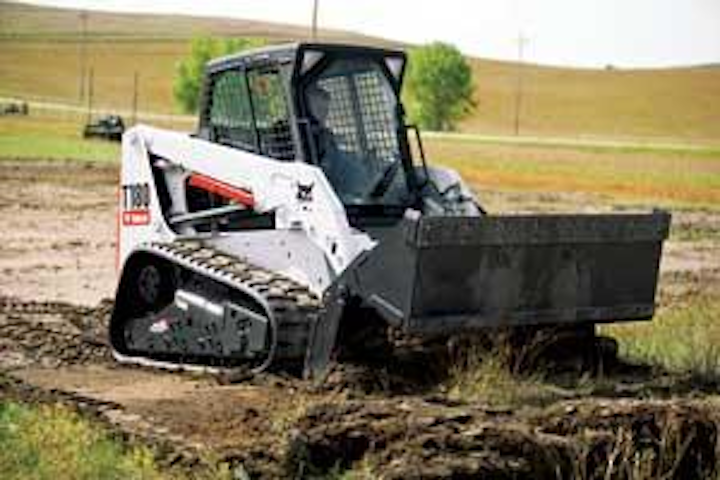 By Eric Morse
If there's one thing that defines utility jobsites, it's their size. Right-of-ways, property lines, existing buildings and other utilities already in place are obstacles contractors have to work around and often create work areas that provide little space in which to maneuver. That's one of the reasons many contractors rely on compact equipment to complete their work. Compact excavators and loaders are perfectly suited to the requirements and the environments of utility construction.
Compact excavators are one of the most popular types of equipment utility contractors use. Bobcat Company offers excavators ranging in operating weight from 2,600 to 16,500 pounds and dig depths of 6 to almost 14 feet. Excavators of this size are small enough to work in a utility setting, have the power needed for the job and provide versatility to complete different tasks in addition to excavation.
Ronald Dowda is a utility contractor in Covington, La., who uses his Bobcat 435 Zero House Swing excavators to clear his work areas. Dowda's company, Red Tech Inc., uses grapple attachments on the excavators to move construction materials, trees or trash from right-of-ways. The excavators quickly pick up these materials and move them out of the way, whether putting them off to the side or placing them in trucks to be hauled away. "There is always something in our way when we get to a jobsite and we can't wait for someone else to clear it, so we use the grapple to prepare the jobsite," says Dowda.
Jerry Walck is another contractor who says a compact excavator is a time-saving tool. Walck owns SiteWorks LLC, a company based in Reading, Pa., that specializes in utility installation, light excavation and grading, and concrete work. Walck sees a lot of contractors on utility jobsites using backhoe loaders to dig trenches, and says an excavator is a better choice for this application.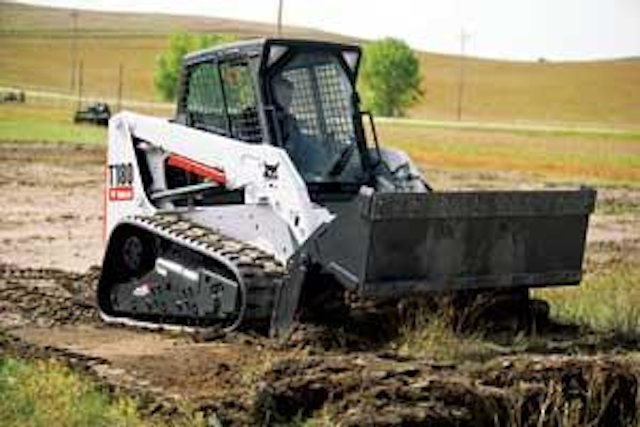 Click here to enlarge image
If he were using a backhoe loader to dig a trench, Walck says he could only dig sections at a time before having to spin the operator seat around, lift up the bucket and stabilizers, and then move the machine 10 feet to continue digging. "All of that excavating time would be wasted," Walck says. "With the compact excavator, we stay inside the cab and keep digging."
Excavators have options that further decrease time spent moving the machine while digging, such as an extendable arm, which Dowda uses on his machine. These arms allow the operator to dig deeper and give the excavators greater reach, which means that the excavator does not need to be moved as often on the jobsite. "When the excavator is working right next to a building, moving the excavator only when needed is beneficial because the operator needs to be careful while working there," Dowda says.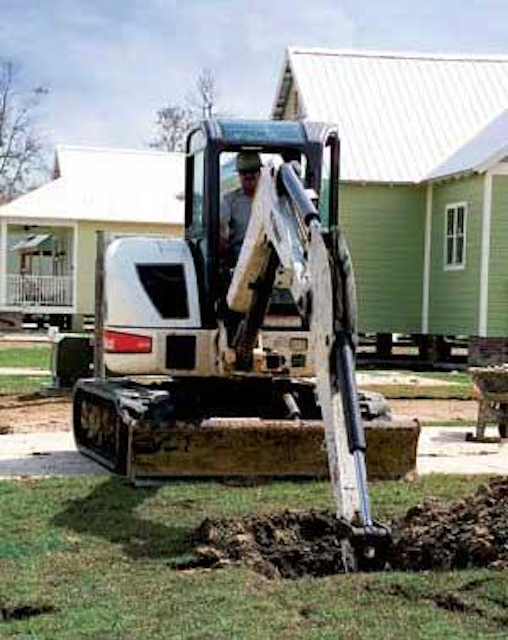 Click here to enlarge image
Dowda says he's often working next to buildings, which is why he chose another option on his Bobcat excavator–Zero House Swing (ZHS). This design gives the excavator house 320 degrees of swing without any part of the house protruding outside of the excavator tracks and allows Dowda to place the excavator right next to buildings and work without worrying about the excavator house coming in contact with and damaging the building.
Walck, of SiteWorks LLC, doesn't have an excavator with ZHS, but his compact excavator is still working between buildings or parking lots, and in other locations difficult for larger equipment to reach when subcontracted to excavate, install conduit, and build the concrete piers in the installation of cell towers.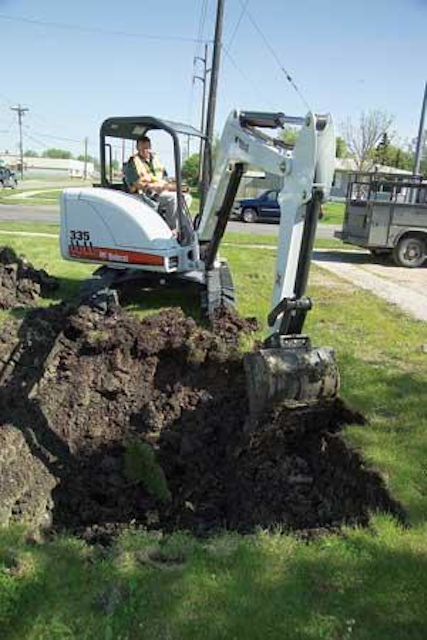 Click here to enlarge image
One cell tower was near a golf course and required Walck to dig a 3,000-foot trench for the utility lines along a roadway and through the golf course. Walck also had to work around mature trees and fence surrounding the golf course, without disturbing these features, which he was able to do because of the excavator's independent boom swing. "We worked alongside the golf course fence because all we had to do was swing the boom instead of having to swing the entire house and worry about hitting the fence," he says. "You don't run into a lot of obstacles when you're using smaller equipment."
Dowda often works in areas where there is not only little space in which to maneuver, but there is also the need for extra precision in where he digs. In these cases, Dowda uses an auger for excavation, to disturb as little soil as necessary. Dowda says the Bobcat Hydraulic X-Change attachment system option on his excavators makes it easy to change between his grapple, bucket and auger attachments. This system allows the operator to quickly change between attachments through hydraulically activated retention pins that are set in motion by flipping a switch inside the cab. It retracts the pins for attachment removal and extends them for attachment hookup, saving the operator time and labor. The operator installs the retainer pins before operating the attachment.
While compact excavators accomplish a lot of the work at utility jobsites, other tasks are best suited to compact loaders. A productive way of working for many utility contractors, including SiteWorks LLC, is the Bobcat System. The Bobcat System increases productivity by using a skid-steer, compact track or mini track loader in tandem with an excavator. On many of his jobs, Walck excavates with the 325 compact excavator while another operator follows behind and backfills the trench with a T180 compact track loader after placing the conduit.
Another way to use the Bobcat System is when spoil needs to be removed from the work area and there may not be a place for the spoil, especially if there is little room on the job. In these situations, having the excavator put the spoil in the loader bucket and the loader transporting the spoil away is an efficient way of working.
Contractors using excavators and loaders on their jobsites may want to consider attachment interchangeability. For instance, some Bobcat auger attachments can be used on both loaders and excavators. This prevents a contractor from having to buy attachments that are dedicated to only one machine. Instead, the same attachment is used on both machines, lowering overhead and increasing each machine's utilization.
Both Dowda and Walck say if they didn't have their compact equipment, the only other way to finish their jobs would be manual labor. "We're getting in and out of sites that used to take two weeks in about four days because we don't have to hand dig them anymore," says Walck.
"If we didn't have a compact excavator, we'd have to do work by hand," says Dowda. "The compact excavator saves us a lot of time so we can quickly complete our work for our customers."
---
About the Author:
Eric Morse is a technical writer with Two River Marketing in Des Moines, Iowa.