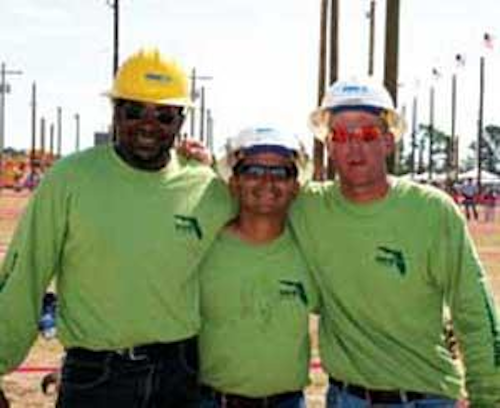 By Doreen Overstreet
Linemen Test Skill and Safety at Annual Competition
Two years ago, while attending technical school, Dwayne Collins visited the Florida Lineman Competition and watched linemen climb 40-foot utility poles to change out insulators in less than three minutes. Who knew that experience would prompt the start of a career?
"They made it look so easy. Just watching them triggered my inspiration to pursue it," said the now 19-year-old Collins, who is an apprentice lineman at Orlando Utilities Commission (OUC–The Reliable One).
Click here to enlarge image
Collins returned to the competition this February–this time as a participant– joining more than 90 linemen from nearly a dozen Florida electric utility companies. Hundreds of spectators came out to support their "hometown heroes" at the 9th annual Florida Lineman Competition in Orlando. The competition, which showcases both physical and technical skills, was hosted by OUC and the Florida Municipal Electric Association (FMEA).
Competing teams hailed from OUC, City of Tallahassee, Ocala Electric Utility, Kissimmee Utility Authority, Fort Pierce Utilities Authority, Lakeland Electric, Gainesville Regional Utilities, Beaches Energy, Keys Energy Services, City of Alachua and the City of Vero Beach.
Humble Beginnings
The friendly annual competition is similar to a cowboy rodeo.
"During our first competition in 2000, we had about 20 entrants from four different utilities," said Nicole Easley of FMEA. "That number has grown every year and now the competition serves as Florida's signature event for linemen to demonstrate their abilities, skills, safety and awareness."
Tests of Skills and Safety
From changing insulators and fuses high atop electric utility poles to repairing damaged poles, the events are based on tasks that linemen may perform in their day-to-day jobs. For example, in the "hurt-man event," linemen must rescue a 180-pound mannequin from the top of a utility pole. The event simulates safely lowering an injured co-worker.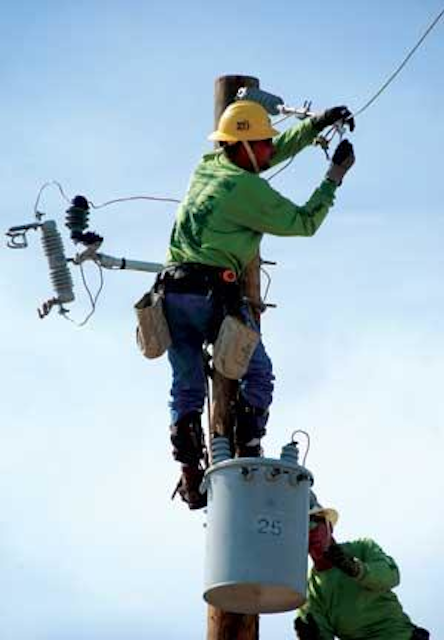 Click here to enlarge image
To level the playing field, linemen compete based on experience level in timed events that are judged on a point system. Points are deducted for safety violations and mistakes, such as dropping a tool or a helmet. Additionally, the linemen's scores get marked down if they show off. In other words, you can't just successfully complete a task; it has to be done safely. And although the wires at the competition aren't live, the linemen have to handle them as if they are.
"These events offer an excellent refresher course in the 'back to basics' approach," said City of Tallahassee lineman Mike Hatcher. "When the power is down, you're not always going to have the luxury of a bucket truck."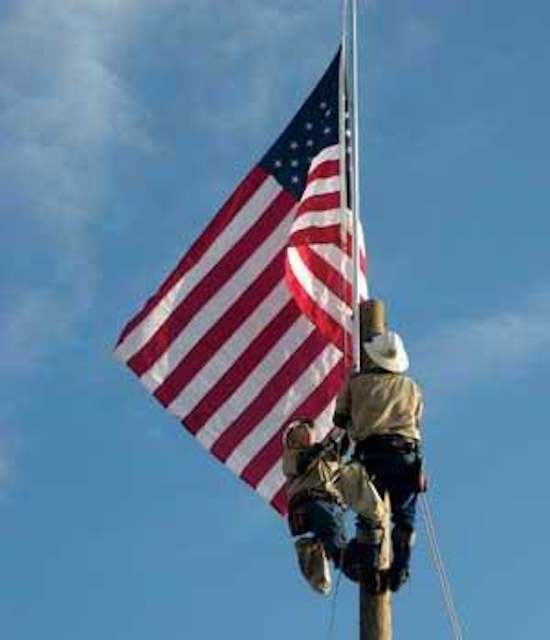 Click here to enlarge image
Winning competitors also possess sharp communication skills.
"Communication among team members is an integral part of their success–and we evaluate that," said Aaron Haderle, a judge from Kissimmee Utility Authority. "Is the team talking with each other? Are they explaining the problems? Are they working together? These are all questions we ask."
Haderle jokes that he deducts points if anyone refers to utility poles as telephone poles.
"There's no such thing as telephone poles," he said. "So if spectators come away with one thing, I hope they learn that."
A Family Affair
New spectators notice a strong sense of history, camaraderie and pride among all involved in the competition. Most linemen had both their hometown municipal utility and family's support at the competition. And it's not uncommon for participants to say they are second- or third-generation linemen.
"We take our job seriously and many of us consider what we do a public service," said veteran OUC lineman Chris Wohlfart, who has been a lineman for nearly 15 years. "We all have strong bonds because we're united by our skills, hard work and dedication–and we're proud of it."
Linemen's family members display the same level of enthusiasm. Spouses, parents, grandparents and children donned T-shirts at the competition that read: "God created light, then created linemen;" "My daddy keeps the lights on" and "Some call him a lineman, some call him a hero ... I call him my son."
The competitions also reinforce the lasting friendship among linemen in the municipalities.
"I remember when we were working 18-hour days during Hurricane Charley, the guys from Ocala Electric Utility and other municipalities were calling us directly to see how they could help," said OUC lineman Victor Mendoza. "The lineman competitions give us an opportunity to meet and network–and that makes for strong support system when we need each other's help in emergencies."
Future Lineman
Another important aspect of the Florida Lineman Competition–and others like it–is to recruit future linemen into the profession. The day before the competition, there are workshops and training sessions conducted by municipalities for local vocational schools.
William Ziegenfelder from Gainesville Regional Utility was recruited to be a lineman from the International Brotherhood of Electric Workers. Eric Pickles from Lakeland Electric was recruited as well and feels that more vocational career opportunities should be stressed to students who don't feel that a four-year college career path is for them.
"We need to promote more balance in career opportunities," Pickles said. "Becoming a lineman offers challenging work, good pay and the satisfaction that comes from knowing that your work makes a difference. In this economy with job loss and so much debate about living wages, we need to be talking to kids about the opportunities in technical careers."
Many linemen say they got into the profession because it was "in their blood" since they were children.
Such is true for City of Tallahassee's Mike Hatcher and OUC's Jason Drayton.
When Hatcher was 6 years old, he remembers being fascinated by linemen installing utility poles in a new neighborhood near his home.
"I asked my mama who those guys were and she said, 'linemen,' and I knew from that day forward what I was going to do," Hatcher said.
Drayton remembers being drawn to the out-doors and being mesmerized by lightning.
"When I was a kid growing up in Florida, I went on the porch to watch the thunderstorms," Drayton recalls. "I knew that my profession would have to involve electricity."
Another proud second-generation lineman Dennis Riordan, of Fort Pierce Utilities Authority, added: "There's nothing better than having an outdoor office."
Results
As for which utility is "the best," most have bragging rights in one event or another.
"No matter our scores, we're all confident in our abilities–and that's the purpose of these competitions," OUC's Wohlfart said.
For onlookers who cheered for the linemen, it's about saying thank you.
"Do you know the incredible feeling you get when your power gets turned back on after a power outage?" asked Deborah Bray, mother of a lineman at the competition. "This is a way for us to thank the people who respond to outages year-round, seven days a week, 24 hours a day."
For complete results of the 2009 Florida Lineman Competition, visit http://publicpower.net/flc.shtml.
---
About the Author:
Doreen Overstreet is a freelance writer based out of Orlando, Florida.