TVA Building Big in Tennessee
he Tennessee Valley Authority operates one of the largest transmission systems in the United States, servicing approximately 8.9 million residents in seven states.
Jun 1st, 2009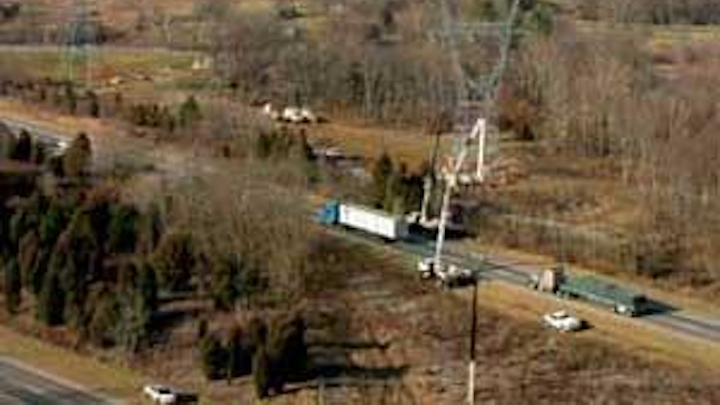 By William (Bill) King
39-Mile 500kV Transmission Line Construction
Click here to enlarge image
The Tennessee Valley Authority operates one of the largest transmission systems in the United States, servicing approximately 8.9 million residents in seven states. The utility is actually the nation's largest public power company and is a federal corporation. With revenues topping $9 billion a year the TVA has come a long way since Congress created it in 1933 to control flooding in the Tennessee River Valley, provide power and promote regional growth.
The TVA continues to this day to be an impressive entity, managing numerous coal-fired plants, nuclear plants, combustion turbine plants and 29 hydroelectric dams. Recently, the TVA took on a 39-mile 500kV transmission line build through middle Tennessee.
Project Background
The Cumberland-Montgomery Project had been in the works for years. Cumberland refers to the Cumberland Steam Plant, a fossil fuel energy plant in Cumberland, TN where the new transmission line originates. Montgomery refers to the substation that serves the Clarksville, TN area where the new line terminates. The load requirements of the area are growing, spurred on by both population growth and commercial demand. With Fort Campbell Kentucky and Austin Peay University in the area, it's simply a matter of load. While the new line supports the entire TVA grid, it also fulfills the need of the area in terms of load requirements.
The project had been on the table for as many as five to seven years, as the details and design of the project were being hammered out. Some of the challenges included working through a military base right-of-away and the logistics of building, erecting and stringing of 196 towers over 39 miles.
A utility taking on all phases of a project of this magnitude in-house is a monumental task, one that probably only the Tennessee Valley Authority could pull off within their ranks.
Tower Construction & Layout
The spacing of the towers is based on engineering design. The footprint of the tower itself is based on several factors including terrain. The maximum distance is based on tension because the towers have to carry the weight of the conductors as well as ice loading and wind loading. Towers can be spaced, depending upon the project and the type of tower, anywhere from 400 feet to 1,800 feet apart. For the Montgomery project, there was an approximate 1,000-foot span between towers.
Building each tower, in addition to erecting them, was also a major component and consideration for this project. While typically one type of tower is predominating within a project, several types of towers may be used throughout a project in order to accommodate different terrain requirements, angles and span lengths. When TVA buys steel, it buys it by the pound and each tower has a specific weight.
Equipment, Training & Safety
For the Cumberland-Montgomery Project, the transmission construction division upgraded several pieces of equipment, including pullers and puller-tensioners with the intention of achieving better levels of productivity while improving safety at the job site.
The transmission construction division did a business case in order to purchase this equipment. Several things needed to be in place in order to justify the purchase. That was accomplished through projected productivity gains. The business case showed that productivity gains of 15 percent could be achieved simply because the equipment is that much easier to operate.
From a safety standpoint, the new pullers and tensioners were very valuable because of the fact that you can purchase radio controls. Beyond that, on the tensioning end, you can set your maximum tension and throw the handle to engage it and walk away from it, clearing the area of personnel. That's a huge safety advantage. That's what's nice about the equipment; it gives you precise measurements on tension. With the old-style equipment you watched the conductor in the air and tightened a break on the tensioner with hydraulic pressure. You really didn't know what your tension was.
Getting employees ready to tackle a project as large as the Cumberland-Montgomery Project was also an enormous task. Training was set up prior to this project to make sure TVA employees were up to speed on all the processes.
Productivity
The basic jobsite layout on a conductor installation project includes a puller on one side of the span and a tensioner and conductor on the other. For the Cumberland-Montgomery Project average pulls totaled 15,000 feet or approximately 3 miles at a time. The longest pull was approximately 18,000 feet in length.
In order to span that distance, TVA utilized some aerial assistance on this project. A helicopter with helicopter blocks and a rope machine were used to install a pull rope. Basically the rope machine is set up wherever you're tensioning from. After the helicopter installs the rope, the rope is attached to the pulling cable and the rope machine is used to pull the rope back and the pulling cable along with it.
Once the pulling rope is strung, crews can pull in the actual pulling cable. The conductor is then strung through the tensioners. In the case of this particular project, three separate conductors were run through a single tensioner. Having a tensioner that can handle up to three conductors independently and simultaneously can be a major advantage on a multiple conductor project like this.
One example includes pulling multiple conductors on a pulling plate (sometimes referred to as a bird or headboard). For the old method when pulling three conductors and a pulling plate with a single pulling line you would need to slow down dramatically when pulling through an angled block, in order to get through block safely.
Through the old method, you're tensioning those three conductors independently and when you go through the angle block, you have to creep along and basically continue to adjust the tension in order to straighten the plate out as it goes through the angle and tensions change. Tensions change through the angle because the lengths of the conductors change going through that angle block. Using a Condux tensioner, the tensions are preset and adjust automatically and stay consistent. After completing a pull, the conductor is secured, snubbed off, in the ground with anchors. Crews then take the puller and basically turn it around 180 degrees to pull from the other direction. That allows crews to only move the tensioner for the next pull, increasing efficiency. Installed conductor from adjoining pulls is fused together through an implosion process.
Interstate Crossing
In general, states are very concerned about crossing interstate highways and in most cases a company or entity needs to be permitted to do so. In some instances, the Department of Transportation of a specific state will only allow stringing over interstates on certain days deemed to be low traffic days.
Click here to enlarge image
For the TVA, crossing an interstate highway is a matter of safety. It's just too dangerous to pull over traffic. Crews don't pull unless traffic has stopped. Both lanes of Interstate 24 needed to be stopped completely for pulling operations to commence. However, the interstate could only be stopped for 12 minutes at a time. Traffic was then allowed to proceed for a total of 15 minutes before being stopped again for the next pulling window.
Click here to enlarge image
Having your own police force helps things like traffic control go smoothly. TVA police officers are federal officers and are trained through the Federal Law Enforcement Training Center, headquartered in Glynco, GA. They have motor, marine and bicycle patrols within their ranks and were created to protect TVA facilities, as well as TVA employees, and the users of TVA facilities. For crossing Interstate 24 in Clarksville, TVA officers coordinated with local law enforcement jurisdictions to stop interstate traffic in both directions while TVA crews were pulling conductor in place.
Completion
The Cumberland-Montgomery project was completed in the first half of 2008. Once a project like this is completed, a restoration phase occurs where the right of way is reseeded and the terrain stabilized with native grass and other plants. TVA erecting and stringing crews are now back to work on another 500 kV transmission line project, this one 29 miles in length.
---
About the Author:
William (Bill) King has over 30 years of experience in the electric utilities industry. He began his career with Florida Power Corporation/Progress Energy. Bill held positions such positions as Lineman, Construction and Operations Manager, and Distribution Operations Manager. King was also, Manager of Electric Operations for the city of Palo Alto, Calif., before accepting his current role as the Manager of Transmission Construction for TVA.