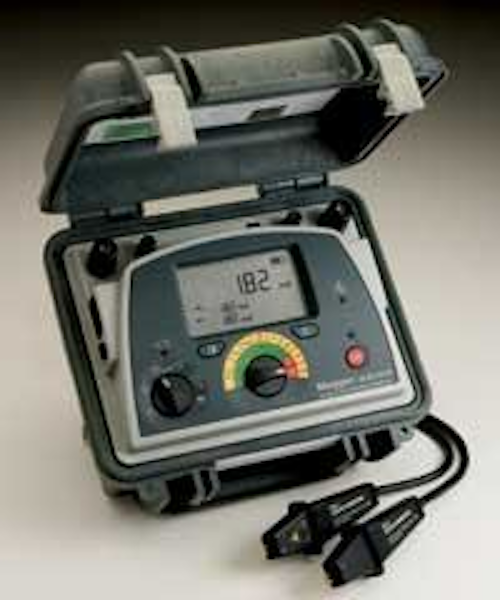 Measure Low Resistance Anywhere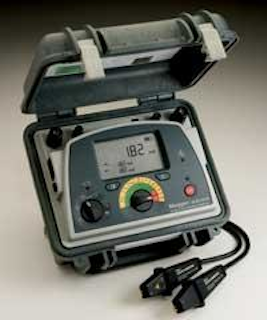 Click here to enlarge image
Equally at home in the laboratory, the workshop, in the field, on the bench or on the ground, Megger's new heavy duty DLRO10HD low resistance ohmmeter combines rugged construction with accuracy and ease of use. It features an internal rechargeable battery and can also operate from a mains supply. The DLRO10HD, when used with optional terminal insulating test leads, is rated CATIII, 300 V in line with IEC61010.
With 0.1 microohm resolution, 0.2% basic accuracy, and a dedicated mode for use with inductive loads, the DLRO10HD is ideal for applications as diverse as checking the integrity of welded joints and verifying winding resistance in large motors and transformers.
---

Taking Insulation Testing to the Next Level
In response to growing demand for a portable high accuracy, low current test set suitable for testing insulation at up to 30 kV, Megger has introduced the new MIT30 high voltage insulation tester.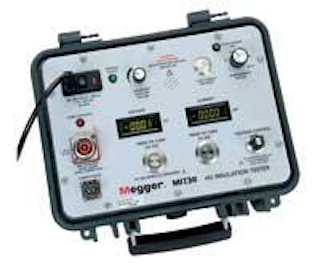 Click here to enlarge image
Housed in a rugged compact case that makes it ideal for use in the field, the MIT30 offers continuously variable output voltage from 0 to 30 kV with test currents up to 330 µA. The maximum output voltage and current can be achieved simultaneously, which allows fast charging of capacitive test pieces, thereby significantly reducing testing times.
Typical applications of this innovative instrument include acceptance and maintenance testing of switchgear and transformers, as well as the testing of spark gaps used in radar installations, EMP suppression systems, and to provide back-up over-voltage protection for klystrons and BWOs (backward wave oscillators).
Megger Limited
www.megger.com
---

UtilityPRO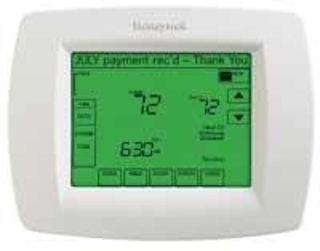 Click here to enlarge image
UtilityPRO from Honeywell is a thermostat built especially for utility-sponsored demand response programs. It combines a touchscreen interface with advanced load control and communication capabilities to increase homeowner participation in demand response programs. Specifically, UtilityPRO enables utilities to send customized text messages through the thermostat with information such as weather forecasts, energy-savings tips and updates on other conservation programs. For homeowners, UtilityPRO can provide billing data, including current rates and month-to-date charges, along with an easy to use interface for improved comfort management.
Honeywell
---

New RoCoil mV Flexible Current Transformers
DENT Instruments announces the introduction of the RoCoil mV Series of Current Transformers (CTs). These flexible Rogowski Coil CTs deliver "installer-friendly" features such as large window size, light weight, wide current range, and mechanical flexibility for mounting in tight quarters.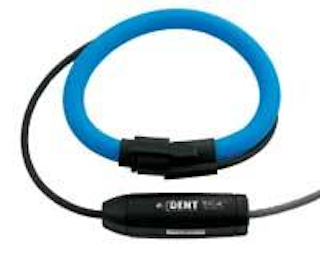 Click here to enlarge image
Chris Dent, President of DENT Instruments said, "These new flexible current transformers permit measurements on conductors where conventional rigid CTs would be very difficult to use. RoCoils provide accurate, non-intrusive measurement of AC current combined with easy placement around cable bundles, large bus bars and irregular shaped conductors."
Like its name implies, the RoCoil mV produces a millivolt output for use with DENT's ELITEpro and DATApro Series dataloggers, as well as other manufacturers' metering instruments. RoCoil mV CTs are available in standard lengths up to 72" and current ranges up to 6000A.
DENT Instruments
---

The New Dual Display Clamp-on Meters Models 670 & 675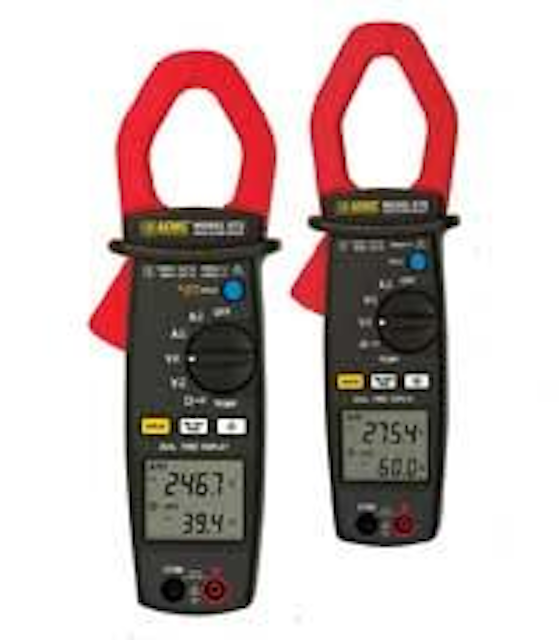 Click here to enlarge image
AEMC's Models 670 and 675 are True RMS clamp-on meters that provide RMS measurements for today's non-linear electrical environments. These meters are designed to measure and display amps and volts at the same time. They are also auto-ranging and provide the best measurement range and resolution for troubleshooting. The Models 670 and 675 are sized for comfortable, one-handed operation. The tapered and hooked jaw design facilitates maneuvering in crowded wiring and breaker panels, making it easy to select conductors.
---

The New Ground Resistance Tester Model 6471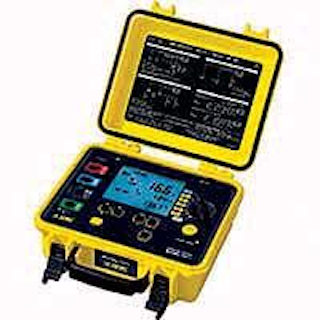 Click here to enlarge image
The Ground Resistance Tester Model 6471 is a portable measurement instrument designed to measure Ground Resistance using 2 current clamps (no auxiliary rods). It measures from 0.01 to 99.99kΩ and is auto-ranging, automatically seeking out the optimum measurement range and test current.
Easy-to-use–Simply connect the leads, select the test mode, press Start and read the results. Up to 512 test results can be stored in internal memory for later recall to the display or download to a PC using DataView software.
---

New Ground Resistance Testing System Models 6472/6474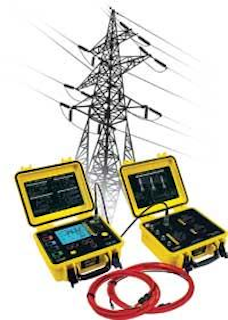 Click here to enlarge image
AEMC Instruments Models 6472/6474 Ground Resistance Tester system is capable of testing the ground resistance of power transmission towers without disconnecting the overhead ground conductors–this feature alone is a major time and money saver not to mention a major safety improvement.
AEMC Instruments
www.aemc.com
---

Affordable New EX840 AC/DC Clamp Meter
Extech Instruments introduces the new EX840 clamp meter. This new heavy-duty meter offers utility professionals an Extech-exclusive combination of features: CAT-IV rating, built-in infrared thermometer, True RMS accuracy, and a 1,000A AC/DC rating.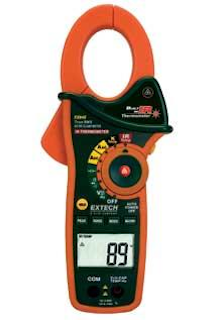 Click here to enlarge image
The EX840's Category IV-600V / Category III-1,000V rating offers the highest level of protection available against sudden transient overvoltage and arcing flash-over. Plus, the patented, built-in infrared thermometer with laser pointer quickly identifies overheating electrical components from a safe distance.
In addition to robust 1,000V and 1,000A AC and DC ratings, the high-accuracy True RMS clamp meter's advanced functionality includes frequency, capacitance, resistance, IR and Type-K probe temperature, Peak Hold, Data Hold, Min/Max, and selectable Auto-Off. The EX840 is built to survive rough handling with a durable and ergonomic, double-molded housing and a 1.7" jaw size suitable for 750MCM cable.
---

MS420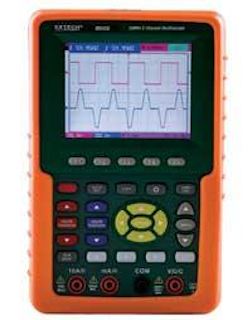 Click here to enlarge image
The new MS420 Dual-channel digital oscilloscope is ideal for the electronics industry. The Model MS420 makes viewing multiple waveforms easy and features an auto-set function that optimizes the position, range, timebase and triggering to assure a stable display of virtually any waveform. The MS420 also features five automatic measurements (Frequency, Cycle, Average, Peak to Peak, and RMS), and utilizes a Peak Detect function for 50ns glitch capture XY mode. The oscilloscope's Waveform Math feature allows users to Add, Subtract, Multiply and Divide, and the unit utilizes a USB interface and software for transferring waveforms and data.
---

EX570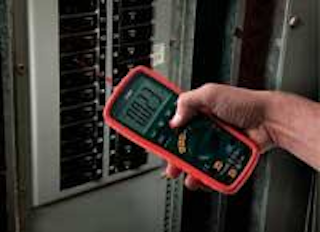 Click here to enlarge image
The EX570 is ideal for industrial, plant maintenance and MRO markets. With double molded test leads, a magnetic hanging strap and a water resistant package, the EX570 is heavy duty for harsh environments. The EX570 comes with a built-in non-contact InfraRed Thermometer with a laser pointer. With 1000V input protection on all functions, the EX570 is designed with an internal memory system for storage and recall of three measurements. Constructed with a large backlit 40,000 count LCD with a 40-segment bar graph, the EX570 has true RMS CAT III-1000V, CAT IV-600V rated with 0.06% basic DCV accuracy.
Extech Instruments
www.extech.com