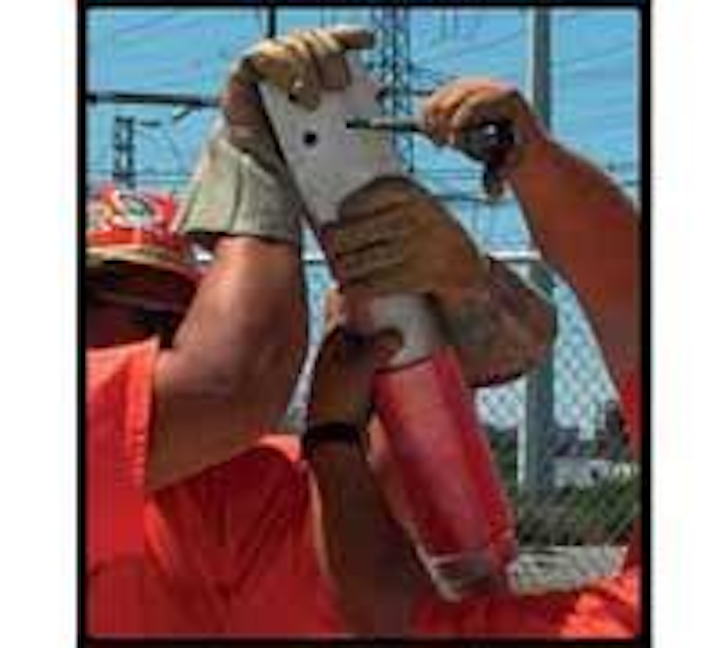 New Range of IMPLO Impulsive Connector Products
FCI-BURNDY Products has added to its portfolio of products for Transmission Interconnect applications with the introduction of a range of IMPLO implosive connector products. These new product offerings include IMPLO Jumper Terminals, IMPLO Full Tension Joins, IMPLO Dead End Joints, and IMPLO Repair Sleeves.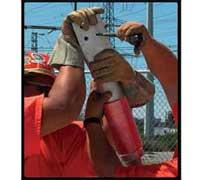 Click here to enlarge image
The new implosive connector products accommodate a wide range of ACSR, ACSS, ACSS/TW, ASC, and ASC/TW conductors. They provide consistent, smooth, high quality installations, and require no tools or dies. FCI-BURNDY IMPLO Dead End Joints are available in various dead end configurations, tap pad angles, and eyebolt versions. Jumper Terminals and Dead End Joints come with a 15 degree tap pad standard.
---

HYDENT Insulated and Twin-Insulated Ferrules and Ferrule Crimping Tools
FCI-BURNDY Products introduces their new HYDENT Insulated and Twin-Insulated Ferrule line of products in Series D, T & W. Used to consolidate wire strands while eliminating wire fraying, HYDENT Ferrules create a quality, reliable connection even after multiple reconnections by ensuring that each wire strand conducts current. With their seamless barrel design and smooth funnel entry, they also allow for easier insertion and removal of wires.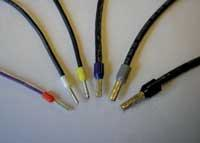 Click here to enlarge image
Additionally, HYDENT Insulated Ferrules protect against wire breakage and/or damage due to vibration. Twin-Insulated Ferrules allow two individual stranded conductors to be connected to the same termination. All HYDENT Ferrules are RoHS compliant.
Installation tooling for this line includes a range of tooling options to crimp from #32 AWG to 250 kcmil wire. They feature ergonomic handles, a full cycle ratchet with release mechanism, and a trapezoidal crimp profile. FCI-BURNDY offers ferrule crimping tools for both insulated and uninsulated ferrules.
FCI-BURNDY Products
www.fciconnect.com
---

New Grips Improve Wrench Comfort and Performance
Lowell Corporation has added new comfort grips to its popular Model 151 Double Shot dedicated ratchet wrenches and its 151T socket ratchet wrenches.
The new 1 ½" fat grip makes using the tools more comfortable and secure, while also reducing fatigue. Both wrenches incorporate Lowell's Bolt-Thru design.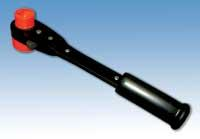 Click here to enlarge image
Wrench handles and sockets have heavy-duty construction and are coated with electrostatic epoxy paint. Ratchets feature a reversing control located in the head of each wrench to reverse the action safely and conveniently and ratchets are semi-enclosed to minimize fouling.
The triple square socket of the Model 151T can handle the most common nut sizes in pole fasteners, lag bolts, C clamps, and suspension bolts. The wrench is available with a variety of square and hex sockets and has a 12" stamped and riveted metal handle.
---

New Low Cost Double Socket Ratchet Wrench Set
Lowell Corporation has introduced a new set of double socket ratchet wrenches.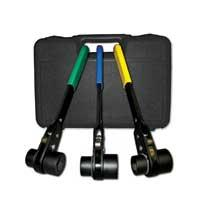 Click here to enlarge image
Wrench #1 has a 1-1/4" x 1-1/16" hex socket. Applications include turning 3/4" and 5/8" heavy hex bolts used in mechanical joint fittings up to 24" diameter, cast couplings, clamps, and tapping sleeves.
Wrench #2 has a 1-1/8" x 15/16" hex socket and is used for turning 3/4" and 5/8" standard hex flange bolts.
Wrench #3 has a 7/8" x 3/4" hex socket. Applications include turning 1/2" heavy hex bolts, 1-1/2" through 12" Hymax couplings, and 1-1/2"-24" MaxFit couplings.
Each wrench is 12" long and has Lowell's Bolt-Thru feature. A vinyl grip reduces fatigue.
Lowell Corporation
---

Biodegradable Flag Solution
Carlton Industries, specialists for over 35 years in identification and safety products, is now offering a completely biodegradable locating flag and staff.
Flags are manufactured of nonwoven cellulosic material derived from wood pulp.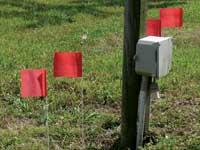 Click here to enlarge image
Staffs are 24" wood. The product is ideal for temporary projects–outdoor lifespan is about 6 months, after which the product naturally degrades back into the environment.
Flags come in your choice of five colors and may be purchased blank or printed with biodegradable ink.
Carlton Industries
---

Polywater FST Foam Sealant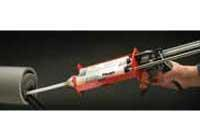 Click here to enlarge image
Polywater FST Foam Sealant is a two-part, closed-cell foam that creates a permanent watertight seal and air block. The two parts are mixed through a replaceable static mixing nozzle during application, allowing multiple uses and better economy from one cartridge. It has excellent adhesion to metal, concrete, and plastic surfaces. It holds up to 15' of water head pressure and can be used as a copper theft deterrent by securing cables into duct. Closed cell foams are superior to open cell foams. Aerosol cans of foam (open cell foams) don't hold water pressure and sag over time creating gaps.
American Polywater
---

Splice Video for High Dielectric Strength Rope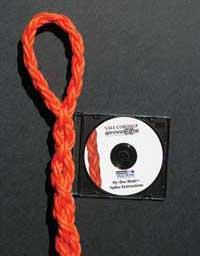 Click here to enlarge image
Yale Rope Technologies announces a new splicing video for dielectric rope, Hy-Dee Brait, a 100% olefinic, 8-strand plaited rope. Hy-Dee is torque free, flexible, easy to splice, and has extremely high dielectric strength both wet and dry. The Dry conductivity will not exceed 100 microamperes at 100kV, and wet 1 miliampere at 125kV. Test method, sample and test video available upon request.
Yale Cordage Inc.
www.yalecordage.com
---

Rugged, 300W Rack-mount Power Supply/Battery Charger for Harsh Environments
Absopulse Electronics' BCH 65-3U/19M Series is a rugged constant current/constant voltage combination power supply and battery charger designed for industrial and other rugged environments.

Click here to enlarge image
This 300W unit operates in constant current mode while the battery is charging and resumes constant voltage/float mode when the battery is fully charged. Single output float voltage options include 13.8Vdc, 27.6Vdc, 55.2Vdc or 138Vdc. It operates from a jumper selectable, 115Vac/230Vac input. Custom input and output options are available on request.
It is natural convection cooled and rated for operation over a 0°C to 50°C temperature range, with extended temperature ranges available.
Absopulse Electronics Ltd.
---

Easy Patch Offers Permanent Repair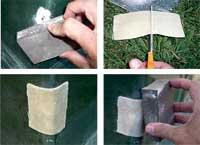 Click here to enlarge image
The Highline Products Easy Patch provides a quick, easy and effective solution to all your maintenance and repair problems. There is no sealing, mixing or brushing needed; simply peel off the backing paper and press it firmly onto the damaged surface. Easy Patch will bond to almost any clean dry surface such as metal, fiberglass, concrete, and most plastics.
Easy Patch is soft and pliable and will mold to virtually any shape. It cures on exposure to UV Light (daylight) and the typical cure times range from 10 minutes to one hour depending on the intensity of the UV exposure.
Once the product has hardened, it provides a permanent repair as it is heat-resistant, tough, and waterproof and can be drilled, sanded and painted if required.
Highline Products
www.highlineproducts.com
---

Light Duty Retractable Cord Reel with Triple Tap Outlets and Circuit Breaker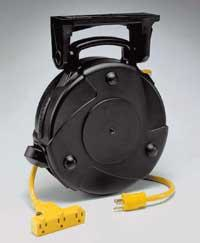 Click here to enlarge image
K&H Industries' newest light duty retractable cord reel is available in 15-amp, 125 volt with 14/3 or 12/3 SJTW cord and three grounded triple-tap outlets rated NEMA 5-15R. This UL-Listed cord reel offers tangle-free cord storage. The cord reel can be mounted on ceiling or wall with K&H's quick-release mounting bracket which allows the cord reel unit to easily become portable with a convenient built-in carrying handle.
K&H Industries
---

B54Y is 2 Tools in 1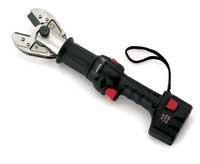 Click here to enlarge image
Cembre is now offering a compact and lightweight 6 ton linear crimping & cutting tool. The new CMB-1 cutting jaws are made for one-time disposable locks, 4 AWG Alumoweld and ACSR 4/0.
The B54Y includes many specifications to increase safety in the field, including:
Locking Pin to switch from Crimping to Cutting Jaws;
Linear shape is better for handling;
Jaws rotate by 180°;
Automatic return of the jaws after completion of the crimp or cut;
Automatic return can be stopped at any time to ease positioning; and
Minimal Vibration for better grip.
Cembre
---

Tags and Pole Markers That Outlast the Outdoors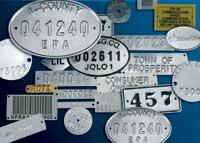 Click here to enlarge image
Custom embossed aluminum tags are available from Premax. Premax pole markers are designed to withstand field conditions including UV radiation and extreme temperatures: they outlast the outdoors. Embossed aluminum tags never fade and they can be made in any size, shape or orientation in a wide variety of character sizes. Logos and special characters, as well as consecutive numbers, are Premax's specialties. Premax embossed aluminum tags and pole markers are guaranteed for the life of the pole.
Premax
---

Shock Resistant Digging Tools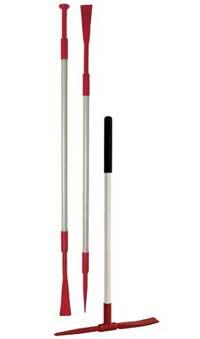 Click here to enlarge image
The shock resistant digging bar and pick are new and unique safety tools for the underground utility industries. When the tool comes into contact with underground energized power lines, its insulator sends the voltage back to the ground, offering the user the benefit of protection from shock by high voltage. The digging and tamping ends are forged of high carbon steel, and the insulator is 1¼" solid fiberglass reinforced polyester resin shaft which prevents shock up to 100KV. Meets ASTM F-711 and IEEE 987 standards.
Mohawk Ltd.
---

C300 Tiple Head Wire Stripper Provides Quick, Efficient Strip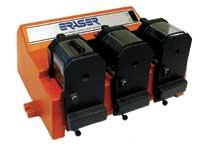 Click here to enlarge image
Designed for production, the Model C300 Twin Blade Rotary Wire Stripper and Twister will strip insulations from solid and stranded wires. The unit is capable of processing Teflon, P.T.F.E., PVC, nylon, rubber, KEL-F, miniature coax, coaxial cables, shielded wires and cables. The slug may be left on the wire and removed later when terminated. The stripping head incorporates a pair of accurately adjustable tungsten carbide stripping blades. The blades are easily adjusted and remain on center.
The Eraser Company, Inc.
---

New Long Auger Bits Exceed the Standard

Click here to enlarge image
Greenlee, a Textron Inc. company, recently launched its new 24" and 30" long auger bits to its holemaking product line. The new extended length auger bits were developed to make it easier for utility workers and electrical contactors to drill holes with a depth exceeding that of standard 18" auger bits, especially in salt treated utility poles or other wood structures.
The long auger bits are made from hardened alloy steel and designed with Greenlee's patented cutting edge for fast and easy drilling. The self-feeding threaded screw point draws the bit completely through the wood. The over center flute design allows for the evacuating of chips. The shaft is straightened for fewer vibrations to the hand and to help control the quality of the wood.
Greenlee
---

An Economical Torque Solution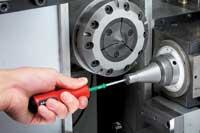 Click here to enlarge image
Wiha Tools has introduced "easyTorque" a new line of economical torque drivers. The light weight and comfortable handle makes for good power transfer. Tools meet ASME, EN ISO, BS EN standards. Guaranteed torque accuracy of +/- 10% to 5000 cycles. Each tool is factory preset and calibrated. Internal mechanism slips when torque value has been attained. Reverse torque is 50% greater for easy removal using the same tool. Economical torque control for tooling assembly and repair.
Other features include: nine pre-set values (4.4 In/lbs. - 26.6 In/lbs.); easy grip design; replaceable blades; and +/- 10% repeatability.
Wiha Quality Tools