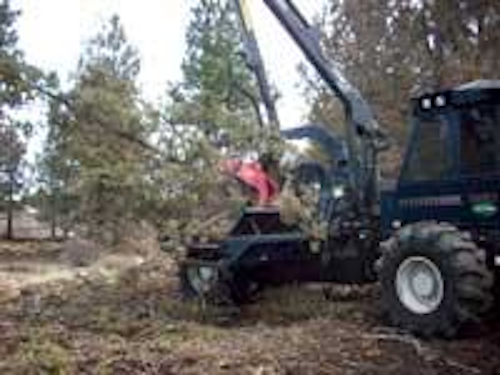 The FRM70 Heavy Duty Rotary Brush Hog Brush Cutter
Fecon adds the FRM70 Heavy Duty Rotary Brush Hog Brush Cutter to its line of Brush Cutting Attachments and Track Carriers.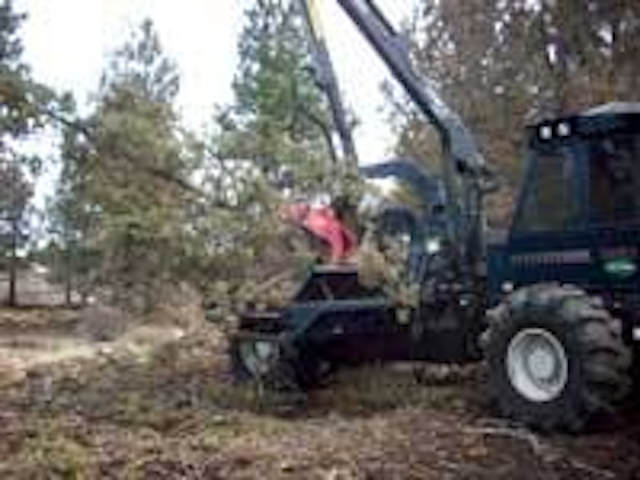 Click here to enlarge image
The FRM70 Brush Hog Brush Cutter features a unique reinforced front push bar design to direct and push trees over. Cutting productivity is maximized with a bi-directional direct drive gear motor and four 12" dual-sided rotary axe blades offer cutting action on both sides. The FRM70 efficiently cuts brush up to 6" in diameter. The straight sides and flush to the ground design allow the FRM70 to contain material and provide better sizing. And, the smooth deck surface minimizes debris build up.
In addition, the FRM70 Brush Cutter features a hydraulic brake to stop the rotor quickly and safely.
Designed to fit skid steer loaders running 21 to 45 gpm, Fecon's FRM70 is Rotary Brush Cutter is perfect for clearing Right-Of-Ways, Debris, Pre Commercial Thinning, Fuel Load Reduction, Habitat Restoration, Park Trails and Path Maintenance.
---

Field Testing the RTC-22 Bio-Mass Chipper System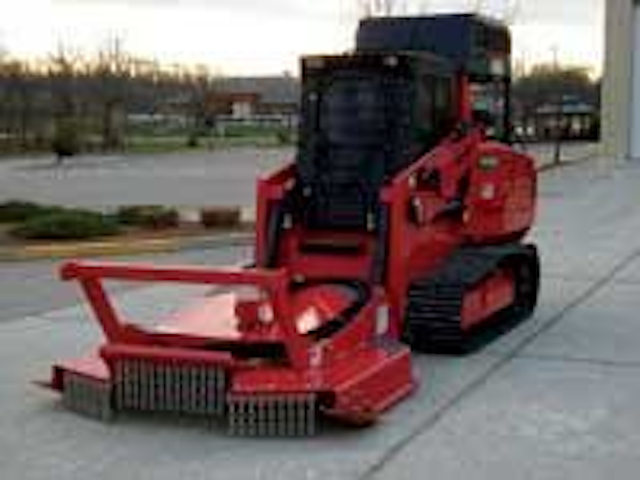 Click here to enlarge image
Fecon announces testing for the RTC-22 Mobile Bio-Mass Chipper System. The RTC-22 Bio-Mass Chipper is designed to chip and collect bio-mass. Equipped on a forwarder chassis, the one step in woods process offers a high production rate of 20 to 30 tons per hour. The RTC-22 features a 22" capacity Chipper powered by a 365hp diesel engine making it ideal for bio-mass collection.
Fecon is currently seeking qualified candidates to test the RTC-22 and provide feedback on the machine.
Fecon, Inc.
---

The Ultra-Compact 660 6-inch Chipper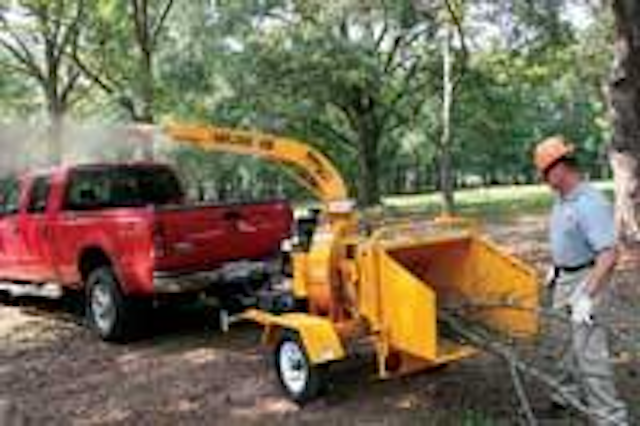 Click here to enlarge image
JP Carlton recently introduced the 660 6-inch disk style wood chipper. The ultra-compact size of the unit allows it to be towed by compact trucks and sport utility vehicles. The Carlton 660 is designed for the trimming, pruning, and clean up jobs typically encountered by rental customers. The unit's powerful feed system and 27 hp engine provide reliable power to complete jobs quickly and efficiently.
JP Carlton
---

Hi-Tech Trans-Guard EXT Current-Limiting Backup Fuse

Click here to enlarge image
The new Trans-Guard EXT Current-Limiting Backup Fuse is designed to enhance protection on overhead distribution systems by significantly reducing the amount of energy let-through to the source of the fault to a value below the withstand capability of the equipment being protected. Additionally, the fuse offers very high interrupting capability to provide state-of-the art protection against today's ever increasing available fault currents.
This fuse interrupts high-level currents and must be applied in series with another device capable of interrupting low- to mid-level currents. The improved design of the fuse is smaller in size and lighter in weight for easy handling and we offer the most complete range of ratings available.
Thomas & Betts Corporation
---

New Wire Rope Models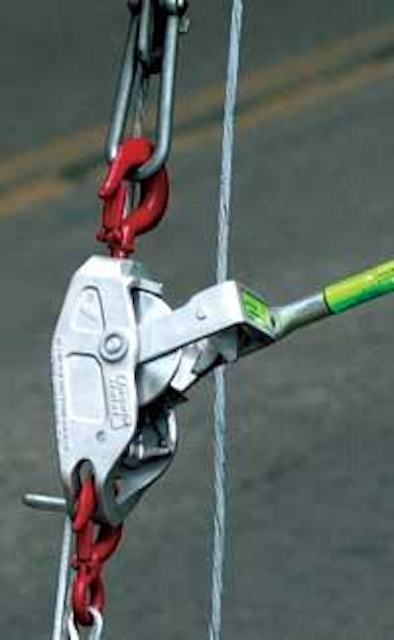 Click here to enlarge image
Lincoln Hoist is proud to introduce its newest line of U.S. made lever hoists. Lincoln Hoist now sells its expanded line of cable and web strap ratchet winch hoists directly through distributors. These two lines share many common parts, which helps minimize parts inventory for companies requiring both guy wire and overhead tools.
All older tools made since the 1940s by parent, Lincoln Precision Machining Company, are still fully supported by Lincoln Hoist.
---

"Y" Option for Web Strap Hoists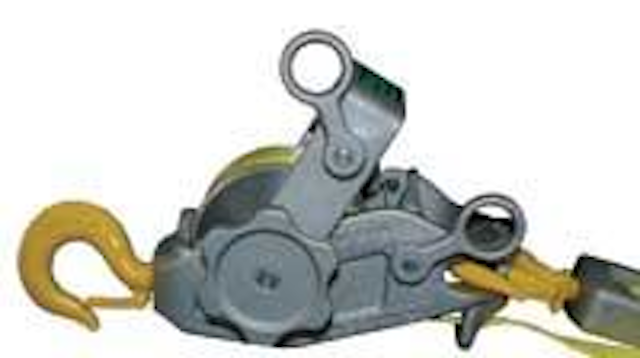 Click here to enlarge image
Now any Lincoln Hoist web strap tool can be ordered with large operating controls, simply by adding a "Y" to the end of the standard model number. Intended for utilities that work mostly with gloves, the Y option permits changing from lift to lower (and free release) while wearing the thickest of gloves. Y tools offer improved weight, cost and usability when compared to full hot stick hoists.
Retrofitting of any older tool made by Lincoln Precision Machining Company (parent) with the option is also available.
---

New Web Strap Models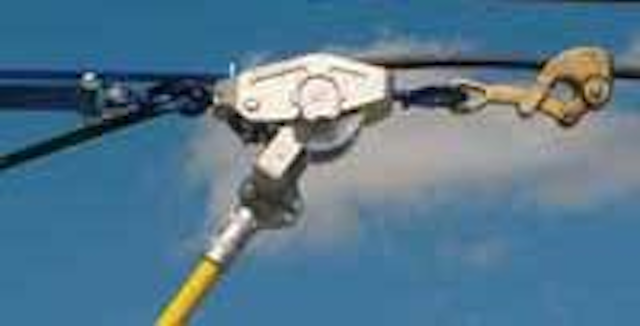 Click here to enlarge image
Lincoln Hoist is proud to introduce its new line of U.S. made web strap lever hoists, including the model 4W12 shown. This hoist holds an extra 3' of strap as compared to older tools, giving a full 5' of double line capacity at 4,000 lbs.
Lincoln Hoist
---

New Line of Convertible Web Strap Pullers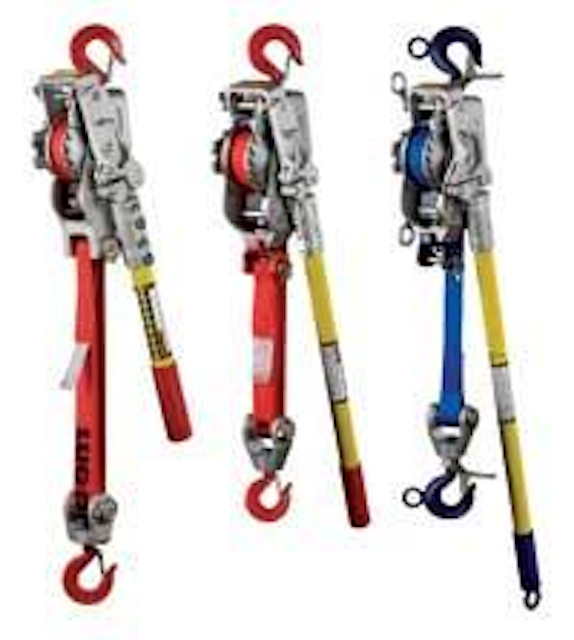 Click here to enlarge image
The LUG-ALL Corporation is pleased to introduce a new line of convertible web strap pullers. All the parts needed to switch are on the hoist. This reduces the possibility of misplacing or losing parts while in the bucket, and eliminates the need to have a pulley block hanging on the line, making the hoist heavier. The new hoists incorporate a convertible bracket and shaft that is secured by a lynch pin. When setting up for single line operation, the pulley block is placed through the web strap loop. For double line operation, the web strap is threaded through the pulley and the strap loop is attached to the convertible bracket via the lynch pin.
For LUG-ALL customers who already own our pullers and would like the convertible option of the new pullers, LUG-ALL introduces a new convertible web strap puller conversion kit. This kit is available for all LUG-ALL medium frame web strap models manufactured prior to 2009 (please note that all pulley blocks supplied since September, 2008 are convertible). Included in the conversion kit is a lynch pin and shaft, convertible formed steel bracket, and hex bolt assembly. Some hoists made prior to 2009 may require a new web strap or pulley block.
LUG-ALL Corporation
www.lug-all.com
---

Four-Wheel Drive All-Terrain Tree Trimmer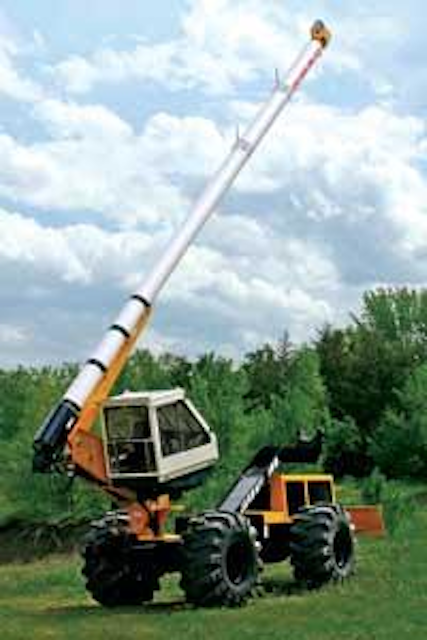 Click here to enlarge image
The Jarraff four-wheel drive All-Terrain Tree Trimmer can easily navigate through tough environments while offering low ground pressure and minimal maintenance. The Jarraff is available with five different tire options. The selection ranges from small, all-terrain tires to large, heavy-duty log-skidder style tires.
A turntable base provides a 360° range of motion with a 40° lateral tilt. The non-conductive fiberglass boom offers a 90° range of motion and extends up to 75'. The Jarraff's carbide tip blade reaches speeds of up to 3,200 rpm. The boom and the blade operate on a pilot system. Two four-way joysticks and fingertip control offer optimal precision.
Jarraff Industries, Inc.