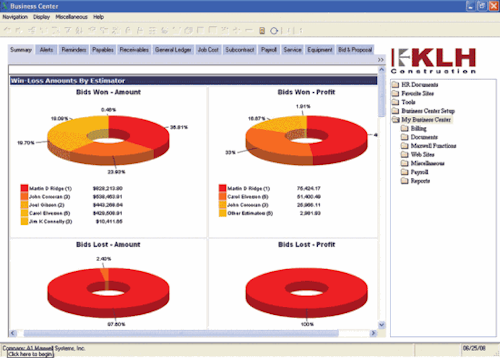 By Dan Lehman
Improve profitability, control cash flow
The real power to your projects is not within jackhammers or generators; it's in your business management tool, which simplifies and speeds up the way you work. A growing number of savvy underground and overhead utility contractors are turning to integrated business management software to help automate estimating, job cost accounting, and project management.
Contractors who are not utilizing integrated business management software may still be winning bids, but perhaps should not be excited about it. The likelihood they've missed items in the estimate is high, the problem is costly, and fixing it won't be easy.
By investing in automation, you can bid on more projects, improve estimate accuracy and profitability, better manage projects, and maintain critical organization of accounting—all in significantly less time than it takes with manual methods.
The industry is changing; it's more competitive than ever. Working harder and longer won't cut it. The smartest thing you can do for your business is to accomplish more in less time ... that's productivity, that's increased profit. The best way to do it is to leverage the power of integrated business management software.
Looking for the Best Solution ... Overhead and Underground
Integrated business management software helps contractors see a day's profit potential at a glance, identify and prevent potential financial losses, spot discrepancies and errors, and manage projects with accurate information in real time. Furthermore, with end-to-end visibility of every project, owners can hone business strategy with informed decisions, improve control of cash flow, and keep financials in the black with accurate ROI.
The software helps to bring billing and contract monitoring closer together. As such, estimators and accounting personnel work with increased efficiency—they are able to reduce data entry, share and update information, maintain accurate data for every job, and further streamline processes for mutual benefit.
Once you realize that you're ready to experience the benefits of an integrated business management solution, choosing the right product and provider is worth some thoughtful consideration.
Here's a summary of the major components that make up world-class integrated business management software, and what overhead and underground utility contractors should seek, consider, and compare in a software provider.
Estimating
Let's go ahead and state the obvious: Accurate estimates are critical. Equally obvious: Estimates can often contain numerous errors and costly oversights.
It's understandable. You want to bid on and win as many jobs as possible. That's quantity—but you want to focus on quality too. So, to compete on a limited number of RFPs, and increase your chances of winning the bid, you want the knowledge and confidence that your numbers are accurate when you do win that bid. That's a happy day on the job, right?
There is no room for expensive and incorrect estimates; and there is no need to have them either! With various, helpful features of integrated business management software, you can prepare accurate estimates while bidding more frequently and efficiently. This is a big step where you can make money AND save money.
Specific features and benefits include:
Automated pricing simplifies calculating the total project cost. Contractors can dynamically adjust profit margin by performing "what if?" scenarios with percentages. Once the numbers are buttoned down, the bid can be e-mailed, printed, or faxed. It's also helpful to view items in a detailed report. To further enhance automated pricing, some software providers, such as Maxwell Systems, integrate a variety of third-party pricing databases into the functionality, which puts material costs, discounts, equipment ownership, production rates, labor costs, and more at contractors' fingertips. By eliminating the multiple points of data entry, you reduce errors and speed the process.
Plus, since information is shared among those in accounting, it's very helpful that material, equipment, and labor costs can be counted down to the last part and penny. The best solution will provide real-time updates to help track fluctuating material prices during construction. Contractors can add material cost increases into the project file, and the updated costs will be computed across the entire estimate, including total cost. The revised estimate can then easily be sent to the client. Furthermore, some software providers enable contractors to keep pricing databases up-to-date by downloading the latest prices as often as desired by the contractor. The software inputs the new pricing directly into saved estimates. It's another way to be automating estimates with ease and accuracy.
Assembly technology rolls up standard tasks, and turns them into a template that can be recalled again and again when estimating. This provides the full cost of every material, labor, and equipment item needed for that aspect of the job, based on the specified unit of measure. You can grab a batch of items required for a component and go!
So, once an assembly is created, it's available in the estimate screen, and with one click, it expands to reveal every component part nested within. If a new contract requires a different part, that part can be substituted in the expanded view, and collapsed again. This makes it simple for various costs to be adjusted on a project-by-project basis.
Software like that from Maxwell Systems takes it a step further and provides interactive 3-D visual assemblies. These visually illustrate a takeoff image in an expanded view on the computer screen, allowing contractors to examine the image from different angles and verify that the proper components are in place. It's a useful (and fun) way to ensure an all-inclusive bid.
Digitizers let contractors trace blueprints with an electronic stylus pen to expertly record trench lengths, pieces, angles, and square footage with superior accuracy. These quantities and measurements are then directly tied to individual "assemblies" or tasks in the estimate. With certain software, contractors can also import electronic blueprints and digital plan files, in which case, measuring and quantifying is then done with a computer mouse, eliminating the need for a digitizer. When customers issue revised blueprints, contractors can import the updates and (use an overlay feature)/ or trace only the revised areas. The software calculates materials and prices, adjusting for changes as data is entered.
Project Management
By integrating project management with estimating and job cost accounting, contractors can manage timelines and material purchasing for optimal profitability. Improve the way you're equipped to handle change orders, budgets, and labor, with information entered by and shared with estimating.
Dispatchers can manage service personnel workloads by viewing the software's long-term scheduling calendar. They can quickly reassign open work from one day to the next, increasing awareness of time spent on the project and making scheduling more fluid. Also, because they need to deal with contracts and know which components they're responsible for, software is helpful by providing instant access to a project's work history by customer, service person, date, or any combination. This ensures that dispatchers and contractors use their time and energy wisely on the correct customers.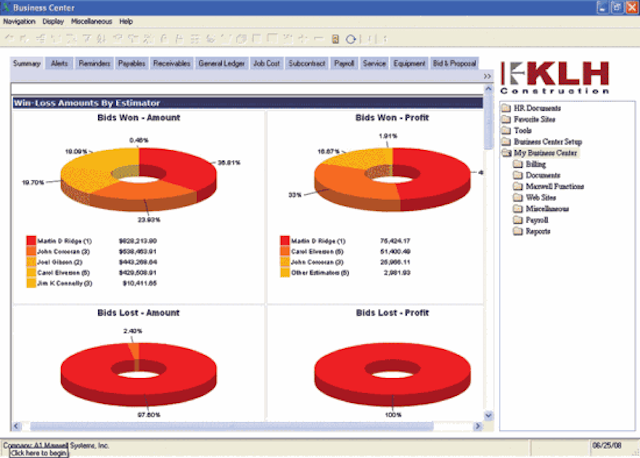 Maxwell Systems Management Suite delivers superior business analysis. With a comprehensive view of business center, users have the ability to see job performance at a glance and analyze profit and cash flow; can examine profitability at bid point and current position of job; compare original bid estimate to current job estimate; review bid performance by wins/losses and by estimator or lead source or bid type; and consider information in spreadsheet presentations or visual graphs.
Field technicians who need access to estimates, contracts, work orders, or equipment, may often spend time calling dispatchers or other technicians for assistance. With an integrated solution, field technicians can receive instant e-mails to mobile devices or laptops, on-site. In addition, their daily updates of time budgeted and materials required for each project flow back to the office for instant, real-time analysis.
When deadlines approach, contractors can send alerts to the appropriate worker by e-mail or configure the software to send automatic reminders. Additional alerts built into the software also notify dispatchers of upcoming expiration dates of subcontractor licenses, insurance, and Workers' Compensation policies. Furthermore, by logging completed task times, events, dates, and costs for the project helps contractors better manage future projects for the most profit.
Job Cost Accounting
Financial management is no place for guesswork. When you're dealing with dollars, you want to be talking in real-time about hard numbers.
Integrated business management software ensures that estimating, accounting, and project management see every project the same way – that is, making decisions with common and accurate data and working within the parameters of the project, its budget, its timeline, etc.
For many companies, the sea of data entered by estimating, purchasing, and field work can create a flood of headaches, including duplicated entries and errors that require constant auditing to achieve accuracy. By leveraging an integrated solution with automatic updates and real-time analysis, contractors can eliminate time-consuming re-keying of information and monitoring on data input. For example, service-side field technicians can enter hours on-site, and the information will immediately appear in the accounting office for billing and payroll processes. Now that's operating at the speed of business.
When job cost accounting is integrated with estimating and project management, contractors can achieve further time- and cost-saving benefits, including:
Quickly translate balance sheets, income statements, cash flows, and utilization reports into complete financial reports;
Automate the calculation process and convert all estimate information into purchase orders; and
Compare profit-loss situations and identify processes needing improvement.
The Right Tools for the Job
To do the job right, contractors invest in tools of all kinds and costs. Each has benefits to consider and compare, and you want to choose the best tool for the biggest reward. Think of your business management software in the same way, but amplified because it's also integrated. You achieve time efficiency and cost savings on many levels ... helping you get to the profitable finish line faster.
---
About the Author:
Dan Lehman is the Director of Product Management of Maxwell Systems, Inc.
More Utility Products Current Issue Articles
More Utility Products Archives Issue Articles