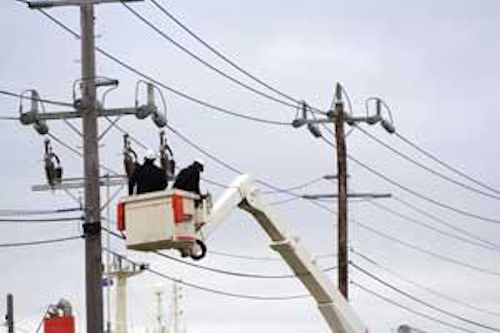 By Paul Hull
People are as important as tools in testing
Don't take a hammer when you need a wrench," commented Ken Borbe of SensorLink Corporation. He was answering my question about the right and wrong ways to undertake testing and measurement projects, however big or small they are. I had been told similar, wise advice years ago when I was trying to do some carpentry at home. The difference between the hammer and the wrench are not simply in the shape and purpose of the tools involved, but in the attitude of the person using them. A few years ago I saw a utility worker, outside my office, thump a screw in a pole with a hammer. I wasn't supposed to witness that, of course, and the reason for the improper work was that the wrench needed was at least five yards away. Am I being flippant? No. The person doing the testing must be competent, just as the tools at his disposal must be the right ones. "Accuracy and safety are paramount in this work," added Borbe.
Click here to enlarge image
An important aspect of testing and measurement (as of any utility task) is the number of people required to perform it successfully. SensorLink has introduced a voltimeter for medium voltage (rated from 0 to 37,000 volts) called the Voltstik. Designed to measure voltage anywhere on a medium distribution system, this product allows one person, with one stick, to measure phase to ground, phase to phase, overhead and underground measurement. The one person can measure both primary and secondary voltages, with 1 percent accuracy. The Remote Display provides the Voltstik user with instant confirmation of the voltage while it can store up to four readings. That allows the user to keep both hands and eyes on the task of taking the measurement. According to the situation, a user may hold the remote display in his/her hands or mount it on a hot stick. The remote display shows the voltage measurement and keeps on updating the reading three times a second, using a non-licensed 900 MHz radio. With such a product, electric utilities now have new ability to troubleshoot medium distribution systems as well as the ability to use the same meter to check phasing or to check for an energized conductor. "Accuracy and safety" said Ken Borbe above; his company's Voltstik is a tool that seems to offer both.
Natural Resources?
The reason that the homeworker uses a hammer instead of the right screwdriver is often because he does not have the right screwdriver. If you look at the products offered by a company like Extech Instruments you can quickly decide who probably knows most about what you need. Despite the best efforts of magazines like Utility Products and websites that truly try to keep you up-to-date with products and equipment, it is virtually impossible to know everything that is available for your testing needs. You have experienced workers who are competent and they frequently say how they wish there was an instrument that did such-and-such safely and quickly. There probably is such an instrument! Those who know what is available are often your suppliers, who are not merely trying to sell you something new but hoping to keep your business by supplying the tools and equipment that will really help you do the best possible work.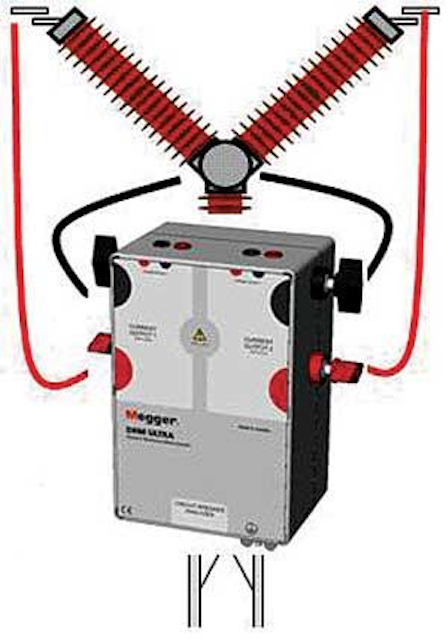 SensorLink's Voltstik
Click here to enlarge image
I selected one product at random from Extech's impressive range: the 5-in-1 clamp meter. It has been successfully used in residential, commercial, institutional, and industrial settings. The EX623 measures AC and DC current, voltage and temperatures for troubleshooting both new installations and for the preventative and ongoing maintenance and repairs that occur every day. It is really five meters in one instrument. ("I wish I had one like that, instead of this old hammer!" mutters Mr. Inept Home-Fixer.) The five meters it includes in its capabilities are: AC/DC clamp meter; advanced, True RMS multimeter; infrared thermometer (an Extech-patented device); non-contact voltage detector; and dual Type-K thermometer. The temperature readings are accurate and safe with this instrument. You can see how some simple checking with your suppliers can end up with tools, equipment, and instruments that prevent toolbox and toolbelt clutter. This particular instrument from Extech won the Gold Industrial Electronics Innovation and Technology Award last year, at Asia's huge annual electronics event in Hong Kong, for its excellence in design, technology, and feature sets. So go to your suppliers, tell them exactly what you need (or would like), and see what they have to offer. You could be pleasantly surprised at both the capabilities and the prices of available solutions, but you will never know about them if you don't look and ask.
Among an impressive range of safe testing and measurement equipment for utilities from HD Electric Company, the high voltage DC Leakage Tester caught my eye. The new PT-5000W can be used only on cables and equipment that has been verified to be de-energized and discharged and can be set to either 500 VDC or 5,000 VDC. It's a handheld instrument and is used successfully to check for leakage on transformers, cables, joints, capacitors, insulators and terminations. The PT-5000W may be used for overhead or underground systems. Lightweight, compact and easy-to-use, this instrument offers extra-bright LED indicators and a low battery indicator. That battery is a 9V alkaline battery–replaceable in the field. The front panel has indicators for each voltage range selected. For 500 VDC a single push-button is pressed to select the 500 VDC range. If up to 1,000 microamps of leakage current is detected, the High Leakage LED will light up. For the 5,000 VDC operation, the user presses two push-buttons simultaneously. If up to 100 microamps of leakage current is detected, the High Leakage LED will light up. Among the practical in-the-field features of this tester are automatic shut-off, heavy duty rubber insulated coiled test leads, and large alligator clips with heavy duty boots. Among other products in HD Electric's safe testing and measurement range are digital voltmeter and phasing sets (in eight different models) and Digital Voltage Indicators.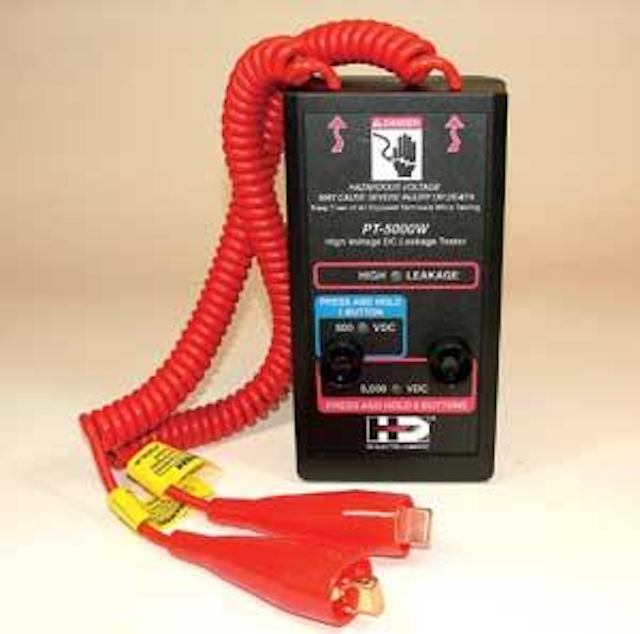 HD Electric's High Voltage DC Leakage Tester
Click here to enlarge image
Who knows what's available that can give us proper testing and measurement? The manufacturers of the instruments and tools we need know. Perhaps more than in any other industrial sector, the engineers who design this kind of equipment for utilities and contractors are aware of the safety challenges of our everyday work, and respond to them well.
Safe and Successful
Safety is of paramount importance in all utility work; nobody ever denies that. I asked Glen Shomo P.E. of Power Monitors, Inc. if his experience as senior design engineer at the company had taught him some basic aspects of safe and successful testing and measuring. "Utilize the wireless connection feature of PQ recording equipment for closed-panel or safe-distance monitoring outside the arc boundary," advises Shomo. "Inspect all voltage and current test leads for signs of insulation damage that could promote arc events and use personal protection equipment (PPE) when making connections to hazardous voltage." He went on to address the challenges of successful measurement, firstly by advising technicians to avoid false event triggering and possible overwriting of captured data by following the recommended PQ equipment hookup and disconnect procedures. That sounds obvious, doesn't it? Are your crews doing it?
"Ensure best measurement resolution, accuracy, and captured waveform precision by setting instrument current range to lowest possible full scale setting consistent with expected load currents," notes Shomo. "Setting current range to a lower 'running current' scale that would exclude higher inrush current peaks may be acceptable if current waveform harmonic distortion (as opposed to inrush-triggered flicker) is the targeted measurement."
When we are evaluating customer equipment problems, let's measure supplied voltages and load currents as close to the affected equipment as possible, to eliminate other load currents while measuring the voltage directly supplied to the equipment. It almost always takes current flow to produce voltage variations and distortions, so look for correlations between load currents and voltage variations: V-sags –vs- inrush currents (flicker), VTHD –vs- load current magnitude (as low correlation can indicate that distorted voltage is being supplied, not load-induced).
"You should adjust waveform trigger settings for successful triggering of targeted voltage or current events," continues Shomo of Power Monitors. "Utilize periodic waveform capture trigger feature to assure availability of voltage and current snapshot waveforms where triggered captures are questionable or uncertain. Use the front panel display or wireless connection feature of your PQ recording equipment to verify correct hookup and phases of voltage and current connections. And disable unused channels in stripchart and Waveform Capture Settings to maximize available time and number of captured events."
From my research into the equipment available for proper testing and measurement, it is clear that there are (literally) hundreds of excellent products available. If the task of choosing the right one is bewildering, it's not something about which to be embarrassed. There is so much available! The best sources for knowledge and advice are certainly experienced colleagues at your utility but also qualified suppliers and manufacturers' representatives. See who's specializing in your area. See who could know the best solutions for your challenges in testing and measurement.