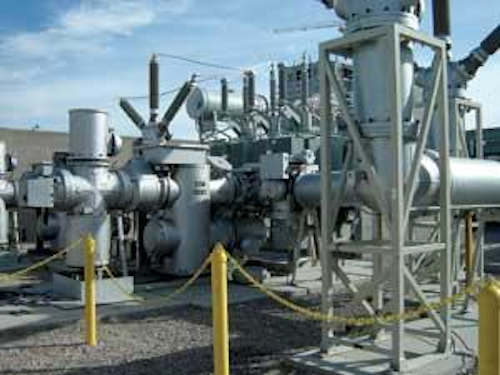 By Thomas Schulz and Lothar Heinemann
By constantly introducing innovative technological advancements for more than 40 years, ABB has provided a range of compact, versatile and reliable, high-performance gas-insulated switchgear (GIS) in the 52- to 1,100-kV range. A GIS substation can be one-fifth the size of a conventional air-insulated switchgear substation (AIS). Since the installation of the first GIS in 1969, GIS products have fallen into two categories, those rated up to 170 kV, which are almost exclusively of three-phase design, and those above 170 kV, which are mostly of single-phase design. Alone ABB has installed more than 14,000 bays based on a three-phase design in more than 70 countries worldwide.
Las Vegas Substation, 63kA
Click here to enlarge image
A safe reliable supply of electricity depends on the circuit breakers that protect our electricity grids in the event of short circuits. Traditionally, these circuit breakers, installed in power plants and substations, were air-insulated. Air-insulated switchgear (AIS), depending on the rating, requires a minimum clearance between various active parts and earth, in the order of tens of meters, which means a large area is needed to accommodate the installation. As an alternative, gas-insulated switchgear (GIS) are available, allowing the circuit breakers to operate safely within a confined space. A substation using GIS can be one-tenth the size of a conventional AIS substation.
Such GIS is produced by numerous well-known manufacturers around the globe. Many of these companies have decades of experience in the production of switchgear technology. These manufacturers have now been joined by a number of other manufacturers who have only recently added GIS to their portfolio of products. These newcomers are now competing in the switchgear market, particularly at the lower voltage levels.
At first sight, the external appearance of competing GIS products suggests only marginal differences in their layout. However, upon closer examination, it becomes clear that the products offered by the traditional manufacturers of GIS have benefited from many years of innovation, modification and product development
Establishing and maintaining a high level of competence in switchgear requires highly motivated staff, capable of continuous development in the face of technological and process-engineering challenges. Market-oriented product development, together with competence and creativity, has earned ABB worldwide recognition for its comprehensive portfolio of GIS products and services.
Gas-insulated switchgear offered by ABB and other transmission and distribution suppliers have benefited from many years of innovation, modification and product development. To enable a company to cope with the technological challenges involved in the development of GIS, substantial investment must be made in research and development. This ensures that novel materials and system-related engineering technologies are incorporated in new products. Such innovation results in the development of reliable technology and ensures that technologically challenging milestones can be reached.
GIS technology originated in 1936, when a Freon-GIS assembly, rated at 33 kV, was demonstrated in the U.S. Later, in the mid-1950s, sulfur hexafluoride gas (SF6) was discovered, a gas that has excellent insulating and arc-extinguishing properties. By the mid-1960s GIS was sufficiently well developed to be commercially viable and appealing to a broader market. Over time, progressive innovative steps have allowed ABB to develop a range of GIS rated from 52 to 1,100 kV.
GIS products currently available into two main categories, those rated up to 170 kV, which are almost exclusively of three-phase design, and those above 170 kV, which are mostly of single-phase design.
Modularity, Scope of Supply
Today, all types of switchgear have a highly standardized modular building block design, irrespective of the voltage levels. They can accommodate a large variety of technical requirements within a small number of modules.
This not only applies to the primary components, such as the circuit breaker, disconnector and earthing switch, but also to their operating mechanisms. All GIS-types currently available are equipped with a hydro-mechanical circuit-breaker operating mechanism, which also has a modular design. This allows the speed profile of the different interrupters to be adapted very easily, reducing switching speed, especially at the end of the motion.
Therefore, the mechanical impact of the switching operation on the interrupter is very small. The energy storage in the disc springs is not restricted to the switching sequence O-0.3s-CO (open – 0.3 seconds – close-off operations) that is required to meet the relevant standards, but can also provide the energy for even more complex switching sequences, eg, O-0.3s-CO-0.3s-CO, without recharging. This feature is frequently required by the Arabian and American markets. Moreover, using the various types of operating mechanisms, it is possible to achieve a timely and accurately adjustable, mechanically independent, single-pole operation with the additional benefit of a controlled switching operation. In addition to the primary technology, with its modular design and the harmonized portfolio of operating mechanisms, the newest generation of digital control devices with the IEC-61850 communication protocol, is available. The customer is offered a comprehensive diagnosis and monitoring system for the whole switchgear assembly. The system can be applied to several switchgear types and is designed as an add-on feature for conventional switchgear. It is characterized by open architecture and is also suitable for retrofits.
Over the years, the amount of substantially reduced SF6 used in the GIS gas has been reduced, despite the higher voltage ratings of newer models.
Environmental Matters
Design changes and innovations in GIS technology are made to comply with market requirements with their ever-changing standards, and to reduce the environmental impact of the technology. This involves minimizing the use of potentially hazardous components during production and reducing the use of components that have complex disposal procedures at the end of their life cycles. It also involves designing products that require fewer raw materials and use fewer primary energy sources in their manufacture.
In line with the aims of the Kyoto protocol (1997) to reduce greenhouse gas emissions, efforts have been focused on reducing the volume of SF6 gas per GIS module and thus of switchgear as a whole. Since the beginning of GIS development, reducing the use of SF6 has been a priority with each new type of switchgear. A 40 percent reduction in the SF6-contents has now been achieved for the latest models of GIS, compared with their predecessors. It should be noted that this significant reduction has been achieved despite the higher voltage ratings of the newer types. If voltage ratings had remained unchanged, the SF6 reduction would have been even greater.
Current Market Trends
With regard to both the primary and the secondary technology, all GIS types are characterized by a high degree of standardization and integration of functions. A module-oriented portfolio with a market-focused range of rating values ensures an adequate variety of products to meet customers' requirements. On the global market, three main ranges of application and customer preferences are currently evident for GIS.
1. Substitution or extension of the GIS installations at the end of their lifetime or the replacement of conventional AIS installations by GIS
Often in densely populated centers of traditional industrial regions, as well as in the mega-cities around the world, local substations are required to meet high energy demands. In such areas, real estate prices are high, which makes the compact design of GIS an attractive feature when compared with AIS alternatives that require considerably more (costly) land for safe operation.
2. Rising energy demand in the densely populated centers
Densely populated centers of the world require higher-rated voltages, higher short-circuit currents and higher operating currents are now required. Greater numbers of people are living in urban centers, consuming ever-greater amounts of electricity. This demand requires efficient methods by which to transport electrical energy with low losses, reduced visibility and high degrees of safety. Efficient energy transfer can be achieved at high-voltage levels through cables. But this high voltage (HV) electricity must be reduced to lower-voltage levels using transformers in the vicinity of the end users. In densely populated centers, this leads to a persistent increase in the transfer capabilities of the networks, requiring higher nominal currents and higher short-circuit capacities within the networks.
3. Improved energy-technology infrastructure
New substations are required to create a new or improved energy-technology infrastructure in emerging industrial countries as well as in the countries with large primary energy resources, such as the Middle East and Russia.
The focus of new developments is to further reduce the use of SF6 gas and to improve the energy efficiency of the entire manufacturing process. The complete GIS portfolio is set up so that state-of-the-art manufacturing technologies (machine processing of individual components), simplified assembly processes (both in the factory and in the field), together with shipment in standardized containers, can all be exploited.
To meet the changing and challenging market requirements of the future, the following topics are of importance:
Standardized modular component system that allows convenient and cost-effective extension of existing GIS installations and the simplified replacement of conventional air-insulated installations by GIS modules.
Continued development in the range of switching technology, such as high-voltage switching interrupters with even lower energy demands.
Further combination of various primary functions into one module to reduce the number of flange connections.
It should not be forgotten that decades of experience at each product development step have enhanced the reliability and, therefore, the availability of switchgear installations, regardless of location or method of operation.
For the customer, the end result is reflected in lower operation costs and higher reliability over the lifetime of these products.
---
About the Authors:
Thomas Schulz is manager for GIS North America, based in Princeton, NJ. Lothar Heinemann is product manager for GIS ABB AG, based in Germany.