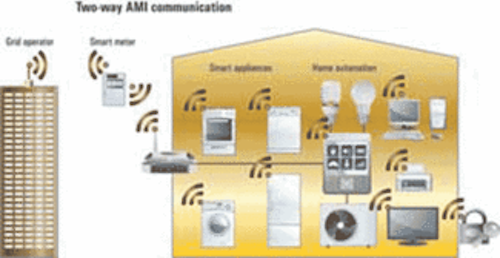 By Christian Galle
Best Practices: Considerations in Wireless Design
Faced with mounting pressure to reduce operating expenses and increase profitability, many utilities are looking to automated meter reading (AMR) systems to help maximize the distribution and consumption of some of the world's most valuable resources. AMR allows the automatic collection of data from energy-metering devices and transfers that data to a central database for analysis and billing purposes. The measurement and collection system is commonly referred to as advanced metering infrastructure (AMI) and is used in the electric, natural gas and water industries around the world. The choice to automate key processes has two broad benefits: reduced costs for the utility and improved quality of service for commercial, industrial and residential customers. AMR also supports conservation efforts to create more efficient usage and reduce wasted resources.
Choosing to implement an AMR system involves challenges that will affect virtually every aspect of a utility. In all cases, one of the biggest technology challenges is the choice of a communication path. The options include wired and wireless links, ranging from landline phone connections to power-line carrier (PLC) to Ethernet, or from dedicated radio, Wi-Fi, Bluetooth or ZigBee networks to commercial cellular networks. One key to success is choosing a technology that will remain stable–and retain backward compatibility–throughout the multi-year deployment of such systems.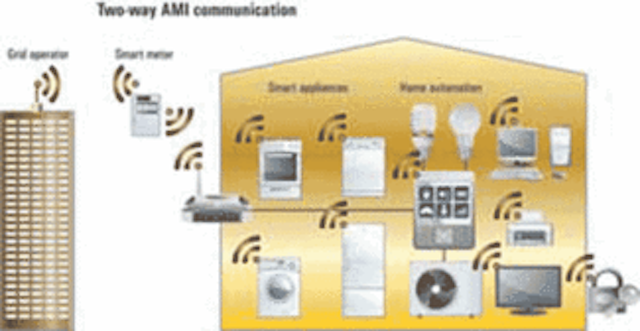 Click here to enlarge image
Making the move to wireless technology can arguably deliver the biggest business benefit–reducing the cost of manual meter reading–while enabling new services such as remote fault detection, demand response and remote connect/disconnect. While implementation and deployment costs may be higher, a wireless communication path can help utilities enhance their bottom-line revenues through demand efficiencies, increased operational control and reduced consumption.
Doing More at the Network Edge
According to the U.S. Federal Energy Regulatory Commission (FERC), advanced metering refers to the full, end-to-end measurement and collection system, and includes customer meters, communication networks and data management systems. Meters exist at the physical edge of both the utility network and, when used, the associated wireless network. The deployment of smart meters is one step towards enabling greater intelligence at the edge.
The communication networks used in advanced metering systems can be configured to allow either one- or two-way communication. One-way networks are designed to support only the reporting of customer usage from the meter out to the utility or operator. Two-way AMI networks allow communication between both the customer and the meter and between the grid operator and the meter. Two-way networks also enable the grid operator to control a customer's usage and remotely diagnose and repair outages when they occur. Additionally, two-way AMI networks can provide price information or system conditions to the customer and in-building devices, such as smart thermostats, air conditioning units, and computer networks that link to, for example, in-home appliances.
An enhanced solution that enables intelligent decisions based on local, real-time information at the network edge can maximize the qualitative and quantitative benefits of smart metering: faster and greater return on investment (ROI); more efficient energy consumption; improved customer service; and with a potentially positive environmental impact.
Today, two key enablers of such solutions are the Internet–the connection platform–and service gateways that simplify integration with multiple backend applications and databases. Looking to the future, wireless Internet Protocol (IP) networks will enable new capabilities and new benefits. For example, using the Internet as the backbone allows for the development of metering solutions that leverage an open environment to produce an optimized, low-cost design. Choosing IP also ensures long-term stability over the course of system rollout and during ongoing operation.
Bridging the Gap Between Utility and Meter
An end-to-end smart-metering platform provides a utility access to data over a combination of wireless technologies. When integrated seamlessly through embedded software and service gateways, it enables total control over–and full visibility into–data from ERP, management and billing systems, whatever and wherever they may be.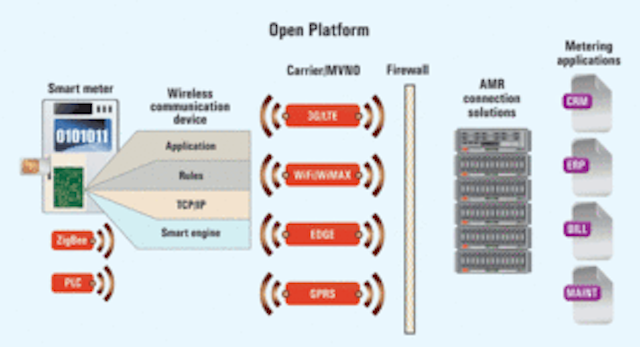 Click here to enlarge image
Next-generation smart metering will add wireless displays in the facility (buildings, homes, etc.) for real-time consumption information. A home area network (HAN) control unit/gateway connected to the meter will monitor in-home devices such as refrigerators, freezers and alarm systems, in addition to providing other functions. Utilities and operators are looking to improve their consumer relations by offering loyalty programs via in-building or in-home displays. Having full knowledge of how much power is being used in a home, in which part of the home, and at what time, determines a consumption pattern that could be used to determine customized offerings from the utility or service provider.
It all begins with the embedded intelligence at the edge of the network–and continues by building smart metering capabilities on a wireless platform that incorporates an open software environment. Adding intelligence to the network edge and integrating IP-based communication functionality not only shortens overall development time, but also creates an environment for effectively managing airtime costs.
Tackling the Technical Issues
Another critical aspect of the solution is the ability to address technical issues such as antenna design, subscriber identity module (SIM) card handling, manufacturability and system installation and maintenance after deployment.
Antenna
The link to the utility is an antenna at the meter, and that antenna can be mounted inside or outside the meter. Internal mounting provides greater resistance to fraud and vandalism, but adds complexity to the overall radio-frequency (RF) design because every electronic element within the meter has the potential to interact with the antenna. In an AMI network that uses multiple wireless technologies (e.g., ZigBee to the concentrator, GPRS to the utility), the antenna and electronic components must be able to coexist.
To ensure simple installation and reduce time to market, most new smart-metering devices are being manufactured with a built-in antenna. These antenna designs are typically slim PCBs, which are designed into or attached internally to the plastic meter housing. However, due to installations in rugged areas or in metal meter housings, there is still a need for optional external antenna mounting. The antenna connection, typically SMA-based, should also be placed outside the shielded area in order to avoid installer interference with the meter shielding or housing.
Overall, the most effective approach is to design a special antenna switch that can auto sense the best-available signal and best fits the environment.
SIM
In designs that utilize a wireless technology that requires a SIM card (e.g., GPRS), placement of the card is another important consideration. Today, the two most common approaches are remote and on-board placement. Looking to the future, the software-based "embedded SIM" approach is likely to become the favored model as announced devices come to market. The choice of SIM card implementation can also have an impact on manufacturability due to factors such as increased device complexity and greater manual labor content, which leads to higher costs. The "right" answer depends on the situation so it is best to have options that span remote, on-board and, in the future, embedded implementations.
Power Supply
Even though smart-metering units draw power from the utility's own network, the cost becomes critical in large-scale deployments. One cost-saving solution is to utilize communication devices capable of powering down (or sleeping) when not in use. Leveraging a low-power design should increase component life and reduce the load on the existing power infrastructure. Additionally, leveraging a low-power architecture, with long-life battery backup, can provide seamless and uninterrupted communication and control during a power interruption or outage.
Software Reset Command
Early AMR deployments revealed problems between the wireless communication device and the network–and this was usually due to lost connectivity with the network. A resulting hard reset or power down was the only way to re-establish the connection. The first solutions implemented were problematic due to the fact that the wireless device needed to follow a special power-down sequence to preserve the integrity of the components. A pure hardware reset typically jeopardized the EPROM. Today, new implementations utilize an embedded software environment on the wireless device to restart it according to customer needs or user-defined requirements.
Manufacturability
Wireless networking solutions come in many different packaging options, ranging from modules with board-to-board connectors to BGA modules to reference designs. Each approach has its pros and cons, and places demands on the manufacturer to have certain types of manufacturing expertise. For example, although BGA modules are becoming more cost effective from a manufacturing perspective, they add complexity should the component fail. The typical mounting of BGA modules makes it difficult to remove one without destroying it. On the other hand, after years of advanced manufacturing techniques, modules with board-to-board connectors have become much more stable with enhanced reliability and dramatically improved mean-time-between-failure (MTBF) rates.
Warranty and RMA
After the application has been designed and built, new challenges may appear. For example, utilities may require warranty coverage that does not match the terms offered by the wireless manufacturer. Also, creating a detailed record of software and hardware versions or revisions combined with RMA lists is needed to track changes or failures within deployed units. This practice helps avoid further problems with other installed devices.
Installation
Changing thousands of meters to smart meters requires efficient integration and deployment. Because newer smart meters will likely be setup by installers with a non-wireless (communication) background, it is important that features be designed into the final product to avoid problems during or after installation. Additional training in antenna installation and SIM-card handling should also be provided. To provide feedback to installers, status LEDs can be designed into the meter to indicate antenna signal strength, network connections, and power. In addition, an automatic connection sequence that connects the meter to the server after applying power–combined with a return message that confirms proper operation–is recommended.
Wireless Subscriptions
To date, the limited data usage of intelligent meters over the wireless network highlights the type of service subscription needed. For example, many wireless operators have created M2M-specific subscriptions that offer lower annual fees and aggressively favorable pricing for data transfer. However, this practice may cause debate over whether or not this is a good investment for the carriers because the large number of connected AMR devices may consume significant network bandwidth without returning a proportional share of revenue. From a carrier perspective, the benefit is the number of connections and the loyalty of the customer (e.g., changing the SIM carrier would be too costly).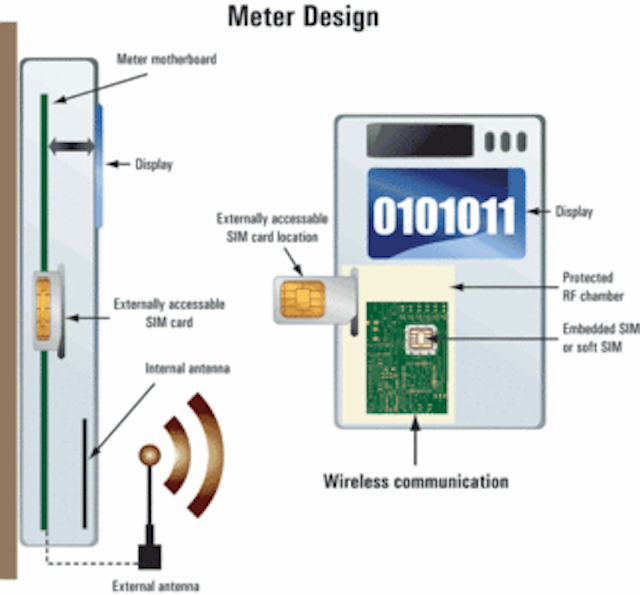 Click here to enlarge image
null
Maintenance
Once the system has been designed, built and deployed, ongoing maintenance comes into play. One aspect, typically overlooked, is to include a database of software versions, IMEI codes, SIM card numbers and hardware versions. While problems are rare, should they occur in installed units it is important to understand which versions are in the solution and when they were implemented. As needs change, it is sometimes necessary to update or reconfigure the meter. This becomes feasible with capabilities that make it easy to deliver firmware updates, software upgrades, and other necessary device changes. One option to consider is over-the-air (OTA) updates, which can be used to roll out critical application or firmware changes. System middleware–sometimes called a service gateway–that simplifies device configuration is another key element to consider when defining and creating a flexible, long-lived AMR/AMI solution.
"Total System" Perspective
To overcome issues in antenna design, SIM and more, one key to success is the ability to understand the total system design. This is especially important because each system has unique attributes and requirements: There are no cut-and-dried answers for antennas, SIM cards and other system elements. If utility or meter-manufacturer staff lacks this expertise, they should seek a solution vendor that offers strong RF system design capabilities–and has the expertise to understand system implementations from end to end. This goes beyond antennas and SIM cards to also include capabilities such as compliance testing and device certification for the country of deployment.
Getting Data into the Enterprise
A services gateway is a high-throughput transactional software application that runs behind the scenes, enabling powerful functions. For example, it provides reliable, secure data transfer from end-point devices (e.g., utility meters) back to enterprise applications and databases. The services gateway also makes it possible to manage meters and other devices from existing enterprise applications such as MSSQL Server, MySQL and Oracle. Utilizing enterprise software to quickly build the links to your meters–provisioning and OTA upgrade–allows for proactive management. As part of this functionality, the services gateway manages device communication to ensure efficient use of airtime. The best services gateways include capabilities that accelerate system integration by taking care of issues such as device application programming interfaces (APIs) that have a steep learning curve. These capabilities make it possible for the integrator (or utility company) to focus on the "business logic" that must be programmed into their software rather than learning how to communicate with devices and manage them.
Summary
AMR/smart metering applications are exciting and challenging–and the addition of wireless capabilities brings exceptional value to AMI system designs. A combination of technologies, a strong and proven connectivity approach, and highly customized integration are the keys to successful design, implementation and operation. Most utility companies, meter manufacturers and system integrators don't want to get bogged down in the deep technical details of how wireless solutions operate. They do, however, want to know it will work as intended–reliably and cost-effectively. The decision to collaborate with an experienced technology partner can greatly enhance the chances of success–in deployment and ultimate results–of any AMR, AMI or smart-metering solution.
---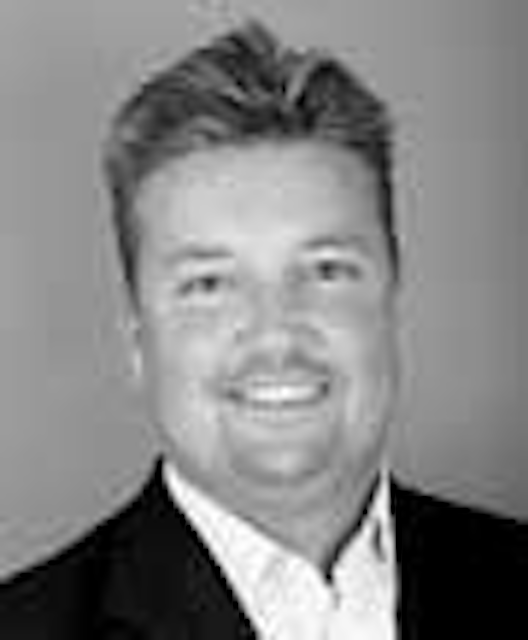 Click here to enlarge image
About the Author:
Christian Galle, business development manager for Enfora, has more than 10 years experience in the wireless networking market. Originally from the IT industry, Christian created a distribution company, Wireless Communication, for wireless modules from 1998-2001 before joining a leading module provider and serving as regional sales manager for three years. In 2004, Christian joined Elektronikgruppen as director of EG Wireless Solutions and, in 2006,created his own consulting company,W1 Consulting, before joining Enfora.