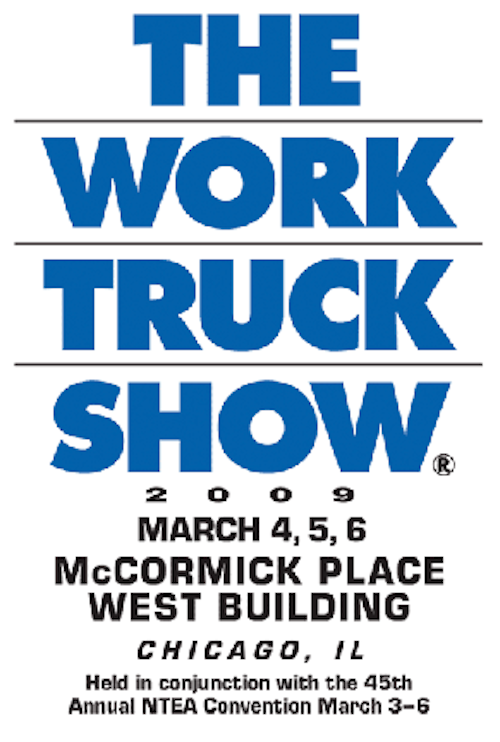 More new product launches, "green" vehicles, exhibitors and educational sessions have been added to The Work Truck Show® 2009 and 45th Annual National Truck Equipment Association (NTEA) Convention. The Work Truck Show 2009 is held March 4-6, 2009, (Convention starts March 3) at the McCormick Place West Building in Chicago, IL.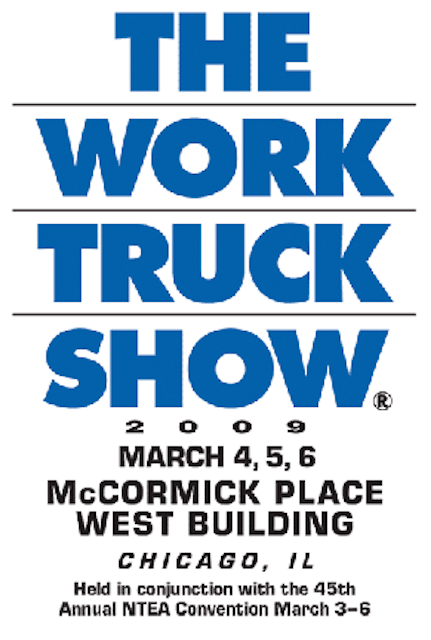 Click here to enlarge image
The event draws thousands of fleet managers, truck dealers, equipment distributors, upfitters and manufacturers from throughout North America and beyond to check out the work truck industry's latest product and technology developments, get expert advice and learn how to improve their operations. The Work Truck Show brings together new vocational trucks, equipment and related products from more than 440 companies across 500,000 square feet of exhibit space. The educational component provides more than 40 industry-specific training courses, including four in-depth Special Sessions.
More than 60 companies have announced that they will introduce new products at the show. Some exhibitors are new to The Work Truck Show, as well: 56 are exhibiting for the first time.
Green Trucks
The Green Truck Summit, sponsored by International Truck, provides up-to-date information on hybrid and alternative fuel options for work trucks. The Summit is the industry's foremost education forum for real-world application of the "green" revolution as it impacts commercial trucks.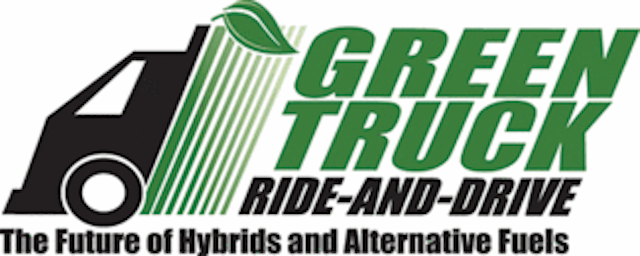 Click here to enlarge image
During show hours on March 4 and 5, Work Truck Show attendees can test-drive new hybrid and alternative fuel commercial vehicles as part of the Green Truck Ride-and-Drive. Participation is free and sign up is available on-site.
The latest hybrid and alternative fuel technology will be displayed in the Green Truck Pavilion. Pavilion exhibitors include hybrid and alternative fuel truck manufacturers, component suppliers and system integrators.
Mike Rowe, host of the Discovery Channel's Dirty Jobs and Deadliest Catch, will give the keynote address at the President's Breakfast and NTEA Annual Meeting on Thursday, March 5, 2009, from 7:30AM–9:15AM.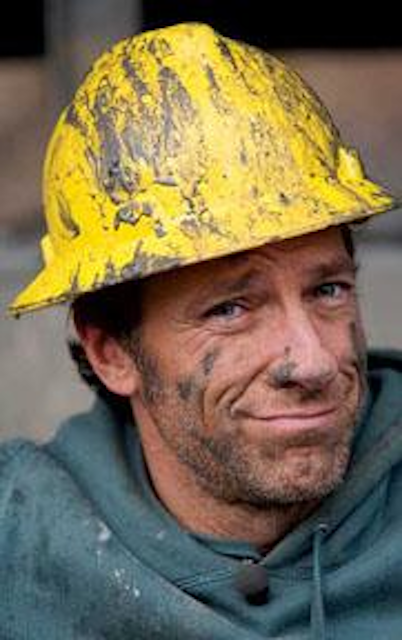 Click here to enlarge image
One of the major challenges facing OEMs, equipment upfitters and fleets in the coming year is working with chassis that meet 2010 emission regulations. The Special Session "Upfitting Equipment on 2010 Emission-compliant Truck Chassis" will bring together experts from Daimler Trucks North America, Dodge, Ford Commercial Truck, General Motors Fleet and Commercial Operations, Hino Trucks and International Truck to review changes made to their chassis to meet 2010 emission requirements and answer questions about mounting equipment to these chassis.
Fleet managers face their own set of challenges regarding 2010 emission-compliant chassis. They can gain a better understanding of how their equipment specifications and fleet operations may be affected by 2010 model year diesel trucks at the Truck Fleet Manager Training Session & Networking Luncheon.
The Special Session "From Tactical to Practical: A Playbook for Identifying Profitability and Survivability" will provide insights into the developments, threats and opportunities facing the work truck industry and its distribution channels and tactics companies can use to position themselves to survive or even thrive in these challenging times.
Exclusively for fleet and shop managers, the Fleet Management Symposium is a full-day program focusing on financial and operational practices that can reduce costs while increasing shop labor productivity. The symposium is led by well-known fleet consultant Kelly Walker, president of Kelly Walker Associates (Dallas, TX).
Stan Slap, president of international consulting company Slap, was a hit at the Work Truck Show 2008. He's making a return appearance at the Work Truck Show 2009 with a program on "The Seven Deadly Sins of Strategic Implementation" during the Business Forum. He'll explain the seven ways strategies can become unsuccessful, and then how to overcome these traps.
Produced annually by the NTEA, The Work Truck Show showcases Class 1-8 vocational trucks and equipment. To register, visit www.ntea.com or call 1-800-441-NTEA (6832).