Saving Deere & Dollar
Anything and everything Deere, BRANDT TRACTOR LTD. tackles.
Feb 1st, 2009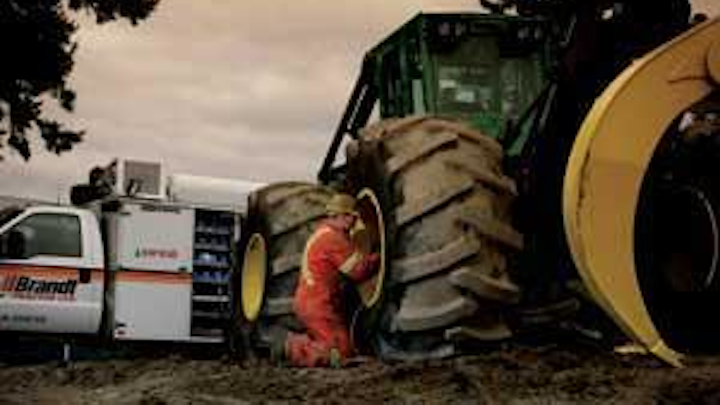 By Natasha Bartlett
Anything and everything Deere, BRANDT TRACTOR LTD. tackles.
Brandt Tractor Ltd. is the John Deere construction and forestry equipment dealer for Western and Northern Canada.
With over 21 branches from Nunavut to North Vancouver, Brandt is responsible for sales, service, and everything in between.
Click here to enlarge image
Take David Tucker, mobile technician for the Nanaimo, British Columbia facility. His experience with downed Deeres makes him a Brandt MVP, and a veteran in the forestry industry.
A typical week for Dave may put him mountainside on a logging road troubleshooting a 32,000 lb grapple skidder, or neck deep in peat bog for a differential brake job. "The worse conditions are in the forestry industry. We don't know what kind of call we'll get from day to day, but we head out to fix whatever problem the customer's having–whether its engine, undercarriage, drive train, or hydraulic."
And Brandt's customers appreciate it. In most cases, loggers make David's job easier by putting the downed equipment roadside. If they're looking at an engine or transmission issue, those loggers will even excavate a road in. But this kind of treatment doesn't come without payback. Brandt's customers are also keeping an eye on their dollar. "When we come on the scene, they want us to be quick. You've got an owner/operator standing there over your shoulder–they know they're being billed by the quarter hour." And for the forestry and construction industry, skilled labor isn't a bargain. The going rate for a mobile mechanic is $200/hr–and that's just travel time. "They want to make sure they're getting the value for their dollar. We've got to be efficient. If the customer gets the bill and they're not happy, it's usually from a mechanic standing around. You get that usually from waiting for equipment."
For this reason, Brandt's 6.0L Powerstroke fleet are rigged with some of the best equipment in the industry. Their need for the fastest, most reliable equipment not only gets their operators home sooner, it maximizes their bottom line. That's why Brandt took extra consideration in their air compressor for their pneumatic tools.
For that, Brandt enlisted the rotary-screw Air Compressor System, developed by VMAC. "Anything that makes the job easier with air, we'll pick up. The [VMAC] PREDATAIR basically gives you unlimited power for the job. Overheating excavators, where you have to have a good compressor to blow the rad out, is no problem. The PRED's air volume just works." And there's nothing worse than getting to the site and something doesn't work.
The PREDATAIR differs from standalone compressors in both speed and volume. Motor-powered compressors can be aggravating to start every time, and their 14-30 CFM output can often leave operators waiting around for air pressure.
"If you've been in the industry as a mechanic, you'd know screw compressors are definitely a better way to go. More volume, and no waiting."
The hydraulically-driven PREDATAIR delivers up to 40 or 60 CFM and 150 PSI–enough muscle to power anything from an air chuck to a 3/4" impact gun. "You're getting 60 CFM from the PRED versus what you'd get from a 14-30 CFM stand-alone compressor, so you're not waiting as long. Changing a cutting edge, you'd be standing around a long time for 40-50 bolts. The PRED puts out the air to get it done."
Brandt has been a customer of VMAC's since 1999 and realized $800 million in revenues in 2007.
---
About the Author:
Natasha Bartlett is a writer and marketing analyst for Vehicle Mounted Air Compressors (VMAC). VMAC is a provider of innovative mobile air solutions, designed to reduce cost, time, and unnecessary equipment on the work truck.