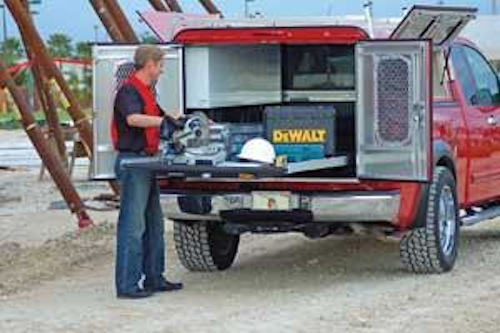 Well-arranged equipment means time saved, and safer operation
There are so many pickups and vans where you wonder how the operators ever manage to find what they want or get the job done efficiently and quickly. You've seen workers toss tools and small equipment into the vehicle, with no order and no regard for safety. Fleet managers shudder when they see it done, and rightly so. How can anybody keep a pickup bed tidy and safe? Look at and use the IFW BedSlide and you'll find the answer to that question.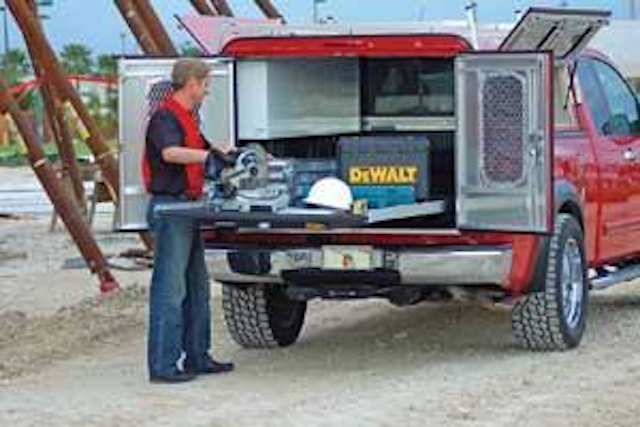 Click here to enlarge image
"So many operators seem to pile all their tools and equipment in the front of the bed," observes David McInturf, president of the company, which has its headquarters in Medford, Oregon. "They have trouble finding what they need and it's downright unsafe to stretch along the bed trying to grasp or pull out the necessary item. Utility workers know that so many of the jobs where they need their vehicles, tools, and equipment are virtual emergencies, when speed and efficiency are essential. The BedSlide gets rid of the risk and the hassle."
There are several BedSlides available, including the Classic, the Weather Deck and two versions made especially for Chevrolet Avalanche and Cadillac EXT SUVs. The model we are looking at here is the Contractor Grade (CG), designed for those whose trucks are true mobile workshops. Is it strong enough for that kind of work? This unit can support a welding machine, if required! The CG has eight sealed steel roller bearings, a new squeeze-and-pull handle for easy access, three locking positions, aluminum side rails, and it offers a weight capacity of 1,800 lbs. The top of the BedSlide is called a WeatherDeck, with a ¼-inch rubber mat. "This product has already proven itself for its ability to organize pickups and their cargo," adds McInturf, "but it has also won praise for its usefulness in preventing workmen's compensation situations and its overall safety, for both new and inexperienced workers."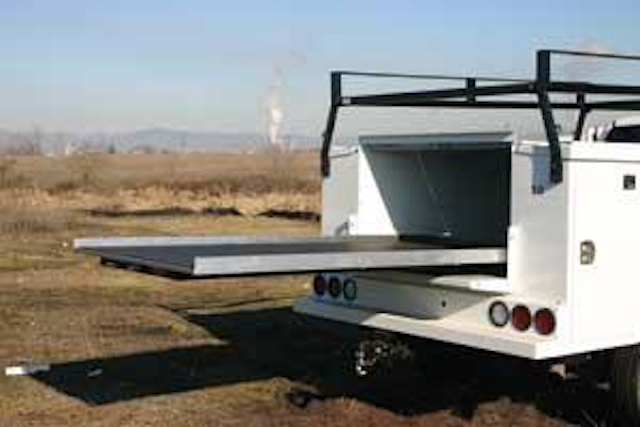 Click here to enlarge image
null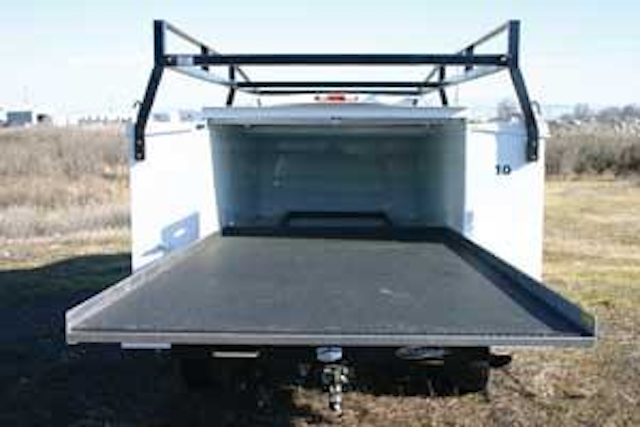 Click here to enlarge image
The IFW BedSlide extends (smoothly and easily) about 80 percent, depending on the length of the pickup bed. Sixteen inches of the bedslide should remain on the truck bed to support its extension but you can see that you have plenty of accessible room for selecting the tools or equipment you need for a particular job. The unit comes fully assembled, by the way, and it takes about 30 minutes to install the Contractor Grade model (which weighs about 335 lbs). You can get custom-sized bedslides, with dimensions to fit your specific truck, but they take a little longer to process. Best to check with your dealer about that.
With a patented three-point mounting system, the BedSlide does not need bolting to the truck, but the frame cross members are pre-punched if you feel you must use bolts, too. The BedSlide will work if you have bedliners already in your trucks, but you should be aware that the weight of the BedSlide and its load may damage a plastic bedliner and affect the stability of the installation.
As a solution for a common problem with pickup use–the untidiness and hazardous arrangement of cargo– the IFW BedSlide seems ideal. Its innate strength is reassuring and its ease of use is likely to make it a welcome aid for employees in field operations. There are already designs and plans to use the same successful techniques for service vehicles and vans.