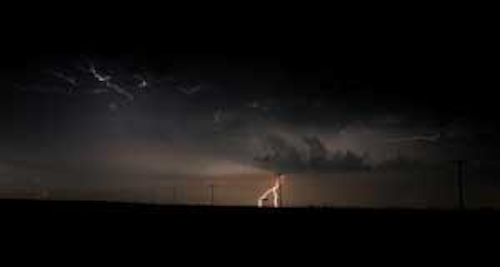 By Paul Hull
All parties involved in storm restoration are committed to success
Whoever you are, you have a personal interest in the success of restoration efforts after any storm or natural disaster. You may be the utility worker who repositions poles and wires, the resident who finds that utilities are essential to daily life, the community leader whose telephone doesn't stop ringing because isn't that why we elected you last fall? Perhaps you are the manager whose responsibility is to restore power or communications. Whoever you are, the process of restoration must be (and must be seen to be) quick and efficient.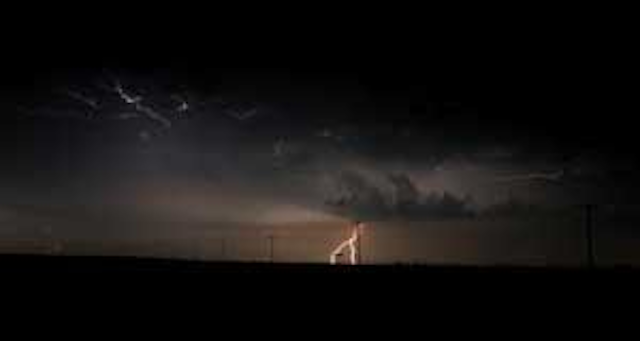 Click here to enlarge image
Storms vary from one state to another. They can be ice, like those in Kentucky not so many weeks ago, or warm weather hurricanes like those along the southern states in recent years. They may be almost isolated, seeming to affect only one community badly, like some tornadoes and thunderstorms, or they may cover hundreds of square miles. Entergy Corporation received two national awards earlier this year for its work in restoring power after hurricanes Gustav and Ike and for helping two utilities recover from severe weather. "It's a tremendous honor to receive awards 11 years in a row," comments Randy Helmick, Entergy's storm boss and vice president of transmission. "I think it shows our employees are known throughout the industry for their outstanding preparation and dedication to getting the job done safely and quickly. Their focus on safety allowed us to rebuild significant sections of our system within 24 days after Gustav and Ike and work a total of 8.7 million man-hours while setting the best safety record in our company's history."
There are two key words in Helmick's modest statement: preparation and dedication. No utility is going to restore its system unless it has already an excellent plan in place for such events. Almost all utilities do have such plans and that is one reason why the vast majority of customers are happily impressed by the success of restoration efforts nationwide. It's not good luck. It's good preparation.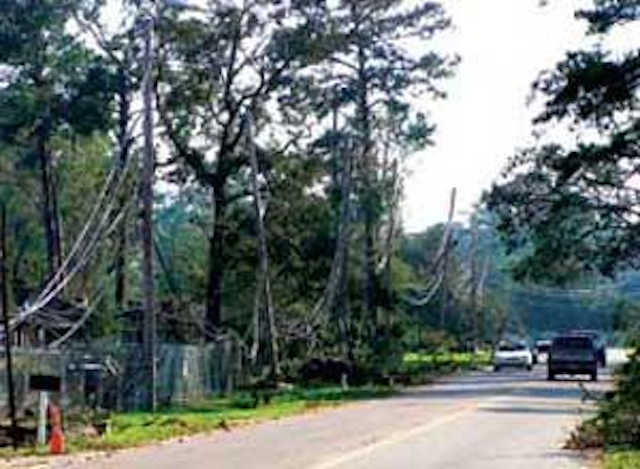 Click here to enlarge image
Florida experiences some of our nation's most extraordinary weather. Daily weather-related challenges, including thunderstorms, lightning strikes and hurricanes necessitate more precise weather information than the general public receives. That is why Florida Power & Light Company (FPL) chose to invest in a more advanced and comprehensive real-time weather provider. "FPL is investing in smart technology that enhances its ability to manage the electrical system more efficiently and to predict and act on potential reliability issues before they occur," advises Irene White, director, employee and customer support, Distribution, for Florida Power & Light Company. "FPL's advanced radar tools allow its employees to anticipate where and when a storm may impact its system. The tool provides wind direction, speed, temperature, and humidity information. The latter down here is everything!"
In the 2005 – 2006 hurricane seasons that saw seven storms in a 15-month period, FPL responded to the state's call to maintain a high level of preparation. "We embarked on a series of comprehensive investments and expenditures to strengthen our electrical infrastructure to better withstand the impact of severe weather," adds White. "We recognize that no utility can be 100 percent storm-proof. Our work is also designed to further reduce customer outages through aggressive preventative maintenance projects on our overhead and underground lines and equipment." The utility's investments are designed not only to respond to the potential for more frequent, more powerful hurricanes, but to deliver customer benefits because they enhance the day-to-day reliability as well.
The Customer's Viewpoint
In Nacogdoches County, Texas, nobody could remember a hurricane reaching that deep into the state. The winds were strong and a message from the NWS station in Shreveport, Louisiana, to Bob Hurst, Homeland Security director for the county except the town of Nacogdoches itself (which had its own stand-alone plan and EMC) said: "Mr. Hurst, let me first tell you that we're working off Doppler radar indications. All our remote instruments have ceased functioning or reporting throughout East Texas." Everybody hoped the hurricane would miss. It didn't.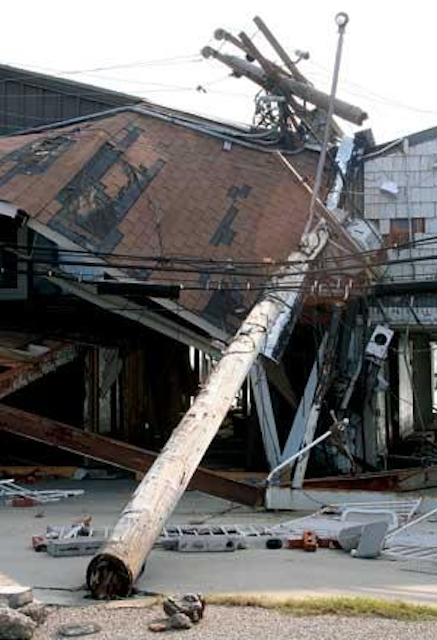 Click here to enlarge image
The county emergency operations center (EOC) was established at the Nagocdoches Sheriff's Department. Before the hurricane's landfall, Hurst had established links with all agencies and critical infrastructure vendors and utilities. The difficulty of the restoration situation was increased because the county has four electricity providers that service some part of the county. As the winds subsided the quick assessment of Hurst and his colleagues was that the county was 95 percent dark and powerless. For more than two hours, all 1,200+ miles of roadway in the county were blocked at some point by fallen trees or other debris. All power companies were impacted. "The call that chilled me was the one to the provider that covered almost half our county," remembers Hurst. "Their CEO said they had a huge problem. At best they could estimate that 90 percent of transmission lines were damaged and needing repair. He reminded me they had to get the transmission lines up and running before they even thought of getting to substations and on out to residences. That made me believe that we could have as much as months of no power to certain areas of our county." The major producers in Nacogdoches County at the time were lumber, poultry and then cattle, followed by the local state university and light industry. The poultry companies had on-site backup power quite quickly; that was the only good news.
Stores began to report melting goods, and no additional food available apart from what was already on the shelves. The same stores could not pump gas to many people trying to work on disaster relief. No electricity. No pump. No fuel out of the ground.
For a community, then, a loss of power affects more than television, cooking, and drying one's hair. In this Texan county there are few backup generators for the fourteen Water Utility Districts and, when the water line pressure dropped below 10 psi for more than an hour, state regulations required that water be boiled until the pumps were back in normal service. Boil? Using what? While there were a few overhead tanks of water, a big concern was the possible requirement for water for residential or commercial fires. An unusual situation was that people escaping Hurricane Rita from other communities (like Beaumont, Orange, Houston and Galveston) to the less likely landfall of Nacogdoches County started to fill evacuee centers.
The response by the power industry in Nacogdoches County was excellent, especially when you consider what they had to work with. One obstacle to prompt success that was reported was a law that did not allow power companies to "cross connect," because of public concerns about price collusion in normal business times. The Governor of Texas reportedly overrode the law for the emergency but that is certainly an aspect of restoration that anybody responsible in utilities and communities should check. What are your local laws in this matter?
The city of Nacogdoches had power restored within 12 days. Some parts of the county were without power for up to 20 days. "As I saw it," recalls Hurst, "the biggest challenge was that no one can truly prepare 100 percent for the scope of devastation that our power companies found after the storm had passed."
Cooperation is Everybody's Business
It would be easy to imagine that the restoration of power and services after a natural disaster is the responsibility of the utilities only. Nothing could be further from the truth. The power companies and telecommunication companies play an important, absolutely necessary, role in the restoration process, but they cannot achieve that without the cooperation of the entire community. There have been stories of restoration efforts slowed and impeded by the selfish preferences of local politicians and elected officials. Such incidents must be avoided. A utility serves all customers and must determine from its own capabilities and equipment available the order in which restoration happens. On the other side of the equation, communities (through their appropriate leaders and departments) should be prepared for what might happen, even if they hope it never will.
One of the most surprising incidents in storm history came at the beginning of this year, at the end of January, 2009, in Kentucky. When the ice storm struck the City of Mayfield, there was no protection for the people in the 20-degree weather. They had no power and no access to clean water. In catastrophes, time seems short. There is no time, when the event happens, to organize a committee to organize a task force to call in experts at a date convenient to them next week or month. Time in a disaster is NOW. Mayor Arthur Byrn turned quickly to the member-owned insurance pool Kentucky League of Cities Insurance Services (KLCIS) and its disaster recovery partner, Agility Recovery Systems. Agility delivered generators to Mayfield within hours and the city was able to provide residents with warm shelters and clean water. "Agility Recovery was, literally, a lifesaver," comments Mayor Byrn. "People had a warm place to sleep and clean water to drink. Our ability to recover made all the difference in the world."
In western Kentucky, 21 cities and municipalities had emergency generators onsite following the January ice storm, thanks to the state-wide initiative, which benefits 400 municipalities. Who could ever imagine making preparations for an ice storm in Kentucky? That state did, and was soon thankful for the foresight and preparation. It was in late 2008 that KLCIS and Agility Recovery finalized the disaster planning initiative that ensures each city has an actionable and accountable disaster recovery program. It is believed to be the first program nationwide between a municipal league representing cities and a disaster recovery provider. Recent history shows this could not have been better timed for Kentucky! "Municipalities throughout the country should look at these Kentucky cities and commend them for their proactive disaster planning," observed Kentucky Governor Steve Beshear. "The ability of these cities to restore critical services within hours of the January ice storm saved lives and enabled State and National resources to attend to areas with critical needs."
Kentucky cities use Agility Recovery for both continuity planning and, if needed, disaster recovery. Agility works continually with the cities to plan for interruptions caused by natural and man-made disasters. Included in those planning initiatives are critical areas (often neglected in reports of storm restoration in former years nationwide) like emergency communication plans, alternative administrative and office space, technology replacement and employee continuity. "We were drawn to the flexibility of the program," notes Sylvia Lovely, executive director and CEO of Kentucky League of Cities. "In the case of January's ice storm, our cities really needed generators, and they got them. But in the event of a tornado, fire, or even a server failure, our cities will need other tools. They now have complete access to the resources they need because of this disaster recovery program."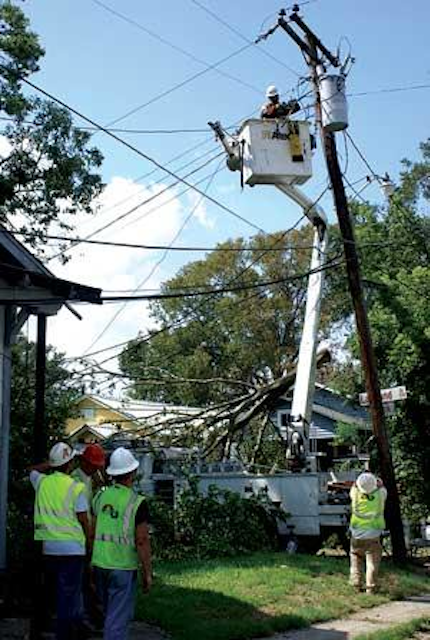 Restoring power to Baton Rouge
Click here to enlarge image
A few days ago I read a most interesting report about the work of a senior at The College of the Atlantic in Bar Harbor, Maine. For a practical, scientific project, Apoorv Gehlot (raised in Jodhpur, Rajasthan) has built a GIS emergency management system for the City of Cupertino, California. Should disaster strike the city, the emergency operations manager will be able to see at a glance which buildings are safe, who needs medical attention, where supplies are stockpiled, and which roads are passable. As the situation changes, the manager will be able to update the map within seconds so as to direct emergency assistance. Using a GIS program that works with online mapping, Gehlot created a dynamic system that allows for numerous contingencies, even overlaying a contour map on the city street system. If there is a flood, then the question of higher ground may be important. Gas leaks, impassable roads, severely injured citizens, supply caches and safe havens all have their symbols on the map. The program relies on a satellite, so it will work even if electricity and phone systems are down. And it worked! "The application proved to be extremely functional," said Teri Gerhardt, the city's GIS coordinator. In a planned emergency exercise the Emergency Operations Center displayed the map on the main projector screen, giving the entire room a bird's eye view as it was happening in the city. For those of us tempted to wonder what practical work is being done in college, this is an inspiring report from the College of the Atlantic. Good luck, and thank you, Mr. Gehlot!
Other Players Always Ready to Go on Stage
In September last year, Hurricane Gustav hit land near Baton Rouge, Louisiana. The storm brought heavy rains and winds in excess of 115 mph. One of the first responders when the power went out was Stuart C. Irby Company. That was no coincidence. With a disaster recovery plan already in place, Irby's Baton Rouge facility has a supply kit on hand, complete with a generator in the event the branch lost power. (Stuart C. Irby, founded in 1926 and now a part of international electrical distributor Sonepar, has 58 locations in 21 states.) "We have had a disaster recovery plan for years," notes Don Corley, vice president of Purchasing and Inventory at Irby. "After Hurricane Katrina, it was updated and enhanced to cover all of our critical business functions during an emergency event."
As damage and power outages from Hurricane Gustav spread across the territory, workers from Irby started supplying customers with all the material they needed to restore power to the stricken communities. "Irby went above and beyond the call of duty, as they worked tirelessly around the clock," comments Ron May, vice president, Engineering and Operations for Dixie Membership Corporation (DEMCO). "They were ordering, receiving and delivering material to all of our warehouses and staging areas after the hurricane." Two weeks later, Hurricane Ike arrived! "There were several large utilities in the Houston area that needed help restoring power to their customers," says Corley. "Irby had over 100 people involved in the recovery effort over a three week period." So it's not only the utilities and the communities, it can be efficient distributors who make the restoration successful. With more than 800 employees nationwide, Stuart C. Irby Co. was able to deploy over 20 percent of its work force to help with the recovery efforts in Houston and Baton Rouge from those two powerful storms.
Knowing where everything is working or situated is an obvious advantage for those trying to restore everything after storms and disasters. A recent announcement from SkyBitz shows how utilities can track, manage and deploy their assets in different places during power outages and other recovery efforts. The SkyBitz Disaster Recovery Solution lets utility companies leverage real-time information about the location, status and environmental conditions of their assets, to enable a fast, secure, effective response program. That would include sending teams to remote locations during network outages. The solution from SkyBitz is based on the company's proven Smart Sensor Tracking management solution. For the last six years, it has helped provide disaster recovery solutions to emergency field services, and the transportation industry, and chemical, oil and gas industries. With a battery life up to five years, the system is easily set up, HERO certified, and used for SCADA/telemetry type applications.
We cannot finish this without restating the wonderful cooperation that always exists when there are storms. Crews come from all over the country to help the troubled areas and it would take a whole book to list them all. In that storm earlier this year in Kentucky, for example, 12 Electric Membership Corporations (EMC) from Georgia and Georgia Transmission Corp. sent nearly 100 workers to help sister cooperatives repair extensive damage. "A lineman from Sumter EMC in Americus said it's the worst storm he has seen in his career," reported Jim White, vice president of training, education and safety with Georgia EMC. "And he's been in the industry almost 50 years!" The total number of helpers from Georgia EMCs reached nearly 250, some of them working in Kentucky for almost three weeks. In addition to that assistance from Georgia, there were also electric co-op employees helping from Florida, Alabama, Mississippi, Michigan, Ohio, North Carolina, South Carolina, Pennsylvania, Virginia, and Tennessee. Seldom has the utility industry in the US had reason to be more proud of the people who work for it.