NSTAR Case Study
NSTAR is the largest Massachusetts-based, investor-owned electric and gas utility.
May 1st, 2009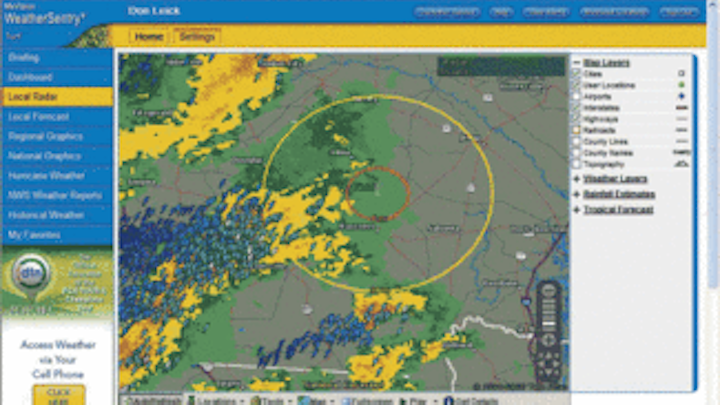 Better Planning Makes for Better Restoration
NSTAR is the largest Massachusetts-based, investor-owned electric and gas utility. The company transmits and delivers electricity and natural gas to 1.4 million customers in Eastern and Central Massachusetts, including more than one million electric customers in 81 communities and 300,000 gas customers in 51 communities.
The Challenge
Serving central and eastern Massachusetts, NSTAR Electric & Gas is particularly vulnerable to a variety of rapidly changing weather conditions. Throughout the year, these conditions may include rain, wind, snow, ice, lightning and rapid temperature changes. But the most challenging are "Nor'easters"–the excessive wind that creates near-blizzard conditions can compromise infrastructure, create widespread outages and threaten crew safety.
NSTAR operates two dispatch centers. Employees at these locations are the company's first responders. They troubleshoot service interruptions and dispatch for all of NSTAR's nine service centers. The service centers are located throughout the territory, allowing NSTAR crews to respond to and repair outages faster–enhancing customer service. Based on weather conditions, NSTAR dispatchers move the service crews north and south accordingly.
The DTN/Meteorlogix Solution
To help the utility prepare for and quickly respond to weather-related service interruptions, NSTAR subscribes to MxVision WeatherSentry Online Utility Edition from DTN/Meteorlogix. The Internet-delivered solution is designed to help power professionals stay on top of changing conditions that can impact operations and threaten crews. It allows utilities to select and display custom combinations of the weather and map data most important to their operations–including location specific weather forecasts to more closely monitor utility boundaries or transmission lines. With location-specific forecasts the utility can easily see weather's impact on its assets. NSTAR operates five user licenses for the solution so that multiple team members can access the information and tools.
NSTAR added Lightning Manager, which supplies reliable, advance warning to dangerous weather with real-time lightning data–not predictions that can lead to false alarms or delayed reporting after lightning has already struck. Lightning Manager allows users to create their own advisory and warning zones for automatic, custom alerts–monitoring conditions for them so that they can focus on other tasks. NSTAR subscribes to an expanded zone, which provides alerts for a 250-mile radius. All-clear notifications are also available to let them know when the threat has passed.
A special slide show capability allows NSTAR to display their choice of full-screen maps and graphics on a centralized monitor so that their staff has an at-a-glance reference to current conditions while they are performing other tasks.
NSTAR also subscribes to DTN/Meteorlogix's meteorological consultation services, allowing them to confer with professional forecasters twice a week.
Results
The twice-weekly conference calls are held on Monday and Friday mornings. "In the Monday conference call, the meteorologists let us know what we can expect for the week," said Harris Robinson, manager of emergency preparedness for NSTAR. "This meeting helps us to decide what work we'll do that week and where our crews can be most productive. For example, it might be a better business decision to hold off a day or two on a project if we can't complete the entire job due to forecasted weather issues."
The Friday call heightens the team's awareness of the weather they can expect that weekend. "If a storm is forecast for Sunday night, this meeting lets us know to check the weather over the weekend to see how the storm is materializing," said Robinson.
In addition to the scheduled meetings, DTN/Meteorlogix forecasters participate in unscheduled conference calls as needed. "The meteorologists have been extremely helpful when sitting in on internal conference calls that are part of our storm event planning process," Robinson explained. "Based on the storm, there can be up to 40 or 50 people on the call. The meteorologists do a very good job fielding questions–they are experts at what they do."
Not only are the meteorologists consulted in conference calls, but NSTAR dispatchers can also call a meteorologist any time of the day or night for clarification on what they're seeing on the system. The dispatch centers are staffed at all times, monitoring the weather 24/7. From there, the supervisors can watch the weather, dispatching or shifting crews accordingly.
The slideshow functionality is up and running on a wall monitor 24/7 in both dispatch centers. It helps NSTAR respond more quickly to outages. "The slideshow tells an important story," said Robinson. "The slides progressively pan down to a specific location, letting us know where severe weather is either occurring or likely to occur. For example, if the winds pick up in a particular location, our dispatcher can send out a troubleshooter before we receive a call from a customer, thus making response time quicker. This approach is more proactive–we no longer have to wait for a customer to call."
Click here to enlarge image
In addition to real-time lightning information, Robinson appreciates how Lightning Manager shows strikes that have occurred in the area over the past 24 hours. "In July 2008, we had 11 severe storms–the most significant series of events that several of us can remember," he said. "Because of these storms, approximately 10,000 customers lost power."
Click here to enlarge image
While NSTAR didn't subscribe to Lightning Manager at the time, they have since experienced first-hand the difference the tool makes in their operations. "We can see when and where lightning strikes are beginning, and where storms are tracking," Robinson explained. "Having real-time lightning information helps us determine the number of crews we need to keep on for extended shift restoration."
The DTN/Meteorlogix solution also helps with providing mutual assistance. "After a recent storm, we had a 6 a.m. call for mutual aid from another utility. I called DTN/Meteorlogix at 5:30 a.m. to find out what weather NSTAR's territory could expect," he said. "From this call, we made the decision to hold our crews until a storm passed our area, as icing conditions were possible in some locations. Thanks to the real-time weather information, we were able to send crews later that same day and ended up being the first responders to the storm."
"Another storm was forecast for our area in the next three to four days, so we made it clear before sending our crews, that we may need to call them back later in the week," said Robinson. "DTN/Meteorlogix helps in the decision-making process. Five years ago, we wouldn't have sent as many crews."
Recently, NSTAR researched current available weather solutions and decided to expand services with DTN/Meteorlogix based on how it could assist them in their dispatch centers. Specifically they liked the ease of use, interactivity with the meteorologists, and the real-time information.