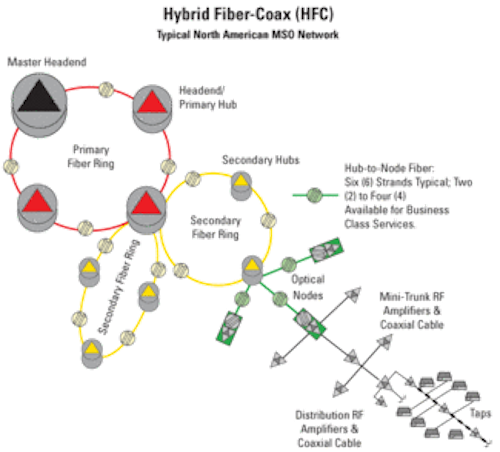 By Michael J. Hartmann
Best Practices for Fiber Optic Gigabit Ethernet Commercial Service Over Existing HFC Infrastructure
Business class commercial services represent more than $130 billion in new business opportunity for cable MSOs willing to take on the entrenched incumbents. With about one quarter of this market consisting of commercial data services, and more than half of this still dominated by T1 services, the small to mid size enterprise (SME) segment is ripe for a wholesale transition to IP-based, gigabit ethernet MPLS service, provided by MSOs. Not far behind stands the exploding need for wireless (cell tower) backhaul.
Once MSOs have upgraded their Networks, modernized their operations and raised customer service standards, what more can be done? Single fiber, full duplex, CWDM (SFC) gigabit ethernet SFP transceivers, optical multiplexers-demultiplexers and gigabit ethernet switch CPE change the rules in a way that offers MSOs an "unfair", and sustainable, advantage over legacy Competition.
SFC optimizes the Business Access portion of the HFC cable plant and makes possible the competitive entry of MSOs into new commercial direct access and backhaul applications.
Hybrid Fiber Coax Network Overview
Hybrid Fiber Coax Cable Plant Architecture
The cable network was originally designed for the sole purpose of providing video for residential applications. Fiber optics was first used for "super-trunking" connections from the primary headend to the secondary headends. Once fiber optics was proven by these early applications, its value in eliminating RF amplifiers by extending fiber optic links further out into the network was recognized. The hybrid fiber-coax network was born with optical fiber running from the hub out to a node deep into the network. From the node, coax cable completed the link to the residence.
Since many residential connections could be made with just a single fiber pair, the HFC Network was built "fiber deep" but not necessarily "fiber rich." The typical hub to node trunk contained 6 to 8 fibers, with 2 dedicated to two-way video service, 2 reserved for new services or "splitting" the node (a method of reducing the number of households per node) and 2 to 4 fibers reserved as "spares".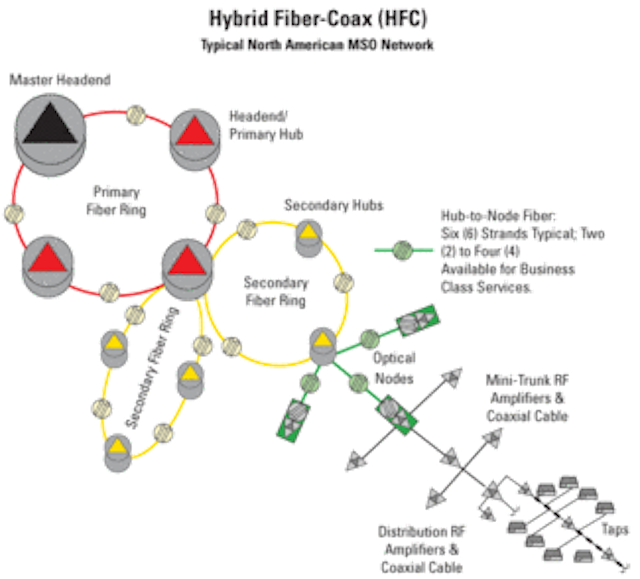 Click here to enlarge image
The HFC network brings optical fiber into near proximity to upwards of 80 percent of the prospective small and mid size enterprises which constitute the "heart" of the available target commercial market for the cable MSOs (SMEs). With prospective SME customers willing to consider the "local" MSO a suitable service provider for their communications needs, the cable MSOs need to find a way to make commercial services available at a competitive price.
With some (but not much) spare optical fiber in the hub to node trunks, MSOs could add business class services using these fibers, running fiber optic trunks into commercial business parks adjoining an already-served residential community, for example. While optical fiber could support high speed services, the number of commercial customers is limited by the scarcity of optical fibers in the hub to node trunks. Only the largest of SMEs are worth the installation of new fiber optic trunks (estimated at $20,000 per mile).
Single Fiber CWDM (SFC) – The Solution to the Looming Fiber Starvation Crisis
Technology Overview: Access "Edge" Network Choices
Until recently, there have been only three practical approaches available for use in the access network. These architectures include:
Fiber Home Run - Longest link distances, high bandwidth, but high fiber costs and poor scalability.
PON - Passive Optical Network - Lowest fiber count, totally passive but shared bandwidth, based upon telco innovations: BPON (FiOS); EPON (Ethernet); GPON (Gigabit).
CWDM - Efficient use of node fiber, long link distance, high bandwidth, totally passive and scalable.
Since Fiber Home Run requires the installation of new hub-to-node fiber at upwards of $20,000 per mile, it is impractical for all but the largest (>500 employees) enterprises. PON is finding good success in telco "triple play" FTTH initiatives, like Verizon's FiOS, but the requirement of shared bandwidth could be troublesome for scalability in some commercial deployments. CWDM provides an efficient implementation for high bandwidth applications which supports long link distances and is scalable. Application of CWDM in an HFC network, for commercial applications, is a cable industry innovation. At first glance, CWDM seems an excellent choice.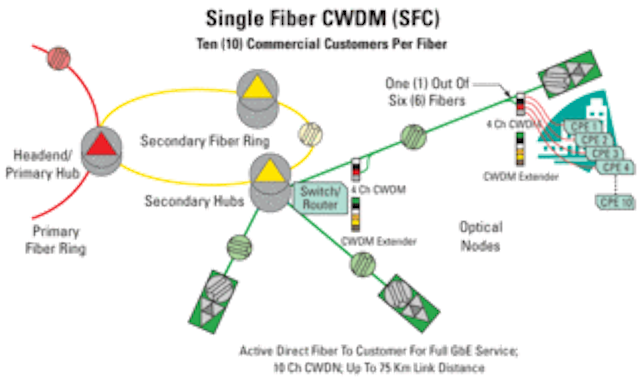 Click here to enlarge image
But there is a better CWDM. Single Fiber, Full Duplex, CWDM (SFC).
Business Class Access with Single Fiber, Full Duplex, CWDM (SFC)
What if you could cut consumption of optical fibers in half, cut the number of passive mux/Dmux's in half, cut the number of splices in half, reduce the number of connectors needed by two-thirds, and improve the MTTF of the "Edge" access network by 100 percent? Well you can. Single fiber, full duplex, CWDM brings these benefits.
So, how does this work? Since SFC utilizes only a single wavelength per channel, only one version of each passive mux/Dmux is necessary. By eliminating optical cross-talk in the SFC transceivers and designing for the additional loss incurred by full duplex operation, only a single hub-to-node optical fiber is needed for up to ten channels (or customers). Since there is only a single fiber to splice into, the number of splices required is cut in half and as few as one-third the usual number of connectors are required.
SFC offers the same benefits of CWDM, but with the additional simplicity and cost advantage that elimination of the second optical fiber provides. The topology becomes very straightforward, allowing the use of color-coding to reduce the complexity of installation, maintenance and eliminate technician errors. With the incorporation of available specialized, but inexpensive, hand-held equipment, management software and Layer 2 GbE switches, business class customer links may be provisioned and troubleshot remotely, eliminating most truck rolls.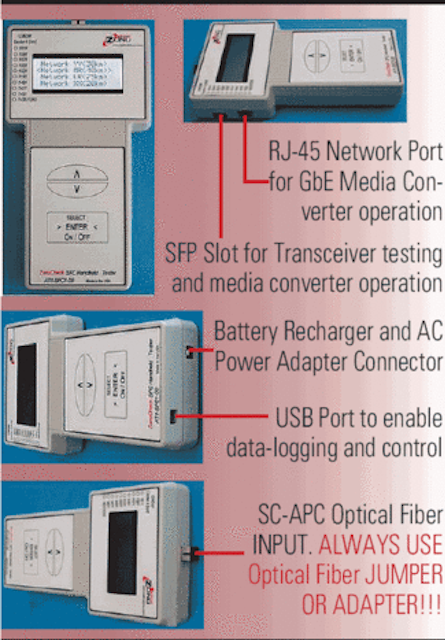 Click here to enlarge image
Single fiber, full duplex, CWDM (SFC) offers an immediate and efficient way to rapidly deploy high speed, standards-based (GbE or SONET OC-12/48), business class connections utilizing the existing hardware (any networking gear that deploys SFP interfaces) and current HFC network infrastructure, with little modification. Commercial customers (typically the small to mid size enterprises), and the revenue streams they represent, may be captured quickly, even during the build-out of the much more complicated and expensive DWDM core network.
Benefits
SFC is compatible with existing HFC networks, is as secure as any fiber optic system and can support robust "all-passive" redundant links. SFC technology minimizes overall material costs since only half the optical fibers, half the splices, half the connectors and half the passives are required, compared to competing CWDM solutions. CWDM is universally recognized as among the most cost-effective of optical network solutions.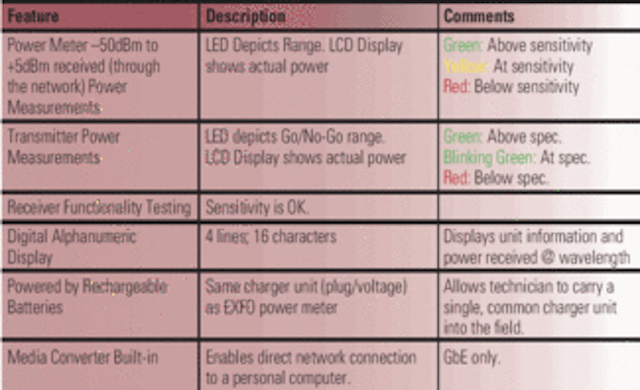 Click here to enlarge image
Since only one wavelength on one fiber is needed to support each GbE (or OC-12/48) customer, the provisioning can be made very simple. Only one type of each component is required by SFC and installation and maintenance procedures are as straightforward as matching color codes from the switch and optical mux at the hub, through the remote optical mux at the node, to the CPE at the customer site.
Competitive Analysis
Because fewer components are used throughout the network, the MTTF for the plant is inherently higher (twice), and the FIT rate is inherently lower (half), than that of competing standard two fiber or two wavelength CWDM systems. SFC delivers a greater number of GbE streams per fiber than any other CWDM solution. CWDM is universally considered among the most cost-effective of optical network designs. The technology underpinning SFC is not limited to CWDM and, in fact, could eventually be deployed as part of the new DWDM core network architecture, essentially "supercharging" the growth capacity of the network.
At the system level, SFC beats traditional CWDM every time based on traffic per fiber, and when reliability (MTTF or FIT) is considered, it is not even close. Overall, material costs are HALF that of competing CWDM systems: half the optical fiber, half the splices, half the connectors and half the passives. Due to its single wavelength per channel nature, SFC allows reduced inventory costs with half the SKUs compared to traditional CWDM systems.
Overall, how does SFC compare to the other architectures, when it comes to what is most important to MSOs?
SFC is the clear winner.
Business Class SFC "Edge" Access Network Architecture
We see how SFC holds significant relative advantage compared to the alternative access technologies. Now consider in detail the benefits that SFC offers the MSO:
Half the Fiber - SFC only requires a single fiber to complete a full gigabit ethernet link at distances up to 75 Km, or so. The transceivers are available in the industry standard SFP configuration and fit into the GbE ports of any OEM's switch/router. By requiring only one fiber per link, SFC essentially offers 100 percent fiber recovery potential for the MSO deploying business class service.
Half the Passives - Since the optical transmission consists of only one wavelength per channel, there is need for only one version of each passive component, like the optical mux/Dmux. This reduces SKUs and leads to simplified maintenance and inventory management, resulting in lower costs for the MSO.
Half the Splices - With only a single fiber to splice into, the total number of splices is cut in half for SFC. At over $50 per splice labor cost, the cost savings over multiple commercial installations can become quite significant.
Half the Connectors - Actually, the number of connectors required by SFC might be reduced to as little as one-third those required for two-fiber CWDM systems. Similar to splices, there are both savings in labor and material for connectors.
Half the FITs - Because the number of components required in the cable plant for SFC is reduced by half, the MTTF is improved 100 percent, resulting in half the FITs (Failures in Time) compared to two-fiber, or two wavelength, CWDM systems.
Half the Cost - Consuming half the material, requiring half the labor and failing half as often, SFC "Edge" access networks offer the MSO an enduring cost advantage over its rivals, which translates into a superior return on investment (ROI) for the MSO and its investors.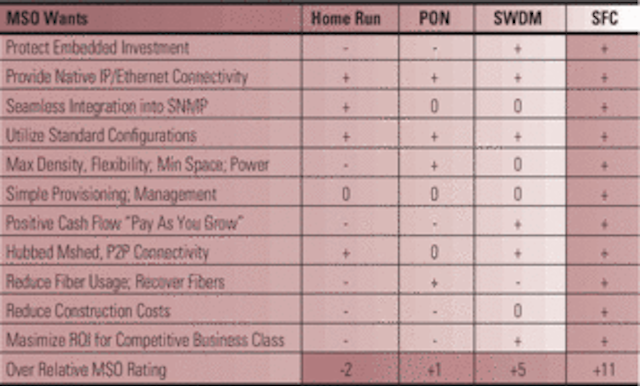 Relative Strengths of "Edge" Access Network Technologies
Click here to enlarge image
null
Opportunities for SFC Optimized Business Class "Edge" Access
Business Class Emerging Service Opportunities
Of the many opportunities in the commercial services marketplace for MSOs, two stand out as excellent fits for deployment of SFC in the access network:
Wireless (Cell Tower) Backhaul
Historically, mobile telephone, and wireless towers have been connected to the Public Switched Telephone Network (PSTN) by leased T1 lines or microwave links. As 3G wireless systems roll out, the bandwidth requirements for these "backhaul" links are growing dramatically. Mobile service providers are seeking broadband connections to handle this increased traffic, at the same time that they continue their migration to all-IP based, ethernet networks. Virtually every existing, and planned, cell tower location is within easy access of an existing MSO network. SFC has the capability to support any envisioned SONET signal rate, as well as, gigabit ethernet, over a single fiber connection, providing a clear, cost-effective upgrade path for wireless service providers via the MSO backhaul networks.
Direct Business Class Commercial GbE Service
With barely one in 10 businesses, most among the largest of enterprises, now connected with fiber optics, the growth potential for business class broadband is enormous. With the small to mid size enterprises (SMEs) segment virtually fiber-free, the revenue potential this represents to the aggressive MSO is virtually unlimited. A major MSO has been actively pursuing the SME segment, based exclusively on an SFC "Edge" access network strategy, with great success for better than three years now. As IP-based MPLS systems grow in popularity, the smooth upgrade path represented by SFC, assures that MSOs will be able to support business class customer demands, being able to efficiently provision new services well into the future.
Conclusion
Business class services account for more that $130 billion in revenue opportunities to the MSO community in 2008. The MSOs' legacy HFC networks provide an excellent platform from which to provision fiber optic broadband services to the SME segment, poised to become a major consumer of these services.
Once MSO core networks are upgraded to "converged", flexible, multiple service networks, the only remaining area for optimization is in the "Edge" access network. SFC is the ultimate form of the CWDM "Edge" access network, requiring only a single fiber for full duplex transmission of up to 10 GbE channels, suitable to provision 10 BCS customers.
With HFC fiber scarce, SFC (maybe the "Sixth Great Cable Innovation") is the only way for MSOs to fully exploit their investment in the HFC cable plant, by tapping the MSO 'hidden asset' of dark fibers present in the thousands of already existing hub to node trunks.
Acronym

SFC: Single Fiber, Full Duplex, CWDM
Abbreviated References

(Search SCTE InfoScope® for more information.)
Heavy Reading, "Cable vs. Telcos: The Battle for the Enterprise Market", Feb. 2006.

SCTE Business Services Symposium - Oct 2007 Case Study, Eli Baruch, ARRIS.

SCTE 2004 Conference on Emerging Technologies, "Progress in Incrementally Moving Fiber Deeper", Jim Farmer, Wave7 Optics.

Ciena White Paper, WP047 9.2007, "OTN Outperforms SONET/SDH".

"A Tapped Fiber Architecture and Fiber Based Services", Mark Vogel, CommScope, Hickory, NC.

"Solutions for Advanced Access Networks", William T. Sawyer, Corning Cable Systems.

"Service Awareness and Control Plane Management, etc.", SCTE Business Services Symposium, Atlanta, GA, Oct 2007, Alacatel-Lucent.

"Policy Based Resource Management for On-Demand IP Services", SCTE Network Management Symposium – March 9, 2006.

"Service Assurance Solutions for MSOs", James Lochran, CA, Portsmouth, NH.

"Core Networks Enabling Commercial Services", John Dickinson, Bright House Networks, St. Petersburg, FL.

"Real World High Speed Data Services to Commercial Customers over MSO Networks", James C. Rice, Charter Communications, St. Louis, MO.
Appendix:

The Great Cable Innovations of the last Forty Years:
Remote Access of Set-Top Boxes;
Two-Way Communications;
Fiber Optics (HFC);
MPEG Digital
Broadband

According to SCTE Cable-Tec Expo 2008 Program Committee Chairman, Marwan Fawaz, CTO and Executive VP, Charter Communications. Paraphrased from remarks at the Opening General Session, Wed, 25 Jun 2008, Philadelphia, PA.