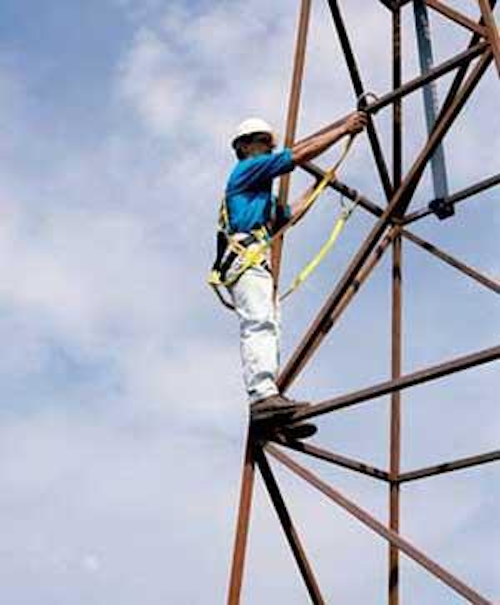 By Jim Hutter
For many utilities professionals, fall protection equipment is a necessity. But without a fall protection and rescue program behind the equipment, it's unlikely that every base has been covered, from comprehensive training to identification of fall hazards and how to control them. Guidelines that identify important duties and who is to perform them may be missing, and what to do in the event of a fall may be a thought that crosses one's mind only after such an event occurs.
For these reasons, a fall protection and rescue plan should be in place whenever one or more people are routinely exposed to fall hazards. To be compliant with ANSI Z359.2, "Minimum Requirements for a Comprehensive Managed Fall Protection Program," a written fall protection program must be in place. Developing and implementing a fall protection and rescue program is not as difficult as it sounds, and if it can potentially save lives; there's no excuse not to have one.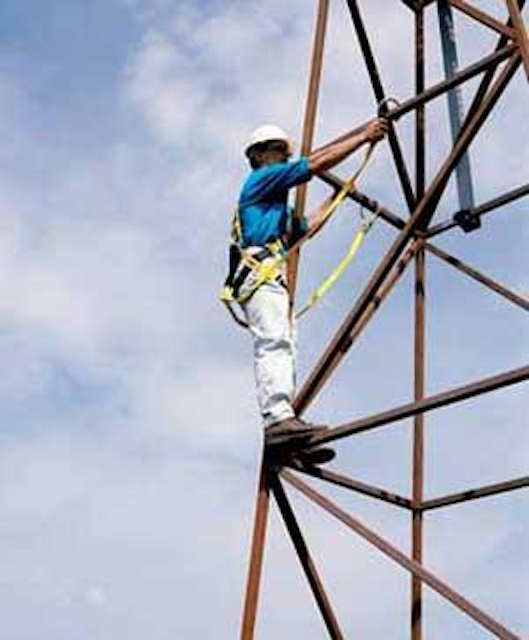 Click here to enlarge image
null
Initial Steps
The person in charge of the development, implementation and monitoring of the fall protection and rescue program is defined, in ANSI Z359.2, as the program administrator. His or her responsibilities include providing guidance to all individuals and departments affected by the fall protection program, providing training programs, participating in accident investigations and evaluating the effectiveness of the plan.
The program administrator's first step in developing a fall protection and rescue program is to define the scope of the program. This means defining who the program applies to, locations the policy will be in force and the date the policy enters into force. This also includes assigning all duties and responsibilities, including qualified person, competent person and authorized person.
Click here to enlarge image
The qualified person's main responsibilities include supervising the design, selection, installation and inspection of certified anchorages and horizontal lifelines and participating in accident investigations.
The competent person is the day-to-day supervisor, ensuring that all personnel required to work at heights are trained and following the proper fall protection procedures. He or she conducts the fall hazard survey (see below for details) and identifies new and existing fall hazards as work progresses and how to protect employees exposed to each hazard. The competent person ensures a rescue plan is in place for a fallen worker, participates in accident investigations, inspects equipment and removes from service damaged or otherwise unusable equipment.
The program administrator may serve as the qualified or competent person.
The authorized person is the worker who uses fall protection equipment on a regular basis to complete his or her assigned duties. The authorized person should follow the procedures as laid out in the fall protection plan, bring any potential fall hazards to the attention of the competent person, and properly inspect, use, maintain and store the equipment he or she has been assigned.
Fall Hazard Survey and Hazard Control
Utilities professionals can be exposed to falls when they climb towers or poles, access areas at height from a bucket truck or aerial lift, are lowered into a confined space, or during general maintenance work at a plant or facility. With the number and variety of fall hazards that may be present, it's important to perform a fall hazard survey. During the hazard analysis, the competent person identifies all potential fall hazards and notes the characteristics of each. These characteristics include location, type of hazard, sketch of the hazard, how often workers are exposed to the hazard, duration of exposure, height of a potential fall, control method (see below), fall protection and rescue equipment to be used at the hazard (if applicable), and environmental conditions–such as chemicals, flames, sharp or abrasive surfaces, etc.–that could affect selection of appropriate fall protection equipment.
Following the identification of each fall hazard, the competent person decides how the hazard will be controlled. To determine this, the competent person follows the fall protection hierarchy:
Engineer out the hazard - this is always the preferred method of hazard control.
Change work procedures so that workers are not exposed to the hazard.
Install passive fall protection systems such as guardrails, handrails and covers for floor openings or edges.
Utilize fall restraint systems that prevent the worker's center of gravity from reaching the fall hazard.
Utilize fall arrest systems that reduce the forces of a fall.
Click here to enlarge image
Within the utility industry, many tasks need to be performed at height on existing structures. Transmission lines are a prominent example: If the structure is already in place, it may be impossible to engineer out the fall hazard or for workers to avoid being exposed to the hazard, and neither passive fall protection nor fall restraint protection may be options (unless the worker will be accessing the lines from a bucket truck or other lift). This leaves fall arrest protection as the only viable option. Three components are required for a complete fall arrest system: anchorage, connector and body support.
Once the appropriate equipment for each hazard has been decided upon, a rescue plan must also be established. The rescue plan details how a person will be brought to safety if he or she falls and who will perform the rescue. Many companies rely solely on emergency services to perform this task, but this is not enough. The fallen worker may have suffered an injury that caused the fall or occurred during the course of the fall, which necessitates timely rescue. Furthermore, a worker hanging in a harness may suffer from suspension trauma, a condition in which lack of motion and constricted veins may cause blood to pool. Suspension trauma does not always result in long-term injuries, but the possibility demands prompt response. OSHA regulations state that medical aid must be provided within four minutes, a timeframe that emergency services cannot guarantee assistance within, so it's important for every company to have personnel trained in rescue procedures.
Fortunately, in 90 percent of rescue situations, the victim will be able to climb or pull himself or herself to safety. Furthermore, other tools and equipment already in use on the work site, such as aerial lifts and hoist lines, can be used to perform rescues. If neither of these are possibilities, a pre-engineered rope system, requiring virtually no preparation prior to use, is a simple and safe option for rescue.
Training
Once the fall hazard survey is complete and each hazard has been analyzed and controlled, workers must be trained in fall protection and rescue procedures. Training should consist of a mix of classroom and hands-on instruction, including how to recognize fall hazards, how to eliminate or control fall hazards, applicable regulations including OSHA and ANSI and the worker's responsibilities under those standards, how to use written fall protection and rescue procedures, and how to select, inspect, use, store and maintain fall protection and rescue equipment. After initial training, refresher courses should be conducted at least every two years as well as whenever new equipment or procedures are introduced or a new hazard is identified.
Implementation
At this stage, all elements are in place, the program has been introduced, and workers have been trained and are following the procedures as outlined in the plan. The program administrator should ensure that the program is operating as intended and that all responsibilities are being carried out. Of particular importance is the ongoing inspection and maintenance of fall protection and rescue equipment. Daily as well as more rigorous inspections on intervals determined by the equipment manufacturer will ensure that equipment is safe to use.
If a fall or near-miss occurs, all parties involved should participate in an incident investigation, the results of which should be recorded and kept on file. Investigations will help determine if the fall protection and rescue program has established the appropriate control method for a fall hazard, if the training is adequate, how the rescue could be conducted more efficiently, and what improvements are needed to ensure that such an incident doesn't occur again. The program administrator should audit and revise the plan when a new fall hazard is identified, when an existing hazard is modified or when an investigation results in a recommendation for improvement. A copy of the plan should be kept at every location where an active fall protection system is in use.
---
About the Author:
Jim Hutter is a senior training specialist with Capital Safety, Red Wing, Minn., which designs and manufactures the DBI-SALA and PROTECTA brands of height safety and fall protection equipment.