Utility Products Conference & Expo 2009: Product Preview
The 2009 8x8 AVENGER 750 EFI is a lightweight 8x8 that is driven by a powerful 31hp 748cc electronic fuel-injected Kohler LH 775 engine.
Jan 1st, 2009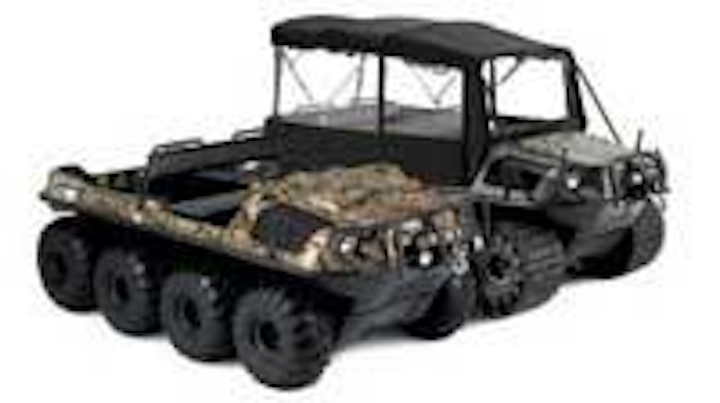 2009 ARGO 8x8 AVENGER 750 EFI for Utilities
The 2009 8x8 AVENGER 750 EFI is a lightweight 8x8 that is driven by a powerful 31hp 748cc electronic fuel-injected Kohler LH 775 engine.
All 2009 models come with a new LCD Digital Gauge Cluster, and include a volt meter, a low-oil pressure light and a parking brake reminder light as well as engine coolant temperature and check engine lights.
Additional features include a Premium Padded Bench Seat, a Cool Air Intake Screen with hinged access door, as well as Tie-down Brackets.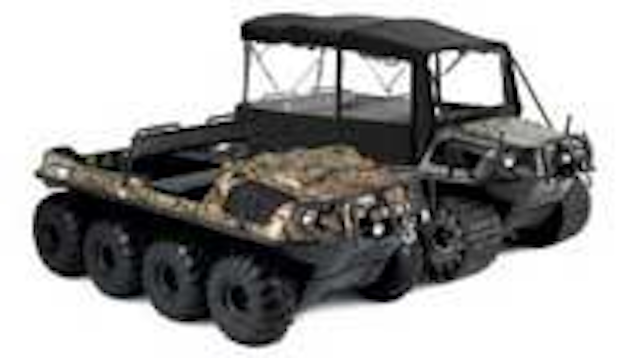 Click here to enlarge image
New options for 2009 include a 3000 lb WARN Winch with rear receiver option, and a new Brush Guard with mounting tabs for the optional integrated fog lights for increased visibility.
The 2009 8x8 Avenger 750 EFI's low emission rate meets both EPA and CARB standards. Its technological advances include an effective throttle response for smooth acceleration, improved fuel economy, reliable cold weather starting, and excellent performance in high altitudes.
The 8x8 ARGO features 25" Rawhide III tires, hydraulic vented disk brakes, an emergency/parking brake, as well as excellent approach and departure angles allowing easy travel over difficult obstacles. The ARGO 8x8 Avenger is available with an optional 3.3 high ratio transmission for optimum performance with rubber tracks, it seats up to six persons on land, has a load capacity of 1150 lbs, and can tow 1800 lbs.
Booth #415
Ontario Drive & Gear
CIRCLE 108 ON READER SERVICE CARD
---

FaultMaster Ground Fault Locator
This instrument detects "ground faults" in direct buried cables when insulation damage causes a "leak" to ground, deteriorating their service. A transmitter forces a signal into the cable, and the "A-frame" is used to walk alongside the cable until there is an indication of being on top of the fault, shown on the instrument screen. The A-frame is lightweight, and very easy to use. The transmitter uses rechargeable batteries, and the A-frame uses 4 AA batteries.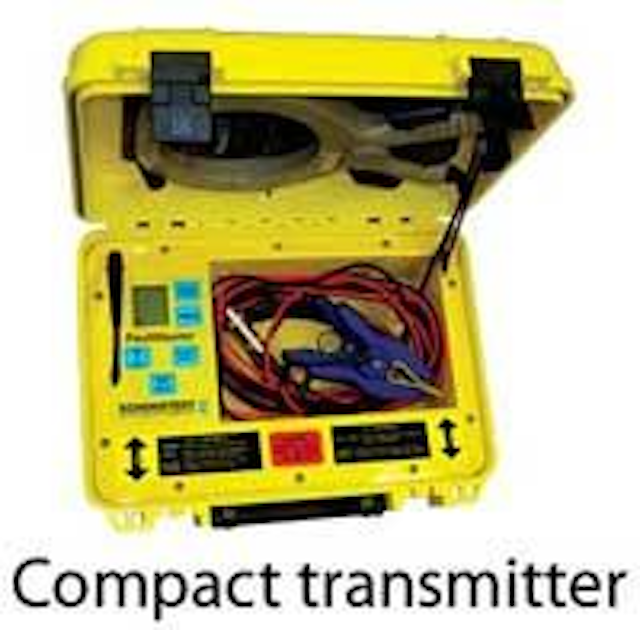 Click here to enlarge image
Booth #112
Schonstedt Instrument Company
CIRCLE 111 ON READER SERVICE CARD
---

The HERCULOCK HER-1-B
Hercules Industries would like to introduce the HERCULOCK HER-1-B one-time use padlock seal. Just slide the base into the shackle at the desired length and with a quick twist of a wrench the set screw head shears off and is embedded into the shackle and the seal is secured. When you want to get it off just cut it off. It offers a simple and easy way to secure padmounts and other lower security access points. The shackle and base is made of aluminum for a rust proof construction. The shackle diameter is 5/64", perfect for padmount transformers. They are very cost effective and also work in a pinch as a backup lock. They are in stock and ready to ship out. Hercules also manufactures a complete line of solid brass constructed padlocks. They can key their locks to work with your existing key that your employees already are using.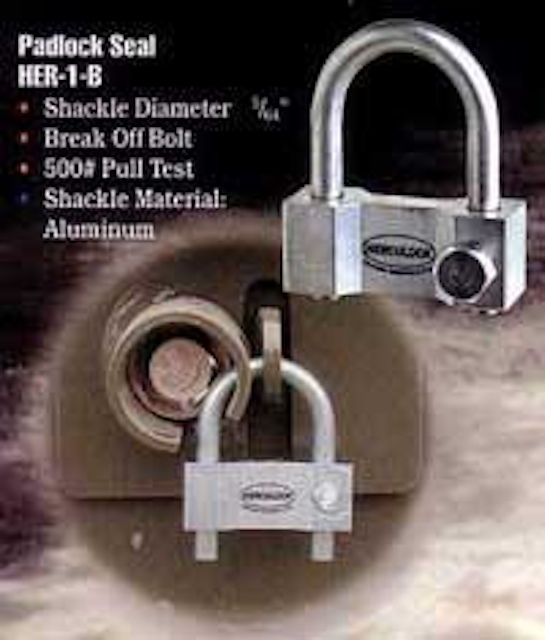 Click here to enlarge image
Booth #304
Hercules Industries
CIRCLE 109 ON READER SERVICE CARD
---

New Robotool Impact Sockets with Life Time Warranties
Utility Division, Aircraft Dynamics Corporation, introduces its new Robotool Line of Impact Sockets and Socket Sets. Sockets are deep well (some are even Double Duty–two sizes in single socket), black oxide coated, and utilize proprietary impact quality steel and machining process. All sockets come with LIFE TIME WARRANTIES!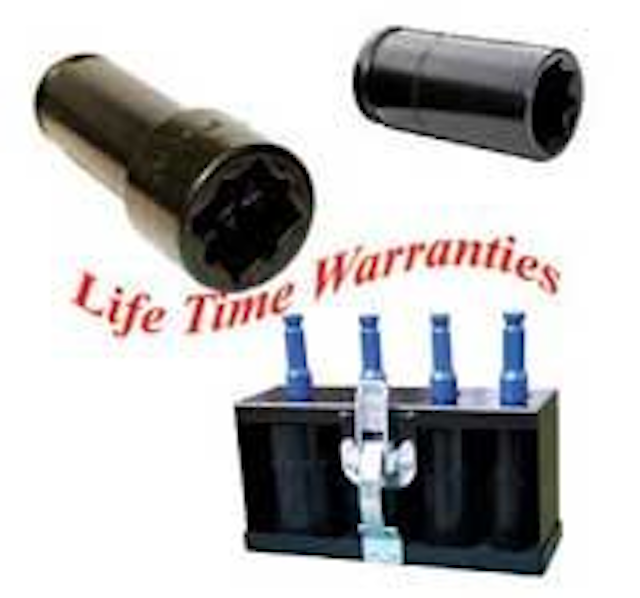 Click here to enlarge image
Booth #317
Utility Division - Aircraft Dynamics Corporation
CIRCLE 110 ON READER SERVICE CARD
---

High Force Cable Pulling Ropes
Pelican Rope Works, an ISO-9001:2000 certified manufacturer of quality braided ropes, offers a wide selection of High Force CABLE PULLING ROPE. Cable pulling ropes are available in nine different diameters with tensile strengths ranging from 2,600 lbs. to 50,000 lbs.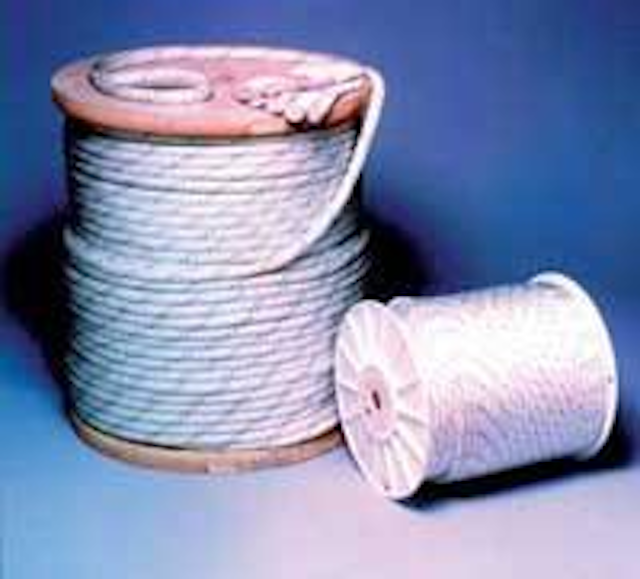 Click here to enlarge image
Using a composite of first quality nylon and polyester fibers, the double-braided ropes provide even balance, shock absorption, great strength and excellent resistance to abrasion and UV. 12-strand single-braid ropes are made with Technora (aramid fiber). Technora is an exceptionally strong product with almost no stretch and good abrasion resistance. A 3/8" diameter Technora single braid pulling rope can replace a 5/8" diameter double-braid composite rope with still greater breaking strength. Additionally, 3/8" rope is much lighter than 5/8" and it is ideal for small winches.
All pulling lines include professionally hand-spliced eyes with chafe guards at both ends. Urethane coating for extra abrasion resistance is available. Standard put-ups are 300', 600' and 1,200' reels. Special longer lengths can be made to order. Ropes for Stringing Lines and Boom Truck Winch Lines are also available as shown.
Booth #115
Pelican Rope Works
CIRCLE 112 ON READER SERVICE CARD
---

ECO-EZ558 ROBO*CRIMP
The ECO-EZ558 Streamline compression tool is designed to crimp commonly used service entrance connectors including lugs, splices, H-taps and C-taps. It has a powerful 6-ton output utilizing the same compression head as the REC-558 tool. It accepts both "W" and "O" type dies, with a "D3" standard nest die included.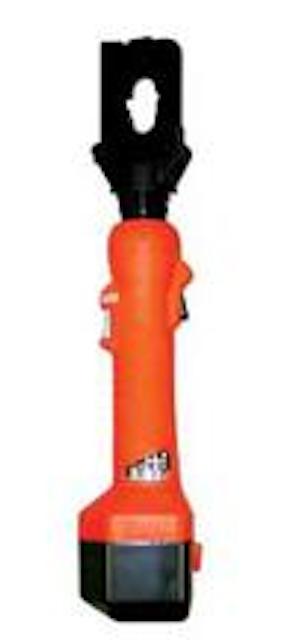 Click here to enlarge image
The NEW ECO-EZ558 also accepts the optional 25CAT cutter head attachment. Quick release pins allow the operator to change between compression and cutter head in one minute with no springs or pins to lose. This tool operates on the same 14.4 volt battery used in all of the Huskie Robo tools. Just like the rest of Huskie's battery tools, energized lines will not effect the operation or performance of the tool.
The NEW ECO-EZ558 Streamline tool carries a 3-year warranty on the tool and a 5-year warranty on the batteries.
Booth #402
Huskie Tools
CIRCLE 113 ON READER SERVICE CARD
---

Unitrex XS
Yale Cordage is pleased to introduce Unitrex XS, a durable synthetic stringing line. Unitrex XS is a similar rope to Uniline rope, a time proven performer for utility stringing operations. Unitrex XS incorporates a UHMPE (Ultra High Molecular Weight Polyethylene) core of Honeywell's Spectra fiber, supplying very high strength and very little stretch. The 5/8" Unitrex XS has a strength of 50,500 lbs. as compared with polyester at 16,000 lbs., and is more like wire rope than synthetic.

Click here to enlarge image
Unitrex XS utilizes a patented rubber layer to keep moisture from the core supplying excellent dielectric strength and rope longevity. The urethane impregnated outer polyester jacket is braided very tightly for wear resistance while the Maxijacket urethane can be specified in contrasting colors for phase identification.
See us at booth number 418 at the show for your sample of Unitrex XS, data sheet and discuss your operation with rope specialists.
Booth #418
Yale Cordage
CIRCLE 114 ON READER SERVICE CARD
---

Duct Hunter Traceable Rodders
Jameson customers have depended on the Buddy System of fiberglass conduit rodders for nearly 30 years. In response to numerous requests for durable and competitively priced traceable rodders, Jameson introduces the Duct Hunter line. Utilizing the robust frame and reel construction of the Buddy System, our Duct Hunter traceable rodders incorporate a copper trace wire in the rod to trace or map underground conduit or pipe without digging or trenching. Available in lengths of 300' to 1,000', the Duct Hunter traces to depths up to 10'.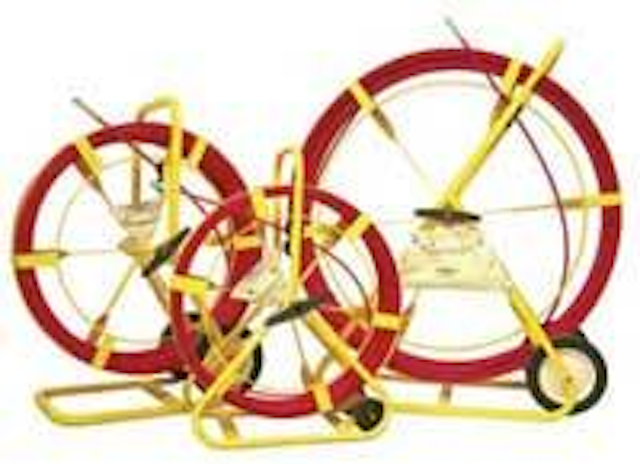 Click here to enlarge image
null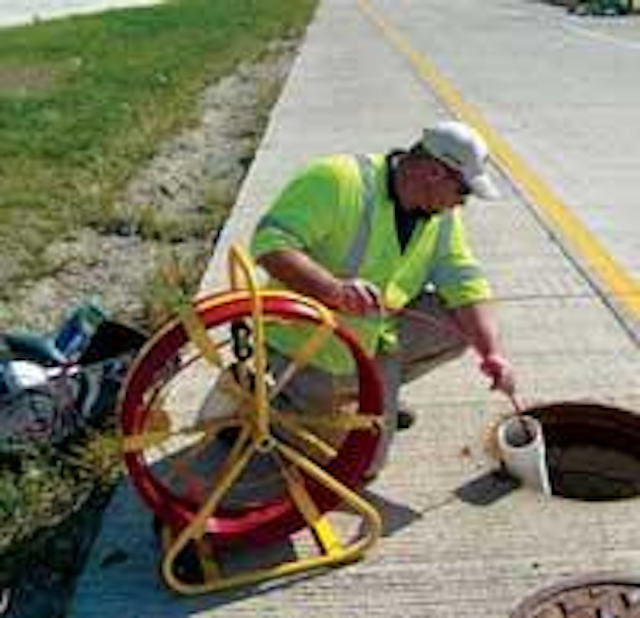 Click here to enlarge image
Booth #226
Jameson
CIRCLE 115 ON READER SERVICE CARD
---

Mobile Desk Fuzion
Looking for a rugged laptop mount with total security? Consider the new Fuzion from MobileDesk.com. The Fuzion features a new rugged design with a superior "Safe and Secure locking top". The Fuzion secures your laptop with a unique locking system and steel reinforced side brackets. Other features include: shock control, locking pedestal, heavy duty clevis, I-beam constructed double articulating arm and a unique brace system that keeps our product stable from top to bottom.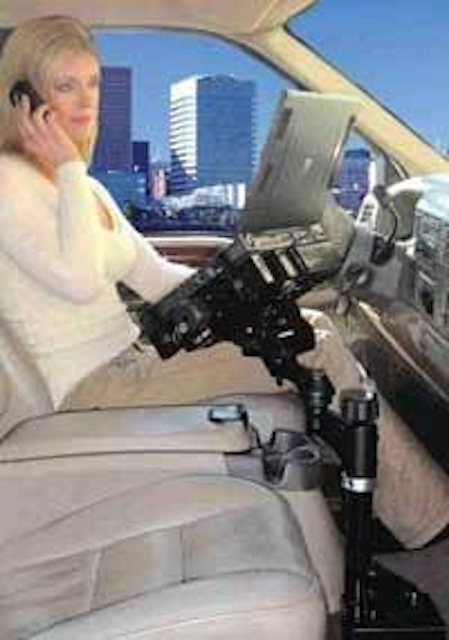 Click here to enlarge image
Booth #201
SVP Manufacturing/Mobile Desk East
CIRCLE 116 ON READER SERVICE CARD
---

ELECTRAK Is the Answer to Primary Metering Cabinet Access
The new ELECTRAK primary metering cabinet from Brooks Utility Products Group offers utility workers an innovative, safe and cost-effective solution to field replacement of defective transformers.
The key to ELECTRAK's patent-pending design is its sliding shelves on which CT / PT equipment is mounted. Workers simply pull out the shelves for access to the transformers, rather than having to climb inside the cabinet to lift the heavy transformers during a field change out. ELECTRAK is not only ergonomically friendly, but it also saves money by reducing the time for a customer outage.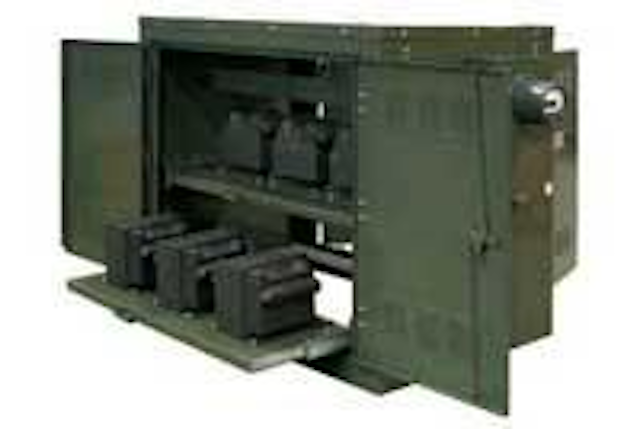 Click here to enlarge image
ELECTRAK can be customized to fit GE or ABB style transformers, and custom pre-wiring can be completed prior to delivery to the site.
Booth #200
Brooks Utility Products Group
CIRCLE 118 ON READER SERVICE CARD
---

5000-lb Anchor Point and a Manhole Barricade in a Single Unit
The Pelsue LifeGuard Rescue and Retrieval system is lightweight and more easily deployed or stored than a traditional tripod. The system is man-rated based on a proof-load of 5000 lbs, and weighs less than 75 lbs.
This lightweight system has two components. The barricade meets the requirements of OSHA for a common manhole opening and is tested and man-rated. The upper assembly includes two anchor points affording a 5000-lb proof-load for the LG5A. The LGLA system is man-rated based on an 1800-lb proof-load. It has 2 anchor points, which meets the ANSI and OSHA standards for a fall-arrest anchor when used by a competent person.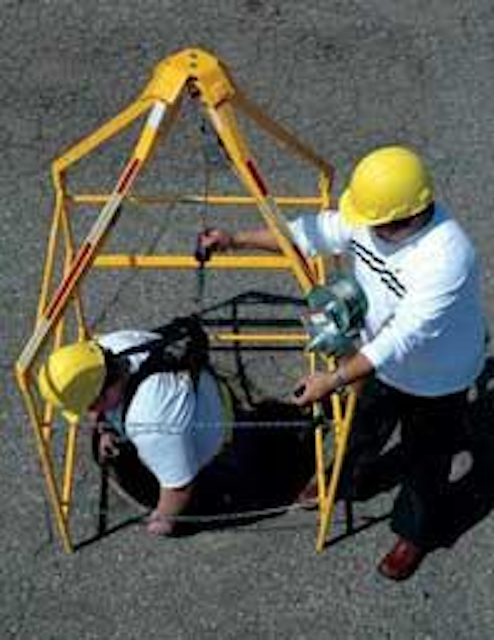 Click here to enlarge image
Both units will accommodate industry standard winches such as the Pelsue man-rated rescue and retrieval winches and self-retracting-lifeline devices.
Booth #302
Pelsue
CIRCLE 117 ON READER SERVICE CARD
---

New Versa-Tech Single-Phase Recloser
Hubbell Power Systems has introduced the Versa-Tech single-phase recloser for 15 to 27 kV applications. The patented recloser uses no oil and features a unique "hot tank" design with vacuum interrupter, drive mechanism, control and housing energized at system potential. The compact base unit weighs only 55 lb. (25 kg.). User-programmable functions include minimum trip, operations to lockout, minimum response time, rest time, cold load time, reclose time and standard time-current curves (44 available). Automatic operation is self-powered. A lockout beacon indicates when it has interrupted service. Pole/surface and crossarm mounts are available.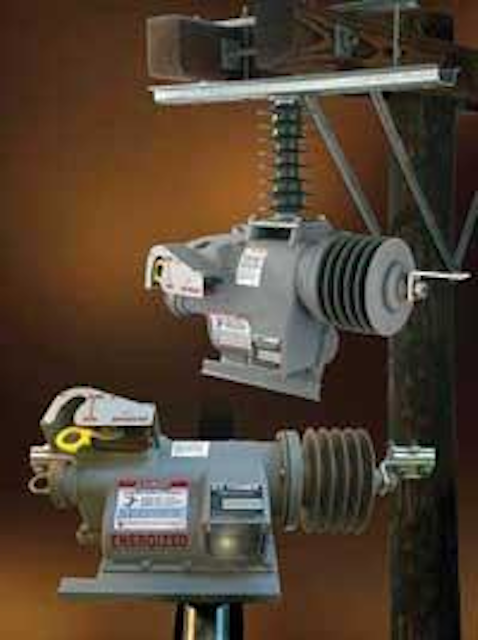 Click here to enlarge image
Booth #214
Hubbell Power Systems
CIRCLE 119 ON READER SERVICE CARD
---

FlashSentry From Brooks Utility Products Group Protects Workers From 480 Volt Arc Flash Danger
Protect utility workers from dangerous 480 volt arc flash with the FlashSentry meter socket from Brooks Utility Products Group.
FlashSentry's patent-pending Safe-T-Guard barrier isolates the 480 service voltage in a separate, sealable compartment from the 120 volt metering compartment. This can lower workers' risk of arc flash and reduce the requirement for additional flame retardant clothing, allowing utilities to adhere to OSHA standards driven by the latest NFPA 70E standards for PPE. And utilities can avoid the expense of removing 480 volt service from their meter sites.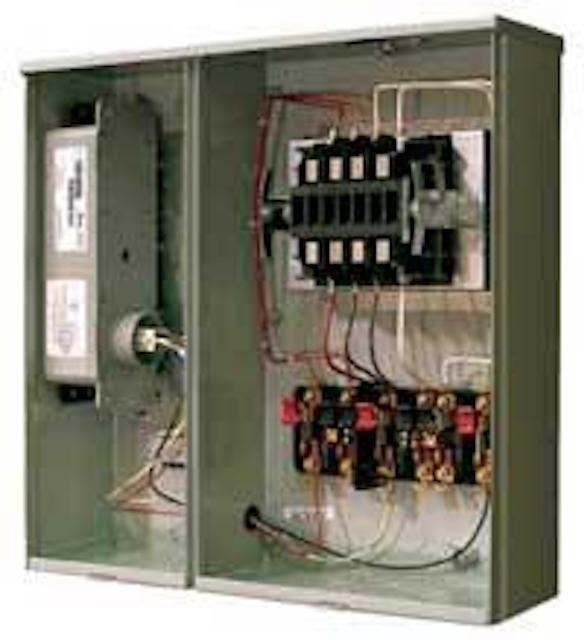 Click here to enlarge image
Brooks UPG also offers a full range of test switches, transockets, primary meter enclosures and warm up boards to supply utilities with products that provide value and innovative answers to safety-related industry issues.
Booth #200
Brooks Utility Products Group
CIRCLE 120 ON READER SERVICE CARD
---

Complete Line of Flame- and Arc-Resistant, Waterproof Outerwear
NASCO Industries, Inc. offers a complete line of flame and arc resistant, waterproof outerwear. With feature-rich designs, NASCO products are designed to perform in the tough work environments of today's gas and electric utility companies.
MP3 is the Multi-Performance Trilaminate. MP3 is a breathable, flash fire and electric arc protective Nomex outerwear system. Guaranteed to be waterproof, MP3 is the light weight, versatile protective outerwear product. The MP3 increases worker comfort while offering protection from a variety of occupational hazards associated with these applications. The first four-season product of its kind, MP3 keeps workers dry during Spring and Fall rains, keeps workers cool during the hot summer months and with an available Nomex fleece or FR Thinsulate lining, provides protection even in the cold of winter.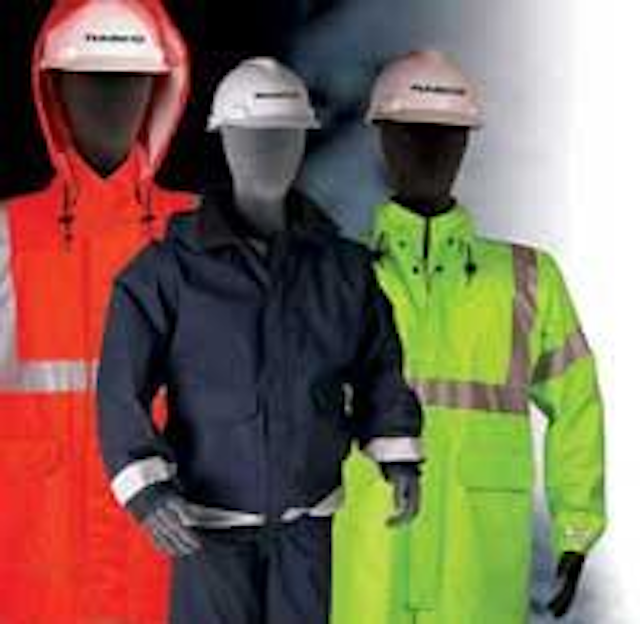 Click here to enlarge image
Work more comfortably and safely with NASCO's new Sentinel. Specifically designed for protection from exposures to electric arcs and flash fires, Sentinel keeps workers safe, dry and comfortable. Its soft, stretchable and durable material is easy to wear and has a long life cycle. Combined with CSA Z96 and ANSI 107 high visibility compliance, Sentinel provides a terrific protective outerwear solution.
ArcLite, lightweight, comfortable and ANSI 107 compliant, is the most popular foul weather product designed specifically for utility workers who may be exposed to electric arcs.
Booth #311
NASCO Industries, Inc.
CIRCLE 121 ON READER SERVICE CARD
---

New Jiffy Lock Ringless Meter Locking Device
Inner-Tite Corp. proudly introduces the New Jiffy Lock Ringless Meter Locking Device. Long recognized as a secure clamp-on ringless meter lock, the Jiffy Lock now features Inner-Tite's patented preload groove allowing for installation without a key. Additional features on the New Jiffy Lock include a heavy duty permanent sealing tab, as well as an available universal mounting clamp that easily accommodates bottom or side mount applications.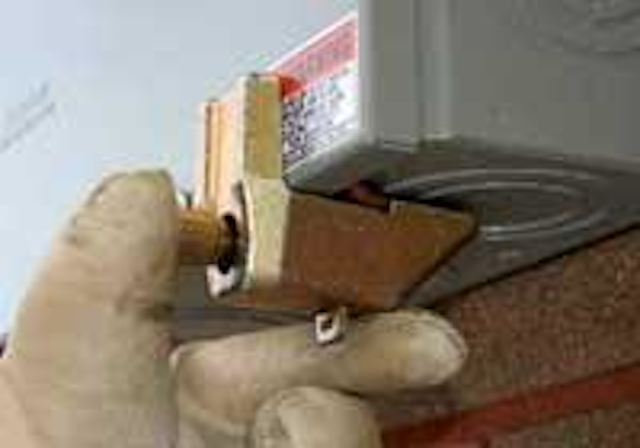 Click here to enlarge image
The New Jiffy Lock features the Inner-Tite Patented Preload Groove. Preload is now a standard feature on this product that will benefit the customer in many ways–most notable, quick keyless installation. An innovative Permanent Sealing Tab is also standard for added security. The Permanent Sealing Tab improves clamp strength and increases resistance to prying. Those who wish to carry one all-purpose product will now benefit from the available Universal Mounting Clamp, which is easily installed on the side or the bottom of the meter socket.
The improved outer body of the New Jiffy Lock features hardened ribs to resist cutting. The clamp has been fortified as well.
Booth #216
INNER-TITE Corp.
CIRCLE 122 ON READER SERVICE CARD