SeatSaver WT - Saving Seats... Saving Money
Custom-fitted and application specific, SeatSaverWT seat protectors offer unparalleled protection and comfort for light-duty to class-8 trucks and fleet vehicles.
Constructed of a heavyweight, breathable Polycotton drill fabric, SeatSaverWT seat protectors are available in three coordinating colors–Charcoal Black, Gray, and Taupe. All seams are overlapped and double-stitched for durability and strength. The material has been treated with a commercial grade, Durable Water Repellant finish to help block against most spills.
Designed to easily slip on and off in minutes without tools or hardware, SeatSaverWT seat protectors are machine washable and dryer safe. Most applications include a convenient map pocket on the back of the seat and have provisions for armrest options where applicable.
Volume discounts are available for fleets, municipalities, and other large quantity orders. Custom patterns for large volume orders are available.
Covercraft Industries, Inc.
CIRCLE 111 ON READER SERVICE CARD
---
New Energized Line Lifter Improves Equipment Utilization for Line Crews
Diversified Products introduces the ELL-161kV Energized Line Lifter, offering a safe and effective solution for power line and electric utility crews looking to optimize utilization of jobsite equipment and personnel.
Field-tested and approved by transmission and distribution maintenance professionals, the ELL-161kV will support an energized line with the same crane being used to hold other energized conductors.
The ELL-161kV has a lift capacity of 2,500 lbs, making it capable of picking up energized lines with greater spans between poles. A dual/bundle lifter is an optional feature on the ELL-161kV. Test bands, corona rings and other options are also available to meet the work practices of individual utility companies.
At 10' in length, the ELL-161kV features angular adjustments to meet the needs of various applications. The jib on the ELL-161kV is constructed of continuous roving, filament-wound fiberglass and includes an additional finish over the fiberglass gel coat for added durability. The ELL-161kV is tested to 161 kV and exceeds the applicable requirements of ANSI A92.2 and ASME B30.5.
Diversified Products
CIRCLE 112 ON READER SERVICE CARD
---
The New SideWinder Drawer Unit
A-G Body, Inc is proud to introduce the new SideWinder Drawer Unit–the drawer unit that "wraps around your body". The SideWinder Drawer Unit is built for smaller service bodies with a notch in the lower portion of the compartments. Rather than losing valuable space at the bottom of such compartments, the SideWinder design allows customers to have shallow drawers at the bottom and deeper drawers at the top with a single, solid 12 gauge side panel on the entire unit. As with all of A-G Body's Universal Drawer Units, these are built specifically for mobile applications. Limited lifetime warranty on all hardware, including drawer slides. Options for Super Duty (500 lb capacity), Heavy Duty (250 lb capacity) and Light Duty (100 lb capacity) are available. The white powdercoat finish and one-handed latching system provides a strong functionality and finish. Sized to fit each customer's needs, the new SideWinderM Drawer Unit makes the most of all available space.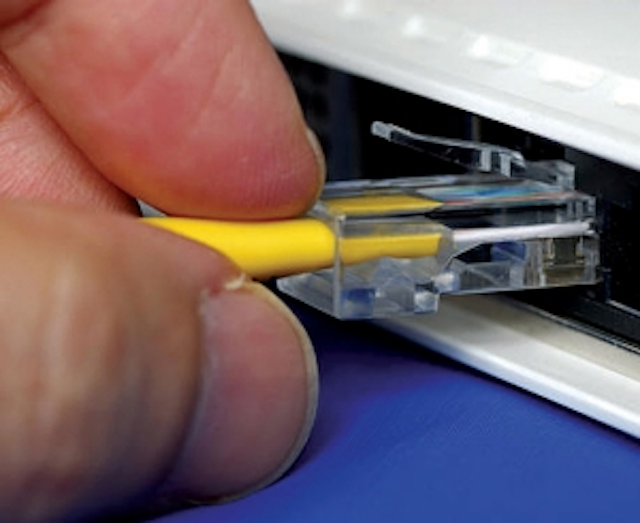 A-G Body, Inc.
CIRCLE 113 ON READER SERVICE CARD
---
EX840 CAT IV 1000A Clamp Meter and IR Thermometer
Extech Instruments announces its new EX840, the first-ever 1000A CAT IV Clamp Meter with built-in Infrared Thermometer. Ideal for industrial applications, the full-size 1000A clamp meter features a patented, integrated IR thermometer and rugged, double-molded housing.
The EX840 provides non-contact IR temperature measurements with a laser pointer, and the product's functions include AC/DC voltage, resistance, capacitance, frequency, diode, and continuity. The EX840 captures true RMS Current and Voltage measurements, and peak hold captures inrush currents and transients. The EX840 features a bright 4-digit, 4000 count backlit display and has as a 1.7" (43mm) jaw opening for conductors up to 750MCM or two 500MCM. In addition to the multimeter's user-selectable Auto Power Off feature, the EX840 also includes data hold and min/max, and autoranging with a manual range button.
The EX840 comes complete with an 8-piece professional test lead set, a 9v battery, Type K probe (-4 to 482°F/-20 to 250°C), and a belt holster.
Extech Instruments
CIRCLE 114 ON READER SERVICE CARD
Click here to view New Products: Part 2