Utilities Embrace Newer, Smarter Services for the Power Grid
Today's power grid is an aging infrastructure.
Aug 1st, 2009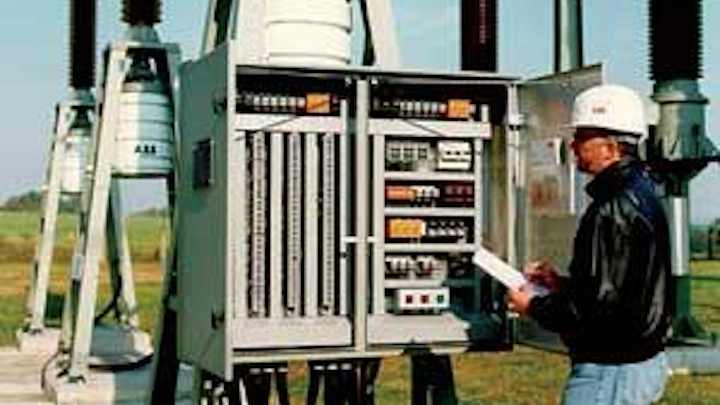 Utility Products
By Randy Schrieber
Today's power grid is an aging infrastructure. Utilities and industrial users are keenly aware of aging electrical power equipment and antiquated technology that has functioned within the grid infrastructure for decades. These issues, combined with unprecedented, growing demands for power in today's society, are forefront in the minds of power executives everywhere.
For example, switchgear and circuit breakers have been a critical part of the power grid now for decades, and in many cases have moved well beyond a reasonably expected life. Existing breaker technology is old and unreliable. Replacement parts are often difficult or impossible to locate or reproduce, and can be very costly when they are found. Some arc chutes may contain asbestos, or it may not be possible for them to be safely maintained. And many mechanisms are complicated and difficult to lubricate effectively without a comprehensive overhaul.
Click here to enlarge image
Much of the equipment in the power supply chain is designed to run for years. That's good, but the problem is that this equipment is usually only examined and replaced when there's a crisis or an equipment failure. It's a reactive mindset.
Solution Criteria
Before replacing aging equipment with newer, more robust models, it is important to understand the criteria that today's replacements for power products or systems must meet. Some of these criteria include:
Improved equipment reliability;
Quality replacement equipment and parts;
Improved safety features, compliance with the most up-to-date safety standards and greater concern for the operators' health and safety;
Reduced outage time required to execute the equipment's reliability improvement solution;
Compliance with ANSI engineering and testing standards;
Scalability to meet the growing demands for power;
Greater cost effectiveness;
Greater "intelligence" and self-healing built into the power grid (i.e., the smart grid);
Required implementation of the latest, proven new technologies;
Reduced intervals of maintenance through the use of new technology; and
More proactive, timely and personal maintenance support.
Service Provider Criteria
Another significant factor to consider is the reputation and reliability of every service provider being considered. Today's best service providers are structured to provide–and guarantee–support for their products and the customer's assets, while having a direct impact on reducing operational expenses. A service provider's portfolio should include guarantees involving technical supervision, preventative and corrective maintenance, upgrade and retrofit service, advanced electrical engineering services, service contracts, extended warranties and extensive training.
The best service providers have completed hundreds of projects every year for a variety of utility, industrial and commercial customers. These projects include comprehensive evaluations, equipment condition assessments and specialized diagnostics, along with other proven ways to keep power systems up and running at low cost.
Additionally, the top service providers have full-service shops that house millions of dollars in multi-brand legacy inventory that are ready to ship on short notice, along with thousands of original design records for these legacy brands. They also have accessible engineering, marketing, project management and field service engineer staff, along with 365-day-per-year support.
Servicing Old Mindsets
Much of today's equipment, though it has run efficiently for years, tends to be examined and replaced only after there has been an equipment failure or outage. Global engineering companies like ABB have built a strong reputation among its customers as service providers by not only building world-class, responsive service operations across its line of local business units and factories, but by actively training customers to examine their own power systems on a regular basis.
These providers help customers proactively replace aging equipment with state-of-the-art units whenever possible, before the equipment failure occurs. This often saves millions of dollars in operational expenses.
ABB's policy also requires that its service technicians and engineers go to great lengths to help customers customize their replacement power products, systems and parts, since it has been proven true that most products are not "one size fits all." The best service providers examine reliability and offer a very prescriptive program, which includes replacement, retrofit, rebuilding and maintenance tailored to the customer's installed base.
Types of Electrical Power Services Available Today
Servicing electrical power products and systems across the power generation, transmission and distribution supply chain can be a very challenging, complex and costly issue. This is particularly true today, with so much equipment in need of replacement or repair– or thorough examination– after decades of constant wear and tear.
Fortunately, the list of potential repair and engineering services available today is seemingly endless, though it varies by provider. However, some of the most valuable service capabilities offered today includes:
Engineering Studies – Power System Analysis (e.g., Load Flow Analysis, Protection Coordination, and Reliability Assessment), Thermal Loading Studies and Design Reviews, Asset Management Strategy and Planning
Project Design Activities – Substation Design/Consultation, T&D Line Design, Equipment Analysis, Project Management, Substation Construction & Retrofit, Turnkey Equipment Installation & Retrofit, Site Commissioning Services
Testing and Diagnostics – Transformer, Circuit Breaker and Protective Relaying Testing, Cable & Battery Testing, Insulating Fluid and Materials Testing, Advanced Diagnostic Testing (e.g., Phase Resolved Partial Discharge Analysis, Frequency Response Analysis, Acoustic Analysis), Thermographic Imaging
T&D Electric Equipment Service – Installation, commissioning, maintenance, remanufacturing, PCB Changeout and Disposal for T&D products such as distribution transformers, power transformers, HV circuit breakers, generator circuit breakers, ancillary substation equipment, MV & LV breakers and switchgear, capacitors, reclosers and metering
HVDC/FACTS – Spare parts and material supply, engineering and maintenance support for HVDC and FACTS
Asset Management – Life assessment programs, prioritization and tracking services, equipment data management, life extension programs, inventory management, asset recovery and mature transformer management programs
Most utilities today have experienced both subpar service with multiple delays and cost overruns and superior customer service and repair programs that are on time and on cost. One well-known utility began experiencing major problems with its 30-year-old Gas Insulated Substations (GIS), power transformers and other T&D equipment. ABB stepped in and performed a thorough, diagnostic evaluation of every transformer and transmission equipment, and proposed an overhaul and upgrade solution that was enthusiastically accepted by everyone at the utility. This overhaul and upgrade solution provided both lower costs and shorter delivery times than a replacement of the solution would have been.
What's New for 2009 and Beyond
New services continue to evolve with better technology and the advent of the smart grid. Some of these service possibilities include:
New Wireless Platforms for monitoring high-voltage breakers;
Arc flash hazards reduction services;
New safety devices, such as a new Kevlar Wrap & Strap Safety Device, representing a new level of substation safety;
New self-healing and interactive features based on new "smart grid" or "intelligent grid" technology;
Advanced Engineering Assessments and Testing;
Factory Remanufacturing of legacy products with smart grid technology;
Virtual maintenance-free medium-voltage replacement breakers with a 10-year maintenance interval, minimized lubrication requirements and 90 percent fewer parts; and
Medium-voltage and low-voltage legacy breaker refurbishments and repair for both nuclear and non-nuclear breakers, with new synergy between factory knowledge and field experience and factory-certified technicians.
This 46-year-old transformer was remanufactured and repaired by ABB for a major U.S. utility within 15 weeks using modern service technologies.
Click here to enlarge image
null
Click here to enlarge image
As in many other industries today, customer service is now a major differentiator among potential service providers, and a feature that many utility, industrial, commercial and even residential customers now demand. Competition is stiff, especially because of the rising demand for power and the ever-growing need to repair or replace older power equipment.
The expectations in the power industry for truly comprehensive service are growing rapidly. Old power equipment and old, reactive mindsets toward services are quickly making way for the next generation of intelligent, automated and truly proactive services. New electrical power services designed with the smart grid of the 21st century are already here and expanding, thus preventing tomorrow's breakdowns and outages today.
---
About the Author:
Randy Schrieber is vice president, Power Products & Power Systems Services for North America at ABB Inc., based in Raleigh, N.C.