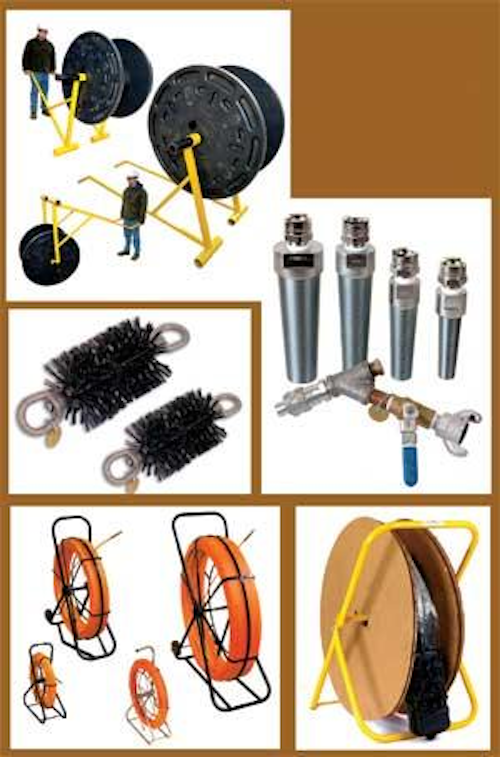 Utility Products
By Ted Clemens
General Machine Products Company, Inc. (GMP) is pleased to introduce a new breed of cable placement products. These include the Heavy Duty Stiff Spine Conduit Cleaners, the Reel Buck and Reel Caddy, the Continuous Duct Rodders and Duct and Innerduct Blowing Accessories. These products continue GMP's tradition of manufacturing excellence for the utility and telecommunications industry, which enables those industries to fulfill their mission, day in and day out.
GMP is committed to expanding research and development, investing in state-of-the-art manufacturing and providing quality assurance. Their mission is to anticipate and meet the changing needs of work crews, who need their tools to be durable, adaptable and reliable. In fact, many of GMP's products that were built in the 1950's are still in service today. The end result is products engineered to surpass industry and government standards, time and time again.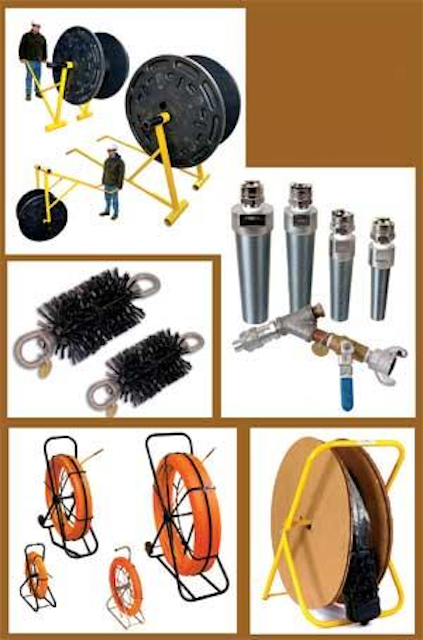 Shown are the Reel Buck [top], Heavy Duty Stiff Spine Conduit Cleaners [lower left], Duct & Innerduct Blowing Accessories [lower right], Continuous Duct Rodders [bottom left] and the Reel Caddy [bottom right] by General Machine Products Company.
Click here to enlarge image
null
Heavy Duty Stiff Spine Conduit Cleaners: Stronger Bristles Get the Job Done
GMP's Conduit Cleaners can easily remove the toughest obstructions, such as, dirt, ash, sand, oxides, and debris, from utility conduits. They are constructed with hundreds of resilient, oil-tempered spring steel bristles that can handle any cleaning job without damaging the conduit's surface. The Conduit Cleaners are offered in sizes that range from 2 to 6 inches in diameter and 4 to 5.25 inches in length. This makes them useful for all types of utility conduits. Its durable construction provides a workload capacity of up to 1,250 pounds. The Conduit Cleaners come with pulling eyes conveniently located on either end for pulling line attachment to make cleaning fast and easy, in either direction. The bristles are looped through the central mounting plate rather than just affixed, thus assuring long bristle life. They are designed for use in lead, iron and other metal utility conduits. For fiberglass or plastic utility conduit applications, there is the less abrasive Stiff Spine Conduit Brush. The durability and wide range of sizes has made the Heavy Duty Stiff Spine Conduit Cleaner very popular with utility line personnel, across the country.
Reel Buck and Reel Caddy: Maneuverability in Tight Spaces
Need to install cable in a small space? The Reel Buck and Reel Caddy will get the job done. With expanded zone restrictions and stricter right-of-way easement regulations, developers of new residential and commercial buildings are forced to build in tight lot spaces or in closer proximity to other structures. This means infrastructure utility and network interfaces can be located in hard to reach places. The Reel Buck and Reel Caddy provide one-person maneuverability of awkward utility cable reels in tight spaces easily, saving time, money and back strain.
The GMP's Reel Buck can support any utility reel up to 36 inches wide and up to 50 inches in diameter. This includes Corning's line of FlexNap cable drums. It can also handle a load capacity of up to 1,200 pounds. Its frame is constructed of durable two–weld, rectangular steel members, is designed to withstand the rigors of outdoor use and is treated to resist weather corrosion. The Reel Buck's unique and versatile design allows it to act as both a reel transporter and reel stand. To transport reels, stand the reel up on both flanges, and slide the spindle bar through the reel. Next, attach both handles so that when they are lifted, the reel becomes the "wheel" similar to a wheelbarrow. This sturdy frame allows one person to easily maneuver reels around a job site. Once the reel is in place, flip the handles over the reel so that they serve as a sturdy base to support the reel above both flat and uneven ground. This raised base allows cable to be pulled off easily and securely in one direction.
The Reel Caddy can be used to support and dispense drop cable quickly and easily. It is lightweight and folds flat for compact storage. Fabricated from durable, painted steel tubing, it will provide years of dependable service. The Reel Caddy supports reels up to 30 inches in diameter and easily accommodates Multiport-type deployments using cardboard or plastic reels. It is quick and simple to use, requiring only one hand to set up.
Continuous Duct Rodders: Handles Every Duct Work Application
Need a duct rodder? GMP's Duct Rodders are the perfect tool for underground duct work tasks such as cleaning and locating ducts, threading lines, and pulling cables. GMP offers 1/4, 3/8, and 1/2 inch thickness rodders in lengths that range from 100 to 1,200 feet, making them extremely functional. In addition to providing easy rodder pay-out, these lightweight, highly-mobile carriers utilize nylon guide bushings to reduce abrasion and wear on the rod material.
The Duct Rodders are lightweight, durable and corrosion resistant. The bright orange colored fiberglass makes them highly visible, even in the darkest work locations. Its fiberglass rods are unaffected by harsh temperature changes and water, making them reliable tools in any environment. The leading-end of each rodder comes with a tapered male-threaded head and the trailing end features a female-threaded fitting that provides for easy extension attachment. GMP also offers a broad selection of duct rodder accessories to expand on the versatility of the tool, including roller guides, swivel couplings, rod grapples and sondes.
The Duct Rodders' fiberglass rods are formulated via a unique pultrusion process that produces unidirectional glass fibers with optimal fiber density of 80 percent. The fibers are fully impregnated in resin and then bi-axially wound with hi-strength filaments before being completely embedded in the orange polypropylene thermoplastic jacket. This means that the Duct Rodders will deliver long life and excellent handling, without the inefficient characteristics associated with traditional pultrusion formulated rods.
Duct and Innerduct Blowing Accessories: Increase Cable Placement Capability and Efficiency
GMP's line of Duct and Innerduct Blowing Accessories make placing fiber optic cable into a utility duct or innerduct faster and more productive. They come in a variety of sizes that accommodate 1– to 5–inch diameter ducts. This eliminates air pressure leaks, air-flow control issues, inconsistent rope diameters, difficult equipment handling, over-crowded ducts, and other fiber optic cable installation problems.
They also include a safety-locking control valve, 3/16, 1/4 and 3/8 rope adapters, easy to use innerduct and conduit seal-offs, duct projectiles, and low-friction missile line carriers. Made from sturdy, long-lasting materials, the Duct and Innerduct Blowing Accessories will help you to maintain precise pressure control and stand up to the toughest working conditions, saving you both time and money.
---
About the Author:
Ted Clemens is GMP's Director of Sales. Clemens was originally responsible for GMP sales in the Northeastern U.S., and subsequently held the titles of Senior Sales Representative and Sales Manager. He joined GMP in 1986 after working for two years for Graybar Electric, in New York and Los Angeles. Clemens holds a BS degree in Industrial Management from Purdue University.