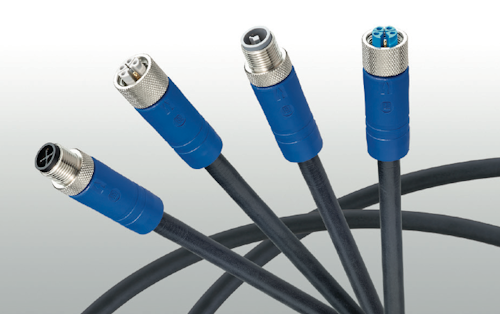 Power management: Belden Inc., a provider of signal transmission solutions for mission-critical applications, has released its latest offering from the Lumberg Automation family of M12 connectors. The M12 Power Connector is compact, efficient and offers the ability to transmit at high power levels for long periods of time.
The connector takes advantage of new technology that works very well in high temperatures, making it ideal for harsh environments. Its compact design and high power transmission make it a cost-effective solution for operations that need a reliable, flexible connector.
The M12 Power Connector is S-, L-, K- and T-coded. The high voltage and currents ratings combined with the high derating in harsh environmental conditions make this product portfolio unique among the products available on the market. Its small size makes the M12 Power Connector suited for applications that require little space, like automotive, manufacturing, machine building and power transmission. The M12 Power Connector also fulfills global standards, such as UL and VDE and is designed according to D-IN EN 61076-2-111.
"This product is an excellent choice for those who need high power transmission while saving space," said Felix Duello, product manager for Belden. "The M12 Power Connector's compact design means it can be successfully used in the smallest cabinets, while the connector materials allow for a higher derating. If you need to downsize a machine but still transmit at high power, the M12 Power Connector is ideal."
In a world moving toward interoperability, visibility is vital to operators as they face increasing demands to receive, analyze and share data. Belden's industrial connectivity solutions address these needs head on. With more connected machines, increasing data volumes and productivity demands at an all-time high, customers in challenging environments can count on Belden cable, Lumberg Automation and Hirschmann industrial connectors for a complete communications infrastructure designed to last. Belden's customized systems provide robust performance and reliability for a wide range of industrial automation applications.
About Belden
Belden Inc., a global leader in high-quality, end-to-end signal transmission solutions, delivers a comprehensive product portfolio designed to meet the mission-critical network infrastructure needs of industrial, enterprise and broadcast markets. With innovative solutions targeted at reliable and secure transmission of rapidly growing amounts of data, audio and video needed for today's applications, Belden is at the center of the global transformation to a connected world. Founded in 1902, the company is headquartered in St. Louis and has manufacturing capabilities in North and South America, Europe and Asia.
For more information about Belden or other products, click here to go to Utility Products' Buyers Guide.