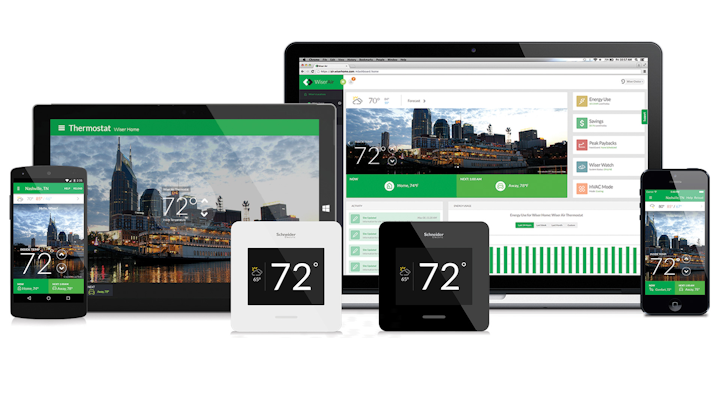 Energy management: Schneider Electric, the global specialist in energy management and automation, is launching Wiser Air, the company's first Wi-Fi Smart thermostat for residential consumers. Wiser Air is currently available for purchase through HomeDepot.com and Amazon.com, and will be launching with additional retail outlets in the future.

Wiser Air couples Schneider Electric's leading energy management expertise with intelligent design and state-of-the-art technology to provide consumers with a tool that effortlessly delivers energy efficient comfort. It comes equipped with Wiser Forecast, which relies on Schneider Electric's top-ranked weather forecasts. This same weather intelligence is used by leading utilities, major airlines, and sports and entertainment venues, and now is available to homeowners through this exclusive offering. Building on Schneider Electric's more than 100-year history in energy management and patented HVAC technology, Wiser Air maximizes energy savings without sacrificing design or advanced functionality. It leverages innovative features like proprietary Comfort Boost technology designed to quickly match the preferred temperature and increase comfort.

Featuring a smartphone style, high-resolution 3.5-in. color touchscreen and a plug-and-play design, Wiser Air is easy to install and intuitive to operate. It syncs seamlessly with its smartphone app, creating a unified experience across any device or operating system. The thermostat's rich hardware and Wi-Fi capability supports automatic updates, giving homeowners access to the latest technology advancements over time, without needing to purchase a new device. Wiser Air is customizable to fit a homeowner's unique style.

"Wiser Air fills the gap in the home energy market for smart, easy-to-use solutions that help homeowners simplify energy efficiency," said Yann Kulp, Vice President of Residential Energy Solutions, Schneider Electric. "We're excited to bring our commercial energy management expertise to the consumer market with a product that puts the user experience first in every aspect."

Key features of Wiser Air include:
• Wiser Forecast: Wiser Air incorporates Schneider Electric's industry-leading weather forecasts, which is the technology's first use in a consumer application. Wiser Forecast provides extreme weather alerts and allows homeowners to adapt to the latest weather information, before leaving the home, increasing home comfort and energy efficiency.
• Comfort Boost: Delivers 15-60 minutes of on-demand heating or cooling at the touch of a button to promote optimal comfort without affecting thermostat settings and schedules.
• Smart Sensors: Smart Sense sensors automatically interact with the user when near, and respond to real-time changes in temperature and light.
· Wiser Pulse: Conveniently provides a status update with just a glance at the user configurable ambient glow, enabling homeowners to be more aware of the energy use.
· Ready Modes: Ready mode functionality allows homeowners to easily tweak their energy schedule to their personal settings with one touch.
· Advanced Scheduling: Flexible scheduling and automatic programming features help homeowners easily maximize energy savings.

The most intelligent climate control solution on the market, Wiser Air is now available online through Schneider Electric's retail partners, including HomeDepot.com and Amazon.com.
About Schneider Electric
Schneider Electric is the global specialist in energy management and automation. With revenues of $30 billion in FY2014, our 170,000 employees serve customers in over 100 countries, helping them to manage their energy and process in ways that are safe, reliable, efficient and sustainable. From the simplest of switches to complex operational systems, our technology, software and services improve the way our customers manage and automate their operations. Our connected technologies reshape industries, transform cities and enrich lives. At Schneider Electric, we call this Life Is On.
www.schneider-electric.com/us
For more information about Schneider Electricor other products, click here to go to Utility Products' Buyers Guide.