Energy management: Electronic circuit breakers simplify installation
Circuit breakers: Eaton's new Type BR Quick Connect Neutral loadcenters and electronic circuit breakers simplify installation for residential contractors.
May 22nd, 2015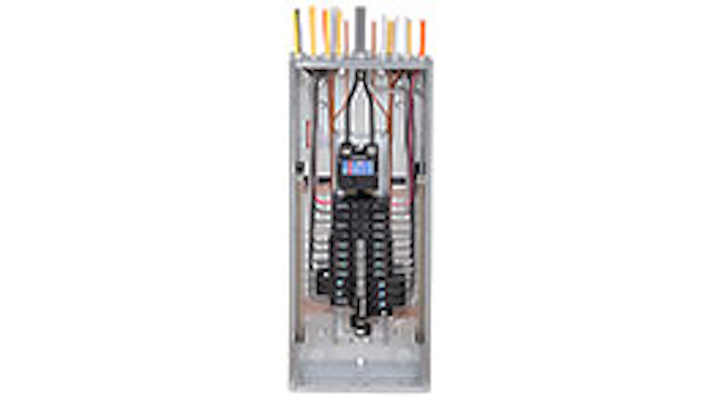 Power management company Eaton has announced the new Type BR Quick Connect Neutral loadcenter and electronic circuit breaker for the multi- and single-family construction markets. The new loadcenter features improved wire management solutions, and the circuit breakers provide diagnostic trip codes as a standard offering. Together, the Type BR Quick Connect Neutral products simplify device installation and troubleshooting.

With over 300 percent neutral wire termination capacity, the new products offer contractors increased flexibility. The loadcenter and electronic circuit breakers have been tested and certified, meeting Underwriters Laboratory (UL) 67, 489, 943, 1699 and 1998 standards.

"Electrical code changes have contributed to growing utilization of electronic circuit breakers, which make wire management solutions extremely important to installing contractors," said Andrew Zahn, residential product manager, Eaton. "An update to our existing Type BR product platform, the new Type BR Quick Connect Neutral products provide a quick, clean solution for the 10+ electronic breaker neutral terminations that the National Electric Code requires."

Featuring full-length, backed out neutral screws, the loadcenter provides contractors more than 300 percent neutral terminations, while allowing solid-tip neutral wires to be terminated anywhere inside the loadcenter, further increasing ease of installation. The electronic circuit breakers include cut-to-length neutral wires, which allows for clean gutter space over traditional pigtail neutral wires.

Eaton's electrical business is a global leader with expertise in power distribution and circuit protection; backup power protection; control and automation; lighting and security; structural solutions and wiring devices; solutions for harsh and hazardous environments; and engineering services. Eaton is positioned through its global solutions to answer today's most critical electrical power management challenges.

Eaton is a power management company with 2014 sales of $22.6 billion. Eaton provides energy-efficient solutions that help our customers effectively manage electrical, hydraulic and mechanical power more efficiently, safely and sustainably. Eaton has approximately 102,000 employees and sells products to customers in more than 175 countries.
For more information about Eaton or other products, click here to go to Utility Products' Buyers Guide.